U.S. Rep. Clay Higgins isn't backing away from attention-grabbing comments he made on social media, calling for "every conceivable measure" to be used to hunt down and kill anyone suspected of being an Islamic radical.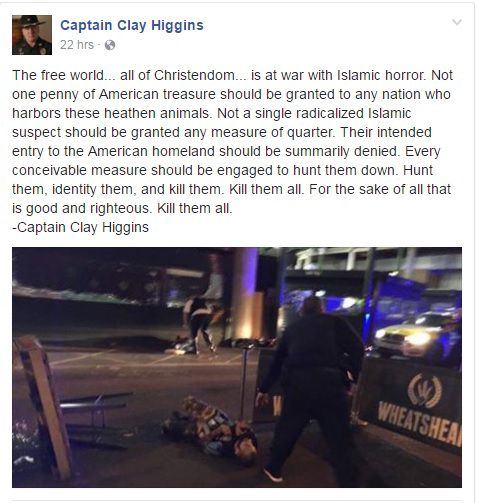 "I've never been accused of being politically correct," Higgins, R-Port Barre, said in a statement to The Advocate on Monday. "I call things the way I see them. The meaning of candid speech is frequently mischaracterized or misunderstood. This is about prioritizing national security and protecting American lives. Every measure must be taken to eliminate radical Islamic terrorism and the threat it poses to the free world. My only concern is protecting the people that live in my district, my state, and my country. We must stand strong against radical Islamic terror. The fate of the free world will be determined by the courageous, not by the intimidated."
U.S. Rep. Clay Higgins, a Port Barre Republican who took office in January, will be one of t…
Higgens' controversial comments came in a Facebook post Sunday, just hours after a deadly terror attack in London that killed seven and injured at least four dozen people. The Islamic State has claimed responsibility for the attack. Less than two weeks earlier, a separate attack was carried out in Manchester, England, killing 22 concert-goers. That attack also has been linked to ISIS.
"Not a single radicalized Islamic suspect should be granted any measure of quarter," Higgins wrote in the post, which appears on one of his two verified Facebook pages. "Every conceivable measure should be engaged to hunt them down. Hunt them, identify them, and kill them."
"Hunt them, identity them, and kill them. Kill them all. For the sake of all that is good and righteous. Kill them all," he concluded.
Screenshots of the post spread across social media and prompted hundreds of comments, as well as several reports on national news websites.
In his first bid for public office, Clay Higgins — known as the Cajun John Wayne — defeated …
The Facebook page used is his campaign-driven page, and not his official Congressional office page. The post is signed "Captain Clay Higgins" rather than using his title as a congressman.
The Louisiana Democratic Party called Higgins' post "extremely troubling."
"We need levelheaded, steadfast leadership to guide and protect us, not hot-headed vitriolic language that terrorists aim to provoke," the state party said via Twitter.
Higgins, who took office in January, is no stranger to controversy.
The Facebook post is reminiscent of viral Crime Stoppers videos Higgins made when he was on the St. Landry Parish police force. The videos earned him the nickname the "Cajun John Wayne."
In one such video, directed at the "Gremlins Gang," Higgins warns: "You will be hunted. You will be trapped, and if you raise your weapon to a man like me, we will return fire with superior fire."
He later resigned from the department after his rhetoric drew backlash.