James T. Hodgkinson walked up to the ballfield outside a YMCA in Arlington, Virginia, toting a 7.62 mm semi-automatic rifle and a 9 mm handgun, both of which he had bought legally, the FBI confirmed Thursday.
And when it was time to shoot, the 66-year-old Illinois man opted for the weapon with an exponentially higher destructive force.
Semi-automatic rifles like the one Hodgkinson used generally fire longer bullets at more than twice the speed of a handgun, striking flesh and bone with a ferocity — measured in kinetic energy — several times greater.
Hodgkinson, a former home inspector with an ax to grind over President Donald Trump and GOP tax policies, maneuvered behind a fence along the third-base line, blasting rounds at congressmen and others on the field. 
---
Not seeing the video below? Click here.
---
A day after he was shot in the hip by a lone gunman who fired into a crowd of Republican law…
"The energy starts being dumped. It's passed into the flesh and the bone. As it does this, there's a force wave that goes out from the bullet that pushes the tissues and blood vessels, pushes it away. It's called a temporary cavity," said Dr. Kris Sperry, who served for 18 years as Georgia's chief medical examiner before he retired in 2015. "There's a long cylinder of damaged tissue. If the tissue is torn, you end up with much more bleeding and internal damage that a pistol round won't do," he added.
"I've seen people shot in the liver with a .38, and it kind of pokes a hole. If you shoot someone with a 7.62, it will pulpify the liver."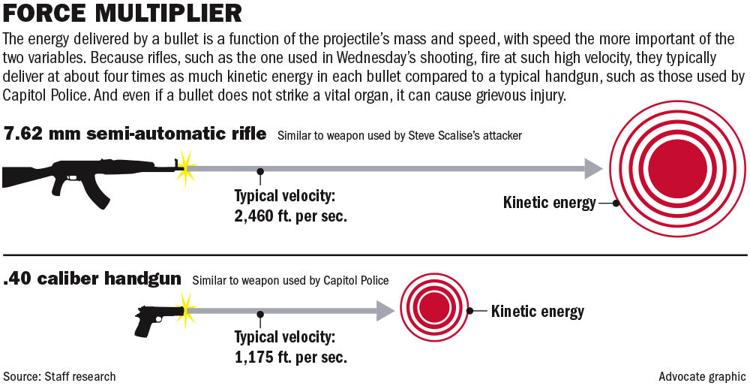 FBI tracing concluded that both weapons were bought legally from a federally licensed dealer, the agency said. Still unclear is where and when Hodgkinson obtained the rifle. He reportedly left his wife in Belleville, Illinois, a few months ago and lived out of a white van in the Washington, D.C., area, 800 miles from home. Other reports suggest he recently had sought to acquire a concealed carry permit.
A source told the Chicago Tribune that Hodgkinson bought three weapons, including an SKS rifle, from a local Illinois gun dealer and that he held a concealed carry permit. CNN, ABC News and The New York Times, citing unnamed sources, said the rifle the FBI recovered was an SKS 7.62x39 rifle.
Illinois State Police, which issues concealed-carry permits, has declined to release any information regarding Hodgkinson, citing the FBI investigation. 
Corinne Geller, a spokesman for the Virginia State Police, said Hodgkinson was never issued a nonresident concealed-carry permit in the state where he had relocated and where he opened fire Wednesday morning. Geller said the agency doesn't keep records of rejected applications.
Hodgkinson did hold a valid Illinois Firearm Owner's Identification Card as recently as March. That's when a sheriff's deputy confronted him in response to a neighbor's complaint. Hodgkinson had been legally firing dozens of rounds from a hunting rifle into the pines near his home, the St. Clair County Sheriff's Department said. The ID cards are good for 10 years.
ALEXANDRIA, Va. (AP) — The wife of the gunman who wounded a Republican congressman and sever…
Rifles like the 7.62 mm SKS are prohibited for hunting deer in Illinois, but they are legal for gunning down coyotes and other animals, the state Department of Natural Resources said in a statement Thursday.
The SKS, a semi-automatic rifle that fires the same ammunition as an AK-47, was developed by Soviet weapons designers in the 1940s but was quickly supplanted in most Soviet arsenals by the AK-47. The SKS saw its widest use by the Chinese, and versions of the weapon have been relatively cheap and plentiful in U.S. gun stores for decades.
In its standard configuration, an SKS carbine has a traditional rifle grip, a feature that means it wasn't covered by the since-expired 1994 Federal Assault Weapons Ban. It wasn't clear Thursday how the particular rifle used by Hodgkinson was configured.
Firearms trainers and others familiar with the rifle said it fires a less-powerful round than some similarly sized hunting ammunition and tends to lose velocity and accuracy at longer distances. But within the relatively short range of a baseball infield, it packs a devastating and potentially lethal punch.
"A rifle does a lot of damage at that distance," said Gordon Hutchinson, a constable in East Baton Rouge Parish and longtime firearms instructor. "It's not going to make much difference what it is at that distance — it's potent."
Hutchinson called the location where Scalise was wounded — what he called the "pelvic girdle," with the bullet striking the congressman's hip — a particularly debilitating and "God-awful place to be shot."
"Of course, any place is awful to get shot with a high-caliber weapon like that. They do a lot of damage. It's a miracle he's alive, I can tell you," Hutchinson said. "God bless him, Steve Scalise."
Several firearms trainers described the rifle as perhaps less efficient than other weapons currently on the market, but plenty deadly given the gunman's murderous intent.
"It puts a big bullet downrange, and it's fairly accurate," said Stuart Meyers, author of "SWAT Operations and Critical Incidents: Why People Die."
Meyers now works as CEO of the tactical training company Op-Tac International and trains officers in protecting executives. Wednesday's assault — on an open baseball field in a public park in suburban Washington — would've been extremely challenging to stop, he said.
"We live in a free society. That's great, but it also presents infinite problems for people responsible for providing protection," he said. "Clearly, there was not any intel on an imminent threat."
According to an online gun site, ballistics101.com, most 7.62 x 39 ammunition boasts muzzle velocities around 2,400 feet per second, more than twice the speed of most ammunition for a common .40 caliber handgun. The result is about four times as much kinetic energy.
Whether Hodgkinson fired using steel-core bullets with a copper jacket, a metal jacket or bonded bullets that are more likely to stay intact upon impact is uncertain. Each comes with its own set of medical complications, Sperry said. 
"If it's going real fast and stays intact, it still creates the massive temporary cavity. If it breaks apart in little pieces, it will shrapnelize and damage tissue too," Sperry said. "(Scalise has) got a long and stormy course ahead of him."