Rob Maness, a longtime Republican and repeat candidate for U.S. Senate, dropped out of the Republican party on Thursday and renounced GOP donor Lane Grigsby's dealings in a state Senate race as "corrupt." 
Maness, who has butted heads with Grigsby for several years, wrote a letter to the St. Tammany Parish Republican Executive Committee, of which he was a member, where he resigned and accused Grigsby of "trying to illegally influence an election." 
Grigsby, a longtime donor to Republican causes, confirmed Wednesday he offered Franklin Foil help in a future run for judge if he dropped out of the race for Senate District 16 after he tied for second place with Grigsby's preferred Republican, Steve Carter.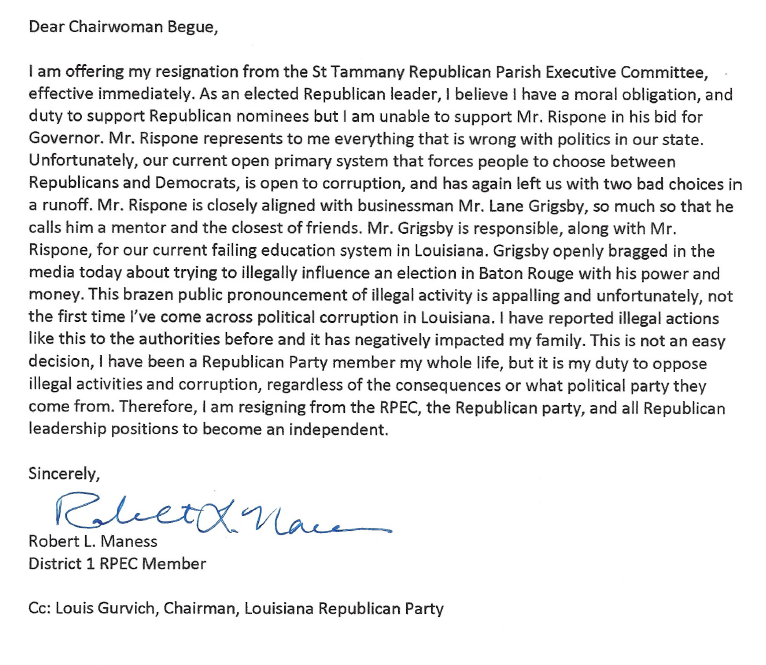 "I can't justify staying with a group that gets behind someone like (Eddie) Rispone who is tied with Grigbsy and they've been working together for years … influencing Louisiana politics," Maness said in an interview. "It's illegal and it's corrupt in my opinion."
Grigsby is a key backer of Eddie Rispone, the GOP candidate facing off against Gov. John Bel Edwards in a heated runoff election. 
Maness said he took money from Grigsby for a U.S. Senate run in 2014, which he lost, and when he returned for more in 2016, Grigsby told him "you shouldn't run for office anymore." He also said Grigsby funded organizations that hit him with attack mailers in a separate bid for the state House in 2017. 
"This is not about sour grapes," Maness said. 
While he bashed Rispone, Maness would not commit to voting for Edwards, who he suggested was also a "bad choice" in his letter. Asked who he would vote for, Maness declined to comment beyond his letter.
Rispone's campaign did not respond to messages seeking comment Thursday. 
A retired Air Force Colonel, Maness now hosts a weekly show on the conservative website Lifezette.