Polling results released Wednesday suggest Mayor-President Sharon Weston Broome has substantial support among the city-parish's moderate white voters, which many thought she might lose to one of her challengers. 
But even though Broome, a Democrat, has a considerable lead over a crowded field of challengers, according to the poll released Wednesday by the Baton Rouge Area Chamber, it's likely she'll still have to face a run-off in December. 
The polling data suggests she'll either face former state Rep. Steve Carter or Metro Councilman Matt Watson, both Republicans, who are neck-and-neck for the second place spot.
"Broome roughly has the Democrat vote centrally to herself and you have a fractured Republican field," said John Couvillon, president of JMC Analytics and Polling. BRAC hired Couvillon's firm to conduct a hybrid automated poll ahead of the Nov. 3 mayoral race in East Baton Rouge Parish.
Early voting starts Friday.
Besides Watson and Carter, in the Nov. 3 primary Broome will face local businessman Jordan Piazza, a Republican; Baton Rouge attorney "E Eric" Guirard, an Independent; newcomer Frank Smith, also a Republican; and State Rep. C. Denise Marcelle, a Democrat. 
JMC Analytics conducted its polling on Sept. 29 and 30 on a sample of likely registered voters in East Baton Rouge Parish. According to the methodology released with Wednesday's polling results, 54% of the phone numbers called were landlines and 46% were cell phones. There were 898 completed responses to six poll questions.
The poll's margin of error was 3.3%. The demographic breakdown of the respondents was 55% white and 42% black, while party affiliation for respondents was 52% Democratic, 30% Republican and 18% registered as Independents.
The geographic breakdown of the respondents was as follows: 7% from Baker, 9% from Central, 6% from Choctaw, 7% from the Garden District, 16% from the Highland/Perkins area, 20% from the inner city precincts, 11% from Midcity, 17% from southeastern precincts in the parish and 6% from Zachary.
The BRAC poll has Broome in the lead with 41%, Carter in second with 14% and Watson in very close third with 13% of the support. The poll showed 6% would support Marcelle and 19% said they were still undecided.
Piazza, Guirard, and Smith garnered 4%, 2% and less than 1% of the support, respectively, according to the polling results.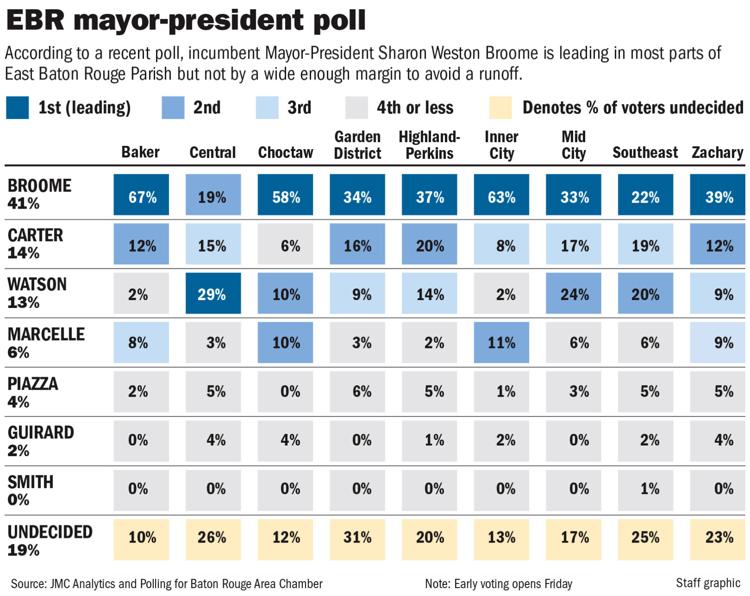 "There have to be large issues driving the opposition to beat a sitting mayor and I'm skeptical that that's the case here," said Albert Samuels, chair and professor of political science at Southern University's Nelson Mandela School of Public Policy and Urban Affairs.
"Because there are so many candidates it's doubtful she'll win in the first primary," Samuels said. "But she'll run significantly ahead and the fight will be who comes in second place."  
Carter's last-minute entry into the mayoral race had many local pollsters and political pundits thinking he could make a significant dent in Broome's moderate white base, which were essential in her clinching the city-parish's top administrative position in 2016. 
Broome's moderate white support in 2016 was located primarily in Carter's former district in the state Legislature, and pollsters considered Carter had enough name recognition to perform well in the northern parts of the parish.   
But the polling has Broome ahead of her challengers in nearly every region of the parish except Central, where Watson is in the lead by 10 percentage points. 
Surprisingly, Broome received 22% support in the southeast area of the proposed city of St. George — a place where she shares a contentious relationship with an incorporation effort there. 
But Watson is only trailing her by two percentage points in that same area. 
In the Highland/Perkins area, Carter's old legislative district, Broome pulled 37% of the support to Carter's 20%, according to the poll results. And she's way ahead in Zachary. 
Carter polled highest in the Highland/Perkins area; in the southeastern precincts, where he received 19% of the support; and in Central, where 15% of the responders said they'd vote for him for mayor-president.
Besides Central, Watson pulled his highest support in the Mid-City area, 24%, followed by the southeast precincts where he received 20% of the support. 
"TV advertising hasn't really started yet so this is more along the lines of a name recognition poll at this point," Couvillon said. "East Baton Rouge being more moderate, she's still picking up a respectable number of white votes."
"If I were Carter or Watson, my No. 1 job right now is making it to the runoff and hoping Marcelle can garner enough support to keep Broome below 50% in the primary," he added.
Samuels views Broome's strong showing in the Highland/Perkins area could likely bode well for in the run-off where voter turnout would be substantially lower. 
"Those are pretty reliable voters who'll show up in December," he said. "But it's the runoff and anything can happen. Runoffs are a different kind of election."
Broome in the latest campaign finance reports has since raised more than $400,000 toward her bid for a second term and has spent roughly $173,000 since April. 
Piazza is the only candidate who's spending ahead of the primary has come close to Broome's. He's spent roughly $139,000 since April and has loaned his campaign $50,000, the latest filings showed.