Though Louisiana ranks No. 5 among states in the rate of opioid prescriptions, a crisis that has caused thousands of deaths in the state has received little attention during the governor's race this year.
But one of the three candidates has a record on opioids that extends beyond position papers and policy proposals: U.S. Rep. Ralph Abraham was a medical doctor as well as a pharmacy owner in northeast Louisiana, so he has a record as an elected official and a prescriber as well as a buyer and a seller.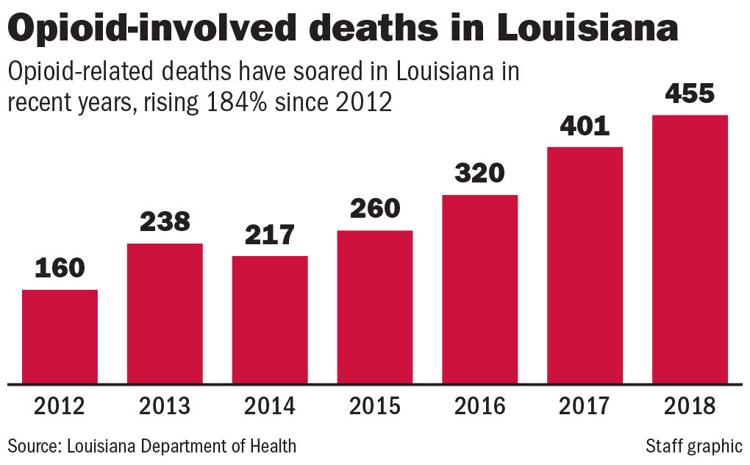 While the publicly available information does not provide a complete picture, federal data and Abraham's past comments on opioids raise questions about his prescribing habits as opioid abuse spiraled across the state and the country.
When compared to other family-practice doctors throughout the U.S., Abraham was in the top 0.2% in the number of Medicare Part D patients he wrote opioid prescriptions for in 2013, according to data from the U.S. Centers for Medicare and Medicaid Services. That was the only year of data available before Abraham stopped practicing medicine full-time to join Congress.
In his public comments as a congressman, Abraham has downplayed the risks of opioids even as drug manufacturers and distributors were being widely criticized for their role in the epidemic.
He has seemed to side with opioid manufacturers by raising concerns about class action lawsuits filed against them by government entities, including the Louisiana Department of Health and a long list of cities and parishes throughout the state.
Abraham's role in dispensing opioids has not been limited to writing prescriptions. From 2003 to 2013, he also owned Clinic Pharmacy of Mangham, where many of his prescriptions were filled. He owned a 25% stake in another pharmacy, Adams Clinic Pharmacy in Winnsboro, for one year.
Asked about opioid prescribing by doctors during Thursday night's gubernatorial debate, Abraham called the crisis "horrific" and said doctors must make sure that patients take the drug properly.
In an interview Tuesday, Abraham dismissed the idea that he was slow to grasp the risks posed by opioids, saying he required patients to return regularly for evaluation before he would refill prescriptions. Abraham noted that the federal data shows he was a high prescriber of drugs generally – not just opioids, in other words, but also drugs like antibiotics, because he treated a large number of patients. He also pointed to the relatively small number of prescriptions he wrote for the most powerful opioids, like oxycodone. Federal data backs up those claims. 
"Opioids have their place," Abraham said. "We basically required that patient to come in on a two- or four-week rotation; we monitored them very closely. That's why if you look at the statistics, my long-acting opioid rate was among the lowest in the state. Because we didn't prescribe those drugs, we didn't prescribe them for a long time. Patients were monitored, patients were taken care of."
Still, several addiction experts, asked by The Advocate to examine Abraham's record, said his opioid prescriptions and past comments raise concerns – especially because the opioid crisis hit rural America so hard.
"I wouldn't single him out, but what he did was similar to what a lot of doctors, particularly primary care doctors in rural areas, did by over-prescribing opioids for chronic pain not related to cancer, and keeping patients on opioids for too long for acute and chronic pain," Stephen Gelfand, a retired rheumatologist in South Carolina who has worked as a consultant for law firms that have sued doctors and is a current board member of Physicians for Responsible Opioid Prescribing, said in an email.
"They (the doctors) were given misinformation and false and misleading messages from the opioid pharmaceutical industry that opioids were safe and effective for all types of pain," he added.
From 1999 to 2017, almost 400,000 Americans died from opioid overdoses, according to the federal Centers for Disease Control.
As late as 2017, as several federal agencies were calling for action against a full-blown crisis, Abraham remained skeptical that opioids represented a major threat. "The manufacturers are simply meeting a demand that is being, maybe, abused by some physicians," he said in a radio interview.
Abraham said Tuesday he never thought lawsuits were the answer, but he understands the country needs to address the opioid crisis, and pharmaceutical companies "must be held accountable."
He said if he returned to medicine today, he would prescribe opioids in much the same way as before: "We watch the patient, we write small quantities and we bring patients in often to monitor them."
Some of the details of Abraham, his pharmacies and opioids were first reported by Lamar White Jr., publisher of the liberal website Bayou Brief.
Exactly how many opioid prescriptions Abraham has written overall is unknown because of federal privacy rules. But the data is available for a doctor's Medicare Part D patients because that program is publicly funded.
The Medicare data do not make clear when a doctor is writing a prescription for a patient suffering from chronic pain – such as cancer – versus acute pain caused by injury, surgery or an infection.
The CDC says opioids can be appropriate over time for cancer patients, but should be avoided when possible for patients in short-term acute pain.
In all, Abraham prescribed opioids to 400 of his 955 Medicare Part D beneficiaries – or 42% of these patients. Part D covers prescription drugs for Medicare patients.
Those 400 patients receiving opioids ranked Abraham among the top 0.2% of all 82,978 Medicare Part D family practice prescribers in the country in 2013.
He was also among the top 1% of 91,223 family practice prescribers in the U.S. in the total number of claims by Medicare patients for opioid prescriptions and refills.
Is it fair to make judgments about a single year of data for Abraham?
"I think the Medicare Part D data is a good measure of a doctor's opioid prescribing practices, if even for only one year," Gelfand said.
Gelfand added that the type of practice is an important factor – that, for instance, an oncologist would be expected to have higher prescribing levels than a family practitioner. "The bottom line is that all we can say is that he is a high opioid prescriber just for a family practice doctor," he said.
Abraham said he served a rural area without many pain specialists who would see Medicare patients, so he treated those patients himself.
While serving in Congress, he voted for the Support for Patients and Communities Act, a bill passed into law in 2018 with bipartisan support that aimed to bolster addiction treatment and otherwise mitigate the opioid epidemic, his campaign spokesman noted.
Abraham ranked in the top 0.6% of all doctors for Medicare Part D in 2013 for the aggregate number of days his patients were supplied opioid pills that year, a total of 49,071 days. That meant that each of his 400 Medicare Part D patients received nearly 123 days' worth of pills per patient over the year.
To put that figure into perspective, the CDC says that doctors should not generally prescribe more than three days of opioids for patients suffering from acute pain.
However, Gelfand said the 123 days could be an acceptable number if most of Abraham's patients suffered from chronic pain. But the available data doesn't make that clear.
Caleb Alexander, a doctor and co-director of the Johns Hopkins Center for Drug Safety and Effectiveness who has been a plaintiffs' expert in opioid litigation against manufacturers and wholesalers, said the data alone can't prove anything about the quality of care, but that the figures are "alarming." He also said Abraham's past comments about opioids and opioid manufacturers "overlook the enormous harm that have come from their overuse, as well as the role that manufacturers and other parties have played in fueling the epidemic."
Abraham had a broader role in the opioid story because of his ownership of Clinic Pharmacy in Mangham, which he opened in 2003. He said he wanted his patients to have a nearby option to fill their prescriptions, especially because his clinic was typically open from 6 a.m. to 6 p.m. on weekdays and half a day on Saturdays.
The Washington Post in July obtained and published U.S. Drug Enforcement Administration records of pharmacy purchases of two types of opioids, oxycodone (the generic name for Oxycontin) and hydrocodone (Vicodin or Lortab). The purchases by Abraham's pharmacies were mainly for hydrocodone, a lower-strength opioid than oxycodone.
Abraham wrote prescriptions that allowed patients to buy their drugs at his pharmacies, a practice that is legal in Louisiana but is prohibited in at least one other state, Georgia, because of the incentive it creates for doctors to profit from writing the prescriptions.
DEA records show that the Clinic Pharmacy of Mangham purchased 768,380 opioid pills from 2006-12, with the purchases jumping by nearly two-thirds over the period, according to data released by the Securities Litigation & Consulting Group. 
In all, Clinic Pharmacy of Mangham purchased the equivalent of 48 pills per year for each of the 2,274 people who lived within 10 miles of the pharmacy over the six-year period, according to a Washington Post analysis. This put the pharmacy among the top 5% of 1,539 pharmacies in Louisiana on that metric.
Still, Clinic Pharmacy was far from the most prolific purchaser of opioids in Louisiana. The top 10 pharmacies sold between 126 and 261 pills per person in the surrounding area.
Jim Geldhof, a former DEA agent who now consults for the plaintiffs in a multi-district opioid case playing out in federal court in Cleveland, said the pharmacy numbers raise questions. "It definitely gives you concern and may merit a further look by either the state or federal agencies," he said.
But Geldhof said the data is only the beginning of an exhaustive process in determining whether a particular pharmacy or doctor is problematic. He also said while hydrocodone products are not as dangerous as oxycodone, the drug still played a significant role in fueling the opioid epidemic.
T.J. Woodard, a pharmacist who owns Prescriptions to Geaux and co-owns Baton Rouge's medical marijuana pharmacy, Capitol Wellness Solutions, said the data for Abraham's pharmacy alone paints an incomplete picture. For instance, the data does not show the number of doses of other drugs it purchased.
"I don't think we can extrapolate a problem from one piece of raw data without having the big picture," Woodard said, adding he does not have a favored candidate for governor.
Investigative records from the Louisiana Board of Pharmacy and Board of Medical Examiners – which regulate pharmacies and doctors, respectively – are not public. But both agencies said they do not have any record of disciplinary action taken against Clinic Pharmacy of Mangham or Abraham as a doctor.
What's not in question is the severity of the crisis in Louisiana. The number of opioid-involved deaths in Louisiana nearly tripled from 2012 to 2018, surging from 160 deaths in 2012 to 455 in 2018, a record for the state, according to data released Tuesday by the state Department of Health in its Opioid Response Plan.
Louisiana's opioid prescription rate began decreasing in 2014, falling to under 96 prescriptions per 100 residents in 2018, the report said – while noting that is still a high number.
In an October 2014 congressional campaign debate, Abraham expressed greater concern about the potential danger of medical marijuana than opioids.
"What I see in my practice, from any level of marijuana use, is bad," he said. "I'm against recreational, I'm against medical. In the medical profession, for these chronic pain, poor cancer patients that need help, we have other alternatives that work better, Dilaudid, OxyContin, you name it, oxycodone, we have several options that do a much better job for chronic pain. I've had hundreds of patients unfortunately with cancer that I've treated, they do well with these drugs."
In September 2017, the Louisiana Department of Health sued more than a dozen pharmaceutical companies and accused them of worsening opioid abuse in the state.
About a month later, Abraham appeared on a talk-radio show whose host expressed concern about the lawsuits, saying, "I'm wondering if this isn't a little opportunistic and might have a chilling effect on pain relief in the future."
Abraham agreed. "Well, you're exactly right, and it could have," the congressman said. "I want to get some objective data first and I don't want it to be you know, like some of these large class-action suits that we have had in the past, where they just throw the baby out with the bathwater. So you know, let's see where the problem lies."