A stack of paper ballots that was apparently double-counted on Saturday turned Franklin Foil's razor-thin second-place finish in his bid for the state Senate into a stunning tie with his fellow Republican Steve Carter, throwing the race into turmoil and raising the possibility of a historic three-way runoff election.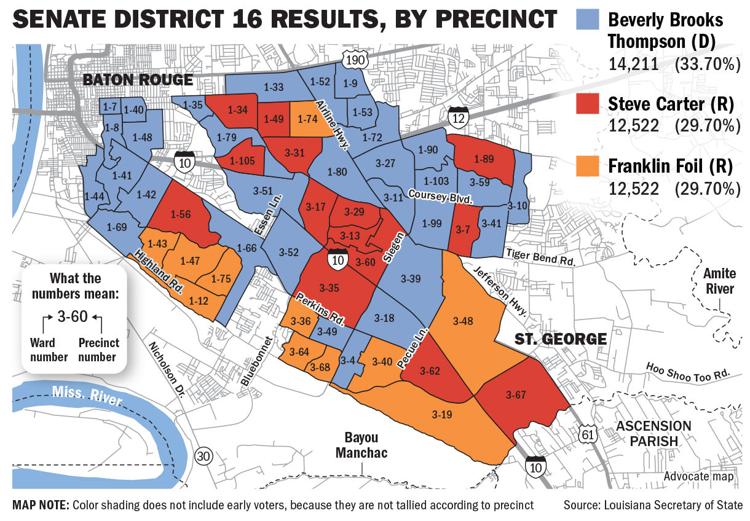 If the results stand — something that is not certain — Foil and Carter would face Democrat Beverly Brooks Thompson in a rare three-person general election that could leave Thompson well-positioned to flip the seat that has been held for more than three decades by Republicans and is currently held by Sen. Dan Claitor, who has been term limited.
A recount of the paper ballots cast in the race would take place Thursday morning if one of the candidates requests a recount, as expected. The issue could end up in court if one of the candidates decides to challenge the results by a Monday deadline.
The Senate district is one of the most affluent in Louisiana, including in its boundaries the high-end Country Club of Louisiana, a smattering of industry executives, much of the LSU campus and most of the neighborhoods where the university's faculty and staff live.
Foil, a state representative and longtime friend and seatmate of Carter's in the Louisiana House, said he was watching election results Saturday with friends and family at home. With 100% of precincts reporting, the secretary of state's unofficial election results website showed Foil had edged out Carter by just eight votes. He said he went to bed thinking he would face Thompson in a Nov. 16 runoff.
The race to succeed Baton Rouge state Sen. Dan Claitor features two veteran GOP House members and a Democrat who has never sought elected office.
But about 12:30 a.m., Secretary of State Kyle Ardoin called to inform him of a development in the race: The paper ballots had been rescanned by election officials after a discrepancy in the vote total, and Foil's eight-vote lead evaporated. He was now tied with Carter. The three candidates sat down at Ardoin's office Sunday to discuss what happens next.
Lane Grigsby, a prolific GOP donor and businessman in Baton Rouge, quickly leaned on Foil to drop out of the race in an effort to keep the Republicans from splitting the vote and allowing Thompson to potentially win if the race went to a three-way runoff.
He said asked Foil to drop out because he thinks the attorney and U.S. Navy veteran has more political opportunities than Carter. He wants to avoid the possibility of the seat flipping to Democratic, but he also believes the recount will give one of the two Republicans a clear second-place finish.
"I will plan to stay in the race," Foil said, adding he planned to ask for a recount. "I feel fairly optimistic the recount will go my way. I was up at one time by eight votes."
J Hudson, a consultant with Carter's campaign, said Carter intends to stay in the race, and he expressed optimism Carter would surge to first-place in a three-way runoff.
An inordinate number of current and former state lawmakers are squaring off for seats in the Louisiana Senate in the Oct. 12 primary, putting …
Three-way runoffs are incredibly rare in Louisiana. According to Tyler Brey, a spokesman for Ardoin, only 11 races since 1987 have ended in a three-way runoff, including the race for police juror District 1 in Tensas Parish this year, which also ended in a tie between the second-place candidates Saturday.
However, the Senate seat would be by far the most significant election to be decided in such a fashion. The rest of the list is composed of mostly small-town police jury, school board and chief of police races.
State and local election officials said Monday they believe a stack of paper absentee ballots was erroneously scanned twice on election night in East Baton Rouge Parish, resulting in 74 errant votes being awarded to candidates parishwide.
Local election officials count absentee ballots ahead of the election and then scan them into computerized systems on election day — a process that is done separately from election day vote counting. However, when they finished doing so Saturday evening, Raborn said they realized their total was too high compared with the expected number of ballots.
"We knew at the end of the process we had scanned more ballots than we expected," said Steve Raborn, registrar of voters for East Baton Rouge Parish. "We think a stack of ballots got scanned twice."
Officials with Ardoin's office came to the sixth floor of City Hall, where Raborn's team was working, and oversaw a re-scanning of the paper ballots. By the time that was over, the totals matched, but it meant Foil had lost 11 votes and Carter had lost three — leading to a net loss of eight votes for Foil, the exact number by which he led earlier in the night.
"That is highly unusual that you have a change of eight votes over the course of an evening," Claitor, who has endorsed Foil, said on the WRKF-FM radio show "Talk Louisiana."
If there is a recount, it will only apply to paper ballots, not the entire number of ballots cast. Raborn said there were about 3,800 paper ballots cast in the parish total, including about 1,500 in Senate district 16 that would be recounted.
Louisiana's voting machines are electronic-only, meaning there is no paper record for in-person votes cast during early voting or on election day.
Thompson, a veteran fundraising consultant, won 34% of the vote in the open primary, the largest share of any candidate. Carter and Foil tied with 30% apiece. Republican Bob Bell won 4%, and Libertarian Everett Baudean got 3%.
In a three-way runoff, where the Republican vote would split between Carter and Foil, Thompson would have a much greater shot of flipping the seat than in a head-to-head matchup with a single Republican. The seat has been held Republicans since 1987, including at one time by current U.S. Sen. Bill Cassidy and the current Commissioner of Administration Jay Dardenne.
If the recount happens, it will take place at the East Baton Rouge Parish voting machine warehouse and will involve a hand count of the paper ballots cast in the race, Brey said. Workers will tally up the totals by hand.