Abortions could be banned immediately in Louisiana if the U.S. Supreme Court one day overturns the landmark Roe v. Wade decision — a previously distant possibility that has become tangible now that Justice Anthony Kennedy is retiring from the court.
Louisiana is one of four so-called "trigger" states that already have passed legislation that would outlaw nearly all abortions if the Supreme Court reverses the 1973 ruling that established a 50-state legal right to end pregnancies.
President Donald Trump is planning to nominate Kennedy's replacement on Monday. His choice is a pivotal one, because Kennedy was a swing vote on many divisive issues, including a 1992 ruling that upheld Roe.
Conservatives are expecting a nominee who would one day strike down the 1973 ruling, something Trump all but promised on the campaign trail.
"All eyes are on D.C. and the 51-vote majority that's needed (in the Senate to confirm the new justice)," said Gene Mills, president of Louisiana Family Forum, a conservative, faith-based group in Baton Rouge. "The left realizes there's not much they can do to stop this process. We've lived under an idea of Roe. Now the possibility that Roe could be overturned or eclipsed is real."
Roe is likely to remain the law of the land for the foreseeable future. An anti-abortion nominee first must win Senate confirmation. Then a case that could prompt a reconsideration of Roe would have to reach the Supreme Court, which could take years.
If the Supreme Court does upend Roe — which would have the effect of leaving the legality of abortion up to each state — about 20 states appear likely to prohibit abortions, observers say.
Louisiana likely would be among the first, thanks to a 2006 law sponsored by then-state Sen. Ben Nevers, D-Bogalusa, that then-Gov. Kathleen Blanco, also a Democrat, signed into law.
Act 467 would ban abortions in all cases, except when giving birth would threaten the life of the mother. The bill, which provides no exclusion for pregnancy resulting from rape, passed the House 85-17 and the Senate 30-7.
If that law did take effect, Louisiana's three abortion clinics — in New Orleans, Baton Rouge and Shreveport — would close, said Amy Irvin, executive director of the New Orleans Abortion Fund, which provides financial assistance to women who want an abortion.
"They would not be able to provide abortion care," she said. "We believe in the autonomy, self-determination and moral agency of women in making the best decisions for themselves and their families as it pertains to pregnancy and raising families."
The travel option
Louisiana women with money could travel to another state that permitted abortions, with New Mexico or Illinois likely to be the closest places, said Ellie Schilling, a New Orleans attorney who represents the Louisiana Coalition for Reproductive Freedom.
"Even right now, transportation and funding are huge obstacles for women seeking abortions," Schilling said, given that some places in rural Louisiana are more than 100 miles from the nearest clinic. "Organizations that support women in trying to access abortion would look into putting women on buses or planes, or trying to arrange for homes to stay in out of state. (Such a system) already sort of exists. It would have to become far more robust. The resources needed would be monumentally more significant than they are now."
Irvin and Schilling used less overheated language than some national commentators who have warned of the potential return to dangerous "back-alley" abortions by unlicensed practitioners.
The potential threat to Roe v. Wade comes amid a long national decline in abortion rates that began around 1981, when the rate was 29.3 per 1,000 women ages 15 to 44, according to the Guttmacher Institute. In 2014, there were an estimated 926,200 abortions — a rate of 14.6 per 1,000 women, or half the rate in 1981.
National experts credit the drop to education programs and medical advances, including improved intrauterine devices and morning-after pills, which can prevent unwanted pregnancies if taken up to five days after unprotected sex.
The Affordable Care Act, approved by Congress under President Barack Obama, has made birth control available to more poor and working women. Gov. John Bel Edwards expanded the program in Louisiana in 2016 to cover the working poor.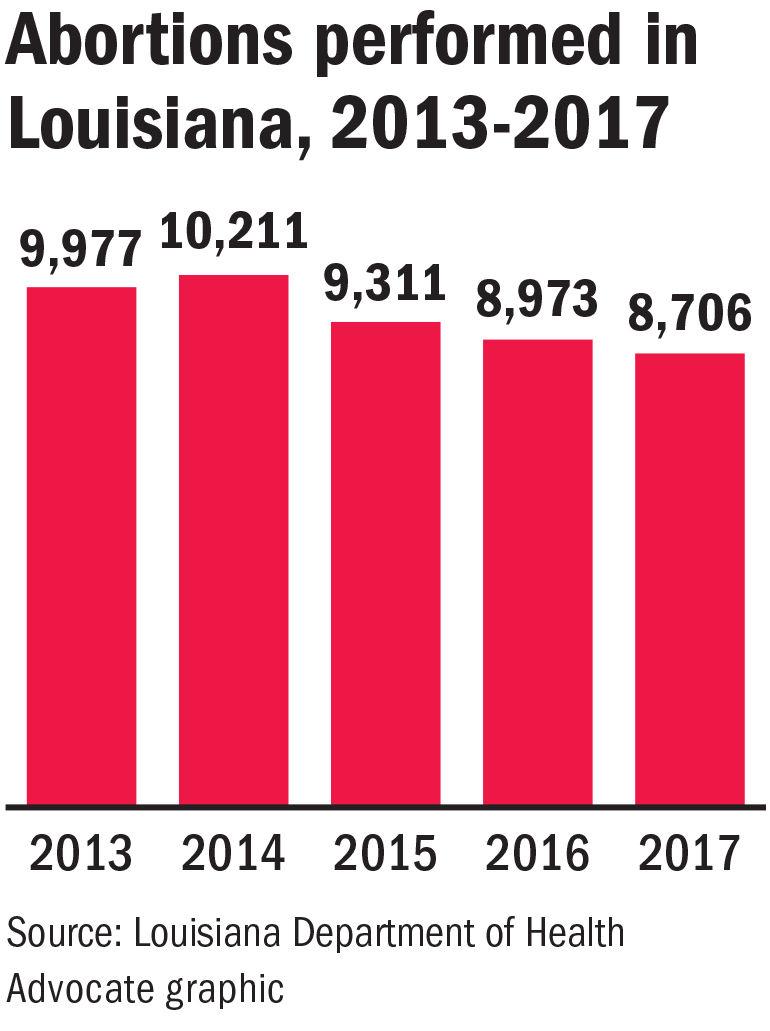 There were 8,706 abortions in Louisiana in 2017, compared with 8,973 in 2016 and 9,311 in 2015, according to the state Department of Health. (For comparison's sake, there were 60,933 births in Louisiana in 2017, or about seven births for each abortion.)
In 2014, the abortion rate in Louisiana was 10.8 percent per 1,000 women, which was substantially below the national rate that year.
Although data on income are hard to come by, state figures show that women who seek abortions in Louisiana are disproportionately members of minority groups, often a proxy for poverty. About 63 percent of Louisianians are white, but nearly 70 percent of the women who aborted their pregnancies in the state last year were not white, according to the Department of Health. About 84 percent of them were not married.
The number of teenagers who had abortions in 2017 was 818, or nearly 10 percent of the total.
"Restrictions on abortion always fall the most heavily on the vulnerable among us — women in poverty, frequently women of color," Schilling said. "They already deal with issues of child care, taking time off from work, not being able to tell their partners that they are seeking an abortion."
Growing restrictions
It's no surprise that Louisiana — along with Mississippi and South and North Dakota — is one of the states with trigger laws. Louisiana has the fourth most robust anti-abortion legal framework in the country, according to Americans United for Life, a Virginia-based group.
Though constrained by Roe, Louisiana lawmakers have moved steadily to make it harder for women to seek abortions. The curtailments occurred under Blanco as well as her successor, Bobby Jindal, and they have continued under Edwards.
A devout Catholic, Edwards had a perfect record of voting with a leading anti-abortion group, Louisiana Right to Life, during his eight years as a state House member. His anti-abortion stance helped make him acceptable to conservative voters when he was elected governor in 2015 and became the only Democrat to hold statewide office.
He ran a memorable ad during his campaign in which his wife, Donna, related how a doctor recommended an abortion when they learned their daughter would be born with spina bifida, but she and her husband decided she would give birth to the baby.
Under Jindal in 2014, the Legislature passed a law requiring physicians who perform abortions to have admitting privileges at a hospital within 30 miles of the clinic. Pro-abortion rights groups challenged the law in Texas and Louisiana. The U.S. Supreme Court struck down the Texas law, but the law in Louisiana has not gone into effect pending a ruling from the 5th U.S. Circuit Court of Appeals.
Under Edwards in 2016, the Legislature prohibited entities that perform abortions from receiving public dollars for other purposes. It was widely seen as targeting Planned Parenthood, which provides health care to low-income women — but not abortions — at clinics in Baton Rouge and New Orleans. The group has sued in an effort to win state approval to perform abortions at its New Orleans clinic on South Claiborne Avenue.
Also under Edwards in 2018, the Legislature passed a measure banning abortions after 15 weeks of gestation. The Louisiana law will not take effect until a legal challenge to a similar law passed in Mississippi is resolved. In the meantime, abortions in Louisiana are not allowed after 20 weeks. About 95 percent of abortions in Louisiana take place within the 15-week period.
Even without overturning Roe, the post-Kennedy Supreme Court could well approve laws that impose further restrictions on abortions, such as the ban after 15 weeks or the admitting requirement for physicians.
Nationally, 54 percent of those surveyed want the next Supreme Court justice to uphold Roe, according to a February poll by CBS.
But in Louisiana, 55 percent of those surveyed by LSU's Reilly Center for Media and Public Affairs in 2016 said they believed abortion should be illegal in all or most instances, while 40 percent said it should be legal in all or most instances.
The results are "nearly the mirror opposite of what national surveys show," the survey reported.
Anti-abortion Democrats
A striking feature of Louisiana's abortion politics is that many prominent Democrats in the state are anti-abortion, even though the national party is steadfastly pro-abortion rights.
The Democratic tent of anti-abortionists includes religious and rural and small-city white politicians, such as Nevers, Blanco and Edwards, as well as some prominent urban black officials, among them state Rep. Katrina Jackson, of Monroe; state Sen. Regina Barrow, of Baton Rouge; and East Baton Rouge Parish Mayor-President Sharon Weston Broome.
"When you're advocating for life, your hope is always that Roe will one day be overturned," said Jackson, who in 2014 sponsored House Bill 388, which required the admitting privileges for doctors.
But Jackson makes a distinction between her views and those of many conservative Republicans by saying she wants a Supreme Court justice who will uphold health care protections for all, especially the Affordable Care Act. "My hope is that everyone will care about the child from day one going forward, from the womb to the tomb," Jackson said.
Pro-abortion rights groups often point out that despite the state's antipathy toward abortion, Louisiana skimps on care for children of the poor.
"Women often don't have access to well-women exams or prenatal care," Irvin said. "Louisiana also has a high maternal mortality rate. Women with high-risk health care conditions are often carrying pregnancies to term and therefore putting their own health at risk."
But while Irvin and other advocates worry about new challenges for Louisiana women, some conservatives see a new day dawning with Kennedy's departure.
"I've lived for an abortion-free Louisiana," said Mills, of Family Forum, "seeing to it that all life is respected, from the earliest moment of conception to natural death. This is the day we've all been waiting for."