Two Louisiana state House leaders and 17 other Republican lawmakers Thursday accused state Transportation Secretary Shawn Wilson of using Twitter to suggest retribution against legislators who opposed a hike in the state gas tax.
The group made their complaints in a letter to Gov. John Bel Edwards, who like Wilson backed the gas tax increase that died in the House on Wednesday.
The five-month campaign to upgrade Louisiana's jammed roads and bridges by raising the state…
Moments after the measure died Wilson, in a tweet, said "2 legislators opposing the gas tax already made requests for road maintenance, the day the (tax) bill was pulled."
"No is the easy answer," according to Wilson's tweet.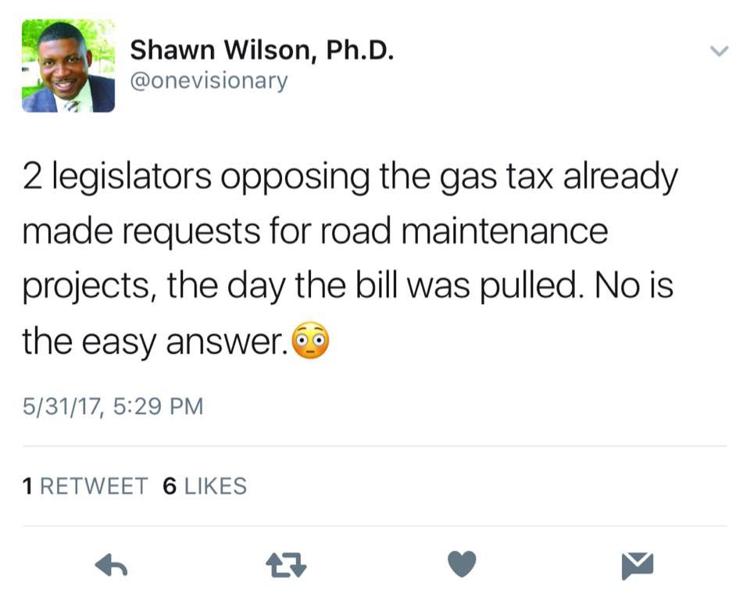 "This is a very inappropriate statement made by the DOTD secretary embodying what is wrong with politics," the lawmakers said in their letter to the governor.
"In the eyes of many members, it is being viewed as utilizing tax dollars as retribution for a vote," according to the letter.
"While we do not know the legislators to which he is referring, we do know these two legislators represent thousands of taxpaying citizens who contribute hundreds of thousands of dollars to the Transportation Trust Fund," it says. The TTF is the source of road and bridge dollars.
In a telephone interview Thursday night, Wilson said his message was misunderstood.
He said he was trying to convey that, amid scare resources, it is hard to say yes to aid requests for all lawmakers, whether they backed the gas tax increase or not.
"I am sorry for the confusion," Wilson said.
Among those signing the letter are Rep. Lance Harris, R-Alexandria, chairman of the House Republican caucus and House Appropriations Committee Chairman Cameron Henry, R-Metairie. Harris and Henry were both viewed as opponents of a bill by state Rep. Steve Carter, R-Baton Rouge, to raise the gasoline tax by up to 17 cents per gallon, or $510 million per year.
Carter said he planned to trim that request to a 10 cent hike, or $300 million annually, but backers were unable to round up the needed two-thirds support for that either. He pulled the bill without a vote.
In an odd twist, the death of the bill sparked a flurry of angry House speeches on the merits of the push for more transportation aid, which included Wilson as one of its leaders.
Rep. Terry Landry, D-Lafayette, accused some colleagues of ducking thorny topics.
Rep. Alan Seabaugh, R-Shreveport, who signed the letter to Edwards, denounced Carter's bill and said his constituents do not want a tax increase.
Harris and Henry have been in a session-long dispute with the Democratic governor on how to fix state budget problems, with tempers rising in recent days as the June 8 adjournment nears.
"This past year you have used the term 'Washington-style politics' to describe the Legislature," the letter says. "However, if your DOTD secretary is holding hostage taxpayer money, isn't that the epitome of what people hate about politics?"
Others signing the message include state Reps. Rick Edmonds of Baton Rouge; Reid Falconer, Mandeville; Scott Simon, Abita Springs and Polly Thomas of Metairie.
The governor's office did not immediately respond to a request for comment.