Gov. John Bel Edwards on Tuesday expressed concern that as many as 200,000 jobless Louisiana residents, representing nearly half of those receiving unemployment benefits, could be excluded from enhanced payments issued by President Donald Trump, if the state can't find a workaround to pay for its share of the costs.
UPDATE: After the Trump administration changed its policy on who qualifies, Gov. John Bel Edwards said Thursday that all 454,000 people receiving benefits in Louisiana will qualify for the $300 in extra payments. Story here: 
Edwards and other state officials continued to seek answers to several vexing questions regarding the enhanced benefits of $300 a week since Trump issued the executive order on Saturday. Chief among them was how to pay for costs that could run into the "hundreds of millions," Edwards said.
President Donald Trump's executive order Saturday to renew federal unemployment benefits left Louisiana officials with more questions than ans…
The confusion over Trump's order comes after an historic number of laid-off Louisianans lost an extra $600 a week in benefits at the end of July, and as Congress remains deadlocked over another deal. Meanwhile, Edwards reinstated a requirement that jobless workers apply for jobs each week to continue receiving benefits, which in Louisiana are among the lowest in the U.S.
"This underscores the need of Congress to come to a compromise," Edwards, a Democrat who is friendly with the Trump administration, said Tuesday.
"We're seeing enough challenges" figuring out the new unemployment system, Edwards said, "that you're going to continue to see a big push to say this is just not an acceptable alternative to the pandemic unemployment benefits we've been paying."
Among the questions Edwards and other state officials are trying to answer are how Louisiana will be able to pay for its portion of the costs, when the benefits could start flowing and how much in extra benefits Louisiana workers will actually receive. All remained unclear Tuesday, though Edwards said he expected to have answers in the coming days.
Trump's executive order aimed to deliver an extra $400 in unemployment to laid-off workers, which represents a cut in benefits from the previous $600-a-week checks workers were getting. But the order sends only $300 per worker in federal funds each week and relies on cash-strapped states to come up with the rest. That comes on top of whatever benefit states provide, which in Louisiana is a maximum of $247 a week.
The Advocate hosted an economic outlook summit on Friday morning, focusing on the state of the Louisiana economy and how coronavirus has impacted it.
Because Trump is taking the money from a fund for disaster response, states have to pony up 25% of the costs. Edwards said Tuesday that could add up to "hundreds of millions" of dollars for Louisiana. The U.S. Department of Labor told states on Sunday that they can pay the 25% outright, using previous coronavirus relief or another source, or use existing benefits to count toward the total, thereby dropping the benefit amount from $400 to $300 per week per worker.
Gov. Edwards wouldn't say Tuesday whether workers here will get $300 a week or $400. But it appears more likely workers will get less. That's because the most likely source for the state to pony up the extra $100, a pot of funds delivered from a previous aid bill, has already been appropriated in Louisiana. 
Perhaps more worrisome is whether all jobless workers will qualify. The U.S. Department of Labor in the memo to states said workers must receive at least $100 in some type of unemployment benefits to qualify. Edwards said about 200,000 Louisianans currently receive less than that amount. About 204,000 workers receive more than $100, he said.
"I really don't know yet whether we're going to be able to find a way to do the $400 or do the $300," Edwards said at a press conference. "My bigger concern right now quite frankly isn't just over the $100 difference. It's over the universe of workers that we're going to be able to cover. Because early indications are that any worker in Louisiana who isn't getting $100 in state benefits won't be able to get the $300."
U.S. Sen. Bill Cassidy, a Republican, said Tuesday the White House told him if states "only do what they are already doing, they'll pull down the extra $300 the president proposes."
"As explained by Secretary Mnuchin and Mark Meadows, if a state is currently giving a $100 benefit to unemployed Americans, then the federal government will add $300 to that," Cassidy said in a statement, referring to the Treasury Secretary and Trump's chief of staff. "The $100 can be money the state is already giving under an existing benefit structure."
Cassidy spokesman said if some workers receive less than $100, they could still receive three times that amount as a prorated amount. The state would have to come up with additional funds to make up the difference in order to pull down the entire $300 extra benefit.
Adding to the worries about the unemployment system is the dire situation of Louisiana's unemployment trust fund, which is where the state benefit payments come from. On March 1, the trust fund sat at a robust more than $1 billion.
On Tuesday, it was at just $254 million, Edwards said, and is certain to run out soon without an infusion of cash from the federal government.
Jan Moller, head of the Louisiana Budget Project, which advocates for low-income residents, called Trump's order "legally dubious, unworkable for Louisiana" and no substitute for an aid bill by Congress.
Moller also expressed worry about the new benefits excluding people who receive less than $100 in benefits. In the original pandemic unemployment program that delivered $600-a-week payments, workers could receive the money even if they made just $1 in state unemployment benefits.
More than half of Louisiana households are operating either below federal poverty standards or in the realm of "working poor" families as defi…
The new policy means that the lowest-wage workers, who are disproportionately women and people of color, wouldn't get benefits, Moller said.
"The executive order is not nearly enough to address the economic crisis facing hundreds of thousands of Louisianans who've lost their jobs through no fault of their own," Moller said. "Even under the best-case scenario, it would only provide short-term, inadequate relief to some workers, while leaving out those who need it most."
Brett Axelroth, who was laid off from Pêche Seafood Grill in New Orleans in March, expressed skepticism that he'll receive more money from Trump's announcement.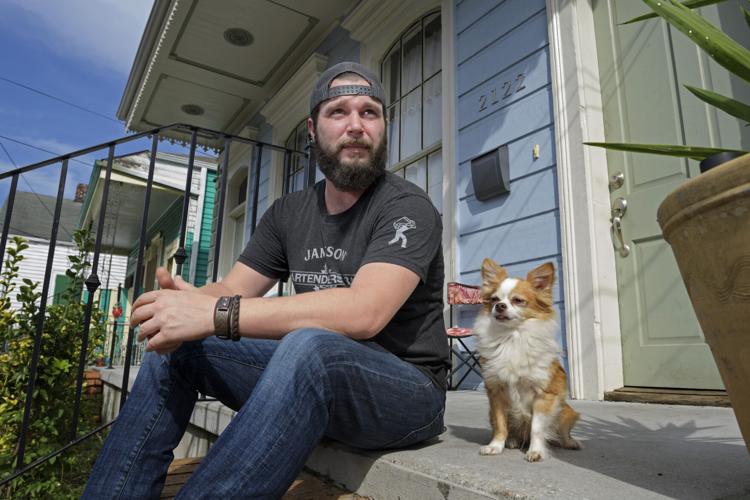 "I'm not sure through an executive order is a decision he can make by himself," Axelroth said. "A lot of people are just confused."
He would welcome any extra money. Through July 31, Axelroth had been receiving the maximum state unemployment benefit of $247 per week plus the $600 weekly payment from the federal government, for a total of $847.
"The $600 helped with rent and basic necessities," Axelroth said. "I probably would have had to leave the city altogether if it hadn't kicked in. I know a lot of people well into their 30s who have moved back in with their parents."
When you're living with the cosmic level of uncertainty facing the hundreds of thousands of Louisianans who've lost their livelihoods to the c…
Now he's receiving just the $247, which is actually $222 per week once federal taxes are deducted.
He and a roommate share costs.
"We're able to pay our rent and bills, but there's not a lot of lagniappe," Axelroth said. "It's hard to put away anything."
Staff writers Tyler Bridges and Bryn Stole contributed to this story.