HIGHLIGHTS
Bobby Jindal's administration pursued health care reform plan for two years estimated to save $77M but abandoned it after nursing home industry leaders sent email opposing it
While running for office, Gov. John Bel Edwards told AARP he intended to pursue same health reform plan but now says he has serious concerns
Nursing home leaders have donated millions to Louisiana leaders over years, including $370,000 to Jindal's presidential campaign
Nursing home association President Ronnie Goux, through family and businesses, donated $142,000 to Edwards' gubernatorial campaign. He was appointed head of health transition committee
Some lawmakers, who weigh in on nursing home regulation, have financial ties to industry
NOTE: This is the second in a three-part series that explores the political influence and quality of Louisiana nursing homes and the resulting impact on Louisiana's most vulnerable population
A team of government experts and industry stakeholders spent more than two years painstakingly crafting a plan that would have reduced Louisiana's expensive and unpopular reliance on nursing homes to house the state's most helpless residents. 
But it took just one email from the head of the industry's powerful Louisiana lobby to kill the reform.
The day after the email arrived — Aug. 5, 2015 — then-Gov. Bobby Jindal's health secretary announced the plan was dead and that any effort to overhaul the program would be up to the next governor.
But don't hold your breath. More than a year into his tenure, Gov. John Bel Edwards has shown little interest in taking up the mantle of nursing home reform, even though he promised he would — and even though estimates show the state could save more than $100 million a year while improving patient outcomes. Edwards denies he is breaking a pledge, saying he's still studying the best approach.
Why would two governors shy away from a solution that would be politically popular and help put a dent in Louisiana's ballooning structural deficit? The answer may lie in the nursing home industry's formidable fundraising prowess.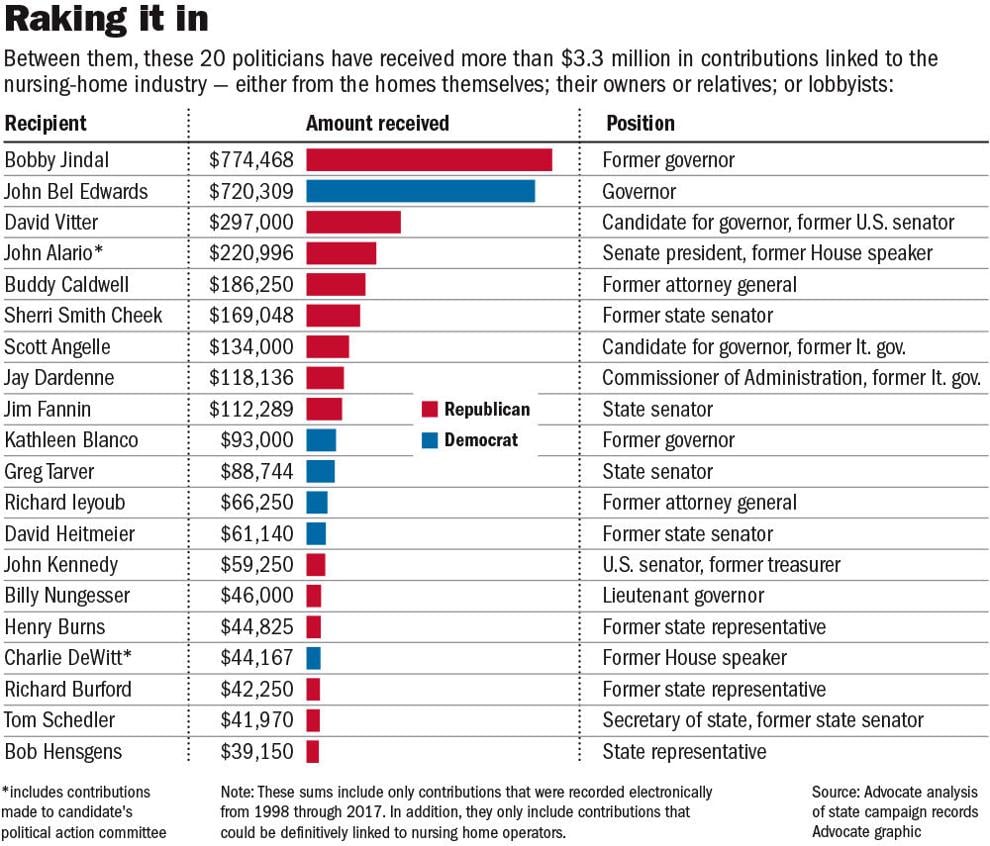 While leaders of many other business sectors, such as oil and gas, have reason to curry favor with Louisiana politicians, nursing home owners are almost uniquely motivated. After all, how much money they make derives almost entirely from political decisions made at the state level. And time and again, Louisiana's politicians have delivered exactly what the industry has sought. 
"This is an industry that's almost totally taxpayer-funded," said Hugh Eley, a retired 20 year administrator of the Louisiana Department of Health. "The vast majority of their income is from taxpayers through Medicaid and Medicare, and then they turn around and use it with their contributions to influence policy to limit taxpayers' long-term care choices."
Months before he pulled the plug on the long-term care overhaul, Jindal received a pile of checks from nursing home interests in support of his quixotic presidential campaign. The stack added up to about $370,000 — roughly 5 percent of the total he raised. The industry had long been stuffing Jindal's coffers: As governor, he had taken in nearly $800,000 from the industry.
Though impressive, Jindal's haul was hardly special. Edwards collected more than $400,000 in support of his winning 2015 gubernatorial campaign, and he has raked in another $319,000 since winning. But the industry hedged its bets: Former U.S. Sen. David Vitter, Edwards' opponent in the general election, tallied almost $300,000 in support of his bid, according to an Advocate analysis of campaign finances. And Scott Angelle, who also ran and finished third behind Edwards and Vitter, reeled in $123,000.
Nursing homes house more than 30,000 of Louisiana's most vulnerable people — those too old or disabled to care for themselves independently. Over many decades, industry leaders have made themselves perhaps the state's most powerful lobby, enjoying unfettered access to the state's policymakers and protecting their profit margins even in the worst of budgetary climates.
This is in no small part thanks to the millions of dollars they have doled out to legislators, governors and other elected officials. Over the last decade and a half, a handful of the industry's leaders, their lobbyists and their relatives have pumped nearly $6 million dollars into Louisiana political campaigns — and that's just the contributions that were recorded electronically, a requirement that's only been in place since 2010.
The largesse has paid off. In a punishing fiscal environment where state departments and contractors brace for annual budget reductions, nursing homes are unicorns, enjoying regular rate increases and a rare level of financial security.
Most of the nation is moving toward a model that steers more elderly and disabled people into long-term care in their own homes — an option that saves the state money, and happily, is preferred by most customers. The result, in most states, is an ever-increasing number of people served by home- and community-based Medicaid providers and a decreasing reliance on nursing homes.
But Louisiana is going in the other direction. Here, home- and community-based providers are barely hanging on because the state has made difficult efforts to help more people transition out of nursing homes. The list of elderly and physically disabled Louisianians waiting for home- and community-based services numbers about 32,000.
Advocates for this group say the strength, wealth and political connections of the nursing home industry stifles progress and traps people in nursing homes who'd be better off in their own residences.
"The state's going to say, 'How do you pay for it?' Well, how do you fund nursing homes?" said Mitch Iddins, director of New Horizons Independent Living Center, a north Louisiana organization that supports disabled people who wish to live at home. "There's a strong nursing home lobby in Louisiana, and it's still a good-ol' boy system. You scratch my back, and I'll scratch yours."
Jindal throws in towel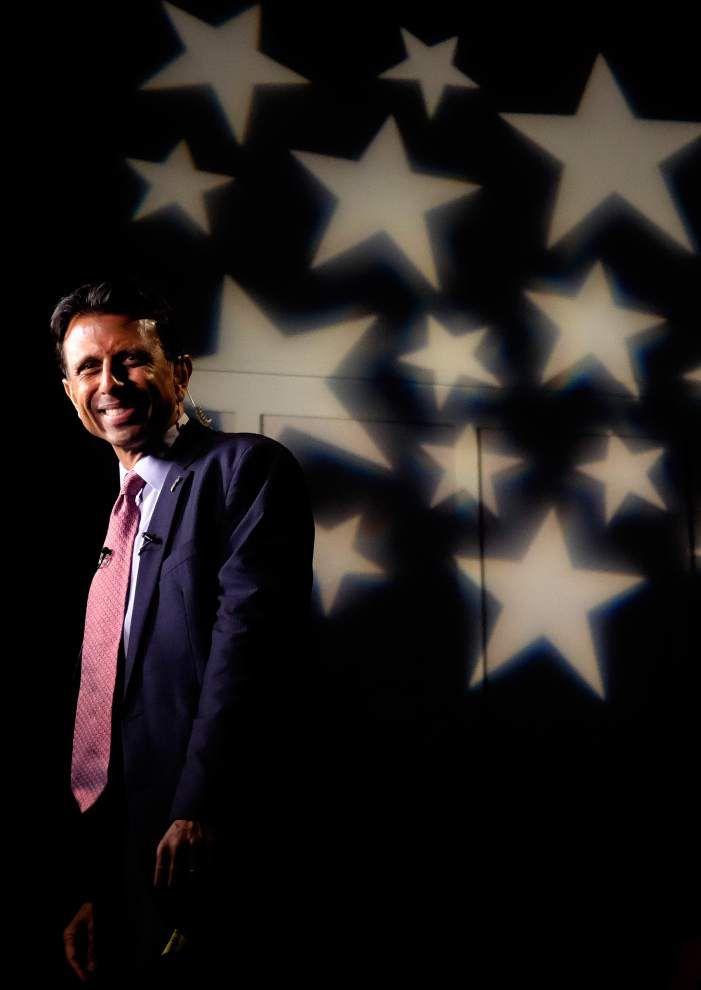 Jindal actually made some progress in gradually shifting the aging population away from nursing homes, though some of the progress owed to a court order and to lingering policies from the Kathleen Blanco years.
Early in Jindal's administration, the proportion of patients being cared for at home, as opposed to in institutions, steadily ticked up to about 30 percent, but it started to nose-dive after 2013. That year, the governor convened a group of 30 industry advocates and staffers with the Louisiana Department of Health, who spent the next two years working on a plan that would have given elderly and disabled people a wider array of options for care.
The plan centered on reforming Medicaid for long-term care services, the final chapter of Jindal's quest to privatize the entirety of what is today a more than $11 billion program.
The concept was to hire private insurers to manage the public program; those companies would determine the best and most cost-efficient environment for individual elderly and disabled Medicaid patients. The expectation was that more people would end up being served with home- and community-based services.
The effort had momentum. Jindal had already privatized the rest of the services covered by Medicaid. And the switch, according to projections at the time, would save the state about $77 million a year. It also would have given people what they wanted. A survey by AARP — the dominant group representing older Americans, with 38 million members — found that 90 percent of Louisianians polled would prefer to be cared for in their own home, rather than a nursing facility.
After many months of work, and more than $2.5 million spent on advancing the goal, the Jindal administration prepared a solicitation seeking private companies to bid to manage the services. But the mission was abruptly aborted Aug. 5, 2015.
A day earlier, the Louisiana Nursing Home Association's board had held a meeting via conference call and voted to codify their opposition to the managed-care bid. That same day, the association's executive director, Joe Donchess, who has since retired, sent an email to Kathy Kliebert, then secretary of the state Department of Health, spelling out the group's opposition.
That was the death knell. The next day, Jindal's administration announced it was scrapping the bid and would leave the decision to the next governor. A couple of days later, an email was sent to participants with an update that notified them there were "unresolved issues with stakeholders" but promising that work would continue on the matter in the next administration. 
"It was disheartening to have spent over two years working on something and then feel like my time was just wasted," said Jeanne Abadie, who works for the disabled- and elderly-rights nonprofit The Advocacy Center and also served on the task force. "We provided ongoing direction for approximately two years, or a little over, only to find out that the state was not going to follow through on this."
Abadie said the state staff didn't mention to the rest of the advisory group that there were problems that could derail the group's work. She also said Donchess, who also was part of the task force, never expressed his opposition in front of the group's members.
But emails obtained by The Advocate through a public records request show that Donchess and the nursing home association were emailing Kliebert and others at the Department of Health outside of the meetings to express their resistance to the plan as the process wore on.
In January 2015, seven months before the plan crumbled, Donchess wrote Kliebert saying the board had a litany of concerns and was "not willing to accept involvement in (a request for proposals) at this point in time." A request for proposals that excluded nursing homes would have had little impact on the elderly and disabled population.
Kliebert responded politely, assuring Donchess that her office would work with the group's association board to ensure their comfort with the process.
But Donchess was firm: "Kathy, Do not include nursing facilities in the RFP at this time. My board is adamant that we not participate until we get legislative protection."
Despite Donchess's officious tone, the health department and the governor's administration had the authority to issue the solicitation without the blessing of the nursing home's operators.
But Kliebert said in an interview with The Advocate that the Jindal administration informed her from the start that it was necessary to get "all the partners on board."
"We thought we had worked really hard with the nursing home industry to make compromises that would benefit them and still allow us to move forward," she said. "In the long run, they just didn't want to play, and they put pressure on politicians and others to kill it."
Donchess said in an interview that it was Kliebert's decision to kill the health reform, and he merely voiced the industry's opposition.
"There was no pressure; we took a vote. We passed it on to Kathy. We did not place any pressure on anyone," Donchess said. "We were very open. I participated in the entire (managed care) process, and I let Kathy know every step of the way my board would likely oppose this. Managed care is a terrible thing for both clients and providers." 
Jindal declined to be interviewed by The Advocate. His former chief of staff, Timmy Teepell, acknowledged in an interview that the former governor was reluctant to move forward without the approval of all stakeholders. But he said Jindal's biggest concern — the one that led him to spike the solicitation — was the impending transition in administration.
A fundraising juggernaut
The Louisiana nursing home industry is a juggernaut in Louisiana's political fundraising arena, with much of the muscle provided by three prominent owners: Ronnie Goux, Elton Beebe and Teddy Ray Price. None of them agreed to an interview for this story. 
The trio — directly and through companies they control — has accounted for many hundreds of thousands of dollars to campaigns across the state. And they were copied on many of the emails from the nursing home association to the state amid the debate over reforming long-term care.
Donors may give a maximum of $5,000 to any one candidate during an election cycle. But many nursing home honchos avoided those limits by donating through a variety of business interests.
Two-thirds of the roughly $1 million the nursing home industry donated to Jindal, Vitter and Edwards in 2015 can be traced to six sources: Goux, Beebe, Price, Denny Gamble and Scott Quirk — and their relatives and affiliated corporations — plus a national nursing home chain called Nexion Health.
Goux, president of the nursing home association and a close ally of Edwards, raised $142,000 for the governor in the 2015 race. The 50 individual donations tied to Goux were spread through at least 19 businesses and three family members.
While he was primarily an Edwards supporter, Goux also donated $3,000 to Vitter in 2015 and about $26,000 to Jindal. 
Price, meanwhile, donated more than $200,000 combined to the three candidates over the two-year span. At least $86,000 went to Jindal's super PACs. About $68,000 went to Vitter and $47,500 to Edwards.
Beebe, Gamble and Quirk all donated more generously to Vitter than they did to Edwards. Goux was the only one among the group to throw the bulk of his support behind the governor.
"Historically, they've usually had a pretty good pipeline to whomever the governor has been in most cases," Eley said. "Certainly, if you're in the department and you work for the governor, you're aware of their influence."
But Mark Berger, the executive director of the Louisiana Nursing Home Association, said the industry is simply trying to protect the public's interest. He cited industry-funded polling that found 87 percent of Louisiana voters were against cutting funding for nursing homes. 
"The Louisiana population believes cuts to nursing homes are unacceptable," he said. "Our members are passionate about the care they provide." 
Edwards crawfishing?
When Edwards ran for office, he made a pledge to AARP that he was committed to carrying out managed long-term care, the course pursued and ultimately abandoned by Jindal.
"My commitment is to do everything possible to make sure individuals get to stay in their home longer, as they want to," he said in an interview August 2015 with AARP. "Long-term managed care, with a comprehensive model including nursing homes, is absolutely my goal."
He went on to acknowledge that nursing homes have concerns about the change and that he had some of his own worries. But he was adamant that a compromise could be achieved.
Can't see the video below? Click here. 
"I have to believe there is a model out there that will work to allow us to do this with long-term managed care in a comprehensive way including nursing homes," he told AARP. 
But some 15 months later, in an interview with The Advocate, Edwards sounded much more skeptical about the reform plan he once supported. He stressed that most states in the country haven't implemented managed care systems for their elderly populations and that he has real concerns about inserting private insurance companies, who will expect to reap a profit, into the health care mix. 
However, he also acknowledged that managed care has been successful for the rest of the Medicaid population.
Edwards said he's still having discussions with the Department of Health and stressed that he is not interested in making hasty decisions. 
"I don't want to move too fast before we're convinced that managed care works," Edwards said. "I don't believe that the other states have done it have saved a lot of money, and I don't want to make a mistake. It must be delivered smart." 
Teepell said the foundation built by Jindal's team — including the scrapped solicitation — could easily be dusted off and reissued.
Andrew Muhl, a lobbyist for Louisiana's AARP, said he was discouraged by Edwards' "evolving position." 
"We applauded the governor's clear commitment to older adults who want to live independently, which he repeated often during his gubernatorial campaign. However, we're disappointed with the lack of action since then," Muhl said. "Other states continue to make significant progress, while over 30,000 older adults here in Louisiana still wait for the help they need to remain at home. They deserve to know the reason for the administration's lack of leadership on (managed care) and other reforms to help older adults choose how they receive their care." 
Last year, state Rep. Walt Leger, a New Orleans Democrat and an Edwards ally, sponsored a bill that would have jump-started a solicitation process for managed long-term care. But it was quickly killed in the House Health and Welfare Committee, which dictates policy that regulates the industry. Industry leaders packed the room to bad-mouth the proposal. The lobbyists were led by former state Sen. Joe McPherson, who owns a Lafayette nursing home, and Donchess. 
McPherson, a Democrat from Woodworth, knew that committee well: While he was in the Legislature, he served as its chairman.
Powerful Louisiana lawmakers have long dabbled in the nursing home industry. Patti DeMichele, a former executive director of Louisiana's AARP, traces the industry's outsized political influence to both the vast sums of money its members donate and the Legislature's history of allowing lawmakers with ties to the business to influence legislation.
Former House Speaker Jim Tucker, R-Algiers, was a board member for CommCare, a nonprofit that runs 11 nursing homes; after he left the Legislature, he was named CEO of the company. Today, Rep. Bob Hensgens, R-Abbeville, state Sens. Eric LaFleur, D-Ville Platte, and Mike Walsworth, R-West Monroe, actively work in the nursing home industry, according to a review of legislative financial disclosures. Sen. Fred Mills, R-Parks, also holds an interest in a nursing home.
After Edwards won his election, he named Goux chair of his health care transition team, which would make health care priority recommendations to the new governor. 
"Nursing homes are important health care providers in Louisiana, and Ronnie has been in that business for a very long time, and I'm confident he has the a perspective in Louisiana that made him a good chair of the transition committee," Edwards said. "I'm not the least bit defensive of his service because if you look at the report, they did some really, really good work."
Last May, Edwards was a keynote speaker at the Louisiana Nursing Home Association's annual conference, which was closed to the press. And according to his calendar, Edwards took more meetings with Dan Robin than any other lobbyist in 2016. Robin represents the nursing home association, among other clients.
Edwards adamantly rejects the idea that he is beholden to his contributors.
"I think you'd find that nursing homes found the best candidates, but people from the industry supported all of the major candidates for governor and were fairly generous in terms of doing that," he said. "My commitment is always to the people of Louisiana and what makes the most sense for the state. I just don't want to rush into anything if we can't be really confident and comfortable that we won't be reducing care." 
Bruce Blaney, a nursing home critic and consultant with the Supported Living Network, an advocacy group for home and community based providers, said he thinks Edwards has sold out to the industry.
"The nursing home controls health care policy in Louisiana. They control it absolutely, and unconditionally," he said. "That's the deal, and that's still the case. Our governor is as much on the payroll as Bobby Jindal was."
— Staff writer Gordon Russell contributed to this story.
Editor's note: This story was changed May 1 to correct the office that former lawmaker Joe McPherson held. He was a state senator. 
---
Part 1 ... Profits over patients: How Louisiana values nursing homes over elderly, disabled
The past 10 months have ticked away at a torturously slow pace for Kenny Johnson, who prayed every day he'd get the call telling him it was time to leave the nursing home.
Part 3 ... Profits over Patients: Louisiana Ignores Reform that Could Help Fix Budget Mess