Gov. John Bel Edwards and Baton Rouge Mayor-President Sharon Weston Broome on Sunday strongly advised all residents living in mobile homes to evacuate in advance of a storm that earlier killed a Breaux Bridge mother and daughter whose home collapsed on them. 
The home, on a rambling stretch of family land in the 1100 block of Zin Zin Road, began to crumble before flipping over as a storm whipped through the countryside just outside of Breaux Bridge.
Latest: Floodwaters recede but claim at least three homes
Inside the home, 38-year-old Francine Gotch and her 3-year-old daughter, Nevaeh Alexander, were crushed to death between the collapsing ceiling and floor in the bed where they'd been sleeping.
Gotch's 12-year-old son tried to wake the pair before fleeing the home and running to his grandmother's house next door, relatives said. The powerful winds threw him off his feet as he ran.
"I was calling her name but she wasn't responding," said Kendria Alexander, Nevaeh's 27-year-old aunt and the sister of the girl's father. "We couldn't get in there because of all the wires."
Emergency workers later pulled the bodies from the wreckage.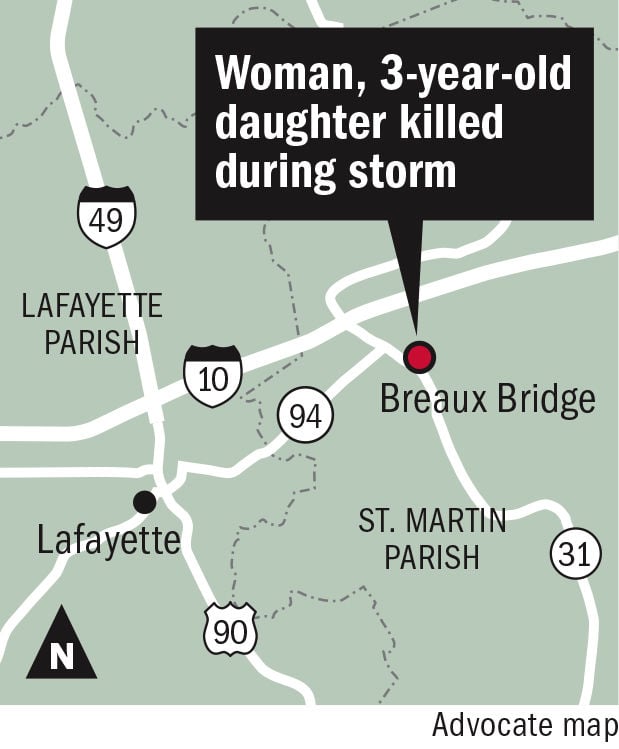 Alexander and Sheryle Rubin, who also live next door, described a sudden blast of wind accompanied by hail and torrential rain. Windows rattled and the skies turned dark as they sought cover in a neighboring home.
Relatives gathered near the collapsed home late Sunday afternoon as gusts of wind continued to blow beneath ominous skies. Several of the family's horses — relatives said Nevaeh loved animals and enjoyed coming along for occasional rides — grazed nervously in an adjacent pasture still strewn with debris.
The girl's father had just left home to go to the store for groceries, Alexander said, since the extended family usually gathers together for a meal on Sundays.
Relatives described those killed in the storm as a fun-loving pair who smiled frequently.
Nevaeh "was the sweetest little girl," said Rubin, who's engaged to the girl's uncle. "She was only 3 years old but was the smartest girl in the world. She would've started school in August."
Can't see the video below? Click here. 
The Lafayette area was hit with strong storms about 9:30 a.m., including high winds and large hail, early this morning.
KATC-TV reported one Lafayette woman had an inch of water in her apartment on South Pierce Street, and cars were stranded in a flooded railroad underpass at University Avenue.
Video taken Sunday morning near Lafayette High School (below) shows high winds and large hail. 
The crisis action team of the Governor's Office of Homeland Security and Emergency Preparedness was activated due to the severe weather on Sunday.
Those living in mobile homes should stay with a relative or friend in a secure location for the night, Edwards said.
"Mobile homes are extremely dangerous during high-wind events whether they be tornadoes or straight line wind events," Edwards said. "In fact, there are already two confirmed deaths today from St. Martin Parish, in Breaux Bridge, from a straight line wind event that caused a mobile home to turn over."
Broome recognized that many Baton Rouge families are still in recovery from the August floods and in FEMA housing, so she also encouraged finding alternative housing.
Edwards made the announcement after meeting with other state leaders in the unified command group and with the National Weather Service.
Portions of the state are now under the high risk category for tornadoes, which is rare for Louisiana, according to the Storm Prediction Center.
This risk is for western-central Louisiana to north Louisiana and means that there is a great threat of tornadoes and a possibility of 75 mph winds and large hail, according to Governor's Office of Homeland Security and Emergency Preparadness. This threat will spread across the lower Mississippi Valley into the evening.
"These forecasts of this nature occur very infrequently across the country each year and we don't know that there's ever been a time in the state of Louisiana where this part forecast has ever been issued for so much of the state of Louisiana to be at high risk of severe weather," Edwards said.
Under the advisory, wind speeds are anticipated to reach 70 to 80 mph, which is equal to a Category 2 hurricane, Edwards said.
Rapides Parish had two unconfirmed reports of tornadoes Sunday and hail that measured up to 2 inches, Edwards said.
As of late afternoon Sunday, the governor had not issued a state of emergency and said that he didn't think one would be needed as of yet.
Edwards also advised residents to minimize going outside, stay off the roads, keep cell phones charged and seek shelter in an inside room if a storm moves in.
GOHSEP Director James Waskom advised residents to monitor local media and weather service reports for updates as the weather conditions will change quickly.
Severe storms are expected to impact much of Louisiana through Sunday evening into Monday morning, with a flash flood watch and wind advisory in effect. Scroll below for the latest weather radar info.