4 p.m. update: Three hurricanes: Rains, 185-mph winds from monster Irma hitting Puerto Rico as 2 more develop
-----
ST. JOHN'S, Antigua (AP) — Hurricane Irma roared into the Caribbean with record force early Wednesday, its 185-mph winds shaking homes and flooding buildings on a chain of small islands along a path toward Puerto Rico, the Dominican Republic, Haiti, Cuba and a possible direct hit on South Florida.
The strongest Atlantic Ocean hurricane ever recorded passed almost directly over the island of Barbuda, causing widespread flooding and downing trees. France sent emergency food and water rations to the French islands of Saint Martin and Saint Barthelemy, where Irma ripped off roofs and knocked out all electricity.
The regional authority for Guadeloupe and neighboring islands said the fire station in Saint Barthelemy was flooded by more than 3 feet of water and no rescue vehicles could move. The government headquarters on Saint Martin was partially destroyed.
There were no immediate reports of casualties but the minister for overseas territories, Annick Girardin, said "We have a lot to fear for a certain number of our compatriots who unfortunately didn't want to listen to the protection measures and go to more secure sites ... We're preparing for the worst."
Hurricane Irma had maximum winds of 185 mph as of 10 a.m. Wednesday and was producing dangerous storm surge and heavy rain. The center of the storm was about 65 miles east-southeast of St. Thomas in the U.S. Virgin Islands and about 140 miles east of San Juan, Puerto Rico. It was heading west-northwest at 16 mph.
The U.S. National Hurricane Center said Irma's winds would fluctuate but the storm would likely remain at Category 4 or 5 strength for the next day or two. The most dangerous winds, usually nearest to the eye, were forecast to pass near the northern Virgin Islands and near or just north of Puerto Rico on Wednesday.
It was expected to continue in that direction through Friday or Saturday before turning north near the Florida Keys, according to the Hurricane Center, adding that the timing of the expected turn is still uncertain.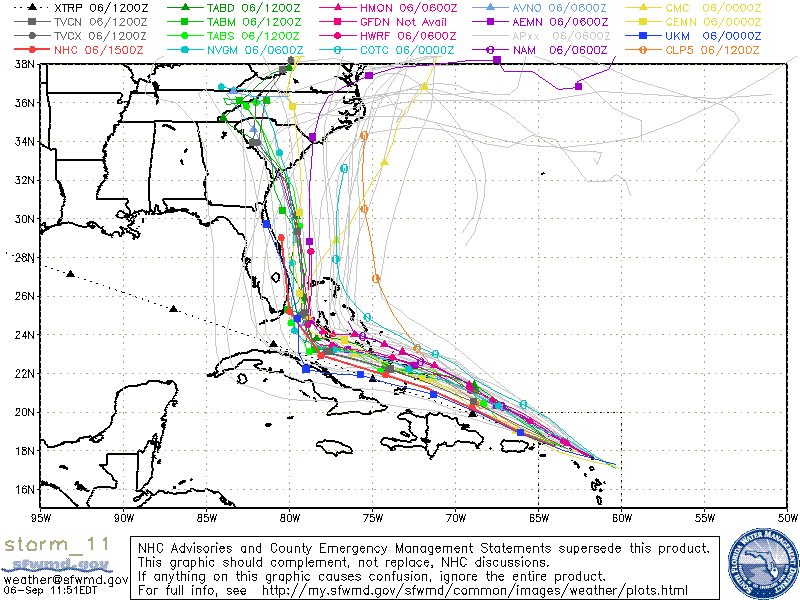 Antigua and Barbuda Prime Minister Gaston Browne said the twin-island nation appears to have weathered its brush with Hurricane Irma with no deaths, though he noted that the government had only done a preliminary assessment of Barbuda. There were widespread reports of property damage but he says the public and government had prepared well for the storm.
"We in Antigua have weathered the most powerful hurricane ever to storm its way through the Caribbean," the prime minister said. "And we have done so with stunning results."
President Donald Trump declared emergencies in Florida, Puerto Rico and the U.S. Virgin Islands, and authorities in the Bahamas said they would evacuate six southern islands.
Can't see video below? Click here. 
Warm water is fuel for hurricanes and Irma was moving over water that was 1.8 degrees warmer than normal. The 79 degree water that hurricanes need went about 250 feet deep, said Jeff Masters, meteorology director of the private forecasting service Weather Underground.
Four other storms have had winds as strong in the overall Atlantic region, but they were in the Caribbean Sea or the Gulf of Mexico, which usually have warmer waters. Hurricane Allen hit 190 mph in 1980, while 2005's Wilma, 1988's Gilbert and a 1935 great Florida Keys storm all had 185 mph winds.
The U.S. National Weather Service said Puerto Rico had not seen a hurricane of Irma's magnitude since Hurricane San Felipe in 1928, which killed a total of 2,748 people in Guadeloupe, Puerto Rico and Florida.
The eye of the storm was expected to rip westward on a path taking it a little north of Puerto Rico, the Dominican Republic, Haiti and Cuba.
The northern parts of the Dominican Republic and Haiti could see 10 inches of rain, with as much as 20 inches in the southeast Bahamas and Turks and Caicos.
The storm seemed almost certain to hit the United States by early next week.
"You'd be hard pressed to find any model that doesn't have some impact on Florida." said University of Miami senior hurricane researcher Brian McNoldy.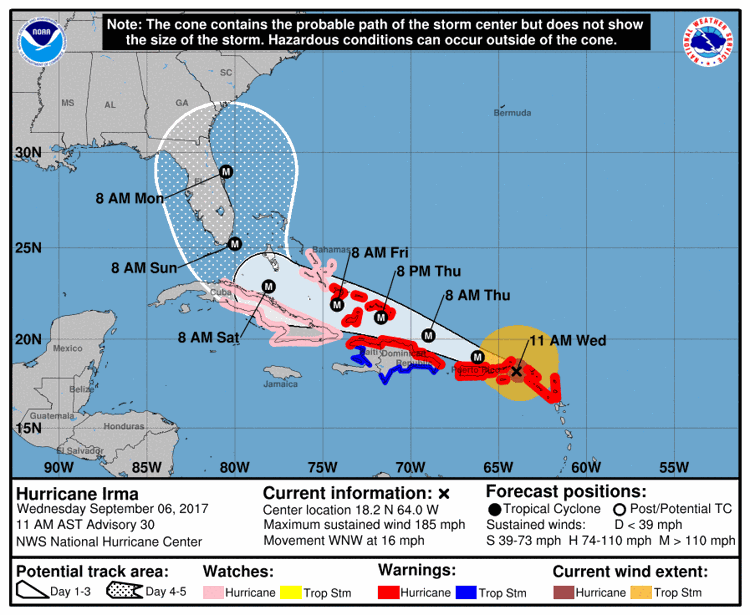 In Florida, people stocked up on drinking water and other supplies.
Florida Gov. Rick Scott activated 100 members of the Florida National Guard to be deployed across the state, and 7,000 National Guard members were to report for duty Friday when the storm could be approaching the area. On Monday, Scott declared a state of emergency in all of Florida's 67 counties.
Officials in the Florida Keys geared up to get tourists and residents out of Irma's path, and the mayor of Miami-Dade County said people should be prepared to evacuate Miami Beach and most coastal areas.
Mayor Carlos Gimenez said the voluntary evacuations could begin as soon as Wednesday evening. He activated the emergency operation center and urged residents to have three days' worth of food and water.
The Hurricane Center in Miami said hurricane-force winds extended 50 miles from Irma's center and tropical storm-force winds extended 175 miles.