The Storm Prediction Center has posted a tornado watch for much of Louisiana, including areas north and west of Baton Rouge. 
Forecasters had said previously that areas north of the Interstate 10 and 12 corridors are at an increased risk for severe weather, including thunderstorms, damaging winds and heavy rainfall. The threat lasts through Tuesday evening.
As the day progresses, thunderstorms and strong winds will roll in as a cold front pushes east across Louisiana and Mississippi, bringing with it the threat of excessive rainfall, hail and isolated tornadoes, according to forecasters with the National Weather Service in Slidell.
Timing for the storms is a little uncertain though current forecasts have the main line of thunderstorms arriving in Baton Rouge around 4 p.m. or 5 p.m., according to NWS meteorologist Lauren Nash. The tornado watch, which covers an area roughly bordered by Shreveport, DeRidder, Amite and Greenwood, Mississippi, will be in effect until 6 p.m.
Some showers could pop-up before the worst of the weather reaches the Baton Rouge area.
The weather is expected to move quickly, Nash said. There's a chance for redevelopment after midnight, she said, for all of south Louisiana. If so, showers and thunderstorms are likely but they are not expected to be severe.
Forecasters said Baton Rouge and areas north are considered to be at an enhanced risk for severe weather that may include winds over 60 mph and large hail 1 inch in diameter or bigger. A few tornadoes are also possible and damaging winds are the largest concern for this weather event.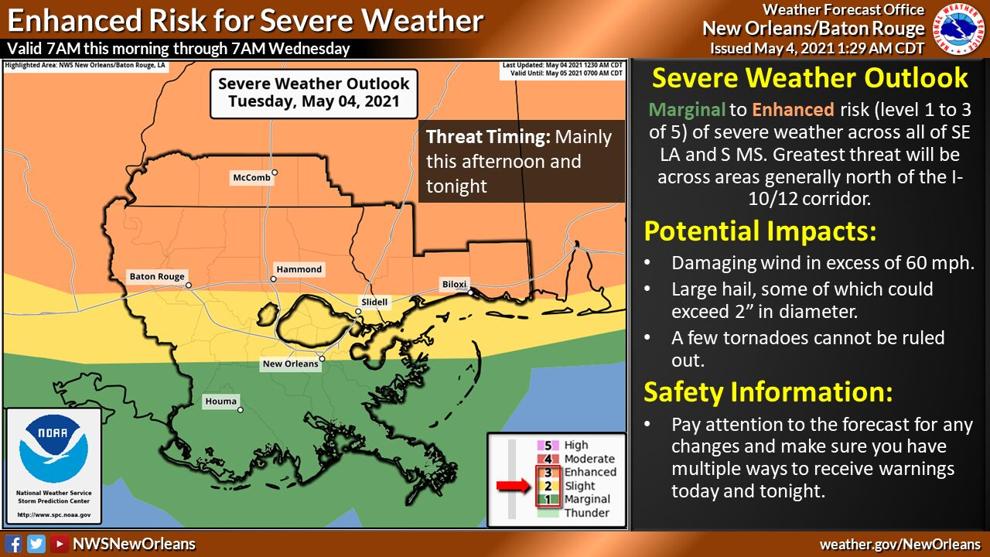 Heavy rain is also a concern, with 2 to 4 inches of rainfall possible through Wednesday.
The area is at a slight risk for excessive rainfall and is under a flash flood watch until 1 a.m. Wednesday morning.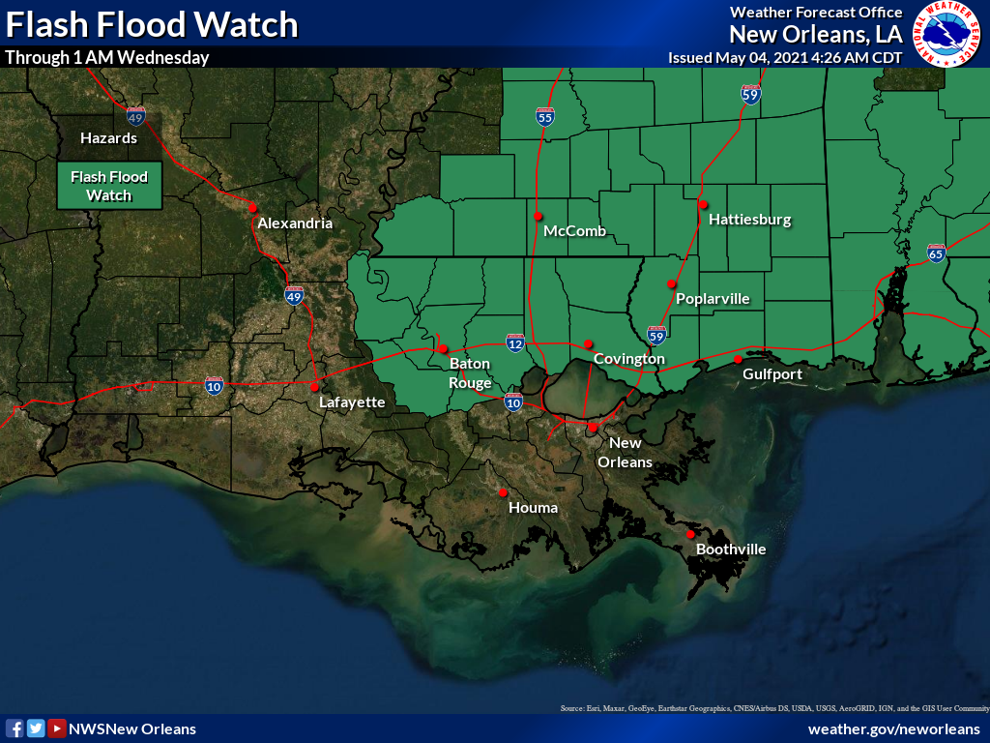 Here's a look at the live radar for Baton Rouge and its surrounding areas: