Road crews will close Pecue Lane where it crosses Interstate 10 beginning next week as part of a project to build an interchange at the southeastern Baton Rouge location. 
A new span over I-10 has already been built, but the road must be closed for six weeks so workers can build approaches to it from both ends. The new interchange is still years away, and the state's transporation secretary said Monday there is still about $34 million in funding still to be lined up. 
The closure will begin next Monday and run through May 14. It's suggested that drivers take Siegen Lane or Highland Road to travel between Perkins Road and Airline Highway, pouring additional traffic onto already-crowded roads. There's no choice but to do the shutdown now because work has reached the next stage.
"It doesn't matter if we're ready or not," said Fred Raiford, the director of drainage and transportation for East Baton Rouge Parish.
Siegen Lane, as of its most-recent traffic count in 2017, carried about 32,000 vehicles daily, Raiford said.  Pecue Lane had about 12,000 vehicles daily. Siegen Lane has six travel lanes between I-10 and Airline; Pecue is a two-lane road slated for an upgrade to four lanes.
Traffic counts for the section of Highland Road that will carry Pecue detour traffic weren't immediately available, but the road does ferry thousands of motorists daily into and out of lower East Baton Rouge Parish and northern Ascension Parish during rush hour.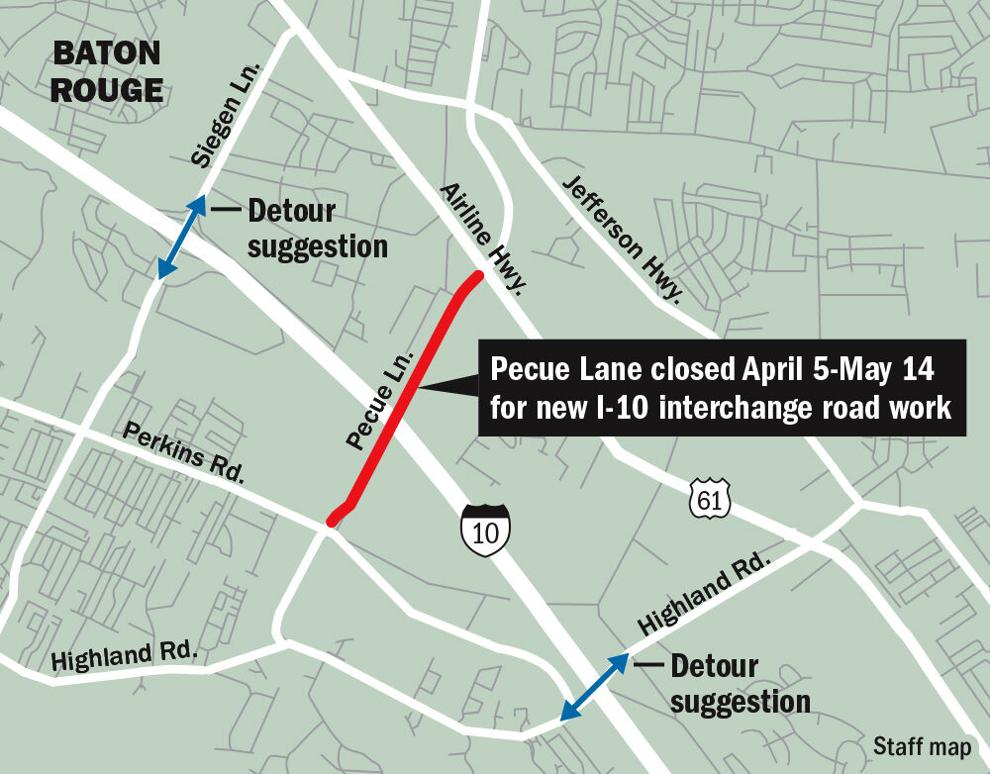 State highway officials and East Baton Rouge Parish officials had previously announced plans to build an interchange at the site and to upgrade Pecue Lane along its 1.6 miles between Perkins Road and Airline Highway. When completed, it will ease access to Woman's Hospital, giving motorists a straight shot from I-10 to its medical complex via Pecue Lane rather than funneling traffic onto Airline Highway.
The construction site includes where Pecue Lane crosses Interstate 10, Ward Creek and the Kansas City Southern railroad. The entire lot of improvement projects was divided among the state and city, said Shawn Wilson, the secretary of the Louisiana Department of Transportation and Development.
"The first phase was, of course, this piece, then you get to the construction of the ramps," Wilson said. In addition, East Baton Rouge Parish will do other improvements along Pecue Lane. There's no completion date set because not all phases of the project have completed the bid process, Wilson said.
Interstate 10 was completed from Interstate 12 to Highland Road in the 1970s. Back then, Pecue was a little-traveled country lane with a few homes. A handful of businesses have popped up up since then, but the area still has its rural character.
The DOTD and the Capitol Region Planning Commission first discussed an interchange at the site in the 1990s, but talk was put off after Hurricane Katrina brought a temporary surge of motorists into the city and other areas needed help due to the increased demands for capacity.
When the Metro Council approved local funding in 2017, the city-parish noted a 2025 deadline so it could avoid problems such as re-doing studies of the area.
In 2018, the federal government kicked in $16 million toward the bridge project, and city-parish voters approved additional funding for Pecue Lane improvements through the MovEBR program adopted in late 2018.
Staff writer Will Sentell of the Capitol News Bureau contributed to this report.