Lane closings are planned near the Mississippi River Bridge and where Interstate 10 is being widened between Highland Road and La. 73 in suburban Ascension Parish, officials announced Friday morning.
Starting at 7 p.m. on Friday, work will begin on the bridge at the eastbound approach near the Port Allen exit in West Baton Rouge Parish.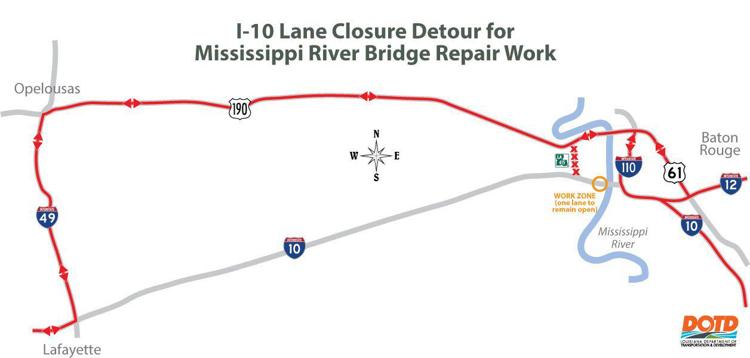 The project is to repair the failing approach to the bridge on the west bank and will require a lane to be closed during the work.
The eastbound lane closure will affect the outside lane from 7 p.m. on Friday through noon on Sunday.
The La. 1 exit ramp from I-10 eastbound will be closed from 7 p.m. on Friday through noon on Saturday, according to the state Department of Transportation and Development.
Also, a 12-foot restriction has been placed on traffic crossing the bridge during the closure.
At the other end of the Baton Rouge metro area, lane closures are scheduled through Wednesday.
It is part of the state's $72 million project to widen I-10 over a roughly seven-mile stretch.
The work will convert the corridor from four to six lanes and take about 2 1/2 years to finish.
About 80,000 motorists use the corridor daily.
Single lane closures are set on Friday from 9 p.m. until 8 a.m. Saturday, westbound; Sunday from 7 p.m. until 5 a.m. on Monday, eastbound and westbound and Monday from 8 p.m. until 5 a.m. on Tuesday; eastbound and westbound.
Also, lanes will be closed on Tuesday from 8 p.m. until Wednesday at 5 a.m., eastbound.