The "roller coaster ride of temperatures," as the National Weather Service called it, will persist in southeastern Louisiana this week with near 80 degree temperatures Monday before the possibility of a freeze on Tuesday and Wednesday.
The week is forecast to start with temperatures in the mid to high 70s Monday, according to the National Weather Service. The outlook changes for Tuesday and Wednesday when the area could see record-low temperatures and possibly a hard freeze, according to the NWS report.
A cold front moving through Monday evening is expected to send temperatures plunging, with temperatures and wind chill values in the the 30s or possibly even lower for much of southeastern Louisiana.
"Clear skies and diminishing winds will then set the stage for an early first freeze of the season," National Weather Service forecasters said in a Facebook post. "Some of the more northern and inland areas may even experience a hard freeze with a fairly long duration of sub-freezing temperatures." .
The current anticipated low temperatures could set record low temperatures for multiple locations. Most of the area will experience below freezing temperatures on Wednesday morning.
Monday high temperature forecasts:
Baton Rouge: 78
Lafayette: 77
New Orleans 75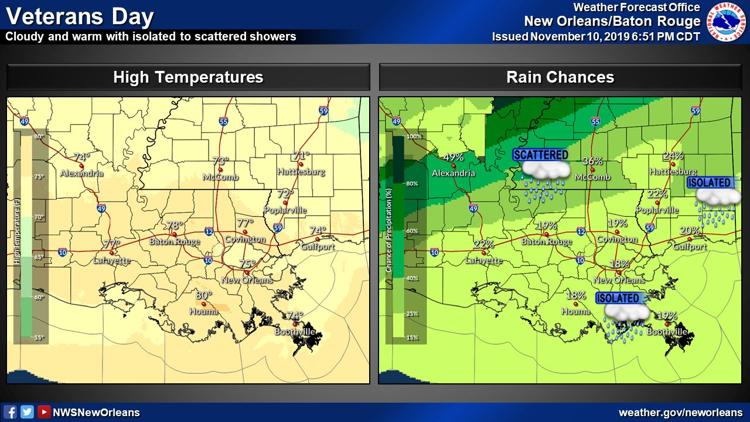 Monday night low temperature forecasts:
Baton Rouge: 38
Lafayette: 38
New Orleans: 44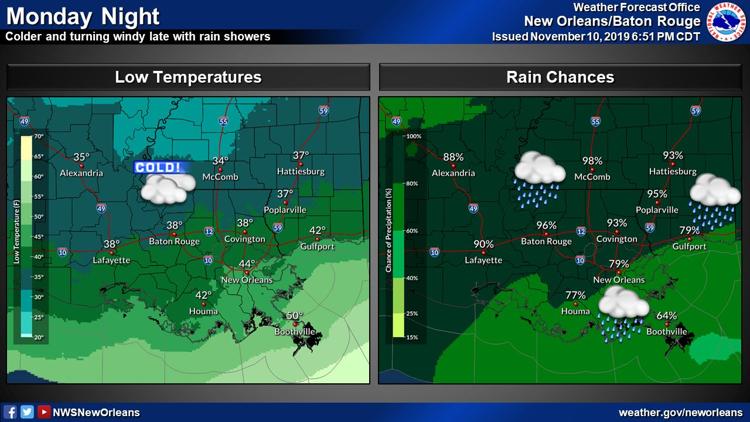 Wednesday morning low temperature forecasts:
Baton Rouge: 28
Lafayette: 26
New Orleans: 33