Crews for Entergy Louisiana and DEMCO were restoring power to nearly 24,000 customers Monday after Hurricane Barry inched through the state during the weekend, knocking out electricity to about 95,000 customers on Saturday.
Though the slow-moving storm did not bring as significant rainfall and wind as predicted, it still takes time to restore power for a number of reasons, officials said.
During the beginning of the storm, winds stronger than 30 miles per hour prevented bucket trucks from repairing power lines along roadways. Over the weekend, some customers were notified of intermittent power outages because some parts of the grid were turned off for safety reasons to allow repairs. Now a plethora of small outages caused by fallen trees and branches damaging equipment in customers' backyards across East Baton Rouge and West Baton Rouge parishes mean a tedious restoration process. Workers often need to coordinate entry and work in backyards, where it's also harder to place equipment.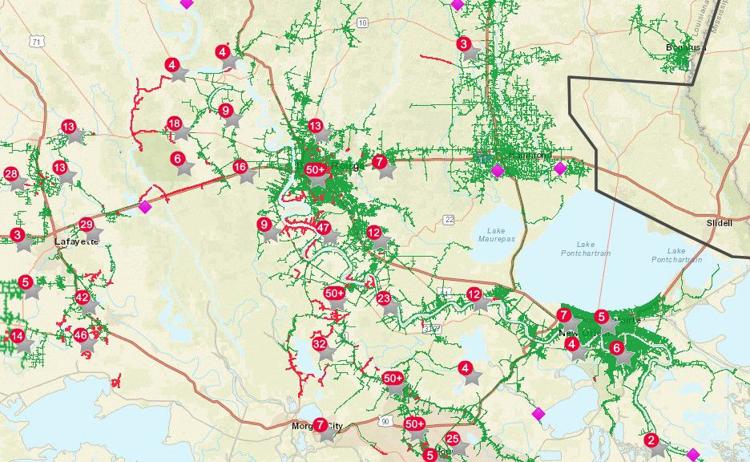 There were about 23,600 customers across the Entergy Louisiana footprint still without electricity as of about 10 a.m. Monday and 100 for Dixie Electric Membership Cooperative.
Much of the remaining Entergy power outages were concentrated in East Baton Rouge Parish, with about 5,500 customers without electricity on Monday morning in addition to about 300 in West Baton Rouge Parish.
DEMCO said its few outages remaining primarily were in West Feliciana Parish near Angola, where high water and Barry's remnants delayed the safe restoration of power. 
---
Can't see video below? Click here.
---
It's still a decline from Saturday afternoon when 14,200 customers of Entergy Louisiana across East Baton Rouge Parish didn't have electricity by 5 p.m. and another 2,100 customers in West Baton Rouge Parish didn't have power.
DEMCO estimated its overall peak outage at the height of the storm at 6,000, with 250 crew members deployed for restoration efforts. Entergy Louisiana's peak outage was 89,000, with 4,000 employees working across the state.
The significant number of mature trees in residential neighborhoods caused damage affecting about half of Entergy's last 5,500 Baton Rouge customers still without power as of Monday morning. By mid-afternoon only about 3,900 customers were still without electricity.
"One of challenges that we had in Baton Rouge is a very robust tree canopy and we also have rear lot services, those two things added additional complexity," said Philip May, CEO of Entergy Louisiana. "It requires additional time and specialized tools. Every one of these cases are going to take a couple of trucks and several line workers so that's going to be repeated another 300 times over the next couple of days."
Thousands of Baton Rouge-area residents are still without power Sunday morning as the last of Tropical Storm Barry makes its way through the city.
It normally has about 100 line workers in Baton Rouge and had about 800 across East Baton Rouge and West Baton Rouge parishes on Monday.
"A big chunk of what we'll do over the next several days are these types of small outage restorations," May said. "A significant amount of damage occurred after the storm was onshore through Sunday, which was a little unusual."
Entergy Louisiana has right-of-way in the backyard where it has electric poles, but will get in touch with customers without electricity to coordinate the repairs with the special trucks.
Entergy Louisiana plans to notify customers individually with estimated time to restore power over the next 24 hours, but it's not clear how long it may take to get both parishes back up.
In the meantime, officials suggested that if residents encounter a power line on the ground to assume that there is electricity running through it and to avoid touching the equipment and answer the door if workers visit.
"If you're lights are out and you have a rear lot service, we are going to be knocking on doors and requesting permission to go into the backyard so we can finish those restorations," May said.
Some Baton Rouge neighborhoods where there was a cluster of outages included Oak Hills Place near Bluebonnet Boulevard and Highland Road; Westminster just south of the intersection of I-10 and I-12; Mid-City Baton Rouge; near Winbourne Avenue just west of Airline Highway; and some areas of Broadmoor just east of Airline Highway and Goodwood Boulevard.
Nearly 77,000 residents are without power across three major electricity providers in the region as of 5 p.m. Saturday according to outage map…