I remember the City Hall Plaza encounter as if it were yesterday. I was stunned that the dapper man approaching me knew me, surprised that he recognized me and more surprised that he knew my name. New Orleans' first black mayor calling out the name of a 20-something from the Lower 9 and Gentilly?
Ernest "Dutch" Morial was a prominent figure in black New Orleans, and he did what seemed impossible: He dared to include us in all things New Orleans. And he ran for, and won, the city's top leadership post. If anyone was up for this challenge, it was Dutch.
He made us proud. We wanted to make him proud.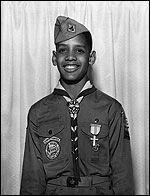 So, I felt bad as he stopped me that day early in his administration because he asked me what I was doing. I was a cub reporter at a Gannett newspaper in southern New Jersey. He asked why I left the city. I wanted to get away from home, have different experiences, be exposed to other things. He listened, briefly, but he was clear. "That's the problem," he said. "Young people like you leaving the city. We need you here."
I've never forgotten that day. I haven't shared it much, until now. My career took me to Philadelphia at one of the nation's most prominent and respected newspapers, The Philadelphia Inquirer. I ran Knight-Ridder's Post-Tribune in Gary, Indiana, as managing editor and then as editor and vice president. I was a part of the senior leadership team at McClatchy's The News & Observer in Raleigh, helping to oversee coverage of one of the nation's boom regions. I taught journalism at my alma mater, Hampton University, and then at Grambling State University, where I also worked as director of communications. Along the way, I worked in state government and the nonprofit world, too. I served Omega Psi Phi Fraternity Inc. and the National Association of Black Journalists as a leader, becoming NABJ's national president.
I don't remember the day I was born in 1955, but Dwight Eisenhower was president, Richard Nixon was vice president and new, three-bedroom homes were being sold for less than $15,000 in a new Gentilly subdivision. Oh, and the New Orleans Pelicans were playing — baseball.
---
Can't see video below? Click here.
---
I was born in the old Flint-Goodridge Hospital, the unofficial "black hospital" for those of us who weren't born and treated at Charity Hospital. My parents, Leatrice Hubbard and Dr. William W. Sutton, were proud Dillard University alums, and my dad was teaching at Dillard. Flint-Goodridge was Dillard's hospital, uptown on Louisiana Avenue. My dad knew Dutch from his civic and community engagement with the Urban League and the National Council of Christians and Jews.
Raised — or reared if you're a purist — in the Lower 9 and Gentilly, I'm a next-generation Creole with deep black Mississippi roots. Like my mother, I was born here. My dad grew up in Monticello, Lawrence County.
I attended Valena C. Jones Elementary School and T.J. Semmes Elementary School, and Kohn Junior High School, near Florida-Desire, before moving to St. Augustine High School. It was a challenging and thrilling four years. I was a part of the Marching 100, learning and growing under the tutelage of Edwin "Hamp" Hampton. I marched progressions with the 8-to-5 high stepping he taught us.
At St. David's Roman Catholic Church, I became an Eagle Scout with Troop 155. I spent many a night in the community building right behind the church, just off of St. Claude Avenue, and walking distance from the home of Fats Domino.
When I left New Orleans for college, it wasn't because I didn't love the city. It was because I yearned for new experiences, opportunities to grow and a chance to spread my wings by venturing into the world of journalism.
It took me a few years, but I'm back. I'm back home.
I've visited often, but I've missed a lot. I'm here to listen, and to love. I will add perspective as a native with experiences from elsewhere. I'll engage citizens, readers, viewers and visitors. I'll take on some serious issues, share some personal stories — and have some fun.
New Orleans is home, and the city deserves much love. I've been up north, mid-state and across southern Louisiana. I enjoy our state's culture, amazing and interesting people and, yes, our food. I promise to be engaged, honest and to share my truth. Please share yours. I'm here to #DoTheWork.