I was interviewed recently on a Baton Rouge radio show about an historic event I participated in during the spring of 1970. My school, McKinley High, played predominantly white Catholic High School.
It was the first time there had been a sanctioned athletic event pitting a black school against a white school in East Baton Rouge Parish. It would be a precursor to total competition in the parish the following fall of white and black schools.
The players were polar opposites. McKinley's team was mostly low-income black children from "The Bottom" in old South Baton Rouge. Catholic was mostly upper-income and rich white kids from mid-city and all around. You had the sons of house cleaners, restaurant workers, school teachers, seamstresses, single parents, and a few professionals from McKinley versus the sons of lawyers, doctors, judges, nurses and college professors, many of whom were the movers and shakers in Baton Rouge.
You would have a team of boys whose whole world was a ride to New Orleans, maybe Houston, and maybe someone who had been to California playing against boys whose families planned summer vacations across the country and some, probably overseas.
The whole thing came down to a basketball game in a gymnasium that was so much larger and nicer than the place our visiting McKinley Panthers usually played in. The Catholic High lockers were in the school's orange. Wow. Our lockers were old and standard gray, and a few of them were broken.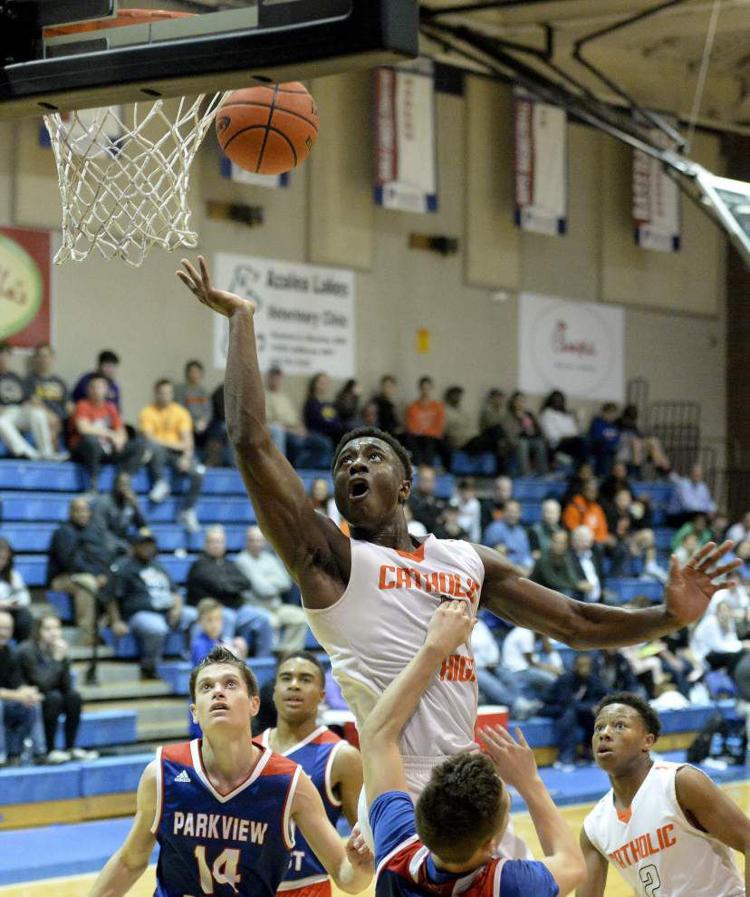 But for all of the hoopla, the basketball game — the varsity team won, the JV lost — meant very little to me then or any time after. It was another game, a baseball game against Broadmoor High the next year, that lit a fire in my heart.
I had never been in Baton Rouge's Broadmoor neighborhood. While it was only a few miles from McKinley, it might as well have been in Missouri. Once we crossed Airline Highway into the Broadmoor community, I and a couple of my teammates got very quiet.
My God, there was a sea of nice brick homes of all shapes and sizes. They were everywhere. We had some brick houses scattered about in our neighborhoods. But look at how big these houses were. They were fantastic.
I remember going to my fifth-grade teacher's brick house in Southern Heights, then a well-heeled area of black-owned houses. I remember she had a water fountain in her house. I recall that some of my friends kept returning to the water fountain because we thought it was special water. Passing through Broadmoor, I began to wonder about the lives like of the children who lived there. I bet they all had lots of bats, baseballs, basketballs, footballs, air conditioners, carpeted floors, stereos and color TVs.
I wondered what they ate. Were they like "Leave It To Beaver"? There were people who lived near me who worked in white people's houses. I wondered if they worked at a Broadmoor house. This was a wondrous hidden world where I didn't belong.
Little did I know, this wasn't even the rich part of town. Why couldn't I have a house like one of these? I would like an air-conditioned house, with carpet, color televisions and a manicured yard with flowers. I was 16 years old and now fully aware of what was out there.
Not only did these white people have these nice houses and stuff, they also had ice like I had never seen before. As I said in a past column, a Broadmoor woman gave an injured Ed Pratt a towel filled with ice for a shoulder injured in the game. Once I got to the bench, I opened the towel and discovered crescent-shaped ice. We had never seen ice shaped like that, so I passed the towel around and we ate the ice. We were convinced that this mysterious white people ice had to be more than just water.
I filed that visit in the back of my mind. It inspired an unspoken goal of mine. I wanted to live like that, but I had find a way to make that happen. Many years later, I have a house like one of those houses. It might be better. I try to keep my yard in good shape. 
The big thing, though, is that I now have a refrigerator that can whip out crushed or crescent shaped ice and cold water. Broadmoor and the generous lady who gave me the ice, you got nothing on me now.
Email Edward Pratt, a former newspaperman who writes a weekly Advocate column, at epratt1972@yahoo.com.