Last week, Republican U.S. Sen. John Kennedy emitted the strongest signals yet that Democrat Gov. John Bel Edwards should be looking over his shoulder for 2019.
Over 24 hours, Kennedy did what he does best, reiterating conservative credentials while styling himself as a populist maverick. This combination provides the best path to occupying the Governor's Mansion in today's Louisiana.
On Tuesday, Kennedy delved — not for the first time — into state politics by attacking the Edwards-led effort that released early a significant number of the state's prisoners and that changed laws to send fewer convicted criminals to prison. With legislative support, the governor implemented these reforms after having promised during his campaign to cut the state's incarcerated population by 10 percent, thereby generating savings and funding to reduce recidivism.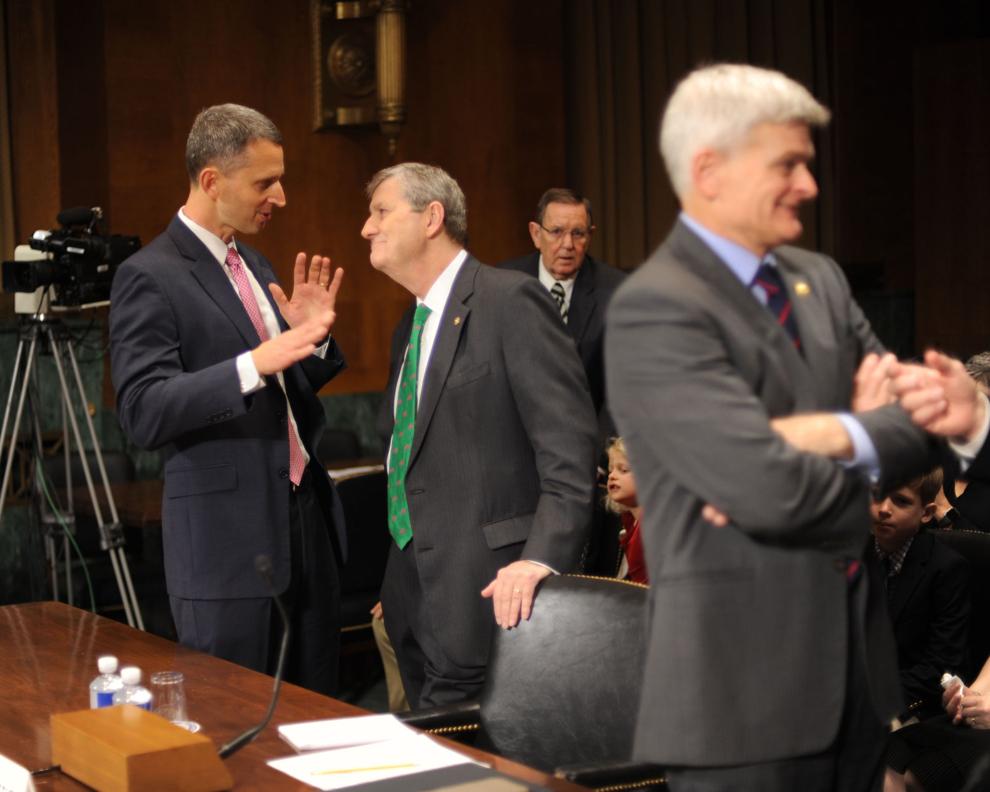 Kennedy argued that the temporary surge in inmate releases would pose a threat to public safety, citing recent scandals at the Department of Public Safety and Corrections as proof that it couldn't competently administer this wave of discharges. He called for seriously considering suspension of the reforms until Edwards rectified the department's problems.
To date, justice reform stands as one of just two significant policy accomplishments by Edwards — and the only that attracted significant bipartisan support. The other, Medicaid expansion, occurred much more controversially amid tax increases required to sustain it and charges that implementing expansion neglected other services and the cause of cost efficiency.
Kennedy's critique strikes at the heart of Edwards' reelection resume, since the governor has achieved little else. It also hints that Edwards did it backward, groping at cost savings to create a dangerous situation. The state should have spent more up front on rehabilitation and to handle the increased demand for parole and probation services. And it resonates with law-and-order attitudes in the public while simultaneously pointing out follies not only of government generally but also specifically the corrections system under Edwards.
Around the same time, on the Senate floor Kennedy became the first GOP senator to vote against a Donald Trump judicial nominee, whom the body nevertheless approved, with Kennedy implying that the nomination smacked of insider Washington dealing. He additionally questioned several other nominations along the same lines, including that of former Louisiana Solicitor General Kyle Duncan to the Fifth Circuit Court of Appeals, whom Trump nominated from a list drawn up by Louisiana's other senator, Republican Bill Cassidy.
Kennedy stayed on the same track the next day during Duncan's committee nomination hearing. He praised Duncan for his jurisprudence but suggested that his selection over other potential jurists with stronger Louisiana connections — Duncan has worked outside of the state for the majority of his legal career — might be a power play orchestrated by Washington political figures.
So Kennedy's had his cake and eaten it, too. He stressed repeatedly his agreement with the nominees' judicial views, which advanced the senator's conservative credentials, but he also expressed opposition to anything that resembled good-old-boy politics. This echoes a political career where he positions himself as an outsider doing the people's will by banishing from the halls of government self-serving politicians and special interests.
Populism and conservatism don't naturally go together. When the combination is attempted, a politician must identify the primary boogeyman as big government. Kennedy has become Louisiana's foremost practitioner of this technique. That he continually criticizes Edwards' liberal policy agenda while emphasizing his own politically insurgent tendencies to constituents means he's thinking earnestly about taking Edwards' job.
Jeff Sadow is an associate professor of political science at Louisiana State University-Shreveport, where he teaches Louisiana government. He is author of a blog about Louisiana politics, www.between-lines.com, where links to information in this column may be found. When the Louisiana Legislature is in session, he writes about legislation in it at www.laleglog.com. Follow him on Twitter, @jsadowadvocate or email jeffsadowtheadvocate@yahoo.com. His views do not necessarily express those of his employer.