When the truth hurts, Democratic Gov. John Bel Edwards feels the need to distract voters from it.
Edwards took umbrage when Florida Republican Gov. Rick Scott visited Louisiana this month for what he termed a "trade mission" to entice Louisiana businesses to relocate to the Sunshine State.
Scott noted that when he had to close a $4 billion deficit he inherited when he took office, he didn't raise taxes to answer the crisis, while Edwards had done just that when faced with his own shortfall. Edwards, Scott mentioned, keeps asking for more. Scott pointed out that Florida has no individual income tax, lower businesses taxes and is outperforming Louisiana on key economic indicators.
The evidence supports Scott. As of December, Florida's unemployment rate stood at 3.7 percent, falling 1.4 percent over the preceding 12 months. Although down a tenth more than Florida over the 12-month period, Louisiana had much higher unemployment at 4.7 percent, landing among the dozen highest states. The national rate was 4.1 percent.
Private sector employment in Florida during this period increased by nearly 2.8 percent. In Louisiana, it rose less than 0.7 percent, putting it among the dozen lowest states. The national average was over 1.6 percent.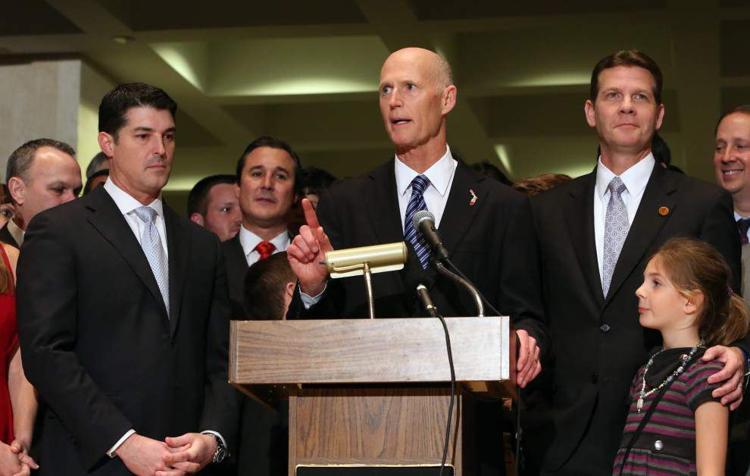 Florida also had a workforce participation rate of 59.3 percent, unchanged over 12 months. Louisiana's rate, in the bottom half-dozen of the states, checked in at 58.7 percent, increasing 0.3 percent over that time. That was 4 percent lower than the national level.
Additionally, Floridians saw their average weekly wages rise faster from the second quarter of 2016 to 2017. These increased 2.5 percent compared to Louisiana's 2 percent. Nationally, weekly wages rose 3.2 percent.
Finally, Florida's economy outperformed both Louisiana's and the nation's. The Sunshine State's grew 3.6 percent year over year at the end of the second quarter of 2017, while the Bayou State's and the nation's expanded at a rate of 3.2 percent.
In fact, Louisiana's situation has deteriorated since Edwards' inauguration. From the end of 2015 to two years later, with an 18-month plunge in energy prices reversing early in 2016 just after Edwards entered office, Louisiana still shed nearly 25,000 people from its civilian workforce, with its participation rate dropping 3 percent. From the second quarter of 2015 to eight quarters later, average weekly wages in Louisiana rose an anemic 2.2 percent.
But statewide, government spending sure didn't slow down in this span. State spending (taxes, self-generated funds, dedicated funds, and interagency transfers, which excludes federal dollars) in the fiscal year 2016 budget by Republican former Gov. Bobby Jindal totaled about $15 billion. Edwards' budget enacted for this fiscal year bumped that up to over $16.3 billion, an 8.7 percent increase or over twice the national inflation rate. Edwards did so with the help of tax increases approved by the Republican-led Legislature.
But now, GOP legislative leaders say they want to cut taxes and spending from existing levels. You would think Edwards might conclude, after his tax-and-spend policies laid an economic egg, that Republican lawmakers and Scott are onto something.
Think again. Edwards blasted Scott's visit, calling him motivated by ambition for national office and connecting Scott's critique to his ally Jindal, as if Jindal, now two years removed from office, has considered Edwards more than a bothersome gnat ever since his future successor served in the state House of Representatives.
A chief executive governing to benefit the people would digest criticism like Scott's and then alter his agenda accordingly. One interested primarily in campaigning for reelection would obstinately throw red meat like Edwards.
Jeff Sadow is an associate professor of political science at Louisiana State University-Shreveport, where he teaches Louisiana government. He is author of a blog about Louisiana politics, www.between-lines.com, where links to information in this column may be found. When the Louisiana Legislature is in session, he writes about legislation in it at www.laleglog.com. Follow him on Twitter, @jsadowadvocate or email jeffsadowtheadvocate@yahoo.com. His views do not necessarily express those of his employer.