One week ago, Edward Patterson was booked on one count of second-degree murder in the slaying of 20-year-old Kendrick Ussin, who was gunned down in September 2016, in the Woodmere section of Harvey. According to Jefferson Parish Sheriff Joe Lopinto, the arrest came after a $5,000 increase to a Crimestoppers award, donated by the victim's mother. In a second case of the recent shooting of a four-year-old in Terrytown, a Crimestoppers tip led to the identification and arrest of the perpetrators.
For almost 40 years, Crimestoppers has proven that individuals can make a direct and profound impact in fighting crime. It has solved more than 16,300 felony crimes and paid out more than $2.2 million in rewards to reporting citizens. Last year alone, tipsters earned a total of more than $90,000 for over 300 crimes solved throughout our 9 parish area. The cases solved included more than 100 narcotics, nearly 50 person crimes, and approximately 70 fugitives wanted for charges including murder, homicide and attempted homicide. Each tip allows law enforcement to save time and money in gathering critical intelligence in the community. In addition, Crimestoppers gathered countless pieces of criminal intelligence for law enforcement that led to actionable results in other crimes.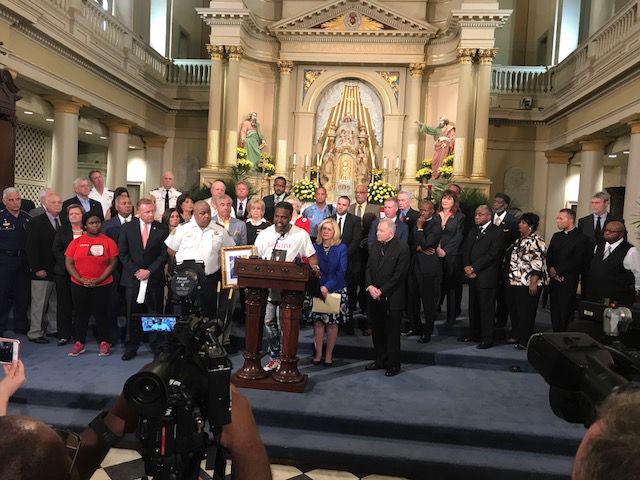 Crimestoppers serves as an invaluable resource to the greater New Orleans community. It protects the anonymity of its tipsters when information is shared with the authorities. Crimestoppers works with law enforcement and the news media to encourage tips that help lead to arrests, charges and resolution of crimes. The success of Crimestoppers is due to the courageous help from concerned citizens who understand the urgent need to get crime under control.
Crimestoppers also understands that we must act in a holistic manner in this battle for our community's safety. They have proactively implemented educational and crime prevention programs with our schools, neighborhood and civic leaders and churches to stand united in service against crime. Our President and CEO Darlene Cusanza has always displayed great depth of understanding of the needs of our citizens and law enforcement alike and along with the organization's volunteer leadership and board of directors, has worked tirelessly to fight crime in our region. Its members come from every walk of life, including business, civic and nonprofit sectors. They are united in purpose and mission and they rely on continued support. Events such as Night Out Against Crime bring heightened awareness of opportunities for the community to become involved in making New Orleans a safer place to live, work and play. At a time when we face increasingly serious violent crime threats, we cannot lose sight of the organizations in our communities that truly work. Crimestoppers works.
Jay Batt
chairman, Crimestoppers Greater New Orleans board of trustees
Metairie