New Orleans' relative success in averting another wave of coronavirus cases — and Mayor LaToya Cantrell's long-awaited announcement this week that the city would enter Phase 3.3, allowing bars to serve patrons indoors for the first time since last spring — has been hard-earned.
The news came after months of tough restrictions that were imperfect and often deeply frustrating, but also, in hindsight, effective and wise. And it came after enough people followed the rules, even when those rules required difficult sacrifices.
Among those who have suffered through no fault of their own are the city's many homegrown musicians, who've watched their livelihoods evaporate and congressional help for businesses and the unemployed run dry.
So it was infuriating to see an out-of-towner waltz into the city over the weekend and stage a public concert without securing a permit, without encouraging the 400 or so people who gathered to wear masks and social distance, and apparently without taking into account the very real possibility that his carelessness would reverse all that progress made by people who live here and have done the right thing at great personal cost.
After seeing photos of the closely packed event in the French Quarter staged by Californian Christian rocker and activist Sean Feucht and featuring Grammy-winning Lafayette native Lauren Daigle, Cantrell pronounced herself furious.
She said the group had been told its plans violated local guidelines but proceeded anyway, and that the city is looking into penalties for violations of public health rules. These rules require masks in public spaces for everyone except performers who are singing, and call on organizers to keep crowds small, masked and socially distanced. Outdoor venues can host events of no more than 100 people.
A large Christian concert and gathering in the French Quarter across from Jackson Square on Saturday that drew hundreds of mostly maskless att…
Cantrell was far from alone. Social media erupted with outrage, with many commenters pointing to sharp limits on public concerts and the toll they've taken on the musician community, as well as police crackdowns over smaller gatherings.
Some who attended the event, which featured prayers as well as musical performances, argued that it was an expression of protected religious freedom. And indeed, this has been a dicey area in New Orleans and elsewhere, in a year in which social justice demonstrations have been allowed to proceed. City health officials say they were not able to trace COVID-19 clusters back to the summer's Black Lives Matter protests, which they attributed to widespread mask-wearing and attempts at social distancing.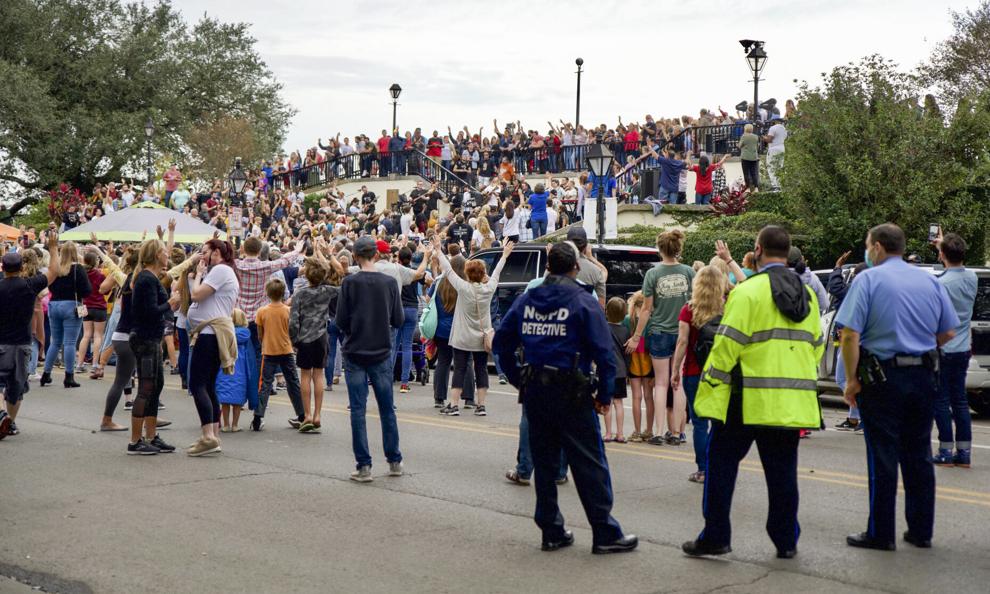 Still, some courts have found that government can impose limits on religious gatherings in the name of broader safety. Certainly, they acknowledge that sincere beliefs are no shield against a highly contagious virus that can affect not only those who choose to gather, but also the people with whom they come into contact.
"While this was under the guise of a religious activity or event, we know it put our people in danger," the mayor said. "And that simply was not right."