At the tender age of 17, as his high school career approaches its end and college football beckons, it's becoming apparent the adjective "special" encapsulates Derek Stingley Jr.
The five-star cornerback and LSU commitment is the nation's No. 1 recruit, according to Rivals.com. Behind those numbers, in the subjective world of college football recruiting, he's as much a sure thing as Baton Rouge has ever seen, on par with the likes of Warrick Dunn and Marcus Spears and Michael Clayton.
It begins with Stingley's dominance on Friday nights for The Dunham School, and it extends to dominance in every recruiting camp he attends. He's fast, quick, strong, instinctive, durable, technically sound, athletic, smart on the field and in the classroom.
A few days before the NCAA's early signing period, Derek Stingley Jr. thought he had it all planned out.
His desire is manifested in a dazzling work ethic. He takes as much pleasure at mastering a drill as returning an interception for a touchdown. In terms of athletic ability and physical stature (6-foot-1, 197 pounds), he appears close to being NFL-ready.
And yet, his celebrity precedes his athletic accomplishments. You only need to hear his name.
Yes, that Stingley.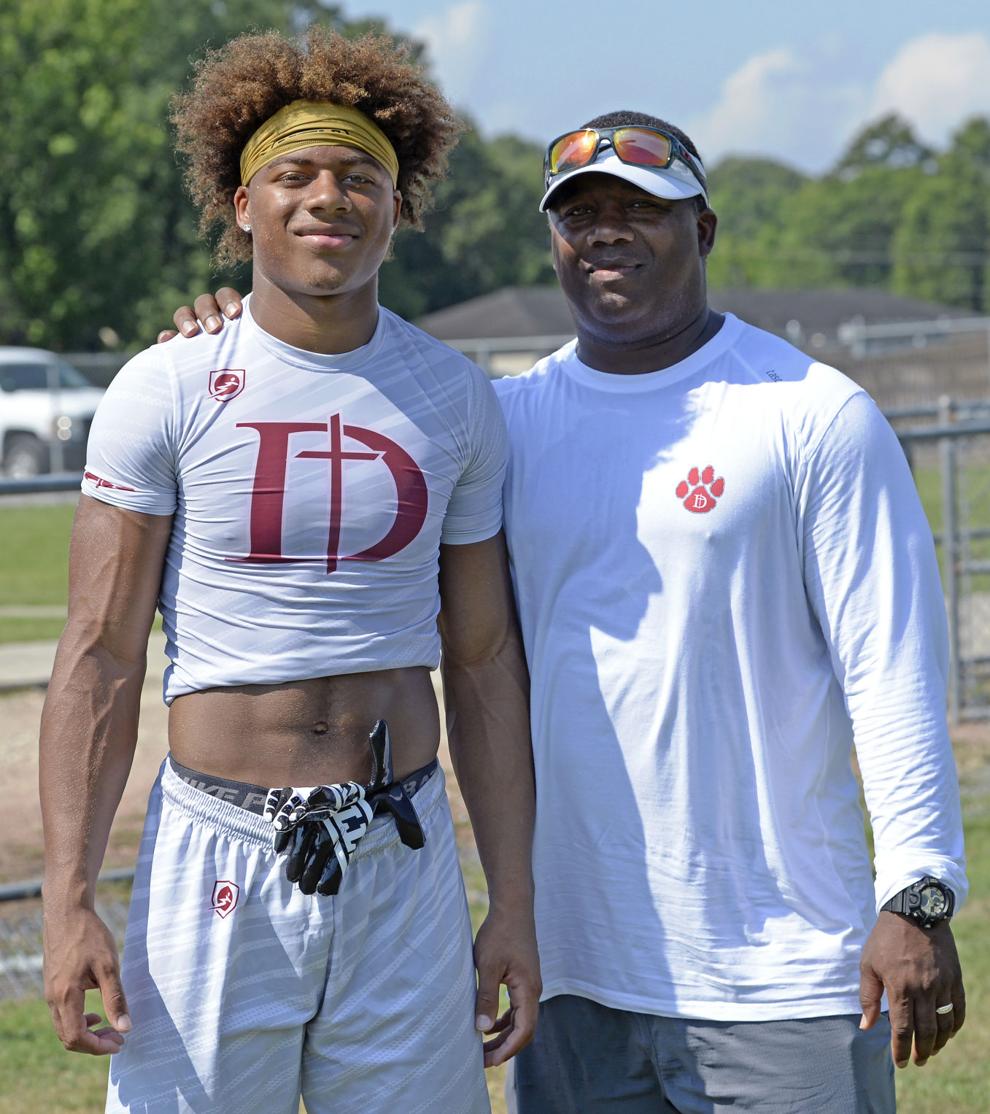 Forty years ago today, the Stingley name was forever engraved into NFL history for one of its most infamous plays. In a preseason game at Oakland on Aug. 12, 1978, Stingley's grandfather, Darryl, a wide receiver for the New England Patriots, was rendered a quadriplegic while trying to catch a pass over the middle of the field. A head-on collision with Raiders safety Jack Tatum broke two vertebrae and severely damaged Stingley's spinal cord.
The elder Stingley regained some use in his right arm, allowing him to operate a wheelchair, to go on and live an exemplary life for his remaining 29 years. The play helped initiate changes in the league's safety rules and medical treatment for current and former NFL players.
What didn't happen in the Stingley family was any sudden aversion to playing football, no lingering fear or paranoia about history repeating. The youngest of Darryl Stingley's three sons, Derek Sr., embarked on a life that carried him from a brief high school career to a three-year stint as a baseball minor leaguer, and then a nine-season odyssey as a player for six arena football and semi-pro teams.
Even getting knocked unconscious in a game didn't deter Derek Sr., who coached eight Arena Football League teams in 14 seasons. Throughout his career, Darryl Stingley wasn't just supportive but excited that one of his sons found a place in the game, and now he's got a grandson taking a big leap farther.
"Dad never blamed anything on anybody; he thought it was a freak accident, one in a million," said Derek Sr., an assistant on Dunham's staff while carefully overseeing his son's training.
"The thing he always said is, 'You can't go out there thinking you're going to get injured, because then injury may just find you. You understand the risk, but you don't play scared.' "
Darryl's message has been handed down and received. Derek Jr., who was 6 when his grandfather died, is fully aware of his legacy. He has seen videos and photos of the fateful play. He's watched "30 for 30" documentaries on the Raiders of the 1970s. There's no bitterness toward Tatum and no hesitation in his play.
"I don't think my family is worried about me having an injury like my grandpa," said Derek Jr., who only has vague memories of Darryl. "You can't play scared. I don't think about it at all when I'm playing. I do think about my last name and bringing praise to the family."
THE HIT
Going into the 1978 season, Darryl Stingley was one of the rising wide receivers in the NFL. An honorable mention All-American at Purdue, he had caught 110 passes for 1,883 yards and 14 touchdowns in five pro seasons. He had agreed to a contract extension that would've made him one of the highest-paid receivers in the league.
He was set to sign the contract after the Patriots' final preseason game.
The hit occurred as the Patriots were driving, and Stingley had just run a reverse. He signaled to the sideline to come out of the game, but the coaching staff waved him back in.
On the next play, quarterback Steve Grogan dropped back and fired high over the middle for Stingley on a crossing pattern. Stingley went up and reached for the ball with his right hand, saw Tatum coming and dropped his head as the ball skipped off his fingers. Tatum's shoulder pad connected squarely with the crown of Stingley's helmet with an avalanche of force.
His body collapsed limply at the Oakland 10-yard line.
Officials did not throw a penalty flag. The league later ruled the hit was not illegal.
Stingley's cracked helmet was removed before paramedics wheeled him away on a stretcher and took him to an Oakland-area hospital.
Some Oakland team members visited Stingley in the weeks afterward until he could move closer to home. Among them were Raiders coach John Madden and guard Gene Upshaw, with whom Stingley developed close relationships. Tatum said he tried to visit after the game but was turned away from the hospital by family members.
Stingley and Tatum never reconciled or met to speak about the hit. Tatum, whom teammates said was never the same after that play, approached Stingley about a meeting, but Stingley called it off when he realized it was to promote a book.
"I forgave Jack Tatum years ago," Stingley told the Los Angeles Times. "You forgive, but you just don't forget. In my heart and in my mind, I've forgiven him and moved on. As a result, I was able to go on with my life without looking back with bitterness.
When Tatum had part of his left leg amputated because of diabetes in 2003, Stingley told the Boston Globe: "Maybe the natural reaction is to think he got what was coming to him, but I don't accept human nature as our real nature. Human nature teaches us to hate. God teaches us to love."
Stingley's friendship with Upshaw, who later became executive director of the NFLPA, help get reforms passed to make the game safer and to provide for players disabled by the game. The Patriots honored the terms of his unsigned contract and covered his medical expenses.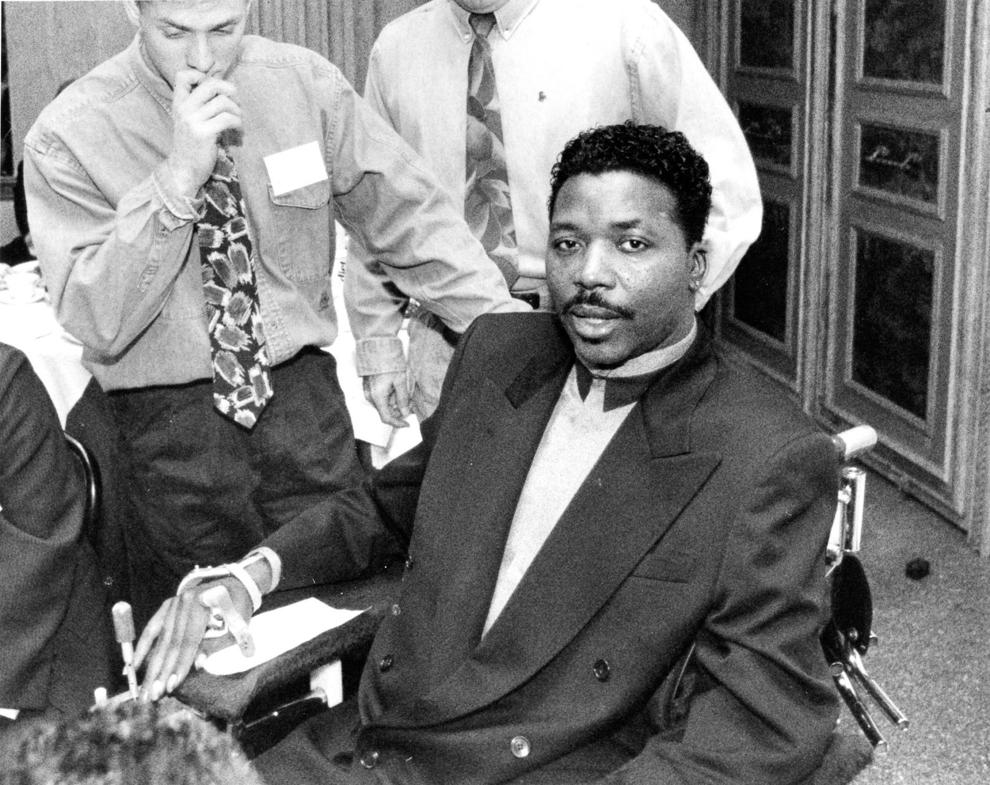 THE SON
Derek Stingley Sr. was 7 when everything changed at home in Chicago. His mother, Martine, spent the next four months in California to be with Darryl. It wasn't until December, just before Christmas, that Derek saw his father, whom he always thought of as Superman, vibrant and alive.
"I remember thinking, 'Dad, get up! Dad, get up!' " Derek Sr. said of seeing him in the hospital bed.
Once his father moved home, the slow transition began. Caring for their father became part of their daily routine. Derek and his older brothers Darryl Jr. and John adapted.
"I'd wake up in the morning and go to get a drink of water," Derek Sr. said. "I'd stop in my tracks, turn around and see if my dad was awake. 'Dad, do you need anything, something to drink?' He's say, 'Son could you scratch me right here?'
"It wasn't like it was a burden. It was what life dealt us. If I was going to the kitchen — 'Dad, you need something?' If I was watching TV and realized an hour had gone by, I'd go check on him. Things the average person takes for granted, we didn't have those things."
Darryl set a good example for his boys. He worked as a consultant for the Patriots, finished his college degree in 1991, visited paralyzed patients in hospitals, co-authored a memoir, "Happy to be Alive," and established a foundation for underprivileged kids in the Chicago area.
He also stayed engaged with his children, talking to them every day.
What can't LSU defensive back Derek Stingley Jr. do?
Neither of Derek's older brothers had the grades to play sports, but Derek did. He had always gravitated toward baseball and didn't get passionate about football until he was nearing his senior year. A Chicago Sun-Times article quoted his father as saying he thought at least one of his boys would play football and follow in his footsteps.
"I felt then like he really wanted me to play football," Derek said. "I didn't have a feeling that I shouldn't play because of what happened to him, but I thought maybe he didn't want me to play."
Derek wasn't on the recruiting radar when his senior season was shortened to four games by a teacher's strike. After a brief fling with playing football at Purdue, Derek went back to baseball. He played at Kishwaukee (Illinois) Community College for a year, then at Triton (Illinois) College for two more. 
Then the Phillies drafted him in 1993. He spent three years in the minors when the itch to play football returned.
On a trip to visit his cousin for the 1994 Bayou Classic, he started dating his future wife, Natasha Joseph, a teammate of his cousin on Southern University's Dancing Dolls.
Derek Sr. decided to stay in Louisiana. His father wasn't happy about it, but his tune changed about a year later when Derek answered an ad for the Louisiana Bayou Thunder semipro football team signup.
"He was more excited than I was," Derek said. "I told him I wanted to play wide receiver but he said he thought safety was a better position for me, that I could learn it quicker."
Derek learned fast with the help of Bayou Thunder teammates and former LSU players Carlton Buckels and Ivory Hilliard. The Thunder lasted one season, but Derek established himself with 12 interceptions in the pass-happy league. His football appetite was whetted for good.
In 1996, Derek started a five-year career with the AFL's Albany Firebirds as a safety and kick return specialist. On July 14, 1998, he had his own horrifying moment.
Arena football, as the name suggests, is an indoor sport, with nets behind the end zones to keep long kicks in play. Players are allowed to field the kicks coming off the nets, which create funny bounces.
When Derek had to turn slightly sideways for the carom, he looked up and took a helmet to the face mask, straight on at full speed. He was knocked out for five minutes with a concussion and taken to the hospital.
"Strapped into the gurney and looking at the ceiling of the ambulance, I remember thinking, 'Wow, this is probably the same sight my dad saw when he was being taken away,' " he recalled. "He was worried sick when I finally talked on the phone and I kept telling him, 'Dad, I'm walking out of the hospital now.' "
Derek walked back into the game until 2004 when he began his career as a coach, which included a stop with the New Orleans Voodoo in 2010-11. In 2001, while Derek Sr. a member of the Chicago Rush, Derek Jr. was born. Five years later, he was playing youth flag football and showing. Soon, he was accompanying his father to player meetings, learning fundamentals and techniques of playing defensive back.
THE GRANDSON
Former LSU and safety Ryan Clark, who spent 13 years in the NFL, has been training Derek Stingley Jr. for the past two offseasons along with Clark's son, Jordan, a cornerback for University High. Clark said Stingley has never much opened up about his grandfather, or anything else for that matter. He's an introvert, Clark says, with a business-like attitude about working out.
That made it all the more interesting three weeks ago when Stingley attempted a drill called "Building a V." Clark says it's a difficult drill for athletes at any level, and he introduced it to Stingley when the two first got together. In the time since and at every opportunity, Stingley tried it but could never master it — until three weeks ago.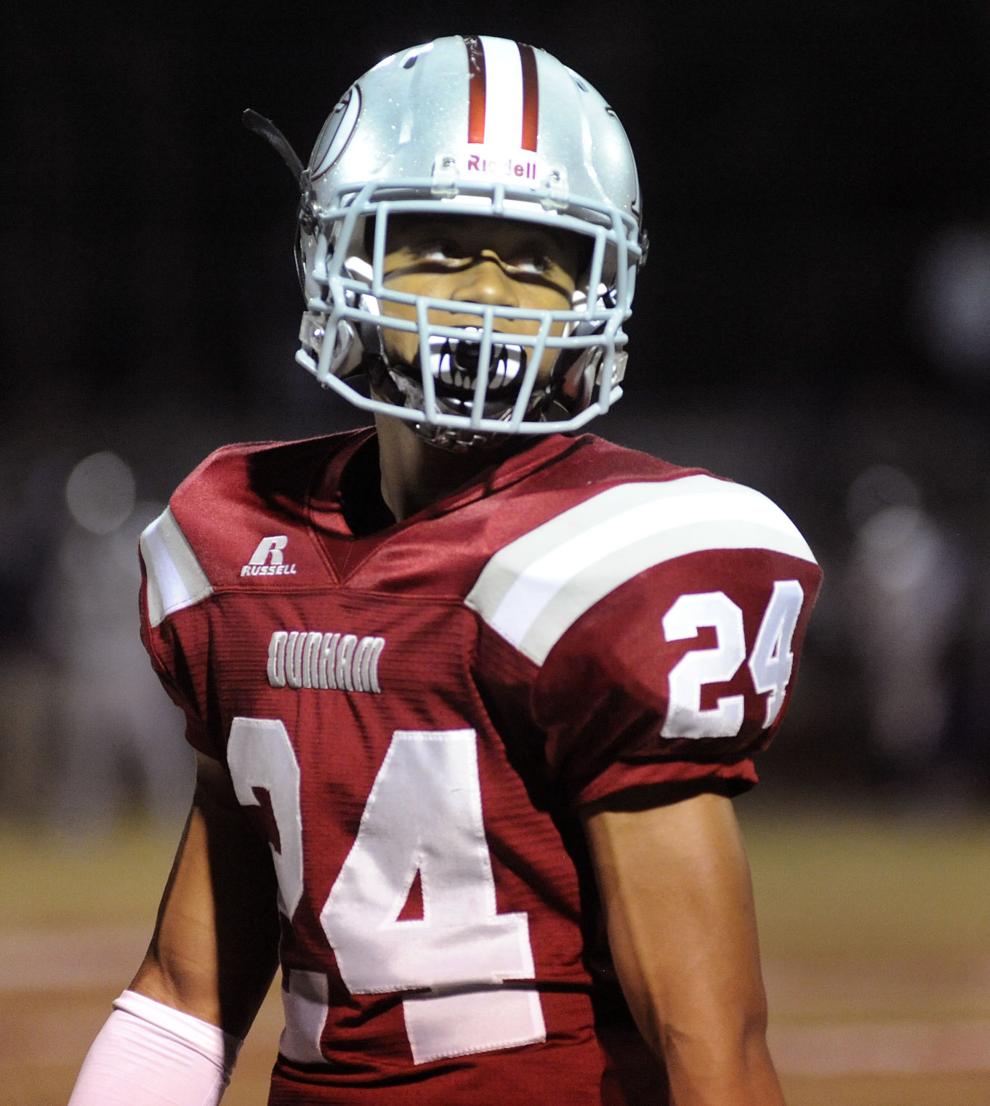 "He got it right the first time," Clark said. "It was the first time I've seen him act like a kid. He jumped up and down, smiled and laughed. He got real excited. It was a simple thing that had nothing to do with how great he's going to be at LSU. It was a failure for him; he had to get it right."
That type of perfectionist attitude and inability to quit trying has carried Stingley to where he is now. Perhaps it's the same trait that pushed his grandfather to overcome his tragic circumstances.
Clark is not the only believer.
Dunham coach Neil Weiner remembers inserting Stingley as an eighth-grader for the final play with a chance to tie the score against Northeast. The quarterback heaved an incomplete pass toward Stingley, which Weiner described as difficult to catch.
"He was completely devastated," Weiner said. "He couldn't understand why he didn't get the job done. For a 13-year-old to have that type of mindset, I knew then he's going to be really good. Now he's the best in the nation."
Stingly, whose nickname is "Little Sting," is backing up his ranking with crazy-good numbers. Weiner said he was targeted 18 times last year and had 11 interception and six pass breakups. After competing in track twice left him with a tweaked hip flexor, he tried the shot put and tossed it 42 feet. He outperforms nearly everyone, including linemen, on throwing a medicine ball from his knees.
LSU quarterback Joe Burrow is a unanimous selection as the offensive player of the year on The Associated Press All-Southeastern Conference fo…
Weiner tries to keep the game fun for Stingley by giving him a series or two at quarterback and spot-playing him at running back and wide receiver. Earlier in his career, Stingley even played deep snapper because he was the best one they had.
"The most important thing about him is he's a really good young man," Clark said. "His parents have done an amazing job of keeping him hungry and humble. I've watched a lot of kids who got the early accolades he got become entitled, like it's owed to them. He's not like that."
Derek Jr. remembers visiting his grandfather at Christmas, before he died April 5, 2007. Darryl gave the 6-year-old a Darth Vader mask, voice changer, cape and light saber. College offenses may one day see him in the same light.
But there's no fear or hesitation in his play. Derek Sr. has seen to it his son plays with the proper fundamentals.
"I taught him about protection at every level," Derek Sr. said. "See what you hit. Understand how to brace yourself when you fall. You don't always have to stick your head in a pile. For him, that's second nature."
But the younger Stingley still plays with the family name in mind each time out.
"People in my family use #StingleyLegacy hashtag on (social media)," Derek Jr. said. "Yeah, I think about that and it makes me proud. I wish my grandfather could see me play. That would be cool."