Donte Jackson has turned to the clock application on his iPhone to prevent the organizational issues that plagued him last spring.
While the rest of us have maybe two alarms programmed into our phones — one to wake us up and another one 10 minutes later to really wake us up — Jackson has nearly two dozen. It's his way of fixing a problem last spring that resulted in LSU's two-sport star being ruled academically ineligible for both sports.
"I have, like, 20 alarms set up on my phone to make sure I'm in places where I need to be and make sure I'm going everywhere I need to go," Jackson said Monday, "and make sure I'm communicating with my coaches and trainers from both sports."
Said track coach Dennis Shaver: "Thank God for phones."
Jackson, a starting cornerback for the football team and relay member and sprinter in track, began his second attempt this week at juggling two sports during the spring — outdoor track and field and, of course, football.
Jackson participated in the second day of spring football practice Tuesday. On Wednesday, he was scheduled to attend track practice.
This rotation will continue through LSU's spring football game April 22. There are days when Jackson will do both, Shaver said, attending football meetings after he participates in track practice. There are Saturdays when he'll miss football practice while attending track meets.
"It's really demanding," Shaver said.
Last spring, as a freshman, it proved to be "overwhelming" for Jackson, the coach said. The Riverdale graduate fell below NCAA academic standards and, halfway through spring football practice and the outdoor track season, became ineligible.
A year later, things are different.
"Thing I noticed this year is his communication between the football and track coaches and academic advisers, he's been a lot more responsible," Shaver said.
"I wasn't organized on what I (was) spending my time on," Jackson explained. "It let school fall back. Now I'm ready to take on the challenge and to make sure I put time into everything."
LSU rounded out its 2019 football schedule with Utah State and canceled a scheduled meeting …
Jackson's role on the football and track teams is significant.
In football, he's a junior-to-be who started 11 games last season, a potential All-SEC player who may return both punts and kickoffs. In track, he's a speedster whom Shaver hopes to plug into his 4x100 meter relay team and a sprinter who is expected to run the 100-meter dash.
Jackson ran the 60-meter dash during the indoor track season in February, finishing 17th nationally, Shaver said. The top 16 sprinters advance to the NCAA championships.
Shaver chalked up Jackson's near-miss to a lack of practice time in January. Jackson strained his hamstring in LSU's bowl win over Louisville.
"Last thing I wanted was for him to re-injure that," Shaver said.
LSU's outdoor season begins this weekend with the Louisiana Classic in Lafayette. Jackson is expected to participate, though that's not completely settled, Shaver said.
Meanwhile in football, the 175-pounder is the veteran of a group of defensive backs who lost three starters, including two seniors, from the 2016 team. Safety Jamal Adams, cornerback Tre'Davious White and nickelback Dwayne Thomas are gone.
"I feel like I'm the leader in the DBU room," Jackson said. "Me just being able to be that leader in the room is something I've always been dreaming of, something I think I'm ready for."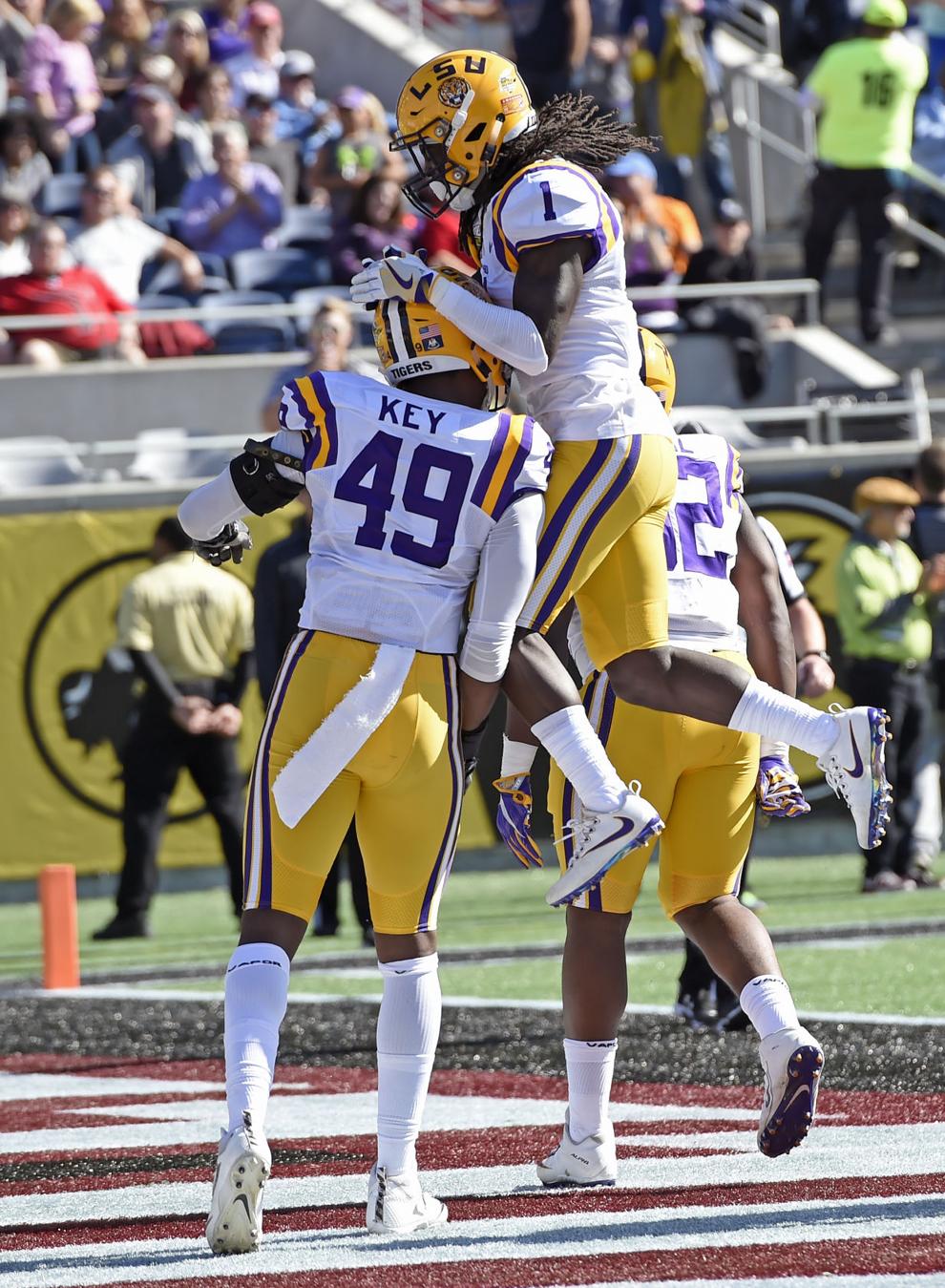 That's his main job this spring, Jackson said — leading. He knows the plays, formations and calls in his second year of coordinator Dave Aranda's scheme. He's there to help the young guys and improve his consistency, he said.
The cornerback spot opposite him is in flux with, for now, junior Kevin Toliver running with the first string. Senior safety Ed Paris is fighting against freshmen and sophomores for the job opposite John Battle, and Xavier Lewis leads a group of young guys at nickel.
Jackson has more experience than all of them. He soon might be tutoring another two-sport star, too.
Wide receiver Mannie Netherly, a mid-year enrollee who's started participating in spring football practice, is expected to join the track team next season, Shaver said. Shaver and Ed Orgeron recruited Netherly as a two-sport talent.
Jackson will be there to tell him how useful those iPhone alarms can be. He found out the hard way.
"I grew from that experience last year with spring and (I'm) not letting it happen (this) spring," Jackson said. "Learning from my mistakes from last year."
Foster Moreau might be eating breakfast or playing Xbox when it happens.