Rod Sopsher Sr. first noticed the hands.
The calves, thighs, biceps and chest eventually followed the same path on Sopsher's baby boy, Ishmael, who is now 6-foot-5, 335 pounds.
Many other qualities, some natural and some nurtured, would mix in to develop Ishmael Sopsher into the No. 1-rated defensive tackle in the nation for the Amite Warriors, and a target for college football recruiters from coast to coast.
Ish's birth weight was a little above average, between 8 and 9 pounds, but the first sign was the hands.
"As a baby, I told my wife, 'Look at his hands; he's going to be big,' " the elder Sopsher said. "Huge hands. His feet were average size, but his hands ..."
In less than two months, one of those hands will hold a pen to sign a letter of intent that will make someone's program happy, even joyous. He could have done this last week, but in addition to being big, fast, quick, and all of the other measurables in a consensus five-star prospect, Ishmael Sopsher is patient, calculated and calm.
Two of Louisiana's top 2019 prospects — defensive lineman Ishmael Sopsher and wide receiver Devonta Lee — are playing for Amite in the Class 2…
"I'm taking it day by day, minute by minute, taking my time and trying to be professional about it," Ish said.
"Everything takes time. You can't rush it. Everything has to be carefully planned and looked at. If you rush things, you could make a bad a decision you have to live with for the rest of your life."
The patience is remarkable, considering this 17-year-old behemoth's talent has been out in the open for almost four years. He's a lock to become one of the extremely rare four-time all-state football players in any class after helping the Warriors to the Class 2A title earlier this month.
LSU coach Ed Orgeron, freshly hired as a defensive line coach in January 2015, spotted him as an eighth-grade future star while scoping out his recruiting territory in Tangipahoa Parish.
"He told Ish he was going to be a great player," Rod said.
Now Sopsher is essential to Orgeron finishing a healthy 2019 recruiting class with a flourish. He will have to hold off Alabama from snatching away another highly rated in-state prospect. Sopsher has narrowed his list to seven teams, but the perception is that it's a two-school race and the winner gets quite a prize, said Rivals.com recruiting expert Sam Spiegelman.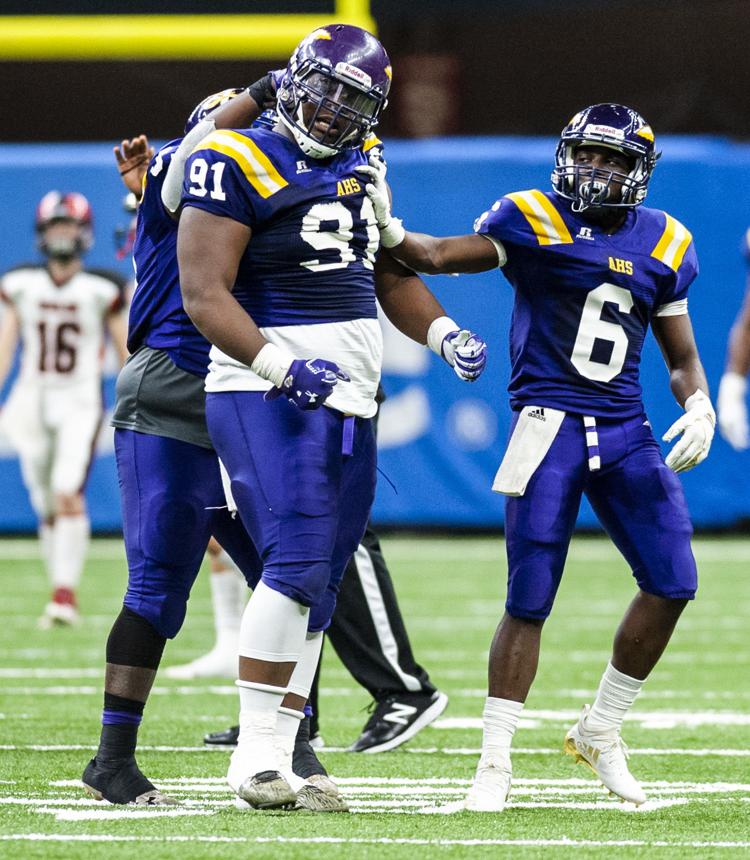 "He's an impact type of prospect," Spiegelman said. "At times he's unblockable. He has incredible feet and hands and athleticism. For a kid around 300 pounds, he moves well and has great pass-rush technique. He can overpower you or run around you."
Beside size, speed and quickness, Sopsher is blessed with a quick first step, athleticism and those strong hands he uses to shed blockers. The latter ability is one college coaches try to refine with defensive linemen to make the jump to the next level.
Shopser showed it all this season, as if to confirm common knowledge. He had 78 tackles (35 for loss), with 12 sacks, eight forced fumbles and three recoveries, according to school stats given to his father.
In Amite's 47-20 title game victory against Welsh, all of his 4½ tackles were for losses, even as the Greyhounds tried their best to avoid him.
"He's probably one of the best defensive linemen we've played against in my six years," said then-Welsh coach John Richardson, now at Westlake. "We saw him on film and thought, 'Maybe he's that good and maybe not,' but after playing against him, he turned it on. Anybody that big that can move like that ... our offensive line was a pretty good group, and he gave us hell. We ran away from him, and he made plays from the back side."
Growing up and out
It didn't take long for Sopsher to grow into his hands. Rod Sr. says his son was always big, but until the age of 10 he gravitated more toward basketball. That changed when he joined a biddy football program, following the footsteps of his brother, Rod Jr., two years older and also a defensive lineman.
His biddy coach on the Amite Braves, Carlos Brown, said Ish was quiet, obviously talented and a pleasure to coach.
"You'd have to talk to him every now and then to get him fired up," Brown said. "He was a gentle giant — always 'yes, sir; no, sir.' The first time he stepped on the field, you knew he was special. He never got too excited. But he played with intensity."
Ish didn't just follow Rod Jr.; he adored him. The brothers developed a uniquely close bond through encouragement from their parents and the fact they lived "out in the country" among grandparents, cousins, uncles and aunts, Rod Sr. said. And they fit together nicely as best friends — Ish the introvert and Rod Jr. the outgoing one.
If Ish ran into problems with other kids or older bullies, Rod Jr. was always there. It didn't happen often, but it was clear to everyone how strong a bond held them. It's the root of why Ish wants the school who signs him to also sign Rod Jr.
Ed Orgeron said he was confident about LSU's recruiting class of 2019 because each commitment's home he visited felt like a celebration.
"It's something that just clicked," Rod Jr. said. "Mom and Dad raised us that way. Where we lived, people would sometimes say a lot of cruel things — but at the end of the day, we'd come home and know we had each other. We tried our best not to resort to violence, but I would step up for him and he'd be right behind me."
Ish was never happier than when the two could share the same football field. They played two seasons together on either end of the Amite defensive line in 2015 and 2016. Rod Sr., a former Amite lineman himself, taught both of his sons to play, but Rod Jr. became the closer confidant as they grew up.
When Ish made his debut in a 2015 jamboree game against West St. John, he credits his brother with helping him make a big impression.
"It made me comfortable that my brother was there," Ish said. "It was what we always talked about growing up."
It was also clear by the end of that freshman season that Ish was already the better player. Even Rod Jr. was surprised at his brother making plays from the opening whistle. Ish had hit a growth spurt that took him from 5-10 to 6-2 in the span of a year, and he was 285 pounds.
He said it wasn't until two months into the season that he felt his confidence surge.
"In eighth grade I wasn't having the best year," Ish said. "It was crazy, but I got through it. I went to high school with an open mind that I was going to play alongside my brother and we were going to make a name for ourselves. It took me some time to get used to it, and I made some adjustments.
"I did good against West St. John, not the best. By the Independence game when my brother and the other D-line guy were hurt, I went out there and played mean, aggressive. I really found myself out (in) that game, and it set me up for the rest of my career."
Next level
There's a sense of humility and self-awareness in Ish's demeanor. He says he knows he's got to continue working on all aspects of his game to be successful as a college player. He has dominated in one of the two smallest classes of prep football, although Amite played in Class 3A his first two seasons.
In his first college practice he will be going against players his size, some larger. He'd rather play end in a 3-4 front rather than nose tackle but will likely have to shed some weight to do so.
But he's following his father's advice to take his life — and the recruiting season — one day at a time. Next week he will travel to Orlando, Florida, to compete in the Under Armour All-America Game. Next month, he will be in Hawaii for a week to participate in the Polynesian Bowl, played Jan. 19.
All of that travel puts a crimp in allowable time for recruiting visits, which Ish says are still up in the air as he moves toward the traditional signing date Feb. 6. He has already made official visits to Texas A&M and Oregon. He has some choices to make for the remaining five, from among LSU, Alabama, Ole Miss, Texas and Florida State.
LSU appears to have an edge, but Alabama assistant director of player personnel Sam Pettito is a native of Amite and a former teammate of Rod Sr.
Ish has been to both schools several times and attended the Tide's 29-0 victory over LSU on Nov. 3 in Tiger Stadium.
And then there's Rod Jr.
Ish has made it clear the Sopshers are a package deal. Thus far, LSU is the only school that has offered both, even if his signing seems to be a reach. Since leaving Amite in 2017, Rod Jr. has attended Independence (Kansas) Community College, Southwest Mississippi CC and most recently Ellsworth CC in Iowa Falls, Iowa, but has not played.
The recruiting site 247Sports lists him as a two-star defensive end at 6-2 and 255 pounds. He's not rated by Rivals.
"It was our dream to go out playing together," Ish said
Said Rod Jr.: "I'm proud of him believing in me and getting everything done so we can do this. The high school years we played together, I wish we could have slowed it down. We always talked about this."
Ish is handling it all calmly while knowing there's harder work ahead.
"I feel I can improve on just about everything I do," he said. "I wouldn't say (recruiting is) stressful. It's a blessing, too. I'm handling it, and I want to pick the right school. It's not that I'll be happy when it's over. I'll be happy to make my decision."