LSU edge rusher Arden Key is leaving the football team temporarily for "personal reasons," the school announced Wednesday. His father says the player is healthy and "fine."
Key, a standout rising junior who many expect to be a high selection in the 2018 NFL draft, broke LSU's single-season sack record last year and is poised for an All-American-like year in 2017.
LSU is not releasing specifics for his temporary departure. The school said in a statement that he'll return to the team at an "appropriate time" and that the program will not comment further on the matter.
Arden Key Sr., the player's father, told The Advocate earlier Wednesday that his son was "fine" and healthy.
A source confirmed that Key remains enrolled in school, but that he's not expected to participate in spring practice. The program hopes that he'll rejoin the team over the summer. 
"In consultation with our staff and his family, Arden Key has decided to take some time away from football for personal reasons," coach Ed Orgeron said in a statement. "We fully support Arden in his decision and look forward to welcoming him back home to the Tiger family at the appropriate time."
It's unclear when Key stepped away from the team. He did not attend full-team conditioning drills Tuesday.
Key was suspended for the regular season finale last year at Texas A&M, but he played in the Citrus Bowl win over Louisville. A reason for his suspension in the A&M game was not made public. A school spokesman at first announced that Key missed the A&M game while injured, but Orgeron later said the player was suspended for off-the-field issues.
A freshman All-American in 2015 and a first-team All-SEC selection in 2016, Key finished his sophomore season with 12 sacks, 56 tackles and three forced fumbles. The freakishly gifted athlete is projected as one of the most high-profile prospects for the 2018 NFL draft. WalterFootball.com has him as the fourth-best defensive end in next year's draft and projects him as a first- to second-round pick.
Les Miles once called Brandon Harris "a future" for LSU at the quarterback position. 
Key, a native of the Atlanta area, was the featured weapon in defensive coordinator Dave Aranda's 3-4 scheme last year. He served primarily as a rushing end, blitzing into the backfield and causing chaos for opposing quarterbacks and offensive tackles.
In a recent interview, Aranda described Key as one of the more "unique" players he's ever seen.
"He can just run around somebody," Aranda said. "I've never been around a player who can do that."
Aranda first saw the ability during his first spring practice last year.
"I had heard about it," Aranda said. "Once we got to spring and he's running around guys … 'What just happened?' "
Key is referred to as an "outside linebacker" in Aranda's 3-4 scheme, but his role is much deeper than that. The hybrid position he occupies is one that blends duties normally carried out by two different players — an outside linebacker and a defensive end.
The story of Arden Key's freakish, athletic build didn't really begin until a stunning growt…
Key is often the disguise in Aranda's scheme. He's Aranda's shadowy tool to confuse the offense at the snap: does he drop into coverage, play the run at the line or rush into the backfield?
He's best at the latter.
Key led all freshman edge rushers in quarterback pressures in 2015, and he got pressure on a QB once every five pass rushes, according to Pro Football Focus. He was responsible for 30 percent of the Tigers' pass rush in 2016, according to the site, rolling up 13 hits and 29 hurries in 291 pass-rushing snaps.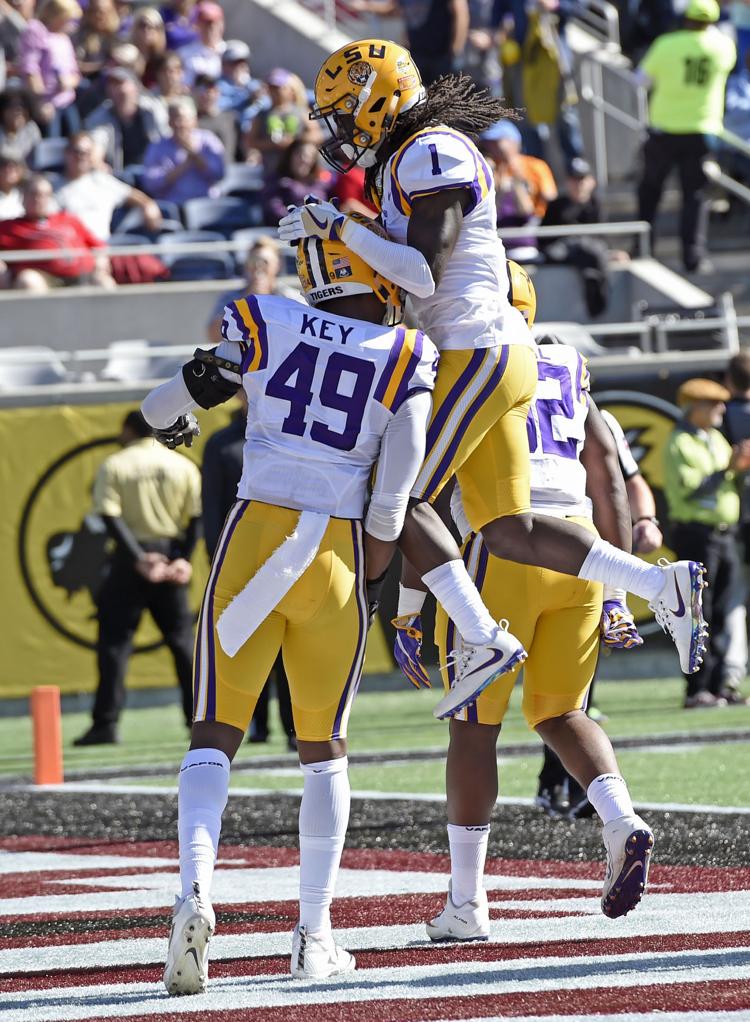 Key started nine games as a freshman and 11 more last year, only missing the A&M game while under that suspension.
"He's a freak of nature, 6-6, and can run like a defensive back," Winston Gordon, Key's high school coach, said an interview last fall.
LSU begins spring practice March 11. Drills are not a necessary event, especially for experienced players like Key. Many of them sit out in the spring to recover from injury or a surgical procedure.
For example, left guard Will Clapp had surgery on a torn labrum in January and isn't expected to be 100 percent this spring. Linebackers Donnie Alexander and Devin Voorhies are expected to be limited, too, because of injuries.
Key's primary backup last year was Tashawn Bower, a senior who's now training for the NFL combine. Isaiah Washington, a redshirt sophomore who sat out with injury last season, is an option to play the position during spring practice. Freshman Andre Anthony played behind Key during bowl practice, and sophomore Sci Martin could be an option, too.
Key has had academic troubles in the past. In jeopardy of not qualifying in high school, he switched schools for his senior year, landing at a charter program, Hapeville Charter Academy in Atlanta.
Upon enrolling at LSU, the NCAA flagged Key's transcript from his sophomore year at Martin Luther King High, his original school. The family spent the summer fighting with the NCAA to clear him over trivial letters scribbled on a transcript, his father said.
Longtime Saints special teams coordinator Greg McMahon is joining LSU's support staff as a c…