Toward the back of Shaun Houston's home was a room where video games are played.
This was an often-bustling room, full of neighborhood kids, Houston's own children and participants in Houston's youth football league. They filtered in and out of the home, cutting a path through the house to the back, where the video game wars unfold.
One boy was different. His name was Devin White.
"Devin sat in the front room with my wife and I," Houston said, "and held conversations with us as if he were an adult."
Those conversations invariably turned to football. A game would find its way on the living room television, and the questions from 10-year-old Devin would begin.
Why is this player there and why is that player here?
How did this happen and why did that happen?
"He started to fall in love with the game," Houston said. "He started to fall in love with strategy. His approach was cerebral."
These conversations still happen today. The difference is, they take place at a different time (each Sunday morning following an LSU football game), in a different place (the defensive meeting room in the program's football facility) and with a different football guru answering questions from a much bigger Devin White (LSU defensive coordinator Dave Aranda).
By the time Aranda arrives to the team facility at 10 a.m. Sunday, White has been there for two hours re-watching the most recent game.
"I know he comes in at 10, so I want to make sure I watch the whole film so I can tell him what happened on certain plays. I know he's watched it all already," White said. "We start watching film together, starting with Clip 1. He breaks down every play on why and if it went well and why we had a bust and who had the bust.
"Sometimes, he gets on the drawing board," White continued. "We talk to each other, and it just clicked for me."
The clicking is important, more important than words can describe. Numbers do a better job of explaining. For instance, White's 127 tackles are sixth-most in school history (with a game to play), and his eight double-digit tackle outings are the second-most in a single season at LSU in 34 years. The Tigers defensive unit — one that lost seven starters from 2016 — is 11th in total defense, 14th in scoring defense and is fourth nationally in allowing plays of 30 or more yards.
There are other numbers, too: At 9-3, LSU could reach the 10-win mark with a victory on Monday in the Citrus Bowl against Notre Dame. Those digits, like all the others, are a direct result of White's clicking. They are proof of the impacts of those Sunday morning film sessions between a sophomore in college and a 41-year-old defensive whiz — two people who are more like relatives now.
Can't see video below? Click here.
LSU's defense has its share of stars. Another sophomore sensation, Rashard Lawrence, anchors a senior-laden defensive line, and redshirt freshman Greedy Williams leads the Southeastern Conference in interceptions.
But make no mistake about it — LSU's defense is the Devin & Dave Show. A California native who never played a down of college football has helped transform a horse-riding country kid from tiny Cotton Valley into the SEC's leading tackler.
"There's a value in communication and coach-player relationship," Aranda said. "I think we found that right away, Devin and myself. I respect Devin because he wants to be the best. He holds himself to a high standard. He holds others to a high standard, and he wants to continue to get better. He's always looking, and I'll always be there giving."
Said Houston: "It was the difference — Coach Aranda has been what Devin needed to reach this level."
ORLANDO, Fla. — Forgive Danny Etling. He's not from here.
Ricky Bobby
The horse is named Ricky Bobby.
It is a brown-and-white Pinto that White has ridden for years and keeps in a stable with Junior Shaw, his old riding instructor. Ricky Bobby is the reason — in a roundabout way — that White is sitting here in the lobby of the Rosen Plaza Hotel in Orlando as the LSU defense's representative at a Citrus Bowl news conference.
White is a dream player for the program's media relations people: a level-headed, smart and wide-smiling kid who — oh, yeah — is a 250-pound wrecking ball of a linebacker.
How he got this way involves horses, a hard-charging momma and a youth football coach — all of this taking place in a town of less than 1,000 people.
Cotton Valley is actually declining in population, according to the 2010 census. The town's total area is smaller (2.5 square miles) than LSU's campus (3 square miles), tucked away in the north-most part of the state of Louisiana — closer to the Arkansas border (15 miles) than Shreveport (40 miles).
In Cotton Valley, kids eschew bicycles for horses, said Houston, a native of Shreveport who moved to the town nearly a decade ago. White latched onto this trend, hooking up with Shaw and his grandson. They became riding buddies and still are on the rare occasion White is free of football-related duties.
"Trail rides are his passion," said Shaw, now a 63-year-old supervisor of maintenance at a treatment facility in north Shreveport.
Shaw is partly responsible for convincing White to give football another try.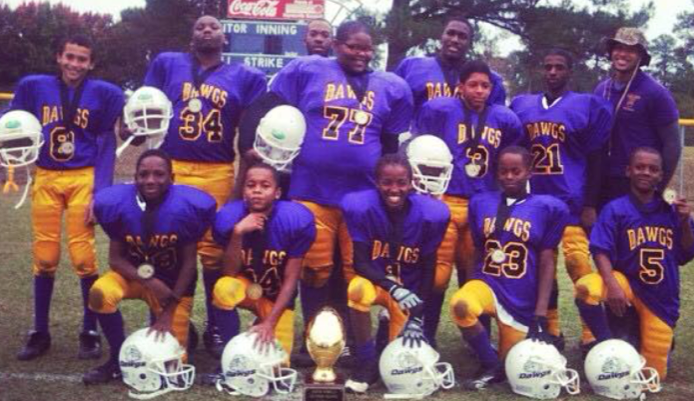 The youth team in Cotton Valley folded when White was about 8 years old. Around the same time, the school's football program — a punching bag for years — shut down, too. White turned to basketball, a game his father and mother played and a passion of his.
He became so good that he started for Cotton Valley's high school team as a sixth-grader, his coach, Rodney Thrash, said.
"By the seventh grade, he was my best 3-point shooter and most athletic player," said Thrash, a big LSU fan who is now retired after 30 years of coaching. "He could stroke that 3-ball with the best of them."
As a junior, White averaged 35 points per game, shifting from guard to center, a near-unstoppable muscle inside.
Well before this, White found football again. Houston moved to the town, started up a non-profit youth league, the Swamp Dogs, and stumbled upon White one day during tryouts at a local gym.
"It just so happens I was in there shooting one day and he walked in there," White said. "He had asked me if I was going to play and I was like, 'Nah, coach, I'm strictly basketball. My dad played basketball and mom played basketball. That's what I'm going to do.' "
"He became my No. 1 recruit," said Houston.
Subsequent cracks at White failed, so Houston turned to Shaw, the kid's horse-riding buddy. The two admit to conspiring to convince him to join the football team, Shaw using the horse-riding as an ultimatum.
"We get him out there on the field and a couple of practices went by, and kids got in full pads. We were teaching tackling technique," Houston said. "I saw him make his first tackle. I stopped practice and went over to talk to his mom over the fence, 'If Devin keeps his head on straight, that kid is going to write his own ticket.'
"It's happening that way."
Devin & Dave
Here they are in the spotlight — Devin and Dave, seated next to one another at a podium overlooking a hoard of reporters and television cameras at a Citrus Bowl news conference Friday morning.
The moderator asks aloud his first question, meant for either to answer.
Dave turns to Devin and nods, a non-verbal pass to his sophomore linebacker. Devin, close-lipped, nods back, a non-verbal "heck, no" to his coach.
Media members laughed, and Dave began his answer.
This latest exchange between Devin and Dave is not as important as the first. Dave arrived at LSU the same month as Devin, a mid-year enrollee in January 2016.
"He came up to me and was like, 'You'd make a good linebacker,' " Devin said, recalling the meeting in the second-floor hallway of the football operations building. "That was my first impression of him, a guy telling me you need to play linebacker. My mind was already made up. I wanted to play linebacker."
This was a storyline of Devin White's recruiting process: linebacker or running back?
He ran for 81 touchdowns and 5,031 yards at Springhill High, a school that absorbed Cotton Valley's high school students in a consolidation when White was in junior high. He also finished his prep career with 192 tackles at linebacker. 
He was recruited by then-running backs coach Frank Wilson and signed with LSU as a running back.
"When he got to LSU, biggest decision was stick with running back or go to defense," said Houston, still a youth league coach who also now serves as an assistant principal at Webster Junior High in Minden, just south of Cotton Valley. "I told him, 'You'd fit in well offensively and speed wise, but you have Leonard (Fournette) there and Derrius (Guice).
"'At the running back position, you can find guys that are big and fast. They're a dime a dozen, but if you move to the defensive side of the ball, you're a rare breed, especially at inside linebacker,'" Houston said he told White. "You can't find a 250-pound inside linebacker running 4.47 (second) 40-yard dashes. You can revolutionize the inside linebacker position like (Pro Football Hall of Famer) Lawrence Taylor did on the outside. I sold it to him like that."
It was not an easy move. Amid his true freshman season, White somewhat regretted the decision. He could not overcome the mental hurdles of playing defense, he said, reading offensive linemen, quarterbacks, tight ends and such. He wanted to return to running back.
Two games last season changed his outlook. Against Missouri, he made a third-down stop and dropped the quarterback for a loss — two plays that proved to him that knowing the defense really does work. Later that year against Florida, he saw his most playing time after starter Kendell Beckwith suffered a season-ending knee injury in the first quarter.
"Before the Florida game, I felt like I was just getting in and using my God-given ability to just make plays but it wasn't within the scheme," he said. "After that, I went and talked to (Aranda) and started watching a lot of film and taking notes."
The Sunday sessions were born. Things started clicking.
White began to make plays from the correct spot in Aranda's scheme. He also started making plays when others weren't in the correct spot. This year, he began calling the entire defense, something evident on the field.
White often gestures to other linebackers or shifts his defensive linemen with slaps on the rear.
"There was a time where we were struggling on defense, or maybe the preparation could have been better," Aranda said. "Devin really stood up and pulled people together, maybe pulled people aside, and held everyone accountable. I give Devin a lot of credit for that. I have not been at a place before where you have sophomores filling that type of role."
This is nothing new, said Thrash, White's high school basketball coach.
"We'd have seniors messing up, and he was a ninth-grader and he would get frustrated with them," Thrash said. "We'd have talks. 'Devin, everybody isn't quite as tough and talented as you.' "
Said Aranda: "People listen to him and respect him. And the best is yet to come."
ORLANDO, Fla. — LSU quarterback Danny Etling prepared at least one answer to a question he knew was coming during Friday's Citrus Bowl news co…
'Our All-American'
During one youth football season, White ran for 36 touchdowns.
That's an astonishing number in a league where just a handful of games were played.
The number becomes more incredible, too.
"He never played a game after halftime of that season," Houston said. "No lie. The next year, there was a rule instituted: No one over 140 pounds could advance the ball.
"We call it the Devin White Rule."
Something similar exists in the New Orleans parkball leagues, originating from Fournette's days as a participant. "The Leonard Fournette Rule," folks calls it in the Crescent City.
White sparked a culture change in the Cotton Valley region, Houston said. No. 40 jerseys run rampant in the area, and college coaches, because of their recruitment of White, pass through the area more than ever. It's cliché, Houston says, but White put this place on the map — despite being somewhat overlooked nationally.
The SEC's tackle leader fell short of being a unanimous All-American this season, and he landed on at least one All-SEC second team.
White shrugs this off, burying any emotions. They come out to others.
"He's pissed," Houston said. "I love it. I think, in a sense, it's sort of a blessing. I know from this kid growing up, I know how he thinks and what motivates him. Devin is cut from that rare cloth from Kobe (Bryant) and Michael Jordan. All it takes is just a little bit, a little bitty spark and you'll get something out of him like you've never seen before. He'll probably have a record tackles against Notre Dame because of it."
Said Aranda: "He deserves recognition. The flip side of that is, I hope it pisses him off and he plays well with what we have coming up."
The most talked-about matchup against Notre Dame in this nationally televised affair involves White. The Tigers meet the seventh-best rushing attack in the nation, led by junior Josh Adams and his 1,386 yards.
Before the news conference Friday morning, White shows a reporter a text from Houston. It is a scouting report on slowing Adams.
Thing is, White sees the big picture, the big matchup. He doesn't get specific. 
"I enter the game thinking it's LSU vs. The World," he said. "It's only us, only team I see is LSU. This team is just another team in front of us we have to pass through to get to where we want to go. Our ship is ready. We're taking all prisoners. If you're in our way, we've got to roll you over."
White's confidence comes from a family of sports stars. His mother, Coesha Standokes-White, and father, Carlos Thomas, both played basketball. Coesha, originally of Cullen, played softball, too.
Thrash remembered umpiring some of her games on the diamond in Cotton Valley. 
"She was a fierce competitor on the softball field," Thrash said. "She could knock the fire out of it and run the bases. A lot of fire in her blood."
White's influence on his homeland cannot be overstated, but he's found trouble there, too. He was arrested twice during his senior season, The Shreveport Times reported. Both were misdemeanor charges that those close to him say he has moved well past.
At LSU, coach Ed Orgeron said White has been "sterling" off the field, a positive sign for such an important player — for LSU and for his home.
"He's the reason some of our young people wake up and say, 'We have an opportunity. If Devin did it, we can do it as well,'" Houston said.
"He's our All-American."
ORLANDO, Fla. — LSU defensive coordinator Dave Aranda sat down with reporters Friday to talk about the season and preparing for Notre Dame in …
---
TACKLE MONSTER
With one game to go, Devin White has amassed the sixth-most tackles in school history.
| | | | |
| --- | --- | --- | --- |
| Rank | Tackles | Player | Season |
| 1 | 154 | Bradie James | 2002 |
| 2 | 150 | Al Richardson | 1981 |
| 3 | 144 | Lawrence Williams | 1981 |
| 4 | 130 | Kevin Minter | 2012 |
| 5 | 129 | Al Richardson | 1980 |
| 6 | 127 | Devin White | 2017 |
---
Devin White's tackles by game
| | |
| --- | --- |
| Opponent | Tackles |
| BYU | 5 |
| UT-Chattanooga | 9 |
| MississippiState | 11 |
| Syracuse | 13 |
| Troy | 11 |
| Florida | 13 |
| Auburn | 15 |
| Ole Miss | 3 |
| Alabama | 9 |
| Arkansas | 14 |
| Tennessee | 11 |
| Texas A&M | 13 |