Welcome to Film Room, where we'll break down significant portions from LSU's last football game.
(Click to enlarge photos)
LSU 52, South Carolina 24
How It Happened
The LSU defense (sort of) rebounds: LSU linebacker Jabril Cox said he and a few other teammates talked about how they needed to buck up and show people defensive coordinator Bo Pelini's 4-3 scheme works and fits with the personnel the Tigers have. They took a step forward Saturday night against South Carolina with a series of disruptive plays: five sacks, seven tackles for loss and a pick six by Eli Ricks that broke the game open before halftime.
Still, many symptoms of the LSU defense's problems remain. South Carolina gained 403 total offensive yards, and much of it was gained on familiar long, explosive plays. The Gamecocks had seven plays that gained at least 20 yards, four that gained at least 40. We won't break down each one to analyze the issues. Check out our breakdown of the Missouri game for that. 
On Saturday, we saw more 4-3 base than usual because of South Carolina's dedication to run packages, but Cox said the big plays still come from the same source of issues: "little mishaps on our part, bad eyes by some of us in the secondary and linebackers that misread gaps."
It is troubling that such mental errors remain after two weeks of simplifying the defense and shoring up fundamentals — especially with a high-powered offense like Alabama looming two games away. 
But Cox said he was more pleased with the way the LSU defense responded to giving up big plays. He used the common "bend not break" phrase to describe their mentality instead of folding after yet another defensive lapse.
South Carolina scored 21 of its 24 total points on drives when there was a gain of at least 20 yards, but the LSU defense also kept the Gamecocks off the scoreboard on three such drives, each ending with a missed field goal.
---
---
It's worth noting that even if South Carolina's Parker White made each kick, LSU still wins by a substantial margin. Surrendering 33 possible points per game is playing dangerously in the SEC, and Orgeron said the defense still has to tighten up its play.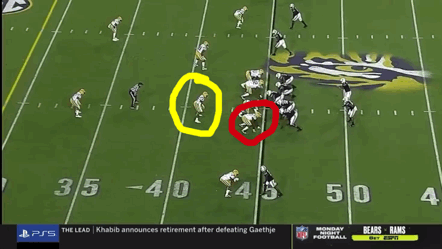 OK, we'll take a look at a few plays. Here's two that highlight a key issue in LSU's rush defense on Saturday night and includes another play that shows a way the Tigers fixed it. Both revolved around LSU defending the edge. Here on South Carolina's first drive of the game (pictured right), Gamecocks running back Kevin Harris takes a counter left 45 yards for a touchdown in which he is nearly untouched. It's uncertain who exactly is responsible for protecting the outside edge. Perhaps it's right end Glen Logan (circled red), who started on the edge after flipping outside from defensive tackle. Orgeron said he wanted to get bigger guys at defensive end after Missouri easily reached the second level on its runs. The 339-pound Logan locks up with left tackle Jazston Turnetine, and doesn't break free from the block until Harris has already reached the outside. Perhaps linebacker Damone Clark (circled yellow) was supposed to either guard the outside or drift along with the motion of the play. It appears Clark either is responsible for the B gap (between the left guard and left tackle) and commits too early, or he jumps ahead on instinct too soon. Most of LSU's defense is on the far side of the field, and, since Clark is sucked into the line of scrimmage, South Carolina's rush to the short side of the field leaves Harris alone. Clark can't recover quickly enough, and Hill breaks loose.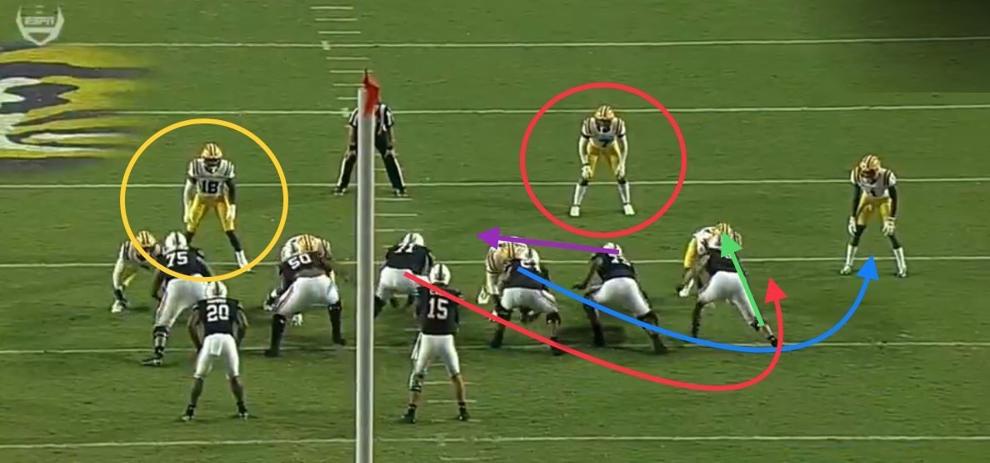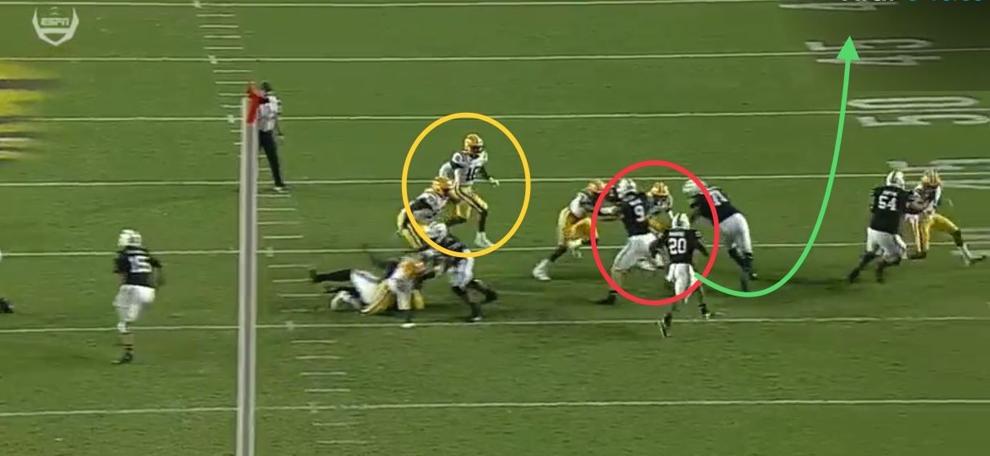 It's the same trouble on the edge that produces a 49-yard run on the right side on South Carolina's first drive of the second half. The Gamecocks pull two offensive linemen on this second-and-10 play (sequence pictured right). Right guard Jovaughn Gwyn (blue arrow) pulls to block LSU cornerback Eli Ricks. Center Eric Douglas (red arrow) pulls to block the first defender he sees. The rest of the offensive line blocks down to the left. A huge hole emerges on the right side, and it's trick here to judge exactly what went wrong. First glance seems like safety Jacoby Stevens (circled red) committed too far inside. He cuts inside to the left of Douglas, and there is no defender remaining on the outside. This seems most likely, since Clark (circled yellow) is lined up so far to the left that it seems a very disadvantageous start to cover the outside edge. It's also possible Stevens is responsible for the 7 hole (outside the tight end), and he cut inside to fill that hole. That could mean Clark was freed to follow the flow of the play and didn't reach the edge in time. We went over in the preseason how Pelini's blend of gap schemes allows linebackers to flow freely. After this drive, Micah Baskerville was mixed in more often in place of Clark at linebacker, and it's possible this was why. Either way, it's the same misjudgment we've seen in previous weeks that has produced explosive plays.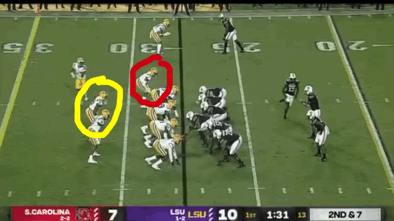 The LSU defense rebounded from its dismal first appearance by stopping South Carolina on its second drive of the game. This second-and-7 play (pictured right) is the same type of pulling-lineman run that produced the 49-yard run in the second half. This time, Stevens (circled red) sets the outside edge, and Cox (circled yellow) recognizes the flow of the play and blows through the line and tackles Harris for a three-yard loss. It's the sort of quick-twitch play Pelini asks of his linebackers, and it forced South Carolina into a third-and-10 on its own 25. Defensive end BJ Ojulari sacked Gamecocks quarterback Collin Hill, forcing a punt (more on the pass rush here). LSU scored a touchdown on its next possession, establishing a two-score lead, 17-7, that it never let go.
Improvement on third down and red zone situations: LSU's offense needed little repair after the team's first three games. The Tigers averaged 37.5 points in losses to Mississippi State and Missouri. Although defensive lapses were at the root of both losses, LSU had a chance to beat Missouri in the final seconds but were stopped on fourth-and-goal. LSU also went 0-for-10 on third down conversions in Columbia, and Orgeron resolved to fix the issues.
Against South Carolina, LSU was 8-for-10 on third down conversions, and the Tigers scored four touchdowns within the Gamecocks 10.
"We coached more goal line on offense," Orgeron said Saturday. "It paid off today."
---
---
Just as Orgeron told Pelini to simplify the defense, he said he told offensive coordinator Steve Ensminger and passing game coordinator Scott Linehan to simplify the offense in third down and goal line situations.
On Saturday, we saw the most under-center snaps for LSU since the 2018 season. At least six third down or goal line plays began under center, and three of them were quarterback sneaks by TJ Finley.
Missouri coach Eli Drinkwitz said in the days following LSU's loss that he was surprised LSU didn't just run a quarterback sneak on the goal line, especially since Missouri was missing two of its starting defensive linemen.
Finley scored the game's first touchdown on a quarterback sneak, and he used his 6-foot-6, 242-pound frame to push for a fourth-and-1 conversion and a third-and-1 conversion.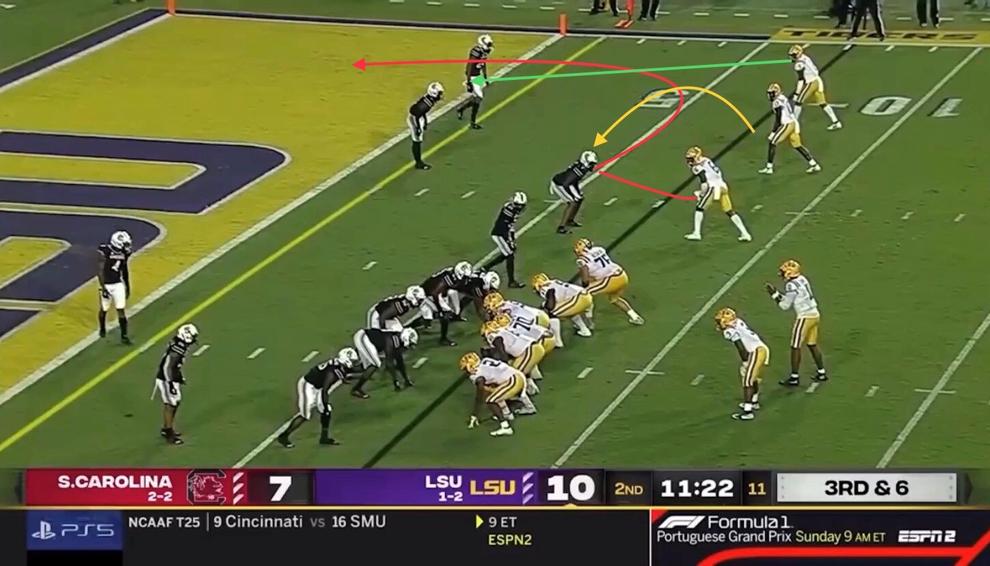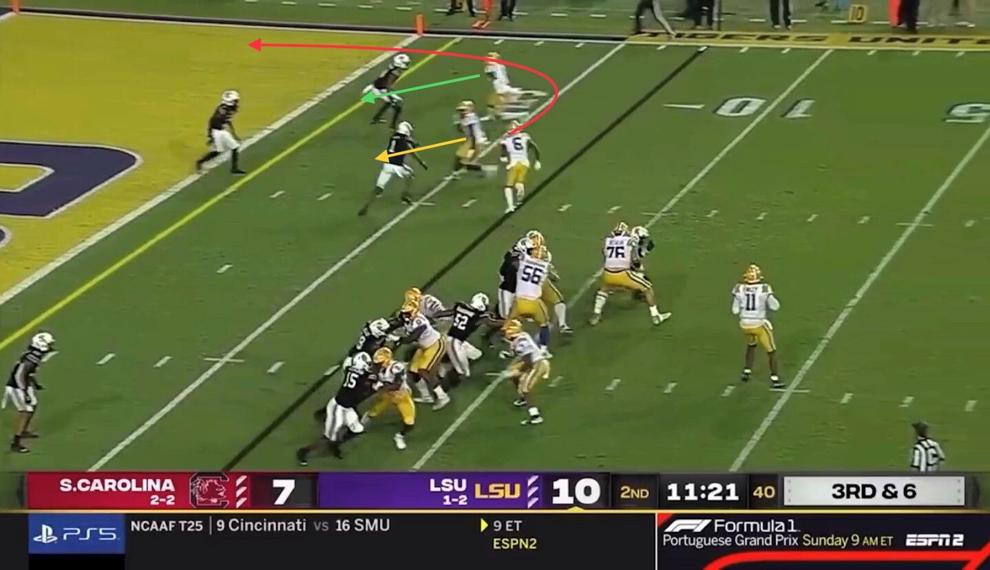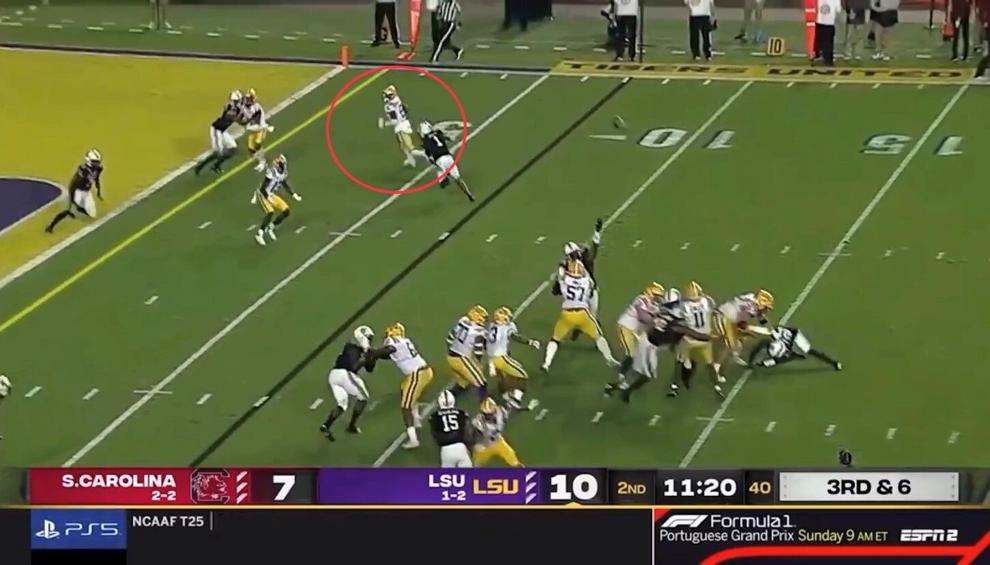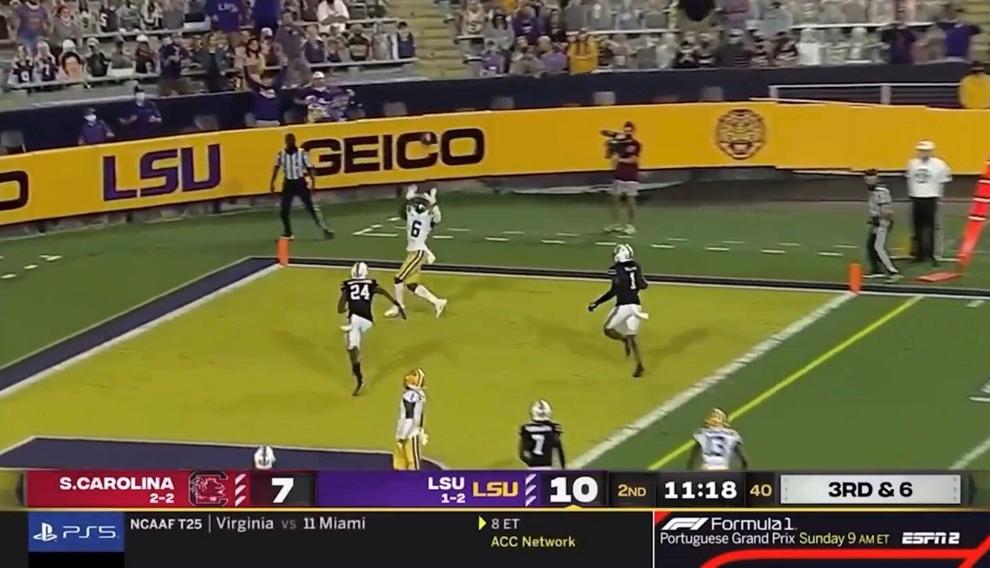 But it wasn't all as simple as a quarterback sneak. Ensminger and Linehan drew up a well-designed rub route to free Terrace Marshall for a wide-open, 7-yard touchdown catch in the second quarter to give LSU a 17-7 lead. It's been said before that football is a copycat sport, and we've analyzed plays in previous film studies where Mississippi State, Vanderbilt and Mizzou each exploited LSU's secondary with rub routes. The Tigers used one on third-and-6 at the South Carolina 7 (sequence shown right). These kind of pass patterns make man coverage work against itself, and it appears the Gamecocks are locked man-to-man on each of LSU's three receivers split wide right. Kayson Boutte (green arrow) is going to run straight into cornerback Israel Mukuamu, which helps clear open the right portion of the end zone. Jontre Kirklin (yellow arrow) runs a short inward route, a rub route that essentially sets a pick on Marshall's defender, nickel safety Jammie Robinson. Marshall (red arrow) has a clear path to the right corner of the end zone, and Finley tosses a high fade that Marshall easily catches to put LSU ahead two scores.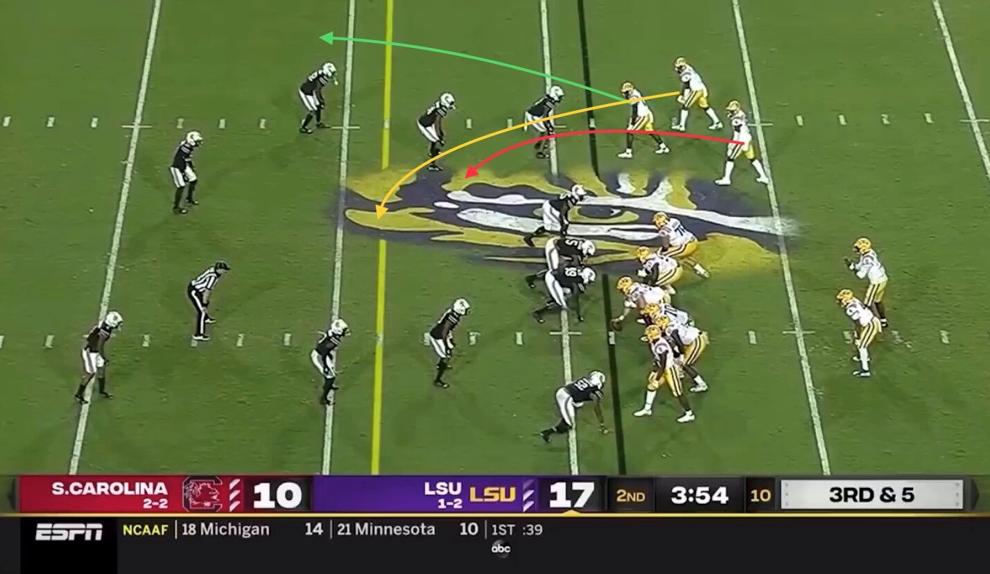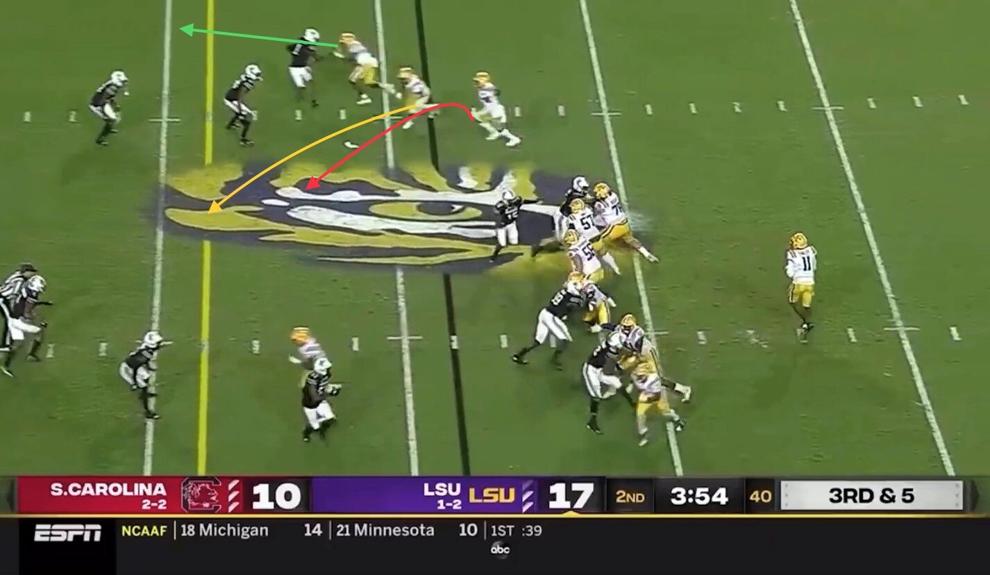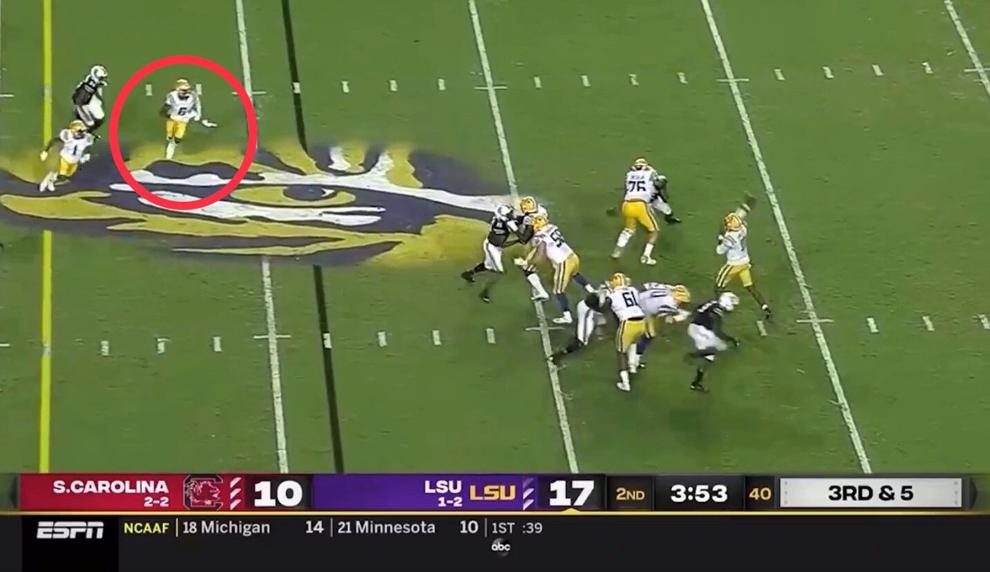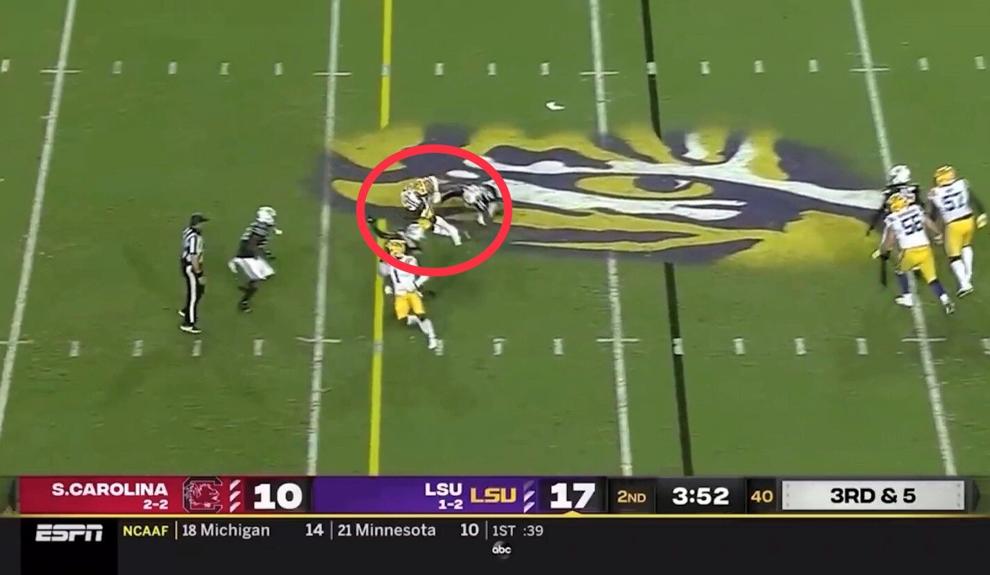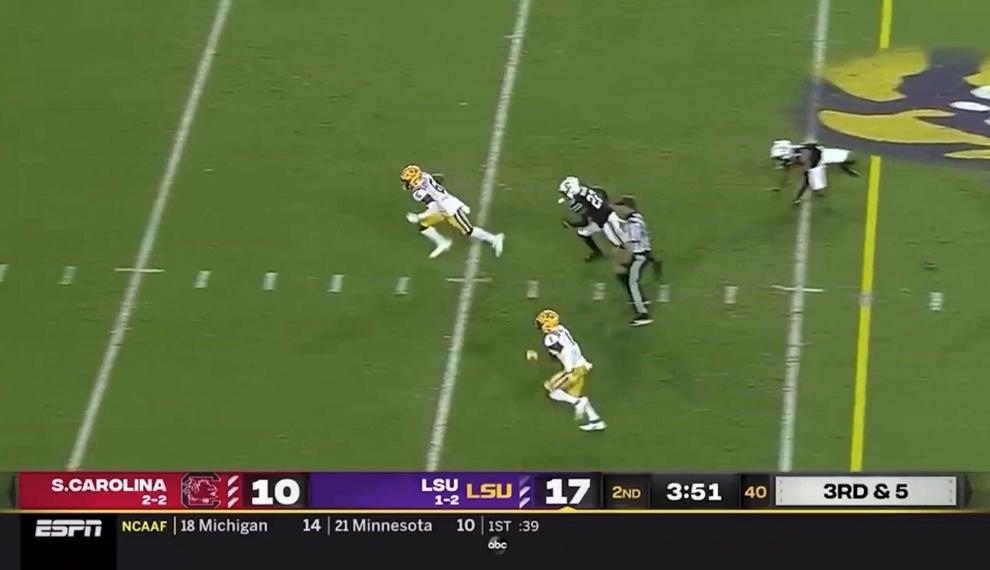 Finley also showed poise in crucial third down situations. On the first drive of the game, he delivered an accurate 7-yard pass to Marshall on the run that produced a manageable third down opportunity. Finley continued to show unusual confidence for a true freshman in this game. After making the first mistake of his career — an interception that was either underthrown or a miscommunication with the receiver — Finley delivered a short third-down toss that turned into a 51-yard catch and run for Marshall (sequence shown right). Within the play is another well-designed route concept. It appears South Carolina is once again in man coverage. Bunched in a trips formation, Kirklin (green arrow) takes Jaycee Horn to the far side of the field. Behind Kirklin, Boutte (yellow arrow) runs a shallow cross in front of the defensive back covering Marshall. It creates enough space for Marshall, who runs a shallower cross right behind Boutte and is open over the middle. Finley fires an accurate pass to Marshall, and his defender, Mukuamu, can't make the diving tackle, and Kirklin's defender, Jaylin Dickerson, is too far behind to catch up with Marshall. The rest of the play is Marshall's speed. In four games, Marshall ranks second nationally with nine touchdown receptions.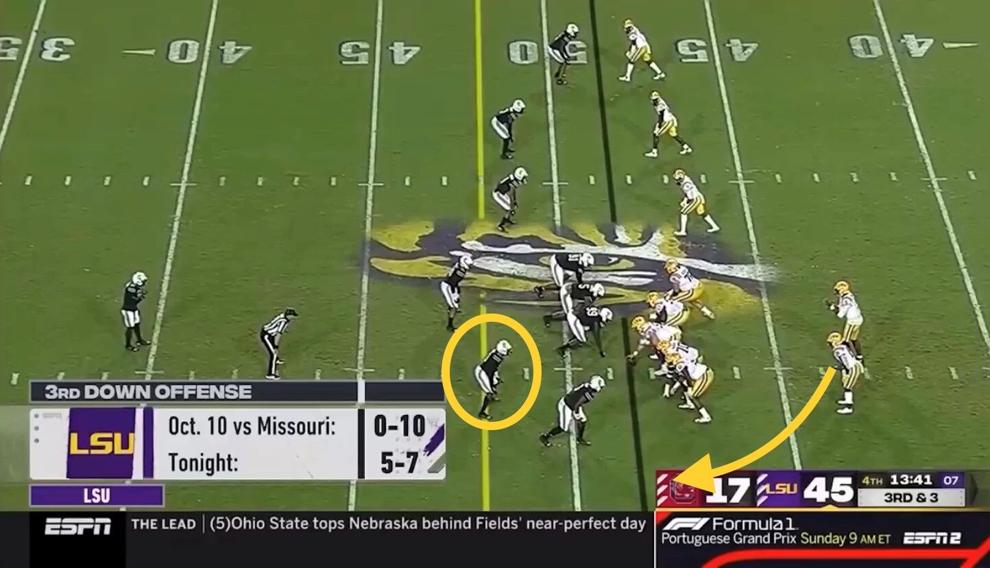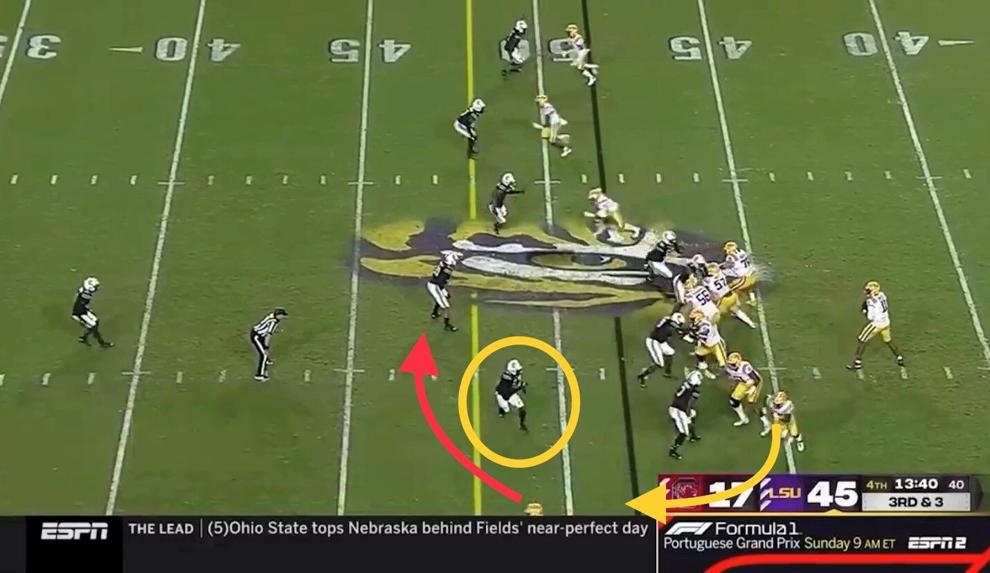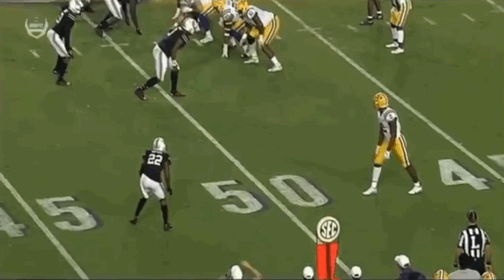 Throughout the offseason, Orgeron spoke about what kind of mismatch former five star tight end Arik Gilbert could be. He was described as an athlete who could play outside receiver, slot, tight end — wherever LSU could find a favorable matchup for him. Gilbert is split wide on this third-and-3 at the LSU 49 in the fourth quarter (sequence pictured right). Gilbert is matched up with South Carolina's starting cornerback, John Dixon, and he showcases the footwork that makes him a dangerous receiver. Just about five yards downfield, Gilbert snaps quickly to the inside on a short slant. The passing lane is open because Gamecocks linebacker Ernest Jones (circled yellow) follows running back Chris Curry (yellow arrow) on his wheel route. Finley finds the open lane and delivers the first down pass. Gilbert weaves through defenders for a 21-yard gain to the South Carolina 30. Later in the drive, Finley lines up under center and gives a second-and-goal handoff to Emery, who leaps over the line of scrimmage for a touchdown, giving LSU a 52-17 lead. "I told TJ Finley and Tory Carter that I was getting in the end zone no matter what and that I was going to leap over it," Emery said later. "We have great penetration with our O-Line and I just leaped over. It was great."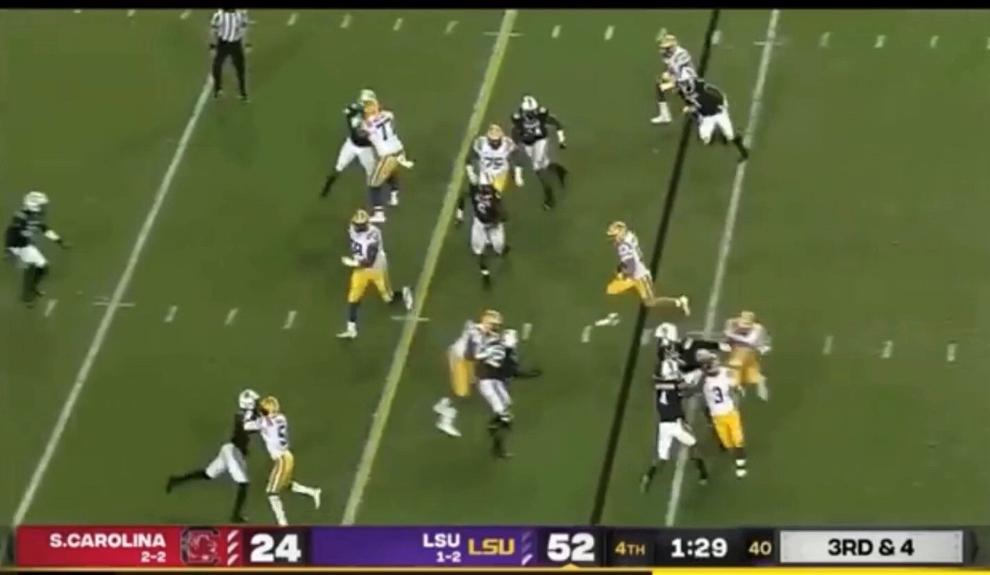 On LSU's final third down attempt of the game, we saw true freshman quarterback Max Johnson showcase his running ability. Orgeron had said in the week leading up to the game that Johnson was the better runner, and he picked up 12 yards on this designed quarterback sweep on third-and-4 at the South Carolina 39 (sequence pictured right). The offensive line runs a zone blocking scheme to the left, and running back Ty Davis-Price lead blocks on the left edge. Johnson just has to pick an opening and charge through. The first-down run allows Johnson to take a knee on the following play, ending the game. The quarterback sweep was used a few times in this game. It was the same play that Finley ran on the first drive of the game on first-and-goal at the 7. Finley got tripped up by a downed defender, else he would've likely scored a touchdown on the play. It's likely that this play was put in within the last two weeks. Finley and Johnson both have mobility that Brennan doesn't quite have, and, once Brennan returns, it will be interesting to see if either true freshman will be brought in on goal line or third down situations to run these sweeps.