On third down, LSU brought the blitz.
On fourth down, the Tigers dropped almost everyone.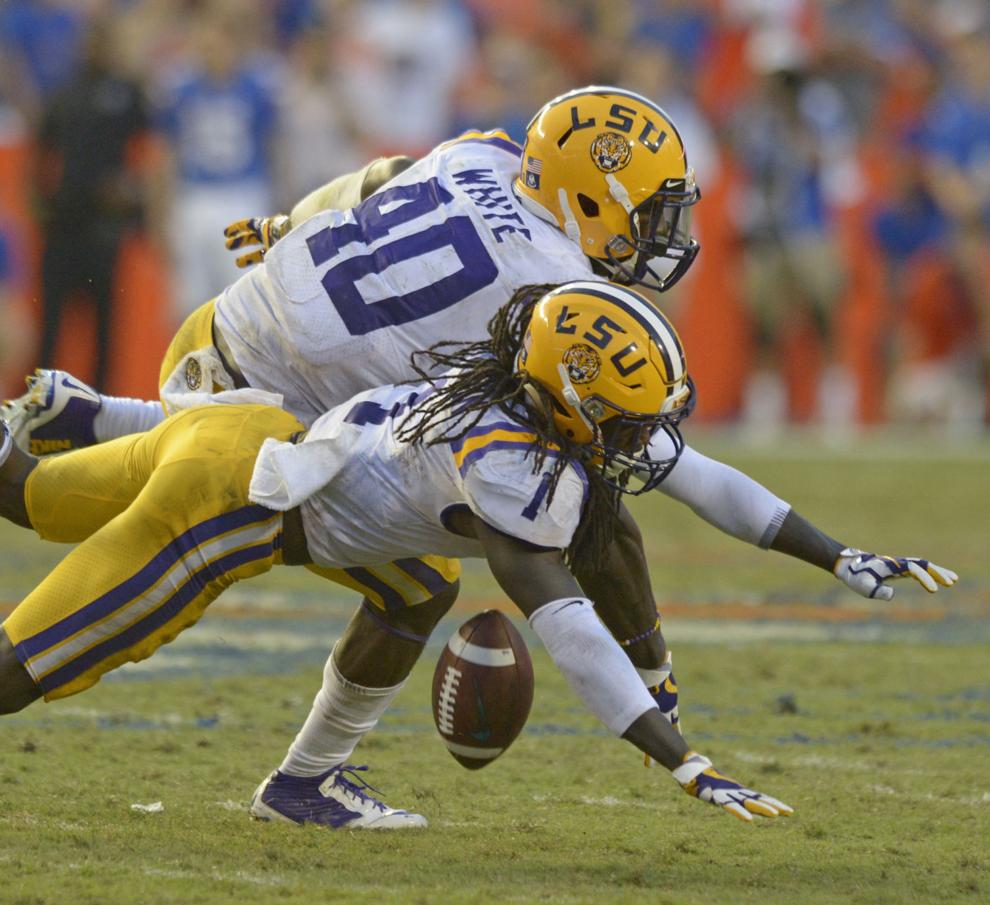 Defensive coordinator Dave Aranda's final two play calls worked to perfection, and they lifted LSU to that 17-16 victory at Florida on Saturday — a key final stand by a young defense that, maybe, grew up a little over the weekend.
The Tigers (4-2, 1-1 Southeastern) stuffed the Gators (3-2, 3-1) on their final three drives, rebounding from a rough third quarter to deliver this squad a much-needed road win. The final two plays — on third-and-3 and fourth-and-3 — were the knockout punches to Florida and redshirt freshman QB Feleipe Franks.
Donte Jackson, blitzing from his nickelback position, pushed Florida running back Malik Davis into Franks on the third-down attempt. The ball went soaring well over the intended receiver's head, Franks clearly affected by a hand-waving Jackson in his face.
It was a microcosm of the game for a Tigers defense that spent a lot of time in the backfield. They sacked Franks five times, giving the unit 20 for the season. On Florida's second-to-last drive, outside linebacker Corey Thompson got pressure on Franks, and Christian LaCouture and Greg Gilmore walloped him for a punt-forcing sack.
The Tigers did it without blitzing much, coach Ed Orgeron said afterward. That changed on the Gators' final third down.
"It was a blitz," the coach said. "(Florida) ran the ball a lot on third downs so we had to pick and choose our time when to blitz. Tremendous timing."
On fourth down, Aranda dropped eight of his 11 defenders into coverage, a zone defense that resulted in a deflected pass. White, monitoring a zone in the center of the field, leaped to make the play. He batted away Franks' pass.
"I think we dropped eight, rushed three. I saw Feleipe's eyes," he said. "Tried to throw it right behind me. Jumped up. I used to play basketball so I got a good vertical."
The Tigers defense allowed just 302 yards, and they recovered from that head-shaking third quarter.
Florida scored touchdowns on back-to-back drives to pull itself out of a 17-3 hole. The Gators ran it 13 times on 16 plays combined on those two drives, picking up a whopping 112 yards rushing. The Tigers gave up runs of 23, 22, 12, 11 and 21 yards.
"Those drives it was just one player just wasn't in the spot at the right time," White said. "We got to the sideline and I told the team, 'This is what we want to be in – physical (game).' I told them 'We've got to respond.' With the game on the line, we want to be the ones on the field, one to be the ones making the stop."
Florida gained 30 yards on 13 plays on its final three drives.
"It was really a make-or-break series for us," Jackson said. "We were determined the whole game, but we wanted to get out there and finish."
Devin White said he blocked out "the noise."
Herron returns but others in question
Defensive end Frank Herron is expected to make his debut against Auburn, but the status of several other players remains in question as the Tigers ready to host No. 10 Auburn (5-1, 3-0 Southeastern) at 2:30 p.m. on Saturday.
Starting defensive end Rashard Lawrence (right ankle), safety John Battle (stinger) and offensive tackles Toby Weathersby (undisclosed) and KJ Malone (left knee) all missed time with injuries in the win over the Gators. Malone, Weathersby and Battle did not complete the game. Lawrence played with a bum right ankle that he re-injured in the second half.
Weathersby's issues appear to be the most serious of the four. He's battling "numerous things," Orgeron said after the game. Weathersby missed spring practice after undergoing an offseason procedure. In the past, he's battled a multitude of injuries, including to his ankle, knee and shoulder.
Freshman Saahdiq Charles would likely replace Weathersby if he were to miss this week's game.
Herron's return should give a defensive line fighting depth problems a boost. The fifth-year senior from Memphis missed the first six games for what is presumed to be a half-season suspension. Orgeron has declined to reveal suspensions.
LSU and Auburn will meet during the day on Saturday.