Peter Parrish stepped out of the car to use the rest stop, and it turned out to be a heck of a time to go.
The Parrish family had just crossed from Mississippi into Alabama, on their way back from an LSU football camp last June. They'd had to leave the camp early. Parrish was due to attend another camp at the University of Tennessee the next day, and the family was halfway through their seven-hour drive back to their home in Phenix City, Alabama, to stay overnight.
Parrish, LSU's first high school quarterback signee in two recruiting cycles, never made that trip to Tennessee.
Shortly after Parrish left the car, his mother's phone rang. The gravelly voice on the other end was unmistakable: Tigers head football coach Ed Orgeron.
"This is the guy from 'The Blind Side!' " Kiyyah Parrish thought, recalling Orgeron's role in the hit movie. "This is Coach O!"
Kiyyah put the call on speakerphone for her husband, Peter Sr., to hear, and Orgeron told them he couldn't sleep at night; he knew in his heart that Parrish was his quarterback; and he wanted to offer him a scholarship.
Parrish returned to the car. His mother handed him the phone and said: You've got to make a phone call.
Parrish grinned and dialed.
"I know Tennessee is going to offer you, and I can't let that happen," Orgeron told Parrish. "I want you to come play quarterback for LSU. How do you like that?"
Parrish liked it so much he committed on the spot and shut down his recruitment. His head coach at Central High, Jamey DuBose, said Parrish never took another visit to any other school — all the way up to when he signed his letter of intent on the first day of December's early signing period.
Parrish's friend, offensive tackle Javion Cohen, gave him an LSU windbreaker, which he wears almost all the time. Kiyyah said she washes the windbreaker every other day. Its colors are starting to fade. Holes are appearing.
"You're going to have to do something about this," Kiyyah said she's told Parrish. "He's like, 'Nah, mom.' That's what he wanted to wear."
Come August, the 6-foot-1, 199-pound Parrish will be wearing the gold noncontact jerseys worn by LSU quarterbacks during practice. The nation's No. 12 dual-threat quarterback, according to 247Sports, will be much welcomed.
The Tigers went through the entire 2018 season with just two scholarship quarterbacks, Joe Burrow and Myles Brennan, because of two major factors: Orgeron hadn't signed a high school quarterback in his 2018 recruiting class, and two quarterbacks, Justin McMillan and Lowell Narcisse, transferred out of LSU during preseason camp.
And after national signing day Feb. 6, it's likely that Parrish will be the only quarterback of the 2019 class.
LSU's lack of depth and the opportunity for future playing time were big selling points.
"That's a position they needed to fill," Parrish said. "I feel like I can do my thing for that position."
Yet in an era of elite-level signings, when All-Americans don caps and former five-stars transfer to new teams, Parrish's connection with the Tigers didn't receive the same kind of fanfare.
His career numbers (2,290 yards passing, 1,312 rushing in two seasons) don't come near eclipsing those of some of the quarterbacks that are ranked higher on recruiting boards. But DuBose points to Parrish's state championship, 26-1 overall record as a starter, and how he played in a two-quarterback system that has diminished the statistics of previous Division I recruits like Sam Gibson (LSU), Jalen Whitlow (Kentucky), Justin Thomas (Georgia Tech) and Justyn Ross (Clemson).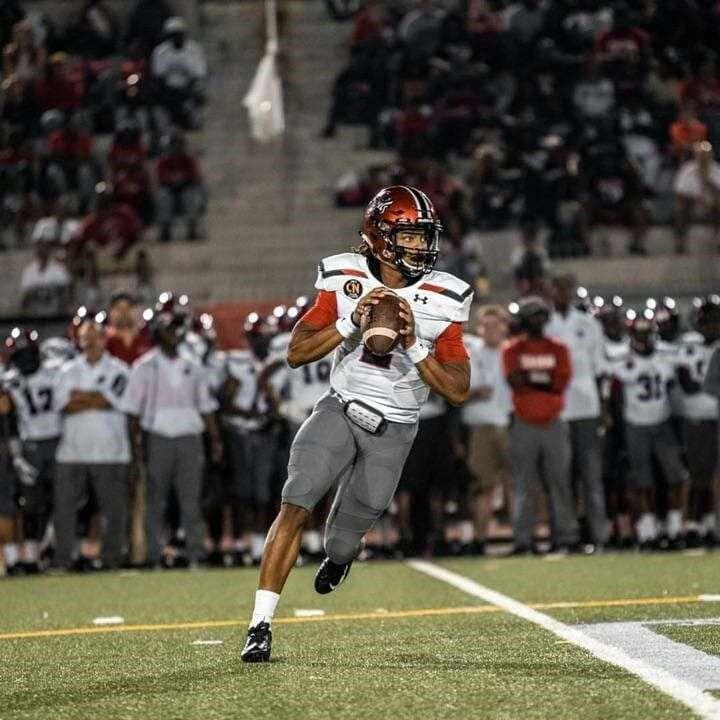 Parrish split time with Tucker Melton, a junior who has received an offer from South Alabama. The duo led the Red Devils to a 52-7 victory in the Class 7A state championship in December.
"If I don't switch them out, Peter's numbers might be astonishing," said DuBose, who is in his fifth season as Central's head coach. "But we're not about awards here. I know everybody wants a Heisman Trophy guy, but Peter's a guy that understands a national championship is more important."
DuBose first started his two-quarterback system at Prattville High, where he won two Class 6A state championships as an offensive coordinator and two more as a head coach. The spread offense, with its four-receiver sets and zone-read tendencies, had a starting quarterback like Parrish they called "1" and an alternate quarterback like Melton called "1B."
Sure, in a big game like the state championship, DuBose said, the "1" will play about 80 percent of the time; but mostly Parrish and Melton alternated after each series. Parrish's devoted film study and knowledge of the game was also valuable on the sideline, and DuBose said if Parrish approached him and said, Coach this is what I saw ... he'd "believe Peter. He isn't going to tell you if it isn't true."
That was more a nice side effect. The basis of the system was rooted in competition.
"Peter competed every day," DuBose said. "He understood what it takes to be a champion. He won the job each and every week. That's how our kids are. We make sure they understand competition. Also when he gets to college, he's going to have to stand on the sidelines and watch a little bit."
A self-described hard worker, Parrish said he's "not a quitter. I'm a winner. I'm going to do everything within my power in anything I'm doing."
Perhaps there was no more intense example than his first loss: a 27-26 loss to McGill-Toolen in the state semifinals during his junior year.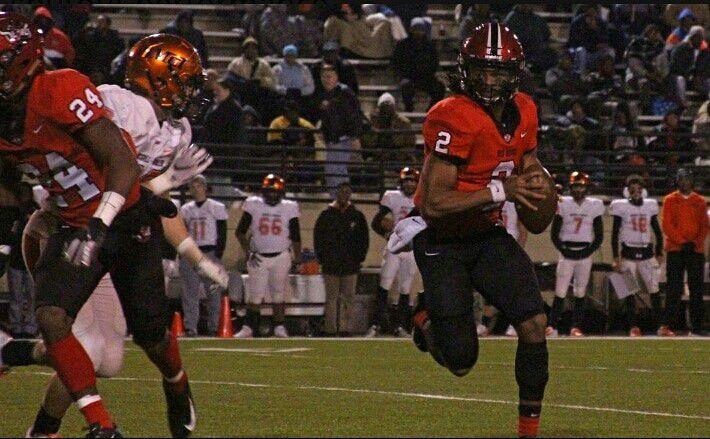 On third-and-goal, Parrish had appeared to send the game to a second overtime with a 14-yard touchdown pass. The extra point was blocked, stopping Central's state title hopes a game short.
"It hurt deep down inside," Parrish recalled. "I told myself this wasn't going to happen again. I told all my teammates we were going to win the state championship the next year. I kept thinking about the game we lost."
Parrish thought of it so often, one summer morning before his senior year, his mother remembered Parrish walking up to her and saying: Mom, I had a dream. I dreamed that we were going to state.
"OK," Kiyyah told him. "You've got to be able to finish it when you get there."
'A leap of faith'
The waaaaank of the train horn was enough to make Parrish smile.
It's one of his earliest memories growing up in Miami. Parrish was about 4 when his father took him to work one day at Florida East Coast Railway.
Parrish Sr. was an engineer and conductor, responsible for driving locomotives between stations and rail yards. He held his son up to the train's control panel and let him blow the horn and talk on the radio.
Miami was where Parrish was born and raised. He remembers going to the parks and the beach, watching the Atlantic roll into the sand. There were boat rides and a few trips north to Disney World — "a lot of fun family time," he said.
Parrish was probably one of the busiest 4-year-olds in South Florida. That's when he started playing football, too, joining the little league where his father coached and his uncle, Tervel, who is six years older than Parrish, played. Only, they didn't have Parrish's age group, so he ended up playing with kids who were two to three years older.
One of the coaches wanted to put Parrish at wide receiver, but Parrish Sr. played him somewhere else. He put his son at guard.
"Me personally, I'm a firm believer that in the first year playing, I like them to play on the line," Parrish Sr. said. "So you can't run from contact. He got used to hitting, and he did real good."
Parrish's career as an offensive lineman only lasted a year, and he's played quarterback ever since.
By the time Parrish was 7, his father began to wonder how serious his son was going to be with football. In the era of private quarterback training, headlines always revolved around quarterback shows like Elite 11. Hearing testimonies from quarterbacks like Cam Newton to Jameis Winston, it seemed that was the way for Parrish to be competitive.
Parrish Sr. got a quote from a local trainer: six sessions for $250.
It would be an investment.
So the family gathered in the living room, and Parrish Sr. asked his son: What do you want to do with this? Do you want to be average? Or do you want to be great?
"I told him I want to be great," Parrish said. "He said, 'Get ready for it.' "
And the drills began. Footwork. Speed and agility. Arm mechanics. Parrish gradually became one of the best passers in his league.
But his father wasn't always there to see it. A little league game would be about to start, and Parrish Sr. would get a call from the railway. That happened frequently at movies and dinners. The call would come, and he'd have 90 minutes to get across town to conduct the train.
"I missed a lot of games," Parrish Sr. said. "I got tired of that life."
Parrish Sr. had a few friends who worked at Genesee & Wyoming, a short line railway that had an opening near Columbus, Georgia, right on the Alabama state line. He'd have Saturdays and Sundays off, guaranteed.
"All of our family is in Miami," Kiyyah said. "He was like, 'We've got to kind of take a leap of faith, move out and be more stable for the household and be there for our son.' "
The family moved when Parrish was in seventh grade, and they lived in a hotel for a month until they got situated. Parrish Sr. ran through quarterback drills with his son in the hotel grass, and some people would walk past and ask for Parrish's name.
"We'll look out for him," they'd say.
Back to Baton Rouge
Tommie Robinson visits his alma mater annually.
The LSU running backs coach was born in Phenix City, and he graduated from Central High in 1982. He was even an assistant coach there from 1988-90. So ever since Robinson left to be a graduate assistant at the University of Arkansas in 1991, he's always kept an eye on the talent coming out of his hometown.
It didn't take Robinson long to spot Parrish, and soon enough, the Phenix City became a frequent spot on the LSU recruiting trail.
"Everybody came and loved him," DuBose said. "Raved about him."
The LSU staff invited Parrish to Baton Rouge last summer for its football camp, which led to the scholarship call at the Alabama rest stop. 
Parrish said there was something special about LSU, something that clicked that made him feel comfortable enough to shut down his recruitment so soon. It was confirmed when he played in the Polynesian Bowl in January, hanging out with fellow LSU signees Marcel Brooks, Trey Palmer and Siaki Ika.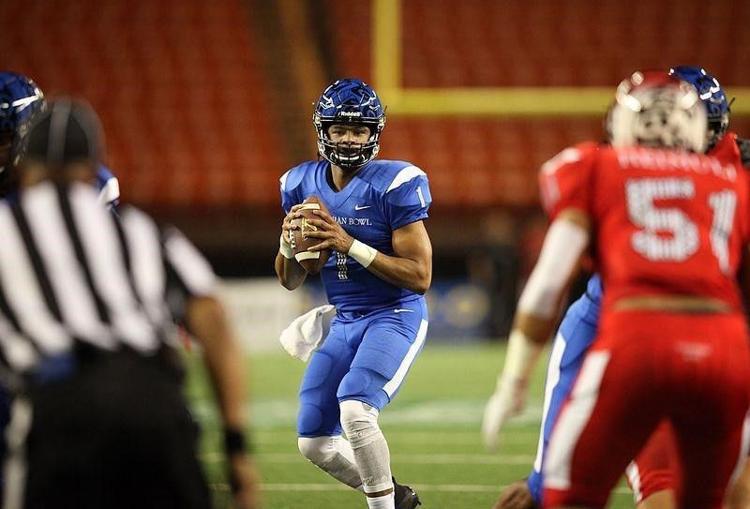 Kiyyah points to Orgeron and Robinson's visit before the early signing period, when the coaches sat in the Parrish's living room and talked with them for two hours straight. What sold her was that Orgeron talked more about Peter's development as a man than anything about football.
"He said, 'I know what kind of athlete he is,'" Kiyyah said. "With some coaches it's 90 percent football. It was reversed. It was 90 percent Peter the person, 10 percent football."
The Parrishes drove down to Baton Rouge on Friday for another visit to LSU, and they'll return to Alabama on Sunday.
And whether the family stops on their way back, Orgeron will be able to sleep well this time.
Parrish will return to Louisiana.