OXFORD, Miss. — Ed Orgeron turned to Pete Carroll, Pete Jenkins and Jimmy Johnson while interim coach at LSU last season.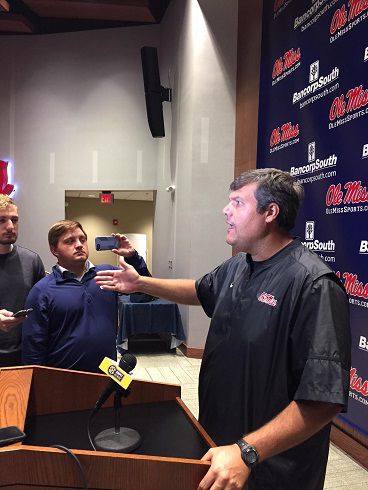 Matt Luke has turned to Phillip Fulmer, David Cutcliffe and Mike MacIntyre while interim coach at Ole Miss this season.
Both of them, Orgeron and Luke, received a similar message from their different coaching mentors: Be yourself.
"Take all the things you learned form all these coaches and put your own spin on it," Luke said. "These kids, they know who you are. They can see through it if you try to act a certain way."
Luke is six games into an act that Orgeron knows all about — being the interim — and he's doing it at a place Orgeron knows all about, too. LSU's coach returns Saturday to play a school that fired him in 2007 after a three-year run that ended with just three Southeastern Conference wins.
You don't have to remind the 40-year-old Luke about this. He was here, too, the only assistant Orgeron retained from previous coach David Cucliffe's staff. Luke served as Orgeron's recruiting coordinator and tight ends coach during Orgeron's first season in 2005 before leaving to rejoin Cutcliffe at Tennessee.
Orgeron and Luke do not regularly communicate any longer, Luke said Wednesday during a small news conference at Ole Miss' team facility.
Said Luke: "We were only together for eight or nine months, so..."
His former boss is now standing in the way of what would be a landmark Ole Miss victory, a massive splash for a guy trying to replicate the result of Orgeron's interim campaign last season at LSU.
From afar, Luke noticed.
"Obviously," Luke said, "a lot of respect for what he was able to accomplish in rallying the troops and getting those guys playing really, really hard."
Like Orgeron, Luke went from a line coach — offensive line — to the leader of a somewhat fractured team. Orgeron dealt with the firing of Les Miles four games into a 2-2 season. Luke took over just two weeks before preseason camp after Hugh Freeze's phone records led to his resignation.
On top of that, a years-long NCAA investigation is still hanging over the Ole Miss program, a dark cloud expected to drop its precipitation next month. The school already self-imposed a postseason ban for this season.
There's no quitting around here, though, they say.
"I think playing LSU is motivation enough," said Maurice Harris, the Rebels' recruiting coordinator and tight ends coach who spent the 2006 season as an Ole Miss support staff member under Orgeron. "It's one our kids get up for and are excited about it."
Less than 24 hours after declaring right tackle Toby Weathersby as "questionable" on the SEC…
Luke could use coach-speak this week, days before the Rebels (3-3, 1-2 SEC) and Tigers (5-2, 2-1) tangle at Vaught-Hemingway Stadium. 
He might tell you this is just like any other week, just like any other game. It's the next on the schedule, some might say.
It's not. And he's not afraid to say it's not.
"I grew up with the Ole Miss vs. LSU poster in my room," said Luke, a Gulfport, Mississippi, native. "Grew up hearing about all the stories — Billy Cannon's run and coming back and beating that team in the Sugar Bowl."
Luke has seen and played in so many of these games.
He started 33 games at center for Ole Miss from 1995-98. Before that, his brother Tom was a Rebels quarterback. Their father, Tommy Luke, played defensive back at the school in the 1960s.
"This, for my dad, was the game," Luke said.
For his son, it's so much more.
Ole Miss hired the same search firm, Turnkey, that LSU used last fall for its football and men's basketball coaching searches. The firm last month began vetting potential candidates, including Luke. In fact, a Turnkey associate met with Luke last month, athletic director Ross Bjork told The Clarion-Ledger three weeks ago.
Meanwhile, Luke continues to build his resume on the field. Like Orgeron and LSU last year, it could be the biggest factor in determining how serious Ole Miss is about Luke replacing Freeze full-time.
Notes on a golf scorecard while I gaze out the window at our beautiful fall weather and lame…
Orgeron and Luke's interim approach, at least publicly, isn't so different.
They're warming up to the media, out of their assistant coaching offices and thrust into the spotlight — seemingly open, honest and courteous with reporters. In fact, before leaving his news conference Wednesday, Luke reached out to an out-of-town reporter: "You got everything you need?" he asked.
And the word "interim"? That's not used much here. Like in Orgeron's 2016 season at LSU, those in the Ole Miss facility know Luke by two words only: head coach.
"He's never mentioned the interim tag," Harris said. "He's working it like he's the head football coach here. These kids believe in him and work hard for him. You should see our team meetings when he's speaking to them; (they're) glued to every word he's saying. He's planning for the future. He's just not trying to win this season. We're trying to build a program here."
One member of Ole Miss' staff has the most recent experience with interim leaders: Bradley Dale Peveto, the former special teams coordinator and linebackers coach in Baton Rouge. After he landed the permanent job, Orgeron dismissed Peveto in November.
Freeze hired him in January. 
"It's been a real blessing," Peveto said Wednesday. "There's a lot of ways this could go, but he's embraced it. He's a great leader, fearless leader, great motivator. I've been very impressed with Matt Luke as a head football coach."
As Connor Culp began his approach, his mind went blank.