JD Moore was confused.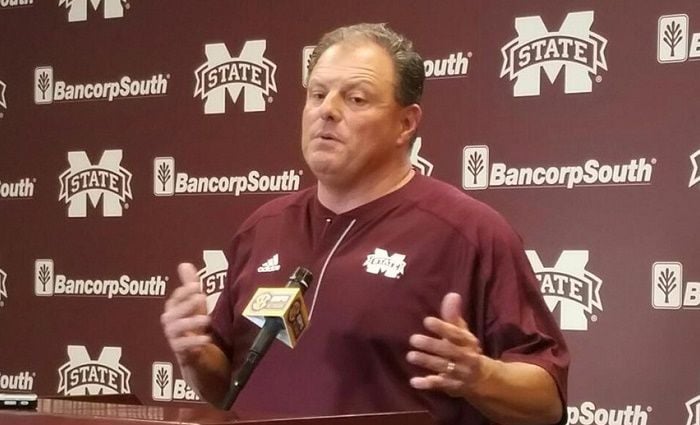 He walked into his position coach's office Monday to see Steve Ensminger watching film of Louisville.
"What are you doing?" Moore asked Ensminger, LSU's F-backs and tight ends coach. "We have Mississippi State this week."
That's when Moore learned that the Bulldogs' defensive coordinator is Todd Grantham, the same man who directed the defensive unit LSU played eight months ago in the Citrus Bowl: Louisville.
"It made sense," Moore laughed, "once he told me that."
The meeting Saturday night between No. 12 LSU (2-0) and Mississippi State (2-0) is mostly billed as a clash of the Tigers' young, talented defense and a Bulldogs offense led by record-setting dual-threat quarterback Nick Fitzgerald.
The tastier matchup may unfold between two first-year coordinators.
Matt Canada's new offense gets its first true road test, and it comes against a longtime defensive coordinator who's familiar with the Tigers. The 50-year-old Grantham led Louisville's defense for the last three seasons and, before that, ran Georgia's unit for four years.
He is tasked with reshaping a State defense on its fourth coordinator in four years, a unit that hasn't finished in the top 50 in total defense since 2013.
The reshaping is in full progress, LSU coach Ed Orgeron says.
"I think that you can see that he's making a difference in their football team," he said. "Mississippi State has only given up 174 yards per game, 10.5 points per game. I think they were giving up close to 30 last year. His pass defense is No. 1 in the SEC at 89 yards per game."
The first place Danny Etling began learning his now-effective play-action move might surprise you.
Those numbers have maroon-clad fans in Starkville buzzing.
The quality of their first two opponents — Charleston Southern and Louisiana Tech — hasn't dampened the excitement. Grantham's unit pitched State's first shutout in three years in the opener and then smothered Tech in Ruston last week.
In two games, the Bulldogs defense has scored 10 points: two safeties and a 90-yard fumble returned for a touchdown. The latter was made by one of the nation's best defensive linemen: Jeffrey Simmons, a 6-foot-4, 300-pound former five-star product and SEC All-Freshman Team member in 2016.
Simmons is another problem for LSU. After all, Orgeron describes him as a future first-round draft choice, but Grantham's scheming is first on the to-do list.
Orgeron says he expects a "very similar" scheme to the one the Cardinals used during their 29-9 loss to LSU in Orlando, Florida, on Dec. 31.
Ensminger knows his system well, having studied it for an entire month last December in preparing for that bowl game. Ensminger, LSU's interim offensive coordinator at the time, led a unit that rolled up nearly 400 yards of offense, had five drives of eight plays or more and finished with 20 first downs.
There was a lot to enjoy about LSU's home opener last Saturday.
LSU players danced around questions this week about Grantham's unit, not offering much insight on a scheme they should know well. The consensus among them: Grantham is a coordinator who enjoys flashing fronts you've not previously seen.
Some players called them "wrinkles." Another referred to them as "nice things."
"There's a lot of multiple fronts, dialed it up a lot of different ways," center Will Clapp said of Grantham's Louisville defense last year. "I remember a good bit from it. I'm interested to see how much he brought over from Louisville."
Grantham's scheme has similarities to the one run by LSU coordinator Dave Aranda. Both are based around the 3-4 but don't have a set defensive look. Just last week, State played Louisiana Tech's spread offense while using one linebacker. The Bulldogs played with six defensive backs for much of the game, a 4-1-6 look with an edge rusher.
Sound familiar? Aranda's scheme is built around edge rushers.
His new pass-rushing package, "Cheetah," is a 2-4-5 formation with two of the four linebackers playing an edge-rushing role. On Saturday, the Tigers are expecting to play star junior Arden Key and highly rated freshman K'Lavon Chaisson at the same time on the field.
Devin White feels like he and the LSU defense are ahead of schedule in their game planning f…
Grantham has his own star player.
Simmons not only returned that fumble for 90 yards and a score last week in Ruston, he blocked a punt, recovered it for a touchdown and blocked an extra-point. The athletic nose tackle will be locked in a battle Saturday night with Clapp, along with LSU's two guards — Garrett Brumfield and LSU's rotating rookies at right guard, Ed Ingram and Saahdiq Charles.
Asked about Simmons, Brumfield gives a verbal shrug and cites the teachings of line coach Jeff Grimes. Grimes often quotes from the book "Gates of Fire," a 1998 historical fiction novel that recounts the Battle of Thermopylae, when a small Greek army held off for three days a Persian army numbering in the hundreds of thousands.
"There's a quote in the book," Brumfield said. "It says we're going to make opponents nameless and faceless. We're focused on us. Whoever we're playing is who just who we're playing. We're not focused on any one person or any one team or anything like that."