BYU and Chattanooga weren't good enough to expose the cracks in the facade of LSU football, but Mississippi State certainly was. The Bulldogs shook the Tigers to their foundations with Saturday's 37-7 rout.
This is a weekly tradition for Will Clapp and KJ Malone.
There were so many issues for LSU coming out of that four-alarm fire — passing game, sealing the edge defensively, even special teams coverage — it's hard to know where to begin.
Ask the LSU players and coaches, though, and they'll tell you. Candidly.
"It starts with penalties," quarterback Danny Etling said.
Penalties, 30 of them through LSU's first three games, have haunted the Tigers even in their two wins. LSU was flagged nine times against State — the Bulldogs declined at least two more — with many of them coming at critical times, erasing the Tigers' scores or helping State keep its scoring drives alive.
Welcome to Film Room, our weekly analysis of LSU's last football game.
Four of the biggest:
On LSU's first drive, the Tigers face second-and-14 from their 33 after a 5-yard false start on right tackle Toby Weathersby. Etling runs a textbook play action fake and finds DJ Chark wide open for a 67-yard touchdown pass, but fellow receiver Stephen Sullivan is flagged for pass interference on a controversial pick play. The Tigers eventually punt.
On first-and-10 at the State 20 in the second quarter, Chark is flagged for holding trying to block for Derrick Dillon on a 20-yard jet sweep touchdown. The penalty erases this score, too, but LSU scores two plays later on a 10-yard Darrel Williams run.
Later in the second, State quarterback Nick Fitzgerald throws incomplete, but strong safety John Battle is called for pass interference. Instead of third-and-10 at the LSU 42, the Bulldogs have a first down at the 27. Six plays later, State retakes the lead for good 10-7 with a field goal.
In the third quarter, Fitzgerald throws incomplete on third-and-2 from his 33, but middle linebacker Donnie Alexander is ejected for targeting. Instead of punting, State has a first down at its 48 and goes up 20-7 on another field goal five plays later.
Later in the third, defensive end Neil Farrell is also ejected for targeting Fitzgerald on first down, though he appeared to trip over a prone Arden Key (coach Ed Orgeron hinted Monday that LSU may be appealing Farrell's first-half suspension this Saturday against Syracuse). The 15-yard penalty moves State to its 36. Six plays later, Fitzgerald hits wide-open Keith Mixon with a 45-yard touchdown pass for a 27-7 lead that effectively seals LSU's fate.
Can't see the video below? Click here.
Other penalties backed LSU's offense up "behind the chains," putting stress on coordinator Matt Canada's play calling.
"When it's second-and-28 there's not much on the play sheet for that situation," center Will Clapp said.
Despite its problems, LSU's Williams and Derrius Guice averaged 5.8 and 5.1 yards per carry, respectively. That's great when it's first-and-10, but as Etling said, "when it's first-and-20, 5 yards a play isn't going to cut it. Getting behind the chains throws off the whole game plan."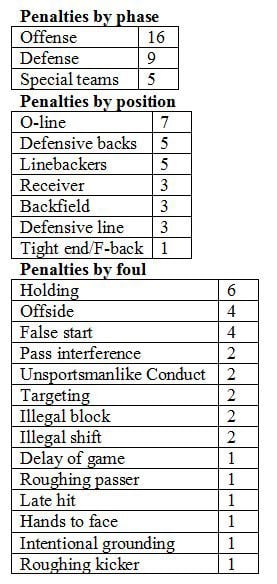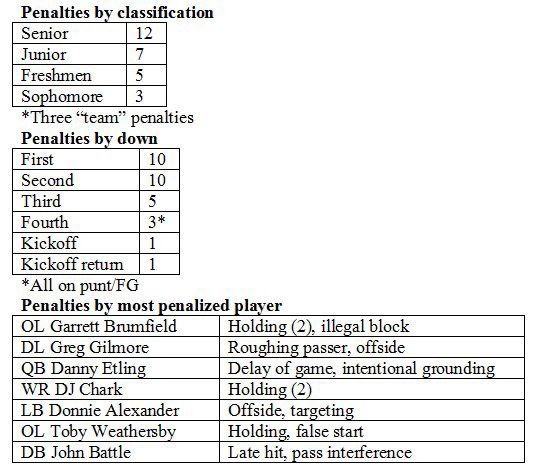 Defensively, the Tigers told a similar tale of self-inflicted woe. Having the Chark touchdown erased with a wave of a yellow flag was bad enough. But the aforementioned penalties on Battle and Alexander directly led to State field goals, while the penalty on Farrell at least kept the Bulldogs on track for a touchdown.
"It's real frustrating to the whole defense when you're coming off a stop on third down and you get a penalty and they move the chains," cornerback Donte Jackson said.
Orgeron said the players who committed Saturday's penalties would do extra running after Monday's practice. The penalties coupled with LSU's numerous preseason suspensions — Alexander and starting cornerback Kevin Toliver were among two players who didn't travel to New Orleans for the BYU game — begs the question of the Tigers' discipline under Coach O. Clapp, however, pointedly called such questions absurd.
"I don't know where this whole 'This isn't a disciplined team' thing is coming from," he said. "We're definitely disciplined. (Orgeron) might not come out to y'all and say this is how we disciplined this guy because everything is handled in house because he doesn't want a player's business out there. But trust me, there's standards that are set, and when they're not met, there's discipline."
What discipline will the Tigers employ to stop the penalties?
"The older guys have talked about it," Clapp said. "We're making a big emphasis on stopping the penalties. It just has to happen."
Words matter. Actions, in this case, matter more. Proof of LSU's ability to kick its penalty habit won't be known until Saturday night.