Y.A. Tittle, one of LSU's quarterbacking greats who came to symbolize the toughness required to endure the physical toll of playing professional football, died Sunday night, the school confirmed.
Tittle, who was 90, died of natural causes at a hospital in Palo Alto, California, according to LSU, though he also suffered from dementia. Tittle, who played 10 of his 17 professional seasons with the San Francisco 49ers, lived in nearby Atherton, California.
Tittle was inducted into the Pro Football Hall of Fame in 1971, joining the late Steve Van Buren (1965) from LSU. Former Green Bay Packers fullback Jimmy Taylor, who was inducted in 1976, remains as the only living Pro Football Hall of Famers from LSU.
Tittle was inducted into the LSU Athletic Hall of Fame in 1948, just one year after completing his college career.
Known as "The Bald Eagle'' for his lack of hair — which he began losing in college — throughout his pro career with the Baltimore Colts of the All-American Football Conference, the 49ers and New York Giants of the NFL, Tittle was a two-time NFL MVP, three-time first-team All-Pro and seven-time Pro Bowl pick.
LSU coach Ed Orgeron opened his weekly news conference Monday by mentioning Tittle's passing.
"First of all, I'd like to send our thoughts and prayers to the family of Y.A. Tittle," Orgeron said. "Great player, even better man, who was loved by LSU. One of the toughest guys to play the quarterback position.
"He'll be sorely missed."
Though he plays seven decades after Tittle completed his career at LSU, current Tigers quarterback Danny Etling said he knew of Tittle by his considerable reputation.
"You understand how important he was and what a great player he was," Etling said.
Tittle threw for seven touchdowns in a game against the Washington Redskins in 1962, tying the NFL record. In that same game, he completed 27 of 39 passes for 505 yards, tying another record.
In 1963, he threw 36 touchdown passes, which was then the NFL single-season record.
From 1961-63, Tittle enjoyed his greatest team success by leading the Giants to three straight Eastern Division titles.
Tittle had 86 TD passes, making him by far the most productive quarterback in football. During that period, he became the first quarterback to throw 30 or more touchdowns in consecutive seasons.
But Tittle was a titanic figure before he got to New York. When he was traded to the Giants for defensive end Lou Cordileone, the famed response from Cordileone was, "Me? Even for Y.A. Tittle? You're kidding!"
Even in his final playing days, he remained in the public consciousness. A photo of Tittle during his final season in 1964, taken by Morris Berman of the Pittsburgh Post-Gazette, is still one of the most iconic in American sports.
The image of Tittle kneeling in the end zone, helmet off, with blood streaming down his head after being sacked, was emblematic of a fallen warrior.
Tittle personally disliked the photograph, but according to a 2014 ESPN feature it hung on the wall of his trophy room.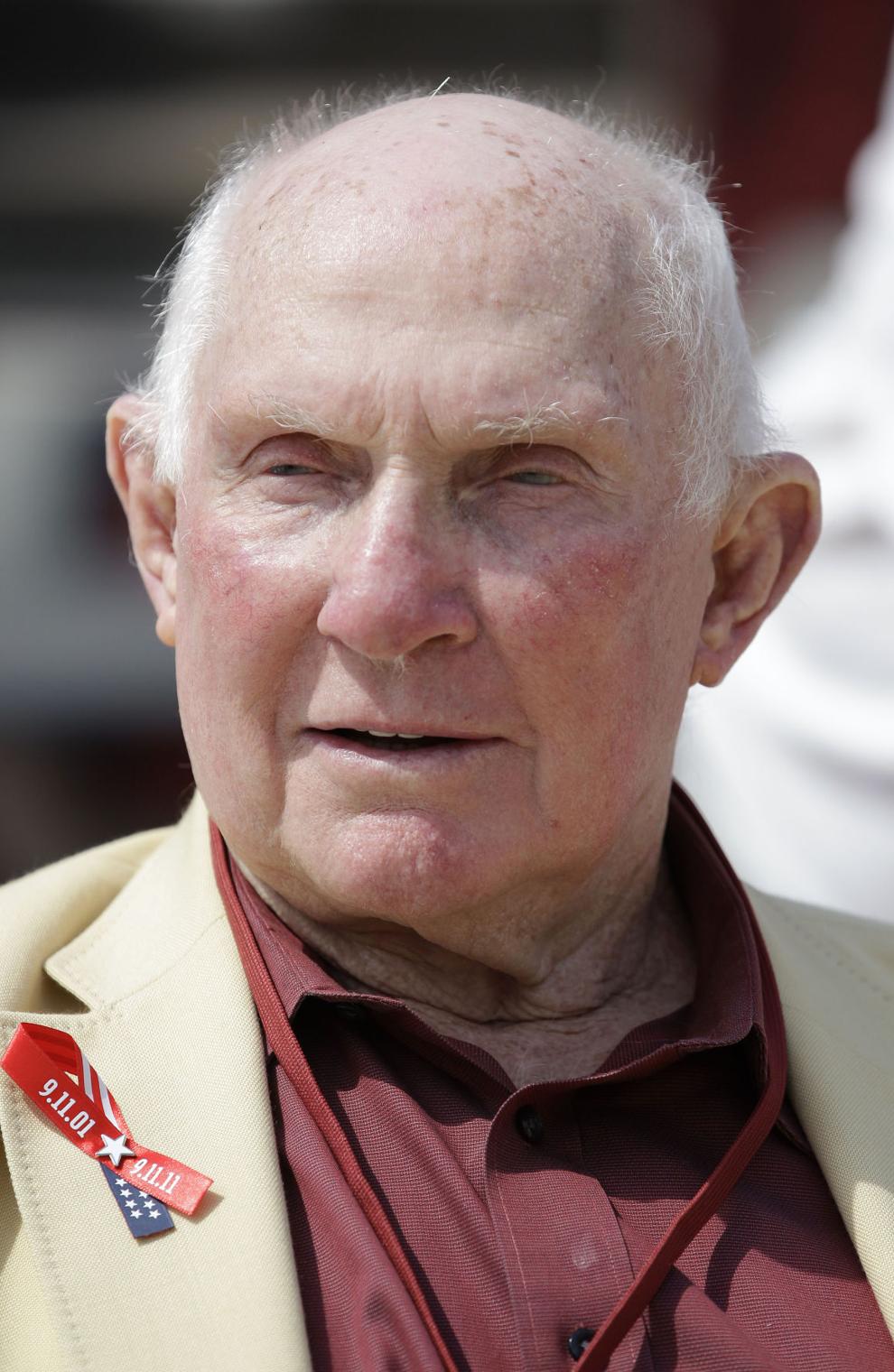 Tittle's career ended after the 1964 season with career totals of 242 touchdown passes and 33,070 passing yards.
Tittle left a lasting legacy at LSU, too, as the linchpin of a couple of memorable seasons. With Tittle under center, LSU was 7-2 in 1945 and 9-1-1 in 1946, leading the Tigers to the 1947 Cotton Bowl in what was then just LSU's fifth-ever bowl appearance.
But, just as in the pros, Tittle never quarterbacked a title-winning team.
Against rival Tulane in 1944, Tittle completed 13 of 17 passes, including his first 12 in a row in a 25-7 LSU win.
In 1945, the underdog Tigers went on the road and beat Charley Trippi-led Georgia 32-0. Later that season, Tittle ngineered a late drive in Atlanta as LSU won 9-7 to beat Georgia Tech for the first time.
In perhaps the game of the year in the South in 1946, Tittle outdueled Harry Gilmer as the Tigers beat Alabama 31-21.
In the 1947 Cotton Bowl against Southwest Conference champion Arkansas, a game that would become known as the "Ice Bowl" for its frigid conditions, the Tigers held Arkansas to one first down, drove five times inside the Razorbacks 10 (once to the 1), held a 271-54 edge in total offense but wound up with a 0-0 tie.
Tittle was named MVP, and he cracked later that his teammates claimed the victory on penetrations.
He left LSU with career records which aren't eye-catching now but at the time were noteworthy: 166 completions, 2,525 passing yards and 23 touchdown passes.
Probably the play for which Tittle is most remembered in Baton Rouge may or may not have happened.
In a key game with Ole Miss, Charlie Conerly hung up a pass near the sideline. Tittle, playing left corner, timed his move and intercepted it as the Rebels receiver ran past. The intended receiver reached back, making a seemingly futile grab at Tittle's midriff before falling by the wayside.
Between that slight tug in one direction and Tittle's momentum to the other, something had to give. It turned out to be Tittle's belt buckle.
Tittle was in the clear, 70 yards from the goal, holding the ball in his right arm and his pants up with his left — slowed by trying to keep his dignity. He was finally brought down by Ole Miss end Barney Poole at the Rebels 30. LSU never did score in its 20-18 defeat.
The legend is that Tittle's pants slipped to his knees. But was this the dramatic play Tittle said it was, or was it hyperbole?
One newspaper didn't mention the play at all. Another account noted in passing that Tittle "almost lost his pants on the run as his belt broke.''
LSU coach Bernie Moore wound up with Tittle thanks primarily to three people. The first was the legendary Sammy Baugh, who was one of the top quarterbacks in the game when Tittle was growing up in Marshall, Texas.
Baugh made the forward pass as integral to the sport as running and blocking. Newsreels regularly carried pictures of him throwing a football through tires tied to tree branches so Tittle did the same, emulating his idol.
"I did everything the way I thought Baugh would do it," Tittle said, "even to the point of throwing footballs through the loops. I had seen Sammy do that in newsreels. I don't think running ever crossed my mind."
The second influence was Tittle's older brother, Jack, who became an All-SEC player at Tulane in 1941.
Can't see video below? Click here.
Texas coach Dana X. Bible got Tittle a summer job and put him up with another incoming Longhorn player: Bobby Layne, the third influence. Layne was a partier — just the opposite of the shy Tittle, who was unhappy with the situation he found himself in.
LSU assistant coach Red Swanson, in Texas to pick up a couple of recruits, called Tittle to see if he'd reconsider.
"I said I would, but I felt embarrassed about it," Tittle said. "Swanson said it was OK if I called Coach Bible about it, that he would have no hand in taking a boy off campus without the coach's knowledge and that it was, after all, his own decision.
"I pretended to call him, and then I had an imaginary talk in the phone booth, nodding my head occasionally. It must have been a pretty good piece of acting. They were convinced I really talked to him. When they asked me what Coach Bible said, I told them, 'He didn't like it, but he understood.' "
With him in the fold, Moore went to the T-formation in 1945, Tittle's sophomore season — but with halfback Ray Coates calling the plays.
Coates later said that decision was made because, if Tittle had that responsibility, every play would have been a pass. Moore loved the single-wing, but the tailback, the primary ball-handler in that offense, had to be able to run and throw.
Tittle could only do one.
"I was so slow that, when I ran," Tittle said, "opponents thought it was a fake — a slow-developing fake."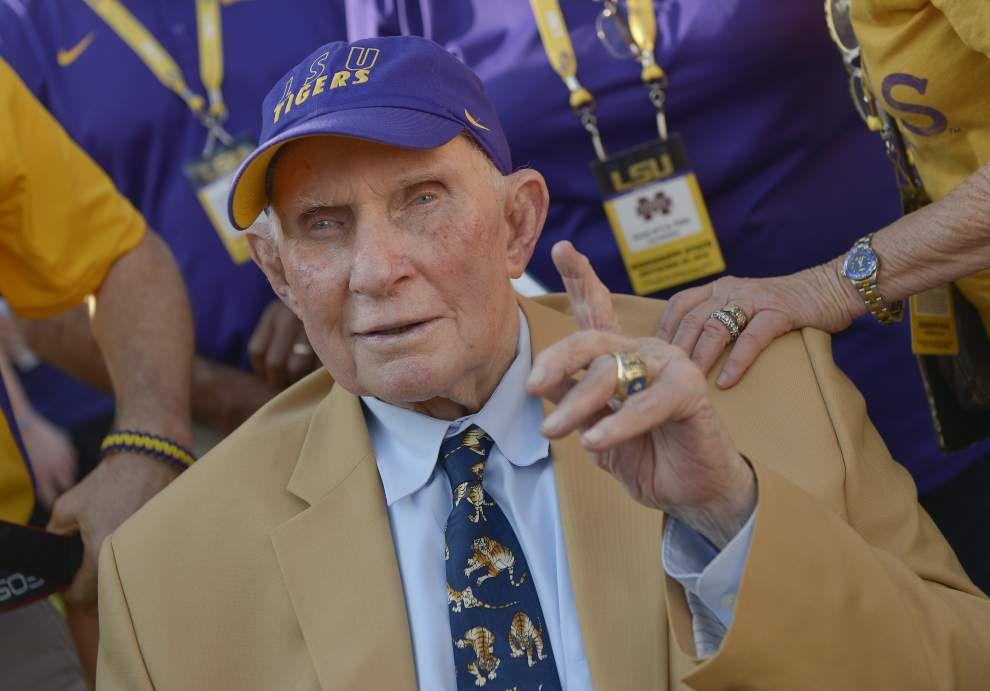 Not long after he reported to LSU, Tittle noticed his hairline was retreating. Trainer Herman Lang explained years later that, in college, Tittle felt his helmet had something to do with his receding hairline.
"Y.A always wanted to put something in his helmet," Lang said. "He was sure that was the reason he was losing his hair."
Later, Tittle said he thought an LSU tradition of freshmen shaving their heads may have played a part.
"I had the ugliest-looking scalp," he said. "I'm not sure it didn't just stunt my hair growth because it sure never came back the right way.''
What caught publicist Jim Corbett's eye was the initials "Y.A." He called in the prospect to ask him to fill out his full name, that initials were not enough. Tittle said the initials were his name.
When Corbett checked with the courthouse in Marshall, he was told there was no one by that name in the record book, but there was a Yelberton Abraham Tittle.
The boy asked Corbett not to use the name, but Corbett said, "Instead, I laid it on as football's most exciting name — and as it turned out at LSU — its greatest T-formation passer and quarterback."