Welcome to Film Room, our weekly analysis of LSU's last football game.
Have a seat. No talking. No tweeting. No texting. Pay attention.
(Editor's note: Click the images to enlarge)
How They Happened (big-play analysis)
Screeeeen: QB Danny Etling hits RB Darrel Williams with a 1-yard pass that Williams, led by his offensive line on an inside screen play, takes 55 more yards to set up a 20-0 LSU lead.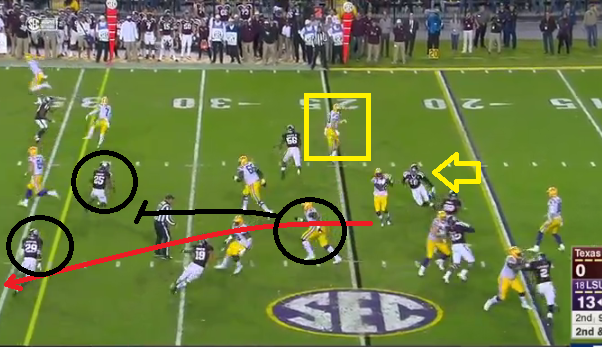 There are a few keys on this play, but no one does more damage than LSU freshman RG Ed Ingram (black circle) who takes out two defenders with a block down field. It springs Williams for such a long run after the catch. 
The other key is the yellow arrow. That's A&M DL Landis Durham. He eventually makes the tackle on the play, only it's some 50 yards down field. Durham's first couple of steps at the snap are toward JD Moore (yellow square), running a passing route in the flat. That gives Williams the opportunity to come free and catch the ball. Without Durham's flirtation with Moore, this play does not happen.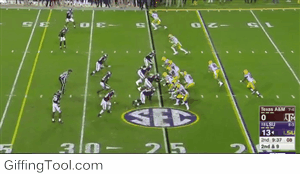 Pass off: Early in the third quarter, A&M QB Nick Starkel completes a 45-yard touchdown pass to Damion Ratley.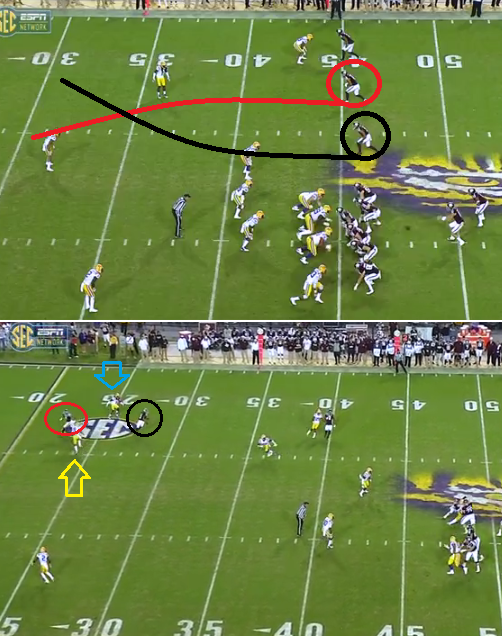 The Aggies' leading receiver, Christian Kirk (black circle), is the decoy here. He's running a corner route, while Ratley crosses paths with him on a post route (red circle). Color analyst Jordan Rodgers says LSU DBs Donte Jackson, originally matched up with Ratley, and Grant Delpit, originally matched up with Kirk, are supposed to "pass off" their defenders. Jackson would take Kirk and Delpit Ratley. This does not happen.
As you'll see in the bottom screen, Delpit (yellow arrow) should go with Ratley, according to Rodgers' comment. Jackson (blue arrow) takes Kirk short. Delpit, instead, stays with Kirk, taking a stride toward him before realizing his mistake. "Look at Grant Delpit's eyes. They go to Christian Kirk," Rodgers says.
R-P-O: Late in the third quarter, Danny Etling fires a pass to F-back JD Moore for a 10-yard touchdown.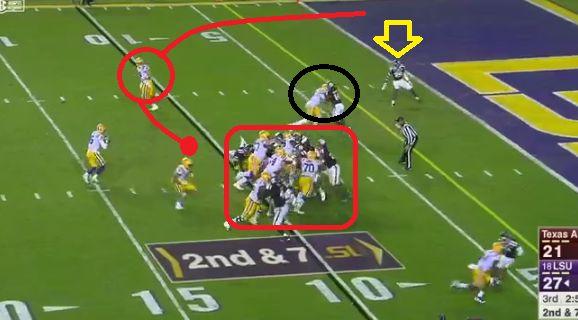 This is an RPO - run-pass-option - and Etling could have done both run or pass. He could have also handed to RB Derrius Guice, which, ultimately, is one of the keys on this play. The fake to Guice, the first thing Etling does on the play, results in all of A&M's linebackers collapsing toward the line of scrimmage (red square). 
The other key on this play is receiver DJ Chark. You see him in the above photo locked up with A&M DB Keldrick Carper in man coverage (black circle). Chark takes away two defenders. You see the yellow arrow? That's A&M safety Debione Renfroe, and he's got his eyes solely on Chark in help man defense. Meanwhile, JD Moore (red circle) leaks into the flats wide open. It's so open that Etling could keep the ball and run.
---
LSU edge rusher Arden Key will undergo surgery this week for a 2-month-old injury to a finger on his right hand, a source confirmed with The A…
POSITION ANALYSIS
Big Ugly Booms (OL analysis) 
A solid game for this crew. In fact, through the first 12 drives (we stopped charting after LSU went up 42-21), they allowed just 2-3 pressures in QB Danny Etling's 30 or so dropbacks. They did it mostly with a backup center, Lloyd Cushenberry, at left guard for injured starter Garrett Brumfield (stinger).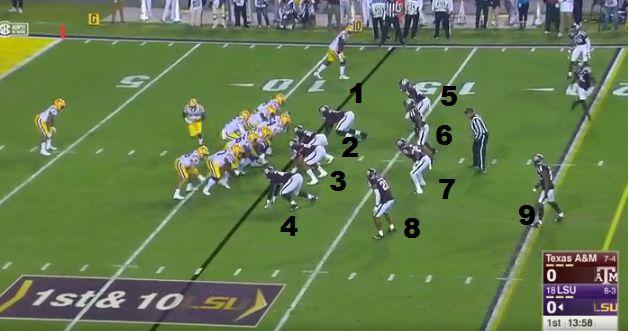 The line battled a loaded box, a common situation for this program over the last few years. The Aggies and DC John Chavis loaded the box more than most teams over the first three quarters. In fact, 67 percent of LSU's snaps came against a box with 8 or more players. 
In the first 3 quarters, Aggies in the box:
6: 3 times
7: 18
8: 22
9: 15
10+: 4
That's a lot. It's an average of 7.95 in the box per play and a reason the Tigers threw the ball 30 times, including several deep shots.
Monday Morning Quarterback (QB analysis)
Danny Etling threw 11 incomplete passes. That seems like a lot until you realize he attempted 30 of them. But how did those 11 go awry? We examined each, charting them below.
| | | |
| --- | --- | --- |
|  Down |  Target |  Why it fell incomplete |
|  3rd-12 |  Russell Gage |  Overthrown by a stride in the EZ but Gage was covered |
|  2nd-9 |  DJ Chark |  Dropped it in the EZ |
|  2nd-9 |  Justin Jefferson |  Underthrown at the goal line and nearly intercepted |
|  2nd-10  |  DJ Chark |  Overthrew by a stride but Chark was covered |
|  1st-10 |  DJ Chark |  Thrown into coverage and deflected and nearly intercepted |
|  3rd-7 |  Unclear |  Threw it away out of bounds |
|  3rd-15 |  Stephen Sullivan |  Thrown low of an open Stephen Sullivan |
|  1st-10 |  Derrius Guice |  Thrown away as Guice was covered on a screen play |
|  1st-10 |  JD Moore |  Low and away from an open Moore |
|  3rd-G |  Darrel Williams |  Drops a shovel pass |
|  2nd-9 |  Foster Moreau |  Drop |
The consensus: Etling misfired on just four of those passes. He missed Jefferson, wide open, on a corner route in the end zone, underthrowing him by a good margin. He tossed one to Chark into traffic and was nearly picked off. He threw a pass low to a wide open Stephen Sullivan, and he threw low to an open JD Moore. Outside of that, three passes were dropped, two were overthrown (maybe purposely?) to receivers who were well covered and two were thrown away because of coverage.
Notes on a golf scorecard while trying to handicap what Tiger Woods will shoot this week in his latest comeback …
Five Yard Out (WR analysis)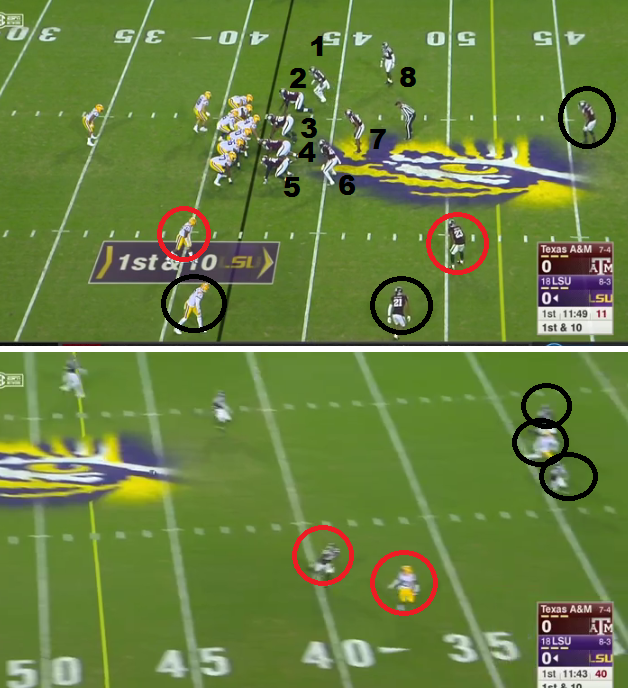 Remember that talk about the Aggies loading the box? The receivers benefit from such a strategy. A&M loaded the box, in part, because of LSU's formations. OC Matt Canada stacked what's known as "trips" (three receivers tightly knit) to the end of the line a lot in this game. Either way, receivers took advantage, as the photo to the right shows.
What's that photo show? A box stacked with eight defenders, leaving Russell Gage in one-on-one coverage (red circle) as a safety and cornerback take WR DJ Chark. Gage makes them pay in a perfect example of how the Tigers exposed A&M's box-stacking by throwing the ball.
F What!? (F-back/TE analysis)
We saw a lot of freshman Tory Carter on Saturday night. Why? For one, he is an aggressive and smart player who does not shy away from physical contact. For two, starting F-back JD Moore is still battling a number of injuries, and on his lost fumble on LSU's first play from scrimmage, he appeared to re-injure a right hand he's been battling for more than a year now. 
Let's see a couple of clips that hit home our first point about Carter. You'll see them below. First is a trap play where Carter takes out a defensive lineman to open a massive hole for RB Derrius Guice. In the second, Carter catches a deflected pass and breaks two tackles.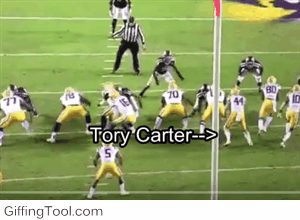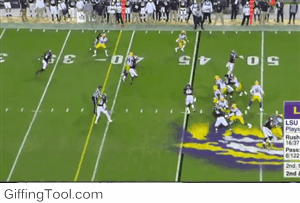 Front 7 (DL/LB analysis)
Texas A&M entered with a decent offensive game plan, and, somewhat, it worked. The Aggies shot themselves in the foot with turnovers and poor play on third down, but they avoided the Tigers' sack-crazed front and talented secondary by throwing short, quick passes. LSU's front only had about 2-3 pressures during the first three quarters. 
Ray Thornton, not K'Lavon Chaisson, started the game in place of the injured Arden Key. That might have to do with Chaisson's undisclosed injury. He practiced last week in a gold jersey, signifying limited contact for injury. Thornton and Chaisson split snaps, rotating with each drive.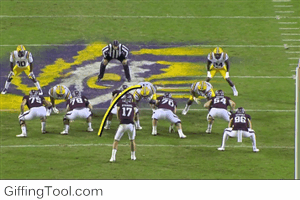 LSU's D-line might not have gotten a ton of pass rush, but the unit stuffed the run. Through the first three quarters, A&M's running backs picked up an average of 1.22 yards before contact on 22 carries. That's called winning in the trenches. A&M running backs picked up 3 or more yards before contact on just five of those 22 carries. A good example of LSU D-linemen winning at the line is above. Greg Gilmore fights through a double team here for a sack.
Remember above how we mentioned that A&M's offensive strategy avoided LSU's pass rush and talented secondary? The Aggies had their most success in picking on linebackers on wheel routes out of the backfield. Texas A&M ran three wheel route receptions for a combined 58 yards. How? They picked on LSU's play-side inside linebacker. Check out shots of the three wheel routes below. The first screen grabs are at the snap. The second are about 2 seconds into the play. The red circle is the receiver (twice a TE and once a RB) and the black arrows are LSU's play-side inside linebacker.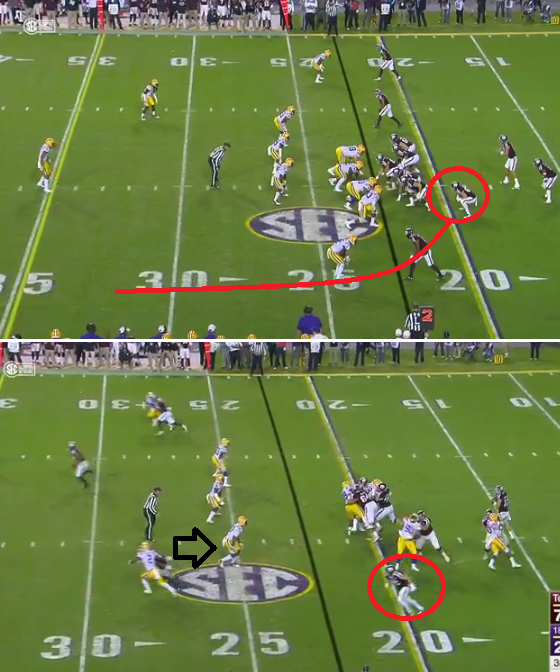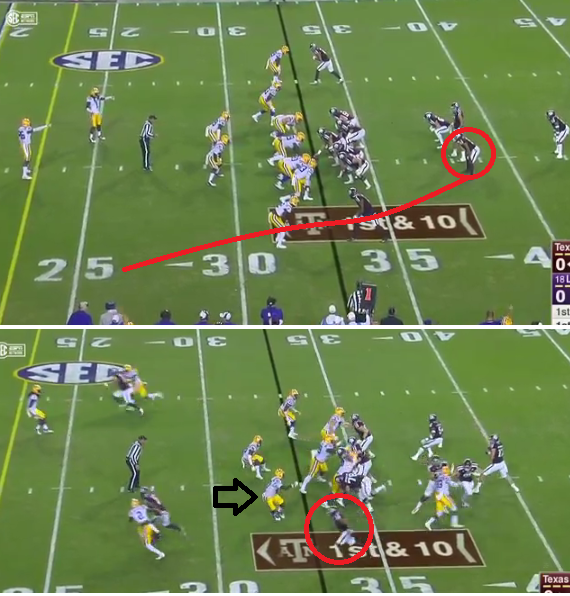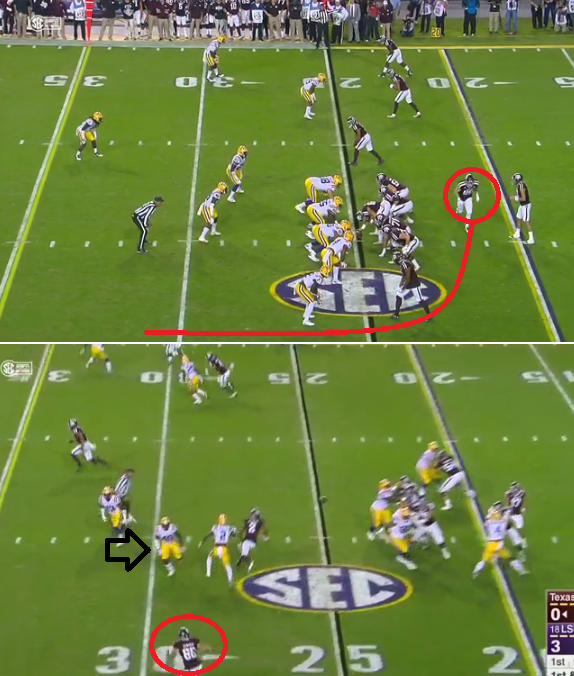 Break it up (DB analysis)
LSU defensive backs had an up-and-down day. They were beat on a handful of long passes in man-to-man coverage and had a blown coverage that resulted in a touchdown, but they also intercepted two passes and had several pass breakups. Through the first three quarters, here are the numbers in targets against them:
Greedy Williams: 1 for 4, INT (36 yards)
Donte Jackson: 3 for 4, INT (41 yards)
Kevin Toliver: 0 for 2, 1 PI (-2 yards)
John Battle: 1 for 2 (10 yards)
Grant Delpit: 2 for 2 (54 yards)
Photos courtesy of ESPN.