As conferences and schools continue to make separate decisions on the fate of their fall athletic schedules, the NCAA released thorough guidelines Thursday that outline how its members should return to sports in the middle of the coronavirus pandemic.
The guidelines include conducting daily self-health checks and testing players for COVID-19 within 72 hours of competition for high contact risk sports, and they included considerations for pausing or discontinuing athletic activities in certain circumstances.
The NCAA's guidelines are not mandates, but the outline adds an influential voice from the nation's governing body of college athletics while conferences and schools weigh important decisions in the coming weeks.
LSU ranked No. 10 nationally in total revenue in 2018-19 finances, according to an annual report of college athletic departments by USA Today.
The fate of major college football remains uncertain.
Many smaller conferences, such as the Ivy League, have postponed their seasons until the spring. Two of the five major conferences, the Big Ten and the Pac-12, have canceled their nonconference games. The remaining three — the ACC, the Big 12 and the Southeastern Conference — have kept their football seasons intact for now, although the ACC and SEC have delayed the start of their Olympic sports through August.
Meanwhile, the spread of coronavirus has spiked in regions across the country. SEC commissioner Greg Sankey has said the public health trend must improve before they make an ultimate decision in late July.
NCAA officials say within its return-to-sports document that its guidelines depend on the national trajectory of the spread of coronavirus, which has spiked in regions across the country.
The guidelines included a chart that showed the recent spike in cases is almost twice as high as where the NCAA projected in late April the state of the virus would be.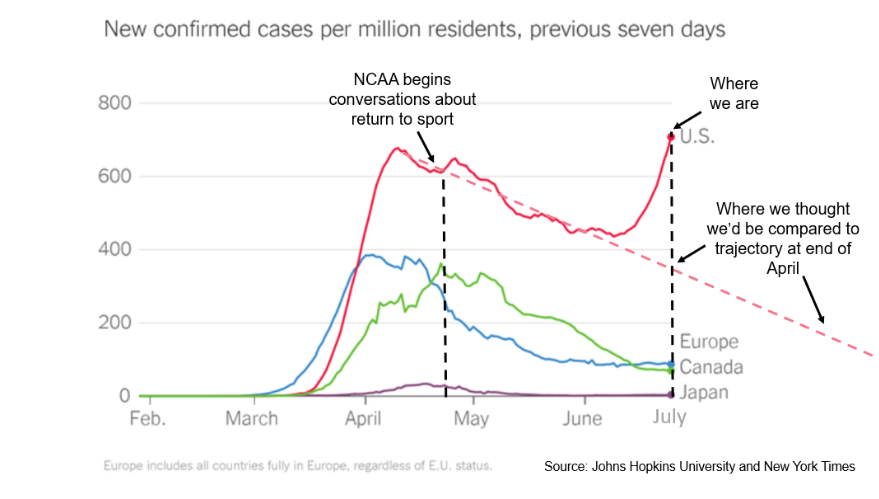 "Today, sadly, the data point (is) in the wrong direction," NCAA president Mark Emmert said in a statement. "If there is to be college sports in the fall, we need to get a much better handle on the pandemic."
A college football player who tests positive for coronavirus this fall will be required to miss at least 10 days of competition, according to …
Because the spread of COVID-19 has been increasing, the NCAA release said, "it is possible that sports, especially high contact risk sports, may not be practiced safely in some areas."
The NCAA said schools should seek conjunction with public health officials, and the following circumstances should lead schools to consider pausing or discontinuing athletic activities:
• A lack of ability to isolate new positive cases or quarantine high contact risk cases on campus.
• Unavailability or inability to perform symptomatic, surveillance and pre-competition testing when warranted and as per recommendations in this document.
• Campuswide or local community test rates that are considered unsafe by local public health officials.
• Inability to perform adequate contact tracing consistent with governmental requirements or recommendations.
• Local public health officials stating that there is an inability for the hospital infrastructure to accommodate a surge in hospitalizations related to COVID-19.
For now, most of the SEC's members are proceeding with activities as planned under safety protocols the schools individually formed before players returned to campus on June 8.
LSU's return-to-campus protocol was extensive. The department tested players when they arrived on campus. On-campus training included social-distancing guidelines, plans for reporting symptoms, responses to positive COVID-19 cases, plus contact-tracing initiatives.
The NCAA's recommendations included similar strategies for preseason, in-season and postseason within its high contact risk sports: basketball, field hockey, football, ice hockey, lacrosse, rowing, rugby, soccer, squash, volleyball, water polo and wrestling.
Within those sports, the guidelines said, it is "highly unlikely" that physical distancing and universal masking can always be maintained during practices and competitions. Because of this, testing protocols should include players, plus all "inner bubble" personnel like coaches, medical staff, officials and other essential personnel.
"Inner bubble" personnel are not required to be tested, like players, within the guidelines unless they don't maintain physical distancing, masking and follow other protective measures.
During the season, the NCAA said, players should be tested and receive results within 72 hours of competitions. Schools should secure the resources to perform the tests, the guidelines said. Polymerase chain reaction (PCR) testing remains the preferred method, which includes inserting a swab strip high into the nostrils.
Individuals who test positive for the virus but haven't developed any symptoms must isolate for 10 days starting from the date of their diagnosis. People who do develop symptoms must wait until at least 72 hours have passed since their recovery, and at least 10 days since symptoms first appeared.
The NCAA noted that coronavirus commonly spreads in young adults asymptomatically and pre-symptomatically, and, although players aged 18-29 are categorized as "low-risk" when it comes to the virus, they point out "the long-term consequences to cardiopulmonary health to themselves or other younger adults remain unknown."
All individuals with high-risk exposure also should be quarantined for 14 days. The NCAA defined "high-risk" as any situation in which there has been greater than 15 minutes of close contact (less than six feet apart) with an infectious individual.
The two-week time frame for high-risk exposure can be potentially devastating to a football team in the middle of a season, especially if swaths of players are in contact with an individual who tests positive.
To help prevent such outcomes, the NCAA said schools should consider a series of precautions.
Schools should consider establishing "functional units" to minimize the chances of a massive outbreak, where five to 10 players consistently work out and participate in activities together. When practicing, the same players should always face the same players in drills.
The NCAA also said teams should wear face coverings during team practice activities, and coaches should use electronic whistles to avoid the deep breath and forced bursts of droplet-filled air.
There should be "universal masking" during activities that involve proximity to other individuals, including when players confer with coaches on the sideline. The NCAA also recommends that face shields be integrated into sports "where feasible" and notes that such shields have been developed for football helmets.
Helmet shields have received recent criticism from athletes, particularly in the South, who say the shields make it difficult to breathe in humid conditions.
Any training should also be done outdoors and maintain social distancing, the NCAA advised, and, when outdoor environments aren't possible, teams should find indoor locations with good ventilation.
LSU wide receivers Ja'Marr Chase and Terrace Marshall are among the 56 players named to the Biletnikoff Award's watch list for nation's most o…
LSU coach Ed Orgeron continued his campaign to play football during the coronavirus pandemic in a guest appearance on Fox News on Wednesday af…
Southeastern Conference commissioner Greg Sankey said on a radio program Wednesday that the league's coronavirus case numbers last week were "…