There was snow on the ground, sometimes as much as a foot.
It was cold, sometimes so frigid that the wind bit like ice picks on your skin.
He was alone, all of the time, no classmate silly enough to join him outside in January in Terre Haute, Indiana.
But there he was, a seventh grader, with a bag of footballs at his feet, picking them up one at a time and throwing them into the white, icy lawn.
"I'll never forget driving by," said Steve Englehart, then head football coach at Rose-Hulman, a Division III college in Terre Haute. "He's taking a drop with a ball, throwing it. It was continuous. He'd go pick up the five balls, and he'd throw them back the other way to his ghost wide receivers."
Even before signing with his dream college, Purdue, Danny Etling worked too hard. It's one of the reasons he failed as the starting quarterback in West Lafayette, Indiana. Etling admits that, and so does Englehart, a longtime coach and family friend.
Etling worked too hard and thought too much. He was too stoic, not emotional enough, too dry, not excited enough. Englehart takes the blame for that last issue, as a mentor who groomed his protege to be more of a robot, he said. 
"Sometimes I think that's what got him in trouble at Purdue," Englehart said.
Etling is still outworking everyone. That's part of the reason he's the starting quarterback at LSU, leading the No. 17 Tigers (2-1, 1-0 Southeastern) into Saturday's 5 p.m. game at Auburn (1-2, 0-1). He's tutoring receivers in the weight room, filling notebooks during hours of film study, staying late at practice to throw to walk-on receivers and completing school projects weeks before the deadline.
He learned from his rocky, two-season run at Purdue. He has learned to relax — he now does Yoga, for instance. He has learned to show emotion on the field — he's celebrating touchdowns like any other player.
He has learned to read defenses and dissect coverages better than ever, using that year off (when he sat out after transferring) to immerse himself in coordinator Cam Cameron's pro-style offense — which he's a "great fit" for, his coordinator at Purdue said.
"I've studied Cam," said John Shoop, Etling's offensive coordinator with the Boilermakers in 2013 and 2014. "We see the game similarly. The offense that Cam ran (with the Baltimore Ravens), I think, is very similar to offenses I've run at college and the NFL as well. I just think many of the things I asked Dan to do, he will, too. He's going to be what Danny needs, and Danny is going to be what Cam needs."
Cameron and Etling have connections. They're from the same town, Terre Haute, a 60,000-person industrial and manufacturing city 75 miles west of Indianapolis. They attended the same high school, 40 years apart: Terre Haute South Vigo High.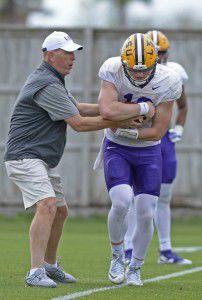 They first met during Etling's sophomore year at South Vigo. Cameron, then offensive coordinator with the Ravens, returned to the school for a special event in his honor.
"They were retiring No. 10, his basketball jersey," Etling said. "My job was to show him around campus."
Etling visited LSU and Arkansas last summer, looking for transfer destinations. He chose the town an hour northwest of New Orleans, which idolizes Etling's childhood hero. He grew up sleeping next to a poster of Drew Brees, the former All-America quarterback at Purdue. During backyard football games as a child, little Danny always impersonated the same player: Drew Brees.  
Some might compare the 6-foot-1 Etling to the 6-foot Brees — film-room junkies who make up for a lack of height and athleticism with their brains.
Etling graduated high school with a 3.8 GPA and began in sports playing tennis. He's an Eagle Scout who earned 21 merit badges, and he's a son to a pair of attorneys.
"Just being around him every day in the meeting room, the things he picks up and remembers are uncommon," said Shoop, who's out of coaching and living in North Carolina. "It's one thing to be real smart. It's another thing to have common sense. He's got common sense to match his intelligence."
It's why he can "run a team" so well, as LSU coach Les Miles puts it.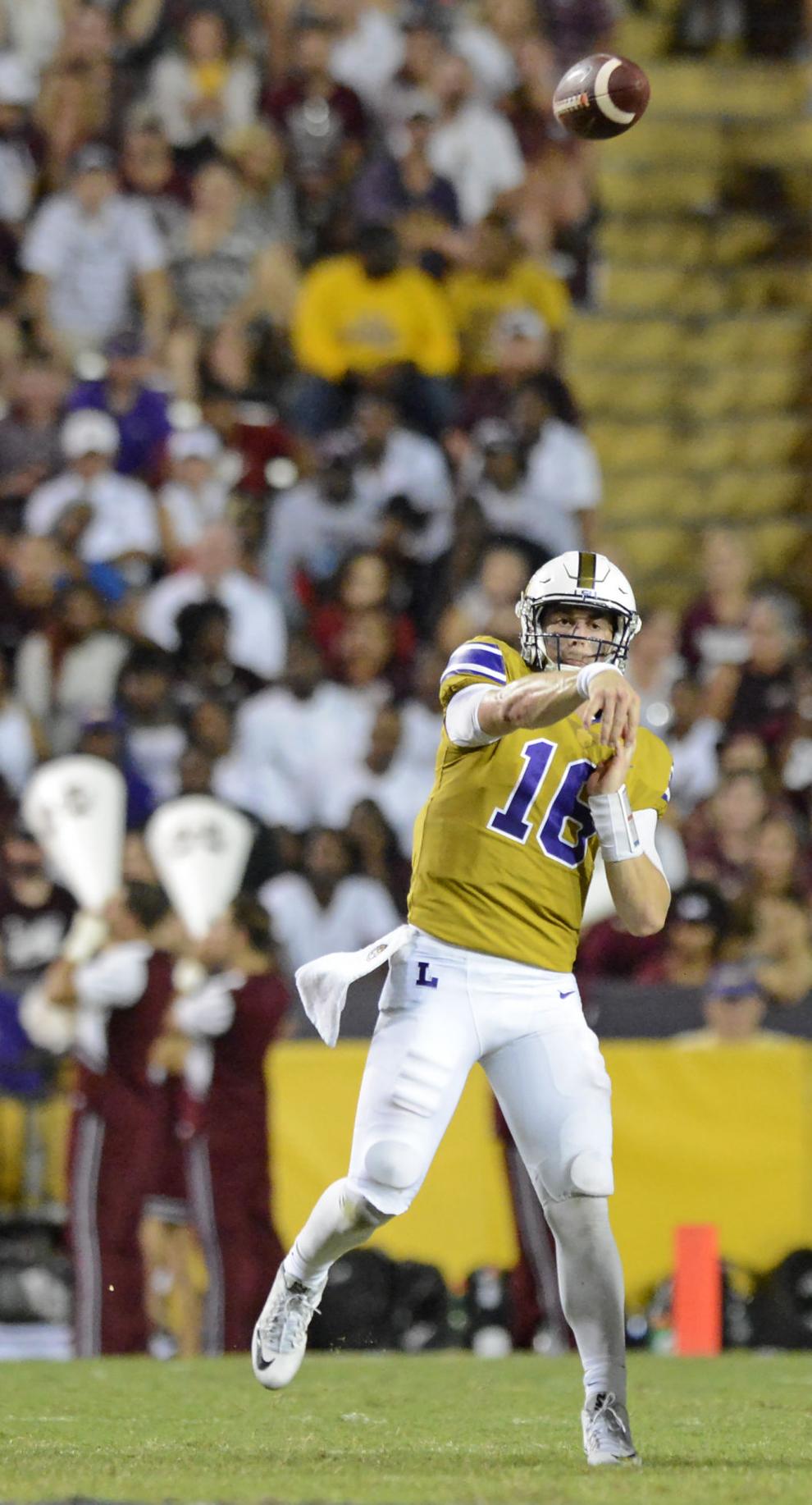 It's why he knew, well before the snap, that his tight end, DeSean Smith, would be open on a wheel route for a 46-yard touchdown two weeks ago against Jacksonville State. Etling signaled Smith in motion before the snap and recognized that the speedy senior was matched up with a squatty linebacker.
It's why he knew, well before the snap, that his receiver, D.J. Chark, would be open on a post route for a 37-yard touchdown last Saturday against Mississippi State. The safety had leaked up, leaving one-on-one coverage on one of LSU's fastest players.
"It's a lot of film study, extra film study, stuff like that," center Ethan Pocic said. "You've got to know what to do when you get this look, this look and this look, and this look and this look."
Englehart first taught Etling presnap reads by scribbling on a whiteboard when the quarterback was in junior high. He taught Etling how to identify the defense, recognize blitzes and audible to a play that will take advantage of the opponent's weakness.
"He works on the craft of quarterbacking — not just throwing the ball but diagnosing defenses," Shoop said. "He's the real deal."
Danny Etling's life is changing.
That is Etling's strength. It's why he has completed 25 of 44 attempts (including at least four drops) in seven quarters with the Tigers. It's why he grabbed the job from his predecessor, Brandon Harris.
He has a checklist when he breaks the huddle, arriving at the line of scrimmage ready to cross off all of the items.
"I didn't used to have one," Etling said. "It's something I worked with Coach Cameron on a lot."
Etling began working with Englehart as a sixth grader, training two days a week for more than three years. He developed into a major recruiting target, rated four stars and as high as the ninth-best pro-style QB in his class. He became the highest-ranked recruit to sign with Purdue since ESPN began keeping track in 2006, according to an ESPN story published in 2013.
He was starting by the sixth game of his freshman season, a week after he made his debut to a roaring crowd, replacing struggling senior Rob Henry in a loss to Northern Illinois on Sept. 28, 2013. A Purdue news release recapping the game called it "the start of the Etling era."
A year later, Etling was replaced midgame and never played for the Boilermakers again.
What happened?
There is silence on the phone after asking Shoop that question. He begins to answer by referencing Purdue's head coach.
"If you want to call Darrell Hazell, you can speak to him about it," he said.
"From where I sit, Dan Etling …" Shoop said before stopping. "There's not a bigger fan of Dan Etling in the world than me. I'll leave it at that."
Hazell fired Shoop following last season, a year after Etling was benched.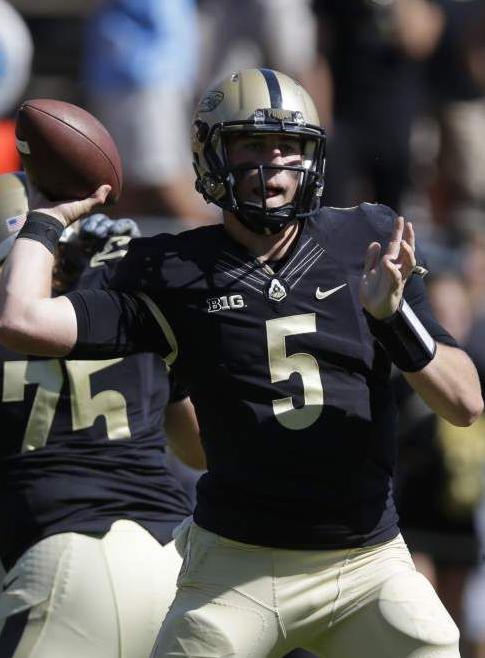 Etling's last start at Purdue came against Iowa on Sept. 27, 2014 — 364 days after fans roared when he raced onto the field for the first time. Austin Appleby replaced him. The Boilermakers won the next week against Illinois and then lost their last six games, and Appleby transferred to Florida after that season.
At Purdue, Etling finished with 16 touchdowns, 12 interceptions, a 55 percent completion rate and 2,490 yards. He went 2-10 as a starter. Englehart and Etling evaluated his two-year run at the school last summer, just before he arrived in Baton Rouge.
They tried to answer that same question: What happened?
"The problems I've had before was when people referenced that I was working too hard. ... Once you get to the time to play, you just kind of tighten up and ... you don't want to mess up," Etling said. "Or you start seeing ghosts. You start thinking, 'This is what they did in this game,' so you start chasing what you thought you saw just because you saw it on film."
Out-thinking and overworking weren't the only reasons, of course. Etling was sacked 39 times in 12 starts, and Purdue's defense allowed at least 34 points in seven of those games.
He wasn't emotional enough, either, Englehart said.
"That was probably my fault," the coach said. "I talked to him about, 'You can't let your teammates see that nothing ever bothers you.' He's stoic. He took that to heart. He's maybe not as emotional. Playing quarterback, you've still got to show emotions."
In March 2015, about five months after Purdue's 3-9 season ended with him on the bench, Etling arrived in Melbourne, Florida, for a three-day training session with his longtime coach. After a stint as coordinator at his alma mater, Indiana State, Englehart had started the Florida Tech football program in 2011.
"His confidence was down," Englehart said.
Englehart, a former quarterback, adjusted Etling's base. His feet were too wide, and it was affecting his arm slot and his follow-through.
Etling returned for Purdue's spring practice but, a month later, he left the team.
"The coaching staff felt, for them to be successful, they needed to move in a different direction," Englehart said. "I think there was a lot of back and forth in regards to the quarterbacks and (the staff) and other quarterbacks not knowing who was going to be the guy. Not a lot was communicated."
Etling did not discuss his transfer with Englehart at that training session. 
"I don't know if a part of him felt like he failed at Purdue a little bit," he said, "because he didn't keep the job and continue on with them."
Etling did not win a road game in five tries at Purdue, and he was sacked a whopping 20 times in those games. On Saturday, he leads LSU into a rowdy, hostile environment at Jordan-Hare Stadium, which has hosted some nightmarish outings for Tigers starting quarterbacks.
LSU has scored an average of 12 points in its past eight games at Auburn, failing to crack the 13-point mark five times. LSU starting quarterbacks over that stretch have completed fewer than 50 percent of their passes for 112 yards per game, posting six interceptions against four touchdowns.
"He's seen fire and he's seen rain," Shoop said. "I've got the deepest respect in the world for (Auburn), but this isn't going to be the first time he's in a tough situation."
On the road
Danny Etling started five road games in two years at Purdue, and the Boilermakers lost them all. Here are Etling's numbers on the road:
| | | | |
| --- | --- | --- | --- |
|  Completions-Attempts |  Yards |  TDs-INTs |  Times sacked |
|  106-for-173 (61.3 percent) |  1,163 |  8-5 |  20 |
Pain on The Plains
LSU's offense has struggled at Auburn, scoring an average of 12 points in its past eight games there. LSU hasn't surpassed the 13-point mark in five of those eight trips. The Tigers' starting quarterbacks have struggled, too. Here are those numbers:
| | | | |
| --- | --- | --- | --- |
|  Completions-Attempts |  Yards |  TDs-INTs |  Times sacked |
|  73-154 (47.4 percent) |  896 |  4-6 | 11 |