Bum Phillips was one of the most colorful coaches of all time, stalking NFL sidelines in a 10-gallon hat and a belt buckle the size of Slidell. Once, while coaching the Saints in the early 1980s after a successful stint with the Houston Oilers, Bum rushed into the Saints' pregame locker room and gave a rousing speech.
"When I was in Houston," Phillips boomed, "we thought the Falcons weren't very tough. We're going to hit the Falcons right in the mouth today and show them they're not tough!"
Phillips' players were puzzled.
"I'm sure one of his assistants told him after his speech, 'Bum, we're playing the Buccaneers today,' " Saints great Archie Manning recalled.
"When we gathered in the tunnel before going onto the field, Bum was there yelling at us: 'Those Buccaneers don't like it tough either!' "
Mistakes are what make us human, and coaches are as human as the rest of us. Just vastly better paid.
"If you're not making mistakes," the great John Wooden once said, "you're not doing anything."
Easy for him to say, of course, the man with 10 NCAA championship trophies on his shelf.
But there might have been a bad move that kept Wooden and UCLA from an 11th title. Wouldn't be human if that weren't true. And, it must be said, that while coaches get the huge salaries, their mistakes are on display for all the world to see and dissect.
Yes, there are some real doozies out there. Our staff has combed the air-conditioned storage facilities of our minds to cull the biggest in-game coaching mistakes we remember.
Enjoy. And remember, the Buccaneers still don't like it tough, either, even if they have Tom Brady.
Late on the Plains
LSU at Auburn, 2016
First, let me say Les Miles will be in the College Football Hall of Fame one day. He has won 145 games at LSU, Oklahoma State and Kansas, won two Southeastern Conference championships and played for a third, won a national title and played for another. There are hall of fame coaches with far less accomplished resumes.
That resume is one reason it seemed shocking that LSU would fire Miles four games into the 2016 season. But the way that fourth game ended, an 18-13 loss at Auburn, epitomizes what frustrated LSU fans so much about the Miles era.
It was a game LSU should have won. The defense held Auburn out of the end zone, limiting it to six Daniel Carlson field goals. Trailing 18-13 with 2:56 left, LSU drove from its 25 to the Auburn 2 on a pass from Danny Etling to Travin Dural. LSU was penalized for an illegal shift, though, putting the ball at the 15. Still, the Tigers had a chance with 1 second left.
Etling found DJ Chark in the end zone for what looked like a miracle touchdown pass — but as a video review showed, LSU didn't get the snap off before the clock expired. LSU players went from dogpiling to disbelief.
For Miles, it was the last straw after a litany of clock mismanagements.
Some turned out in LSU's favor. In 2010, Tennessee bailed out the Tigers because the Volunteers had 13 men on the field trying to match a much-too-late LSU personnel change.
Some didn't — like the seconds LSU frittered away in 2009 at Ole Miss, leaving the Tigers without enough time to spike the ball and kick a short field goal in a 25-23 loss.
Yes, there were titles. There were tons of wins. But that LSU-Auburn game was the most Miles way the Miles era could have ended.
—Scott Rabalais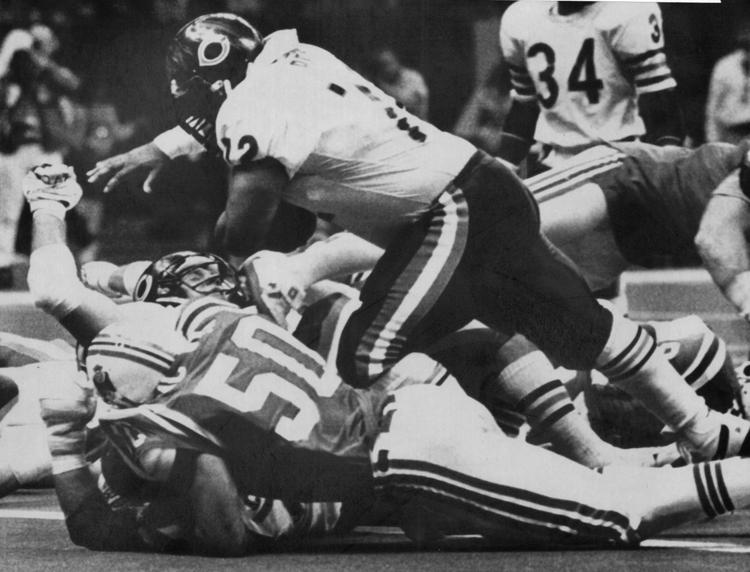 No paydirt for Payton
Bears vs. Patriots, 1986
Mike Ditka is one of the most beloved figures in NFL history. His gritty, hard-nosed play as a tight end made him a symbol of a golden era in pro football in the 1960s.
Even though he coached a dominant 1985 Chicago Bears team to within one game of perfection and won Super Bowl XX in the Superdome, Ditka's coaching career is often scrutinized.
Who can forget pictures of Ditka, then the New Orleans Saints head coach, and running back Ricky Williams, the NFL's No. 1 draft pick in 1999, decked out in a wedding dress? A photo appeared on the cover of ESPN The Magazine.
But Ditka is more closely associated with another running back — the late Walter Payton. "Sweetness." The fact that the Columbia, Mississippi, native and former Jackson State star did not score a touchdown in Super Bowl XX — a 46-10 blowout of the Patriots, in which the Bears scored in nearly every way imaginable — left a bitter taste in the mouths of many to this day.
Payton retired as the NFL's all-time rushing leader with 16,627 yards after the 1987 season. But he did not score in his only Super Bowl. And a rookie defensive lineman, William "Refrigerator" Perry, did.
Just what was Ditka thinking? That notion has been debated for years. The Chicago Tribune wrote about the Payton slight in a postgame story. Ditka detailed a game plan that included using Payton as a decoy. Payton did rush for a team-high 62 yards on a grueling 22 carries in the 46-10 win over the Patriots. Jim McMahon passed for 256 of the Bears' 456 yards.
''Maybe (coach) Mike Ditka got caught up in the game and didn't notice it,'' Payton told the Tribune that day, referring to the thousands of spectators who were shouting his name.
A week later, Payton told reporters at the Pro Bowl he was over it. Payton died in 1999 from a rare form of cancer. His obituary noted that Ditka had apologized, calling it an oversight.
Some fans, however, are less forgiving.
—Robin Fambrough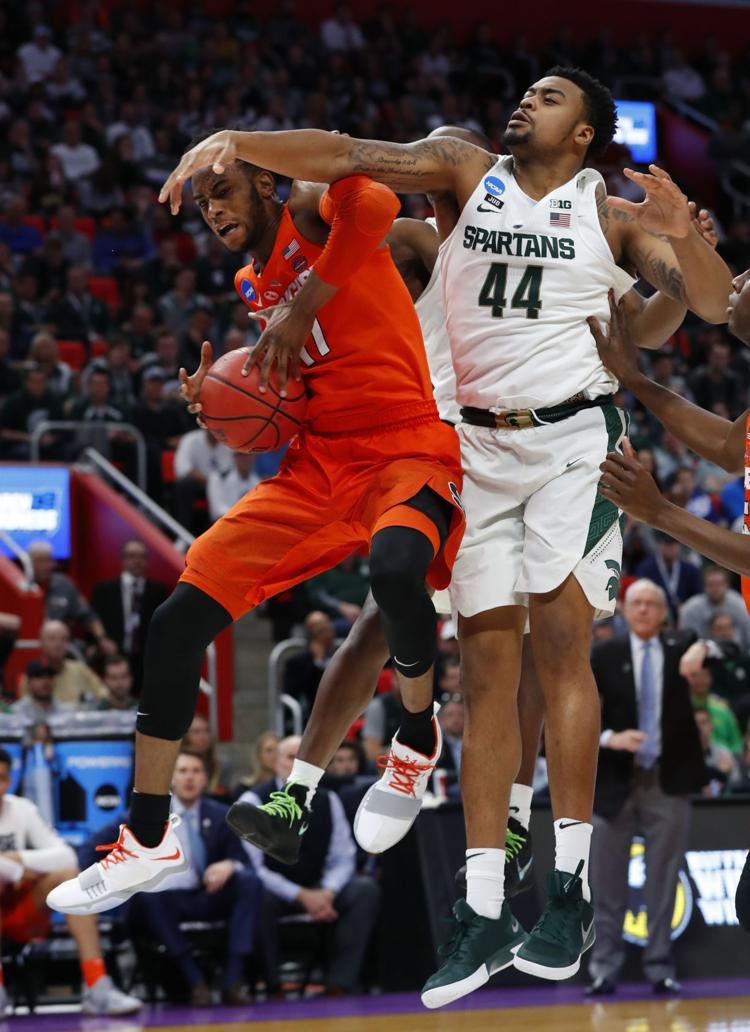 That's the game plan?
Michigan State vs. Syracuse, 2018
In 2017-18, longtime Michigan State coach Tom Izzo had perhaps the most talent on one roster than at any point in his illustrious career.
Miles Bridges — a bouncy 6-foot-6 sophomore who had returned to school, even though he likely would've been a lottery pick following his freshman year — led the team in scoring. Inside, the Spartans had Jaren Jackson Jr., a freshman with more raw talent than anyone on the team, and Nick Ward, a bruiser with soft touch around the rim. At point guard, there was Cassius Winston, a future Big Ten Player of the Year.
The Spartans were loaded, and they tore through the Big Ten that season, winning 16 of 18 games in conference play. They were a popular choice to win it all. But in the Round of 32, they lost a 55-53 rock fight to a Syracuse team that was the last to make the field of 68.
Michigan State threw up enough bricks against Syracuse's 2-3 zone to build an apartment complex. The Spartans shot 8 of 37 from 3-point range.
Inexplicably, Izzo relied more on Ben Carter, a sixth-year senior who had scored 13 points all season, than he did Jackson or Ward.
Carter played 23 minutes. He was ineffective attempting to attack from the high post against Syracuse's zone, scoring only two points. Somehow, Jackson played only 15 minutes while Ward was on the floor for 16 minutes despite scoring 10 points on 4-of-5 shooting.
The Spartans, who were eight-point favorites, didn't score a basket in the final 5:41 of play.
"The last couple of jump shots they threw up, they weren't in the ballpark," Syracuse coach Jim Boeheim said.
Three months later, Jackson went fourth overall in the NBA draft. By then, Carter had agreed to a contract with Hapoel Bank Yahav in Israel.
—Christian Clark
Don't overthink it, and don't fake it
Georgia at LSU, 2018
I've watched so many terrible football games. I went to Kansas, after all. Basketball? Great. High expectations. Football? Eight wins in a single season would be bad at LSU. At Kansas, that's how many wins I saw during my four years as an undergrad. Yeah. Not great.
But that's the thing when you're covering an abysmal team. It's mostly all bad, so nothing stands out as "the worst."
Did Kansas lose to FCS South Dakota State after the quarterback fumbled the snap as time expired? Yes. Did Kansas lose so lopsidedly to Baylor in 2015 that I asked about potentially invoking a mercy rule? Yes. Did I watch Kansas lose its starting quarterback in a spring game to a torn ACL because a walk-on tackled him? Also yes.
But those weren't single coaching decisions. Two were just bad luck, and the other was an 0-12 team going against the No. 3 team in the nation.
So I'll take it back to my first game as an LSU beat writer: No. 2 Georgia at No. 13 LSU from 2018.
LSU led 3-0 early, but Georgia's run offense was cruising. Then, from fourth-and-9 at the LSU 14, Georgia coach Kirby Smart tried channeling Les Miles.
On the snap, Georgia holder Jake Camarda flipped the ball to place-kicker Rodrigo Blankenship, who darted to the right edge. But LSU safety Grant Delpit smelled the fake coming, and he ultimately forced Blankenship to fumble.
Sure, Delpit being able to sniff out the fake isn't on Smart. But why run a fake there? You're the favorite. It's your second offensive series. And you're only down by three.
Go back and look. LSU's run defense was having issues containing D'Andre Swift and Elijah Holyfield. On the drive leading to that botched fake, Holyfield had rushed for 28 yards (with 28 more called back on a holding penalty) and Swift tallied 41. They ran on nine straight plays before quarterback Jake Fromm threw back-to-back incomplete passes, setting up the faux field goal.
Georgia never regained momentum and went three-and-out on its next two drives. LSU, meanwhile, went up 16-0 by halftime.
Is that the worst coaching decision ever made? Nope. Not even close. Probably not the worst I've actually seen, either. But for some reason, it sticks out above the rest.
—Amie Just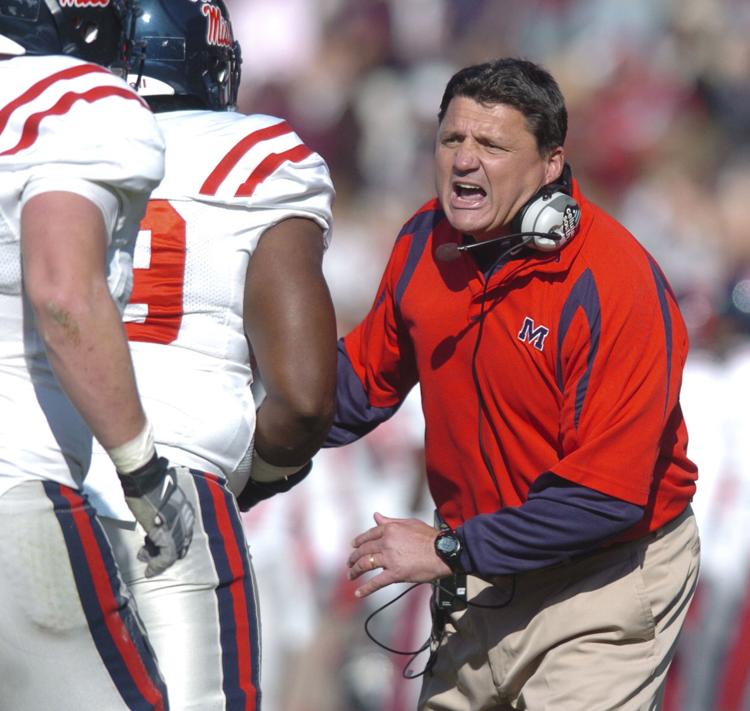 Fourth-and-nope
Ole Miss at Mississippi State, 2007
The date was Nov. 23, 2007.
It was the Friday after Thanksgiving, one of those rare occasions I decided to watch two football games in one day.
The first one, the Egg Bowl in Starkville, Mississippi, was just for pleasure. The second one, a high school playoff football game about an hour away in Kosciusko, Mississippi, was for work.
The former ended up being Ed Orgeron's last game as head coach at Ole Miss.
It wouldn't have been if not for a decision Orgeron made in the fourth quarter that helped breathe life into rival Mississippi State.
Orgeron's Rebels had dominated all game long, building a 14-0 lead in the fourth quarter and seemingly well on their way to claiming bragging rights in the state for the fifth time in six years.
But then, Orgeron made the decision.
He decided to go for it on fourth-and-1 at the 49-yard line early in the final quarter.
Ole Miss running back BenJarvus Green-Ellis, a New Orleans native who starred at St. Augustine High School, was stuffed on the play and momentum swung immediately.
"If I had to do it all over again, I probably would not make the same call," Orgeron told reporters after the game. "I understand that was a bad call and that it probably cost us the game. I understand that and I take the blame."
Mississippi State scored 17 unanswered points.
"I thought Christmas had come early," Sylvester Croom, the Mississippi State coach at the time, said afterward.
But for the guy on the opposite sideline that day, it proved to be the nail in the coffin.
Everyone knew it.
By the time I got to Kosciusko that night, all the talk in the high school stadium was about Coach O's decision.
"How long will it take for them to fire him?" a coach asked me during pregame.
Turns out, it wasn't very long at all.
Orgeron was fired the next day, ending his three-year run in Oxford.
But eventually, the decision ended up being a blessing in disguise for Orgeron.
After coaching stops as an assistant with the New Orleans Saints, the University of Tennessee and Southern Cal, he got a chance to return to his native state.
He was named LSU's head coach, first on an interim basis, in 2016.
In 2019, he guided the Tigers to a national title.
And as he reminded us in an interview in 2017, none of his recent success wouldn't have happened had it not been for his blunder on that November afternoon in 2007.
"I thank the good Lord every day," he said.
—Rod Walker