Dave Scheib is to blame.
Without his decision to cut a kid named Matt Canada, maybe none of this happens.
Still to this day, Canada introduces Scheib as "the guy who cut me in sixth grade." The move really "lit the fire," Bob Canada recalls, in his oldest son. Nothing pushed Matt more than missing that travel football team in the early 1980s.
But don't give Scheib all the credit for Canada's rise to stardom in the sport.
There are plenty of things that got Matt Canada here, as one of the highest-paid offensive coordinators in the land and the anointed savior of LSU's stumbling offense on the eve of the Tigers' spring game.
Maybe he's not here without that meeting with Mark Speckman, the West Coast football coach born without hands who many herald as the inventor of the fly offense. 
Can't see the video below? Click here. 
Maybe he's not here without that career-ending knee injury during his senior year of high school — a key, those close to him say, in his rapid ascent in the industry. 
Maybe he's not here without those talks with his father while at the Indiana high school football state championship games. Bob Canada and his teenage son positioned themselves to get the best angle — the end zone view — to break down the defenses before them. 
Maybe he's not here without those hurdles — some taller than others — that he leaped during a tottering 25-year career: the 2007 death of then-boss and Indiana coach Terry Hoeppner; his divorce and the subsequent financial burden of moving his ex-wife and two children, Tori and Chris, with him during each coaching stop; and a puzzling firing from NC State that dragged him away from his family for the first time in his career.
"He's had a lot of ups and downs," said Scott Miller, a childhood friend of Canada and a high school football coach in Indiana. "It's been difficult for him many times. It was all about his family, what's best for his family. A lot of decisions he made were for them. He's always come out of it. That's one thing about Matt: Through the tough times, he's made tough decisions, and the decisions he's made end up pretty good."
Cornfields and wheat fields
Matt Canada often jabs at LSU senior quarterback Danny Etling about Etling's hometown.
"He says it smells bad," Etling laughed during an interview this week.
Etling is from Terre Haute, Indiana, a city of 60,000 about 90 miles west of Indianapolis. Canada is from New Palestine, a southeast suburb of Indianapolis.
Can't see the video below? Click here. 
New Palestine's population, according to the U.S. Census Bureau, is 2,200.
"I tell him," Etling said, "'we've got cows bigger than New Palestine in Terre Haute.'"
This is where it all began — in a tiny town in central Indiana.
New Palestine, during Canada's childhood in the 1970s and 1980s, was a farming community of less than 1,000 people. It has blossomed into a suburban spot for those who don't wish to live in the big city of Indianapolis, some 8-10 miles away.
The town is built around its high school. With 1,100 students, New Palestine High's enrollment is half of the town population (students in Indiana, no matter where they live, can attend any public high school). 
You don't have to look far to find reminders of New Palestine's farming past.
"We still have cornfields and wheat fields," said Marvin Shepler, 77, the former football coach at New Palestine who started the program in 1968 and led it to nearly 200 wins in three decades.
Like many boys growing up in this region, Matt wanted to play basketball and then football 65 miles southwest at Indiana. He remains a "big Hoosier," said his father, Bob Canada, a veterinarian in New Palestine.
Matt's love for football developed early on. At 3 years old, he used to stand inches from the television, helmet on and Nerf football in hand, imitating Indiana native Bob Griese as he played for the Dolphins.
Canada played under Shepler. Coaches quickly realized his potential — not necessarily in his arm or legs, Shepler said, but between his ears. He quarterbacked the junior varsity as a ninth-grader, a rarity in those days, and started for the varsity as a junior and senior.
"He was way ahead of most of the defenses we played," said Shepler, who retired from coaching in 2001 and now teaches World History at New Palestine High. "Matt was a real student of the game. He was not the greatest athlete. In his mind, he was. That's what made him so good."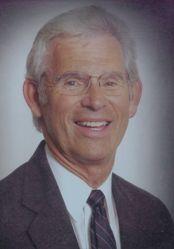 Matt was a "sponge" for knowledge, said Al Cooper, New Palestine's athletic director and an assistant coach on Shepler's staff during Matt's playing days.
"Wasn't the fastest, didn't have the best arm, not the most athletic," Cooper said. "He was successful because he was just smarter."
The Canadas' home, specifically their basement, was a post-game gathering spot on Friday nights for the football team — mostly because of its large TV and pool table, but also because of Matt's leadership qualities.
"He pushed us," said Scott Miller, childhood friends with Matt since age 8 and one of his receivers in high school. "We wanted to follow him."
New Palestine is abuzz these days with talk of Matt's new gig in the Southeastern Conference. The local newspaper publishes stories intermittently updating his progress up the coaching ladder.
A New Palestine kid advancing so far is something unique. Todd Yoder, an undrafted free agent and former Vanderbilt star who played 10 years in the NFL, is the only other real sports celebrity, Shepler said.
Now, they've got Matt.
"For our school, our community," Shepler said, "it's significant."
Breiden Fehoko recalls his first and only trip to Louisiana.
Gofer and golfing
Bill Mallory remembers it clearly.
Then Indiana's head football, Mallory and his assistants created a football class for general students — a Football 101, per se, geared toward spreading knowledge of the game to those interested. A boy named Matt Canada was indeed interested, and Mallory remembers Canada approaching him after one session.
"He said, 'I'm in the school of business,'" Mallory said. "He said, 'I want to stay in that, but I want to let you know I have a strong passion to coach football.'"
Not long after that, the Hoosiers welcomed a new student assistant to the staff.
"He became a gofer, videographer, would run down tape," Bob Canada explained. "They picked tapes up to scout back then. By the time he was a senior, Mal had let him have the tight ends."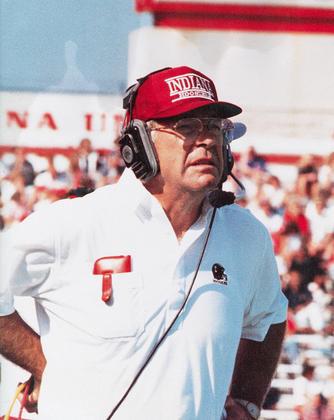 Two years as a graduate assistant followed those two-plus years as a student assistant. He sat in on most coaches' meetings and film room sessions. He watched practices and team workouts. He listened and he learned from coaches on that staff, guys who eventually gave him big-time job offers, guys who had a hand in the offense he now employs.
One of those was Joe Novak, the defensive coordinator on that Indiana staff. He gave Canada his first Division I coaching job in 1998 at Northern Illinois and promoted him to offensive coordinator in 2003. That was UNI's best season in Novak's 12 years as head coach. The Huskies went 10-2 and beat Alabama.
Novak is now retired living on the North Carolina coast while serving on the NCAA Committee on Infractions. He sees elements to Canada's offense that take him back to those days at Northern Illinois.
"I think I probably held him back as I look back," the run-minded Novak laughed. "He runs our basic running game stuff: inside and outside zone. He dresses it up so much more than we did, the movement and those things. He's throwing tackle-eligible (passes) now!"
Bill Lynch was quarterbacks coach on that Indiana staff. Canada was his graduate assistant. Years later, he gave Canada his biggest breakthrough after the untimely death of Indiana head coach Terry Hoeppner, a victim in 2007 of brain cancer.
Lynch replaced Hoeppner atop the Hoosiers program and elevated Canada from quarterbacks coach to coordinator. Canada and Hoeppner — "Hep," they called him — grew close in their two years coaching together in Bloomington. They played golf regularly, in fact.
Bob Canada says his son hasn't regularly returned to golf since Hep's death. 
"It was a very personal hit to Matt," Bob said.
"Going through Coach Hep passing away … that is probably … the gravity of that," Canada said in an interview with The Advocate last month. "That was really hard for me."
It was after Hep's death, that Canada's offensive scheme expanded, said Lynch, now the head coach at Division III Depauw.
Canada met with Mark Speckman, incorporating the fly (jet sweep) into his system. He visited then-Oregon coach Chip Kelly, adding an uptempo element to his offense. He took a visit to Nevada, too, studying how the Wolf Pack used the formation with quarterback Colin Kaepernick.
He kept Novak's zone-rushing scheme in his offense and retained Hep's scheme: a spread system that Hep had so much success with at Miami (Ohio) with a quarterback named Ben Roethlisberger.
"We evolved to a tempo offense," said Lynch, head coach at Indiana from 2007-2010. "I was at fault for maybe slowing it down a little bit, concerned about our defense playing at that tempo, but looking back, I should have let Matt go as fast as he could. That's when he got into shifting and motions and trading personnel.
"It's a fun offense to watch."
LSU position recaps: Breaking down Tigers' depth chart, changes, keys for success
With many big changes heading into the 2017 college football season, here is a position-by-positional look at key storylines and an early depth chart and more.
(Note: This series will continue to be updated with additional positions)
The fly
During an interview late last year, Matt Canada referred to an essential package in his offense as the "jet sweep."
Mark Speckman, upon hearing this interview, immediately sent a half-joking text to Canada. The message: No, Matt, it's not the jet sweep — it's the fly.
"We call it the fly," Speckman said. "If anybody on my team calls it a jet sweep, I slap them."
Speckman, now the running backs coach at UC Davis, doesn't claim to be the founder, inventor or architect of the fly. He's not exactly sure who holds that title, but he believes it originated in Southern California.
What Speckman did with the fly is incorporate it into an offensive system, expand upon it and use it more than most. He also traveled the country speaking at various coaching clinics about, one, the fly offense and, two, living life without hands. He wasn't born with hands. At the end of his nearly full-length arms are nubs.
That didn't stop Speckman from evolving into a guy many believe is one of the more overshadowed offensive innovators in football.
Speckman, 61, ran the fly as offensive coordinator in the mid-1990s at Willamette, an NCAA Division III program in Oregon that then played in the NAIA. The offense — and an appearance in the NAIA championship game — helped propel then-Willamette head coach Dan Hawkins to the head gig at Boise State and then later Colorado.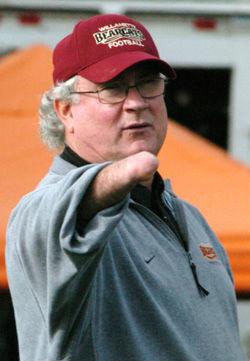 Speckman replaced Hawkins, winning 82 games in 14 seasons at the school and breaking program records for rushing by continuously expanding on the fly. He met Canada around that time, in the late 2000s, while Canada was offensive coordinator at Indiana.
"He helped me with pass concepts," Speckman said. "I helped him with the fly offense. We just sat down and shared concepts."
"The fly sweep stuff he did, we don't do it exactly his way," Canada said, "but that kind of got it going."
What exactly is the fly offense? In the simplest form, it's a player, normally a fast one, running in motion behind the line of scrimmage before the snap, usually passing just behind or in front of the quarterback at the snap. The player is an immediate running or receiving option for the QB, a way to stretch the defense horizontally.
Canada's fly package goes deep. It's a "big, big component" of Canada's offense, LSU defensive coordinator Dave Aranda said in December.
"Where he goes above and beyond is, he sticks with it and has several clever plays off of it," Speckman said. "You've got to have more than a fast guy running around the corner. He's taken it to another level."
Breiden Fehoko recalls his first and only trip to Louisiana.
Trying times
The Warren Tomahawks weren't any old traveling youth football team.
The Tomahawks carried a reputation. Former No. 1 overall draft pick Jeff George played quarterback for the Tomahawks. More than 10 elementary schools fed into the team.
On this particular year, they only had room for two quarterbacks. Three participated in tryouts.
Dave Scheib cut Matt Canada.
"I always tell Matt, I've coached 50 years and I'm allowed to make one mistake. Tough thing is, you're the one mistake," Scheib said laughing. "I saw him play high school a few years later. I missed the boat. He was like a Bart Starr-type guy."
Scheib and Canada have remained friends through the years. In fact, Scheib plans to attend Canada's wedding this summer.
But the competitive fire that Scheib lit began this crazy journey and served as the first in a long line of adverse situations for this now 45-year-old. You already know about Hep's death, but Canada never got the chance to live his dream: play college football.
He damaged ligaments in his knee late during his senior season at New Palestine in 1989. He played through the injury, hobbling around the field at times. That was nothing new, of course.
Canada played at least one game of his junior season having suffered a concussion. New Palestine called the same play 30 times in a row — an off-tackle run — as to avoid getting Canada hit again. The next week during a playoff game — one New Palestine would lose — coaches yanked Canada because of concussion symptoms.
"It was in the beginning of the second quarter. We took him out," Shepler said. "He was not happy."
Matt underwent surgery on his knee the winter after his senior season. Word seeped out about his busted up knee.
"The Sunday night recruiting phone calls quit," Bob Canada said.
Bob describes his son's last decade, professionally and personally, as "very hard, very, very hard." He was fired twice (Indiana in 2010, NC State in 2015) and was left without a job another time (Wisconsin in 2012). He got divorced, too.
"A marriage didn't hold together," Bob said. "He did all in his power to get his ex and his children moved to where they're in the same city where they can be half and half. They followed (him) to Wisconsin and N.C. State. He was with them half a week until the firing at N.C. State."
That was the toughest blow, Canada admits.
Wolfpack coach Dave Doeren fired Canada after the 2015 season, a surprising move. He had signed a new three-year contract the year before, and his final unit at N.C. State averaged 33.2 points, the third-highest mark in school history.
Canada was hoping to remain there to see his two children through high school. He had even turned down overtures from other places.
He was forced to uproot for a new job with Pittsburgh last January, and this time his family didn't follow. His son, Chris, and daughter, Tori, were too far along at their high schools.
Tori is a freshman now at South Carolina, and Chris, a senior in high school, is poised to be the starting quarterback at Fuquay-Varina High in a suburb of Raleigh.
For a second straight year, Canada will have to watch his games on the internet and turn to FaceTime for communication.
"Not being there is certainly, without a doubt, the hardest thing I've ever had to go through and still is," he said. "It's still a real struggle for me."
Matt spent spring break last week with Chris at the beach. They got in some good quality time before he'll turn his attention back to the Tigers, with spring practice coming to a close Saturday night in Tiger Stadium.
His parents, Bob and Ann, will be in the crowd, making their first ever trip to Baton Rouge. They plan to make a few games this season, while also traveling to watch Chris play on Friday nights.
Erin will be there, too. Erin Ann Buchanan is a former college softball player from Chicago. She and Matt are scheduled to get married next month in North Carolina.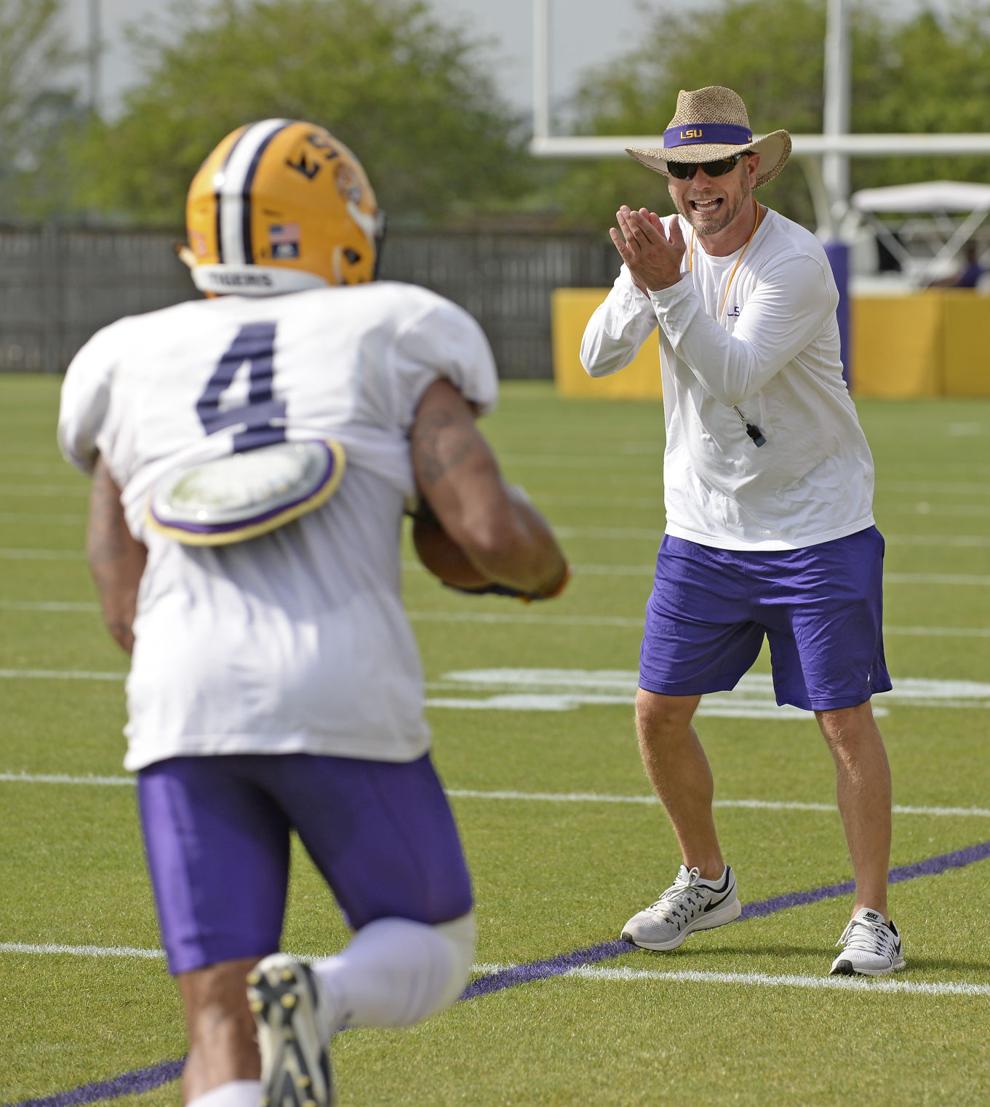 The two met at N.C. State's bowl game after the 2015 regular season, three days before his surprising firing.
"Erin has been around me for just over a year, and she's been at three schools herself," Matt laughed. "She's tied into our profession. Amazing woman and certainly has been a great blessing to me. Really fortunate she's in my life."
From an athletic background, Erin realizes the pressure on her fiancé. Matt signed a three-year contract with LSU paying him $1.5 million per year.
This Saturday night won't be like the ones this fall. It will only be a preview of sorts, a tease, if you will, to this snazzy new offense.
Don't expect Canada to reveal too much in a meaningless nationally televised spring game. You might see a bit of that fly offense, and some of those talked-about pre-snap shifts. He might even throw in some up-tempo and toss a pass to a left tackle, too.
But everyone must wait until the fall to see the highly anticipated scheme from the mind of this Midwesterner.
"I have to assume," said Al Cooper, Canada's assistant coach during his playing days, "a lot of SEC D-coordinators are a little concerned about what's going to come out of Baton Rouge offensively this year."