Welcome to Highlights, where we'll break down significant plays from LSU's last football game.
(Click to enlarge photos)
LSU 31, Southeastern 0
How It Happened
Self-inflicted pressure: The LSU offense was driving again after consecutive touchdowns in the first quarter. A holding penalty set up 3rd-and-11 at the Southeastern 29 with 12:26 left in the second quarter. Then, Joe Burrow was sacked for the first time of the game, setting up a 50-yard field goal from Cole Tracy. It was the first of two sacks LSU surrendered in the game, among several other instances where Burrow was pressured. "Our offensive line was penetrated, and we couldn't protect Joe," Ed Orgeron said afterward. But how did FCS-level Southeastern pressure Burrow just as much as Miami?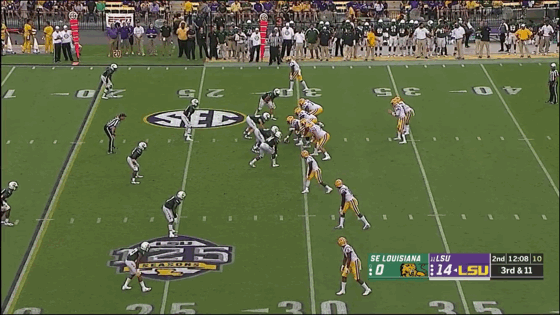 Well, here on that 3rd-and-11, the sack may be more on Burrow than the offensive line. The junior had nearly four seconds to make a decision. Duke coach David Cutfcliffe, a former national Coach of the Year, once said that a quarterback should get 2.8 seconds to throw the football. Burrow gets that here, plus a little extra. It seems he has no interest in throwing to Stephen Sullivan (No. 10) or Dee Anderson (No. 11), the two receivers dragging across the 25 yard line, who wouldn't pick up first down yardage. That leaves Jonathan Giles (No. 7) — who streaks down the left seam out of the slot and appears to get picked up by two defensive backs — and Ja'Marr Chase (No. 1), who seems to be Burrow's best option after he gets late separation from his cornerback at the top of the screen.
It should be noted that in this situation, a sack produces more points than a forced pass that gets intercepted. But Orgeron said offensive coordinator Steve Ensminger said Burrow was holding onto the ball a little longer than they'd like.
"Steve was telling me he should have gotten rid of the ball a little quicker," Orgeron said. "Receivers need to get open. It was a combination of everything."
Burrow didn't have much time at all on the first play of the next drive, when Southeastern outside linebacker Isaac Adeyemi-Berglund blew past tight end Foster Moreau to sack Burrow. That set up a 2nd-and-17 at the LSU 23, where Burrow was nearly strip-sacked after making a long decision again.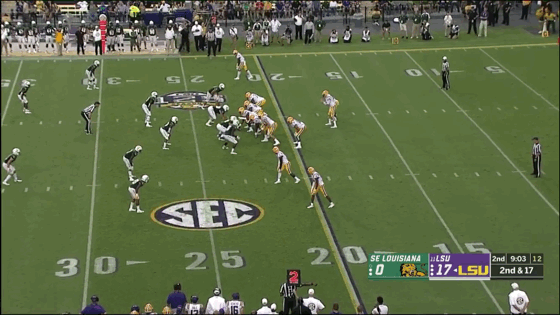 It's difficult to tell who Burrow was aiming for, although the ball falls in front of Giles, who is covered up by three defenders. Moreau (No. 18) opens up late on the bottom of the screen, and Burrow would have to be thinking check-down. It seems his eyes are downfield and he's thinking to throw deep. The play is initially ruled a fumble, recovered by Southeastern, but is overturned after official review.
Minor cracks in the defense: The LSU defense recorded its first shutout of the season and forced three turnovers. But Southeastern twice drove into the Red Zone in the fourth quarter and squandered both scoring opportunities with an interception and a bad snap that resulted in a fumble recovery for LSU. Orgeron had said during the week that the Lions' offense did a few things that his defense struggled against, and here's an example from the start of the third quarter.
It's 2nd-and-15 at the Southeastern 20, and the Lions have three wide receivers split left with a tight end pinned on the right side of the offensive line. Chason Virgil, who had offers from Auburn and Oklahoma coming out of high school and ended up at Fresno State before transferring, makes his passing decision fairly quickly, connecting with Juwan Petit-Frere for a not-so-petit gain of 25 yards.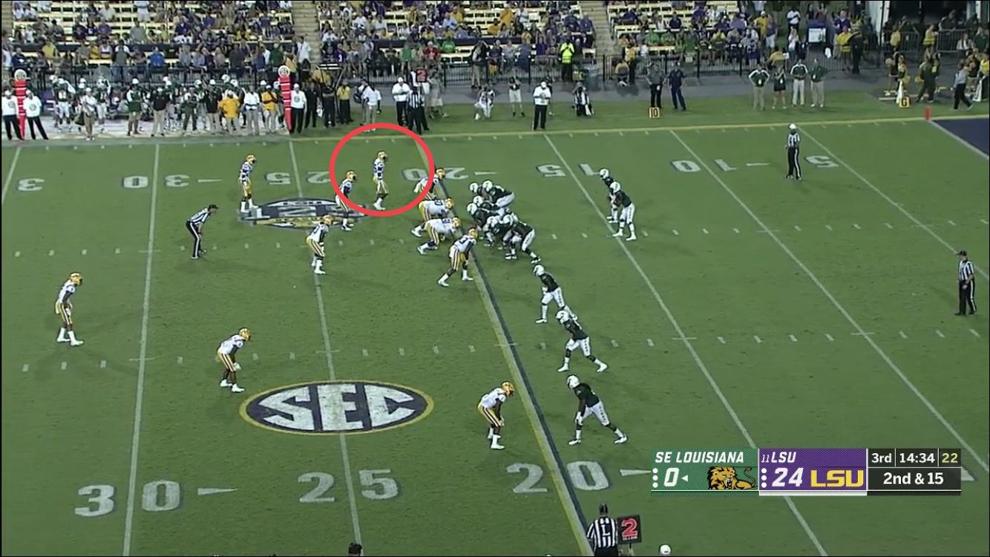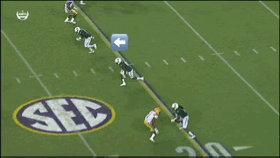 LSU is in a two lineman, four linebacker, five defensive back set, where John Battle (circled in red) is essentially being used as another perimeter rusher on the left side. That leaves nickel back Terrence Alexander (No. 11) and safety Grant Delpit (No. 9) as the only defenders where the play eventually is headed.
It's a nicely executed route by Petit-Frere, who appears to convince Alexander that he's intent on running a vertical directly up the left seam, where he'd eventually run straight into Delpit. Alexander cuts down to pick up the crossing receiver Marquis Williams (No. 85), and Petit-Frere sneaks behind Alexander at the last second and has 10 yards of free space for Virgil to fit an easy pass within the sideline. It's difficult to tell if Williams was Alexander's responsibility. Williams was also nearing both LSU inside linebackers, who appear to be in position to pick him up. But it's a good example of how opposing offenses can use smart route-running to crack through a talented LSU secondary.
Another big run: Here's Nick Brossette's 42-yard rush on 2nd-and-6 at the LSU 16 near the beginning of the third quarter. Brossette's 137 total rushing yards against Southeastern were a career-high, and the senior has established himself as the team's top tailback.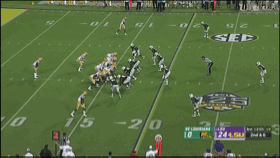 The blocking here opens up another big gain for Brossette. The right side of the offensive line crashes down. Then, center Lloyd Cushenberry pulls and knocks Southeastern's Adeyemi-Berglund back just enough to give Brossette a crease. Fullback Trey Gallman kicks out another linebacker, and Brossette's off to the races.
It was Brossette's second consecutive game with a rush of over 40 yards, and he is now ranked 13th nationally with 262 total rushing yards.
Stephen Sullivan rose in the middle of the end zone traffic, extending past several Southeastern Louisiana defenders, and the 6-foot-7, 232-po…
Once, Ian Fleming said, is happenstance. Twice is coincidence. Three times is enemy action.