Welcome to Film Room, our weekly analysis of LSU's last football game.
Have a seat. No talking. No tweeting. No texting. Pay attention.
(Editor's note: Click the images to enlarge)
How They Happened (big-play analysis)
Nickel blitz: On Arkansas' second series, Donte Jackson blitzes from his nickel position resulting in a sack on Hogs QB Austin Allen.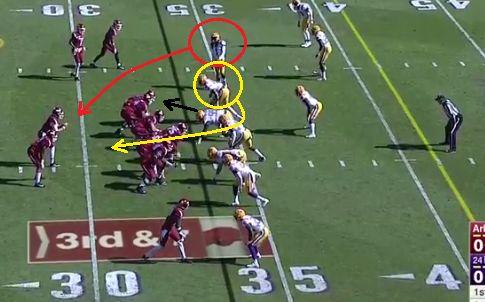 DC Dave Aranda is moving around Jackson, giving him play-making opportunities all over the field. He's playing some corner, some nickel, some safety. Here, Jackson executes a play specifically installed for him this week in practice. The key to the play is Arkansas' focus on LSU edge rusher Arden Key and DE Rashard Lawrence.
Key (yellow circle) runs a twist, racing behind Lawrence (black arrow) at the snap. Two Arkansas defenders, the guard and center, take him. Lawrence then bull rushes the left tackle, and Jackson races free from the outside for his first career sack.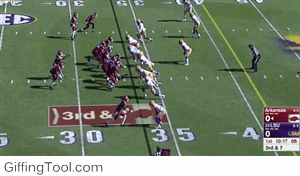 After the game, Jackson attributed the sack to Key. The Hogs were focused on stopping the school sack record-holder. "When we put it in the game plan, we knew they were going to pay a lot of attention to 49. They put me and 49 on the same side," Jackson said, referring to Key, No. 49. "We ran it in practice and it was always free. We knew how they were going to block him."
One on one: Late in the first quarter, QB Danny Etling hit a wide open DJ Chark for a 46 yard touchdown pass.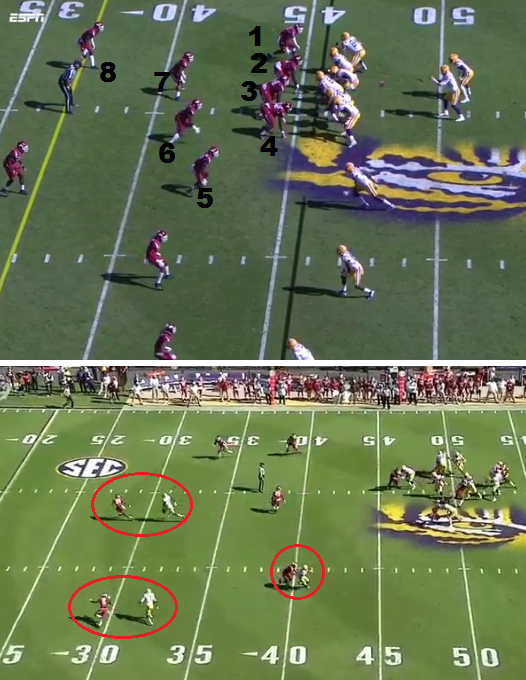 This play works for two reasons. The first is something coach Ed Orgeron mentioned after the game - the Hogs loaded the box to stop the run. LSU combated that by passing, and this play is the perfect example. You can see that Arkansas has eight players in the box before the snap, resulting in three one-on-one matchups (red circles) with no deep safety to help.
The second reason this play works is the move Chark puts on the cornerback. You see it in the GIF. LSU's senior receiver runs what's called a "post-go" route. He fakes the post, an inside route, and then hits the "go," a deep route straight down the field. The cornerback, as you see, bites hard on the post route.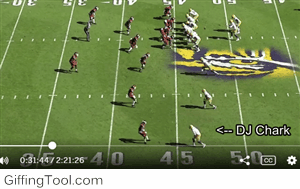 Jet mesh: Derrius Guice runs for 19 yards on a handoff in the third quarter to set up LSU's touchdown to make it 19-10.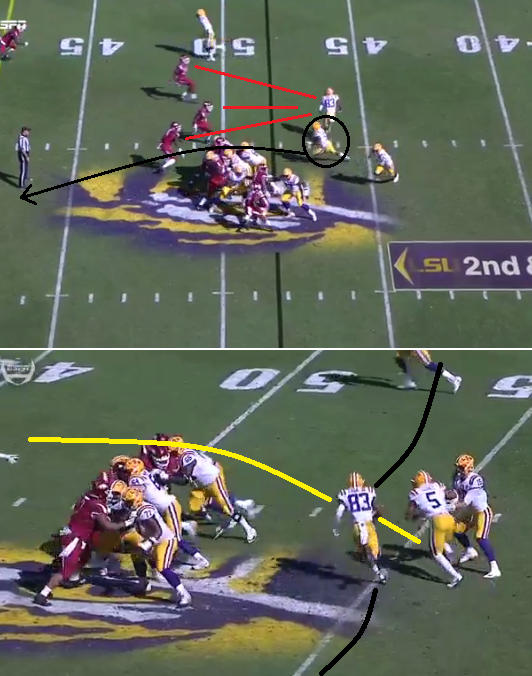 This is a tricky play that we haven't seen much of, if at all, this season. The presnap jet sweep motion from Russell Gage (No. 83) comes so close to the mesh point of the handoff to Guice that the two players nearly collide. Was it made to be executed like this? Probably and we tell you why below.
Arkansas did a solid job of stopping the jet sweep. How do we know this? Because LSU OC Matt Canada didn't call jet handoff much (2-3 times). Despite that, this play is a perfect illustration of how the jet is so important to LSU's offense, setting up the inside run.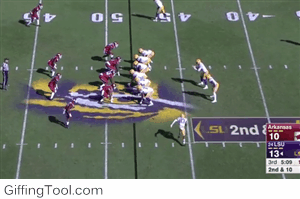 In the top photo above, you see that three Arkansas defenders believe Gage has the ball on a jet (red lines). They take steps toward the outside, leaving a seam inside for Guice to burst through. 
LSU moved up four spots to No. 21 in the Amway coaches poll and returned to the AP top 25 at No. 21. 
---
POSITION ANALYSIS
Big Ugly Booms (OL analysis) 
The best gauge of an offensive line's performance is a running back's yards before contact and the amount of pressures a quarterback feels in the pocket. Derrius Guice picked up 119 yards on his first 15 carries (though the first three quarters). A whopping 104 of those 119 yards were picked up before a defender touched him. That's moving the line of scrimmage.
As for pass protection, this continues to be an unsteady area for the group, specifically the two true freshmen (last year, remember, they were in high school). Arkansas did a pretty significant amount of blitzing, bringing at least five pass rushers on at least seven of Etling's 20 dropbacks. Etling felt pressure on 8 of those 20. Not a great ratio. The freshmen were at least partially responsibly, we presume, for about 5 of the 8 pressures. 
Donte Jackson approached LSU defensive coordinator Dave Aranda after last week's loss at Alabama with a request.
Monday Morning Quarterback (QB analysis)
Danny Etling misfired on ... two throws. It seems like more right? It wasn't. He had one of his best games as a Tiger. It might feel like he performed worse because, of his five incompletions, two were dropped - one of them in the end zone - and the misfires were on more simple throws. You'll recall he missed an open touchdown to Foster Moreau on a 5-yard pass and then missed DJ Chark well wide on what would have been a 17-yarder.
We charted all 16 of Etling's attempts below so that you can see for yourself. The misfires are in italics. 
 Yards in air#

 Down

 Target

 Result 

 Hogs in

the box

 10

 3rd-7

 Dee Anderson

 Complete for 10 yards

 7*

 6

 3rd-5

 DJ Chark

 Complete for 8 yards

 8

 0

 2nd-5

 Foster Moreau

 INC, thrown too high

 7

 38

 2nd-8

 DJ Chark

 Complete for TD

 8*

 -1

 1st-10

 Derrick Dillon

 Complete for 5 yards

 7

 6

 3rd-1

 Derrick Dillon

 Complete for 8 yards

 7*

 46

 2nd-8

 Derrick Dillon

 INC, dropped in the end zone

 7

 15

 3rd-8

 Stephen Sullivan

 INC, low throw under pressure

 7*

 15

 1st-10

 Stephen Sullivan

 Complete for 19 yards

 8

 -1

 2nd-8

 Foster Moreau

 Complete for 9 yards

 7

 8

 1st-10

 Tory Carter

 Complete for 15 yards

 8

 6

 1st-10

 DJ Chark

 Complete for 9 yards

 7

 17

 1st-10

 DJ Chark

 INC, thrown too wide

 8

 41

 2nd-8

 DJ Chark

 Complete for 68 yards

 7*

 7

 1st-10

 Stephen Sullivan

 Complete for 21 yards

 9

 10

 3rd-3

 Stephen Sullivan

 INC, drop

 8*
*Five-man pass rush
#Marked from the line of scrimmage
LSU worked its intermediate passing game maybe more than any game this season. Of 16 attempts, Etling threw 9 in what many would term as the "intermediate" zone. People measure that in different ways. We measured it for passes in the air 6 to 15 yards in the length. That is measured from the line of scrimmage. On those especially, Etling excelled:
Completions: 7
Attempts: 9
Drops: 1
The Tigers took three shots deep (passes of 25 yards or more in the air). The result was 2 for 3 with two touchdowns to Chark and a dropped touchdown from Dillon. 
Five Yard Out (WR analysis)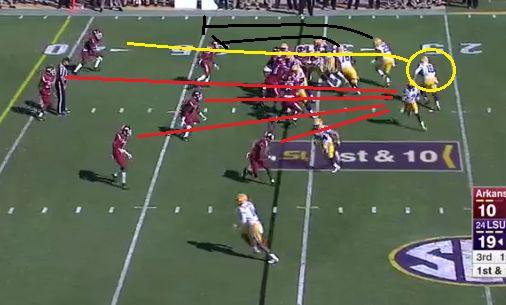 It was a quiet day on the ground for these guys, a rarity in a Matt Canada offense rife with jet sweeps (you'll remember we wrote in depth about the jet sweep earlier this week). The wideouts ran just two. Russell Gage picked up 15 yards, and DJ Chark lost 4. Arkansas was keying on the jet handoffs, as mentioned above in Big Play Breakdowns. They were focused on it so much that Etling kept the ball on a QB sweep off the jet motion, as you see above. It's something we haven't seen much, if at all, this season.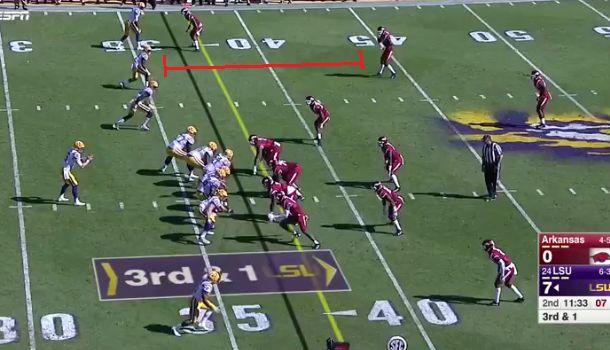 Let's go back to the intermediate passing game. Afterward, Orgeron said that facet was open because Arkansas was loading the box. That's true. The Hogs had at least seven defenders in the box on each of Etling's 16 attempts and at least eight guys on 7 attempts. There's something else that helped with the intermediate passing: soft man coverage. The Hogs cornerbacks played off. A good example is above to the left. On a third-and-1, Arkansas' corner is 10 yards off of Derrick Dillon. What happens? Dillon runs a comeback or curl route for an easy first down. 
LSU players received help in preparing for Saturday's morning kickoff from players — the ones no longer on the team.
Front 7 (DL/LB analysis)
Arkansas actually entered with a really nice offensive game plan to stymie the Tigers' blitzing up front. First, they almost exclusively attempted short and intermediate passes. And they popped two nice screen plays. Because of this, the Tigers only got about 4 QB pressures through the first three quarters (before the Tigers went up 16 points early in the fourth). 
Backup nose tackle Ed Alexander played the most snaps, maybe, of the season. He participated in about 16 snaps of the 42 defensive plays in the first three quarters, spelling Greg Gilmore. Part of his larger role had to do with the opponent. Arkansas operates more out of a pro-style, run-heavy attack than most teams. Alexander is the big run stuffer. 
Donnie Alexander rolled up 12 tackles, flying around the ball well, but he did get injured. He returned to the game, but it's very clear that he's playing with a wounded right shoulder, the same one, we believe, that doctors operated on this spring to repair a rotator cuff tear.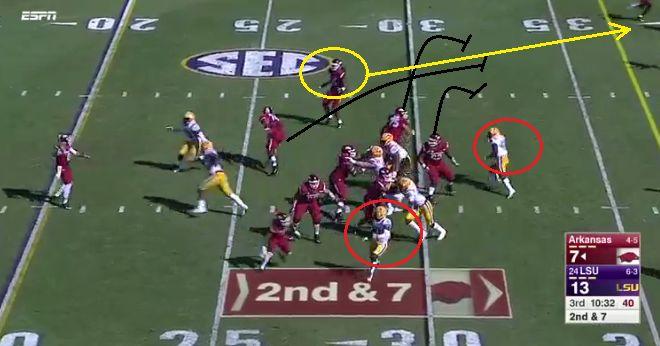 LSU's trouble defending the screen pass revived itself Saturday against Arkansas. The Hogs completed two for big chunks. We took a look specifically at the first one - a 33-yarder to TE Will Gragg. LSU is susceptible to these because its front is so relentlessly trying to penetrate the backfield. That's an Orgeron staple - he wants his guys to get to the quarterback. On this particular play, the Tigers rush into the backfield, and ILBs Donnie Alexander and Devin White (red circles) are taken out of the play by the fake run to the right. 
Break it up (DB analysis)
Somewhat quiet day for these guys, with specifics to targets in man-on-man coverage. Arkansas' game plan was more quick, short throws - screens, swing passes, etc. Through the first three quarters, the Hogs only threw about 5 passes downfield against LSU man-to-man coverage, completing 2 of them for a total of 24 yards. 
What wasn't quiet was Donte Jackson's day in his new position, safety. He had 7 tackles, 2 for loss, including a sack, and had 4 pass breakups. He played the majority of the first three quarters at safety (39 of 42 snaps) while LSU primarily used its 3-4 base defense against a more pro-style offense. He played three snaps in nickel, when the Tigers switched into the five-DB, 2-DL set.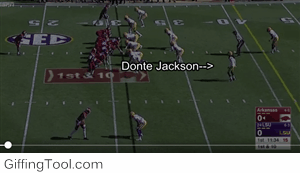 What makes Jackson good is that he's not one-dimensional. He's proven that he can cover man-to-man, so well that teams have avoided him for much of the season. And he's veteran enough to align the defense from the typical leadership position of safety (he did this multiple times Saturday). Despite his size (5-11, 175), he's decent in run support, despite the occasional missed tackle. A good example of his run support came early in the game and is above and to the right. 
To finish, it's pretty clear that DC Dave Aranda and coach Ed Orgeron are looking for a playmaker at safety, somebody that's more multi-dimensional than the guys who are there now. Jamal Adams, of course, was that guy, and so was Dwayne Thomas. Jackson seems to be sliding into Thomas' shoes. 
Photos courtesy of ESPN.
---
KNOXVILLE, Tenn. (AP) — Tennessee fired coach Butch Jones on Sunday with two games left in a regular season in which the Volunteers started ra…