MOBILE, Ala. — Duke Riley is physically following in Deion Jones' footsteps.
He tracked along the same turf while playing the same position at Tiger Stadium, ran across the same grass at the Charles McClendon practice fields and is, this week, gashing the same ground at Senior Bowl practice at Ladd-Peebles Stadium.
The path of these two New Orleans-area linebackers is so strikingly similar that they're the catalyst for what executive director Phil Savage called "a new tradition" at the Senior Bowl: wearing the number zero jersey.
Jones last year became the first Senior Bowl participant to wear zero. Riley asked for it this year.
"I'm talking to (LSU head trainer Jack Marucci) about Duke," Savage said Thursday from Ladd-Peebles Stadium, "and he says, 'Duke wants to wear zero.' I'm like, 'OK, I guess we'll reserve that for the LSU linebacker.' "
No two will be so similar.
Riley primarily played special teams during his first three seasons at LSU, didn't get his big shot at starting until his senior season last year and moved into Jones' position last season as LSU's speedy, sideline-to-sideline weakside linebacker.
And now, here he is at the Senior Bowl, wearing that jersey. The only difference in their appearance are those blonde curls jutting from the back of Riley's helmet.
None of this is surprising to Riley. He envisioned it.
"A year ago, after seeing Deion, I knew I had big shoes to fill, so I always saw myself following the same footsteps of him," he said. "I saw it. Probably one of the reasons why I'm here."
He's here racing around at Senior Bowl practice with first- and second-round draft picks and interviewing with NFL coaches and scouts. It's all been "amazing," Riley said during interviews this week.
"Feels good to be out here competing with some of the best," he said.
MOBILE, Ala. — Former LSU cornerback Tre'Davious White won't play in Saturday's Senior Bowl …
He has met at least briefly with all 32 NFL teams, including the Saints, his hometown franchise. The meeting with the Saints was one of his biggest. He met with the "whole staff," Riley said.
Riley is admittedly undersized, and his projected position at the next level varies according to whom you ask. He measured at 6-foot-0½ and weighed 231 pounds Tuesday morning during the scouting weigh in.
WalterFootball.com ranks Riley as the No. 11 inside linebacker in the draft class and a fourth-through-sixth-round projection. CBSSports.com puts him as the eighth-ranked outside linebacker in the class, giving him a third-round projection.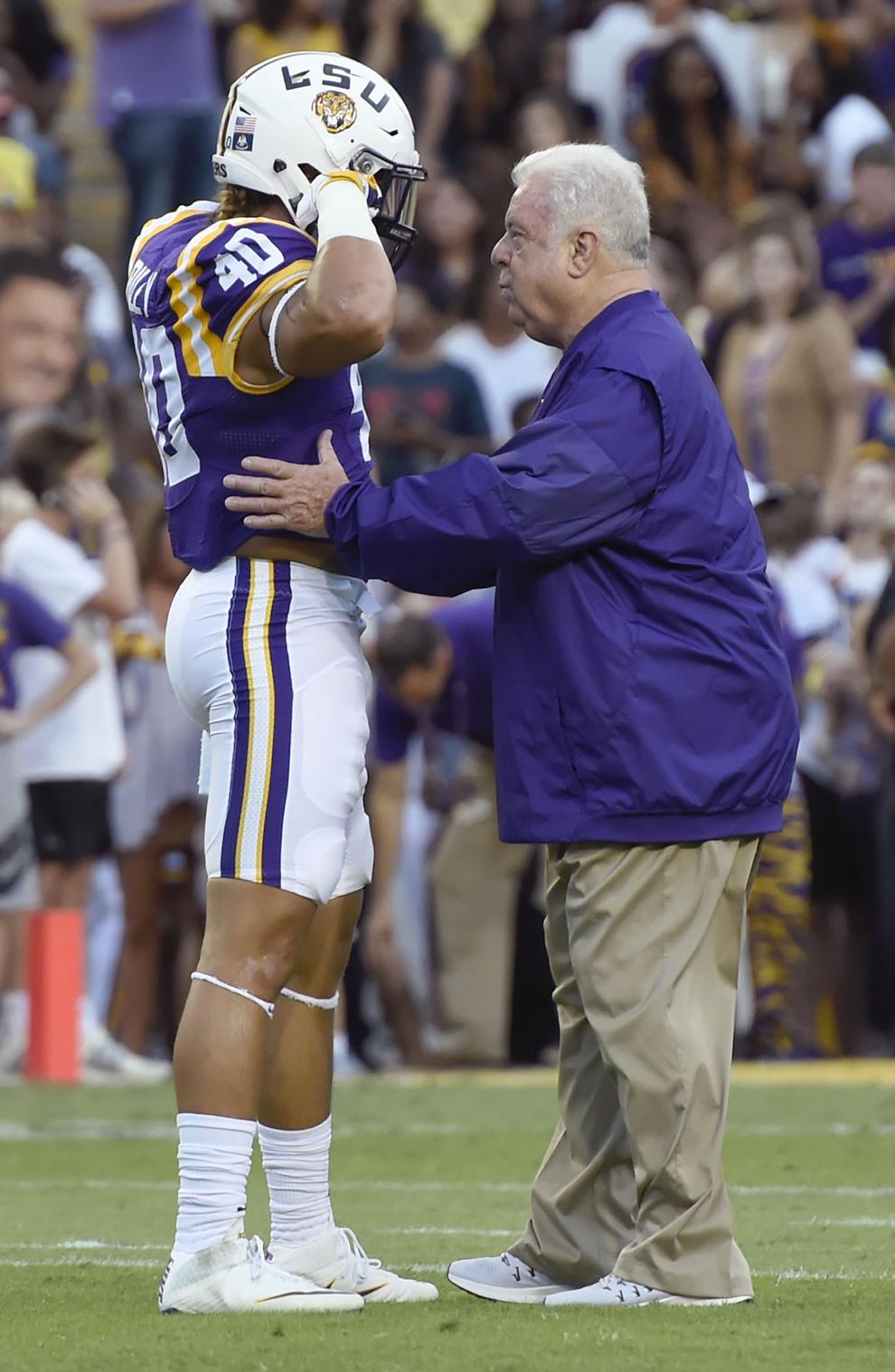 "He's obviously got great energy. He plays with a lot of enthusiasm and speed," said Savage, a former NFL executive and defensive assistant. "I think he's a (weakside) linebacker in the pros for 4-3 or 3-4. I think he's done well."
Riley is on pace to be the fourth LSU linebacker to be selected in the last four draft classes, joining Lamin Barrow (2014, fifth round), Kwon Alexander (2015, fourth round) and Jones (2016, second round). All three of those players are 6-1 or shorter, and Barrow is the only one heavier than 227 pounds.
Alexander led the NFL in solo tackles with 108 this season, and Jones was 25th with 108 total tackles, helping the Atlanta Falcons to the Super Bowl.
The undersized linebackers are driven by the doubters, Riley said.
"We always have a chip on our shoulder. All three are undersized guys coming out of high school, and a lot of people didn't think we would come this far," he said. "We're never good enough. I'm not just speaking for myself. I'm speaking for Kwon and Debo also.
"Kwon led the NFL in solo tackles, which is huge," Riley continued. "He's still not in the Pro Bowl. He's mad about that."
BELLE CHASSE — Duke Riley spent the past decade chasing this life, the one he now has as a s…
Riley has spent the past month in Fort Worth, Texas, training — and sleeping — at APEC (Athletic Performance Training Facility). Sleep is one of his focuses. He didn't get enough at LSU while juggling football and school, he said.
APEC staff members examined his sleeping habits, making sure he's getting enough rest for muscle recovery.
"Now, I get at least 8-10 hours asleep at night. I wake up feeling great," Riley said.
He's well-rested, indeed, and he got a dose of former teammate Ethan Pocic a few times during Thursday's practice. Pocic, the South team's center, rumbled into Riley a couple of times during full-contact scrimmages.
Pocic wore the same number he donned at LSU, 77. Riley, of course, did not.
Jones requested the number last year at the Senior Bowl because he had always wanted to wear zero, something not allowed in the NCAA.
For Riley, it's about more than a number.
"It's a big deal," said Riley, who speaks to Jones several times a week. "He's about to get this Super Bowl ring. I'm really pulling for that guy. ... He's just like, 'Man, I can't wait to rub that ring in your face.' Would be crazy to see him walk away with that."