BELLE CHASSE — Duke Riley spent the past decade chasing this life, the one he now has as a starting inside linebacker at LSU.
This is the one he has always wanted, ever since neighborhood kids would beat him up during backyard boxing matches in the bayou town of Buras. Little Duke took his licks, cried in his room and then returned to the yard for more.
This is the life he has always sought, ever since he wore those half-inch-thick bifocals in elementary school. The other kids poked fun at the glasses so much that Duke — nearly blinded from a bout with spinal meningitis — would break them, returning home from school with just a pile of glass and metal.
Ed Orgeron is so enamored with Bret Bielema's offense that he visited Fayetteville, Arkansas…
This is the life he has craved, ever since he grew angry during his rec ball days because people criticized his speed. They referred to him as having "lead feet," laughed his mother, Waukesha.
Duke Riley grew accustomed to being the runt, the little man, the baby, the slow kid, the small child, the weak one. His bigger, stronger, older brother, Dariyan, reminded him of that on a daily basis, winning any competition against Little Duke.
They call him Little Duke to this day, partially because his father's name is Duke and partially because, in the eyes of so many, he's still that little guy, bruised and battered by all of the other boys.
"He always overheard people saying, 'He's no good. He shouldn't be playing for (John) Curtis. He's not going to play at LSU,' " said Duke Berghman, Riley's father and the man known to many as Big Duke.
"I was always the one being picked on, never the best athlete," Little Duke said. "My Facebook name has been the same since I made (an account). It sounds corny, but it's 'Duke Dream Chaser Riley.' I wrote that on there because I really meant that. I was always chasing this life I'm living right now."
What's this life? The one where he makes goal-line stands against a top-ranked team (he did that against Alabama), where he picks off a pass for a game-changing interception (he did that against Ole Miss), where he delivers crushing blows, chases down quarterbacks and stuffs running backs (he has done that all season, rolling up 67 tackles to rank sixth in the Southeastern Conference).
He's not so little anymore. He beefed up this summer for his new role on LSU's defense. For three years, Duke waited behind players who have made it to the NFL, and now he's following in their footsteps as a speedy, senior starter who is busting onto the scene.
No. 19 LSU (5-3, 3-2) visits Arkansas (6-3, 2-3) at 6 p.m. Saturday with a defense that has allowed a nation-low nine touchdowns in eight games and boasts two of the best linebackers, statistically, in the SEC: Kendell Beckwith, who's second in total tackles, and the guy they still call Little Duke.
"Duke," his mother said, "is a fighter."
Katrina's arrival
From a helicopter, Big Duke spotted his family's home in Buras, where Little Duke spent the first 10 years of his life. Hurricane Katrina pushed the home off its foundation and some 30 yards down the street.
"It was in an orange grove," Waukesha Riley said. "We lost everything."
Katrina made landfall in this tiny town. The eye of the hurricane moved over Buras on Aug. 29, 2005, turning this unincorporated community in Plaquemines Parish into a pile of wet rubble and splintered trees.
Buras sits on a narrow sliver of marshy land, between the roaring Mississippi and the still Bay Pomme d'Or, on the toe of Louisiana's boot — the one that stretches the farthest into the Gulf of Mexico, a body of water slowly devouring this bayou town.
According to the National Weather Service, November 2014 was the sixth coldest November in F…
If you want Louisiana bayou living, you go to Buras. If you want Cajun folk, you go to Buras. Big Duke said his parents named him after the family dog. And Little Duke's older brother is nicknamed Cooter.
"We live hard down there," Big Duke said. "Never wore shoes, always barefoot. Climbing trees. Playing in the ditch. Rolling down the levee."
The family evacuated a day before Katrina roared ashore, only taking overnight bags with them to Baton Rouge, assuming the storm would bring only "a little wind, a little rain," Waukesha said.
The storm surge topped the telephone polls. For several hours, Buras was part of the Gulf of Mexico.
"It was gone," Big Duke said. "Everything was destroyed."
The family relocated to Kaplan, southwest of Lafayette, before settling in Belle Chasse. Waukesha now has a restaurant in the city: Triple D's, a New Orleans-style spot on Highway 23.
Big Duke works at "the end of the road," Waukesha said, gesturing out the front window of her diner toward the bustling highway. The road ends in Venice, some 70 miles south. There, it meets the Mississippi River. Big Duke runs a company that operates oil and gas platforms.
"Hopefully, I play long enough (in the NFL) and … my second contract, I want to buy his business from him, retire him and take over for him," Little Duke said.
Some members of the family returned to Buras, including Little Duke's 103-year-old great great grandmother, Madeline Taylor. She's the mother of 13 children. The Rileys hold a family reunion at a banquet hall in Buras each July.
It's a three-day event, and Waukesha wouldn't dare estimate the number of people who attend. 
Riley will one day return to Buras, his father said. He's a bayou boy, always excited to return to a place he loves so much. He's a hunter, mostly duck, and a fisher, mostly redfish and speckled trout.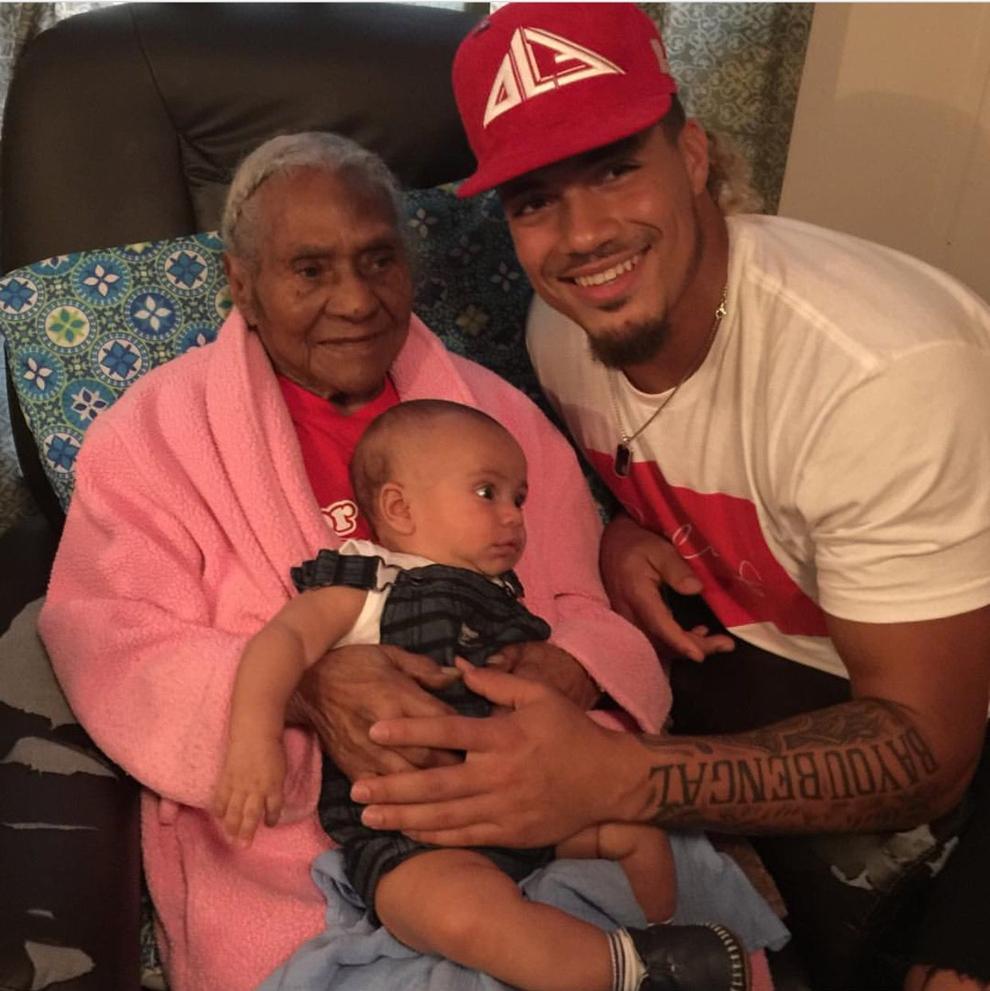 Little Duke enjoys fishing so much that his parents first realized, during a fishing trip, that he was allergic to shrimp.
"He baited the hook (with a shrimp) and then scratched his eye," his father said. "Eye swelled up."
Little Duke can't eat shrimp, crab or crawfish. His iodine allergy is one of a list of hiccups during an interesting childhood. He spent more than a week in a hospital battling spinal meningitis, an infection of the fluid and membranes around the brain and spinal cord that can be fatal.
It affected Little Duke's vision. He was nearly blind, needing those thick bifocals to see. He moved to contacts in junior high. And now he wears nothing.
His eyes returned to normal.
"It's crazy," Waukesha said.
Little Duke is six credit hours from being the only member of his family to graduate from college. He plans to enroll in winter intercession to finish up.
"We're all so proud of him!" a customer at Triple D's said while walking out the door and into a sunny Wednesday afternoon.
"Yes, we are," Waukesha said, smiling.
'Do you want to be like Deion Jones?'
Treamell Hill quickly learned what made Duke Riley tick.
"When you told him he couldn't do something, he always proved you wrong," said Hill, his coach in the bantam league, the recreational football program in Plaquemines Parish. "That brought out the best in him."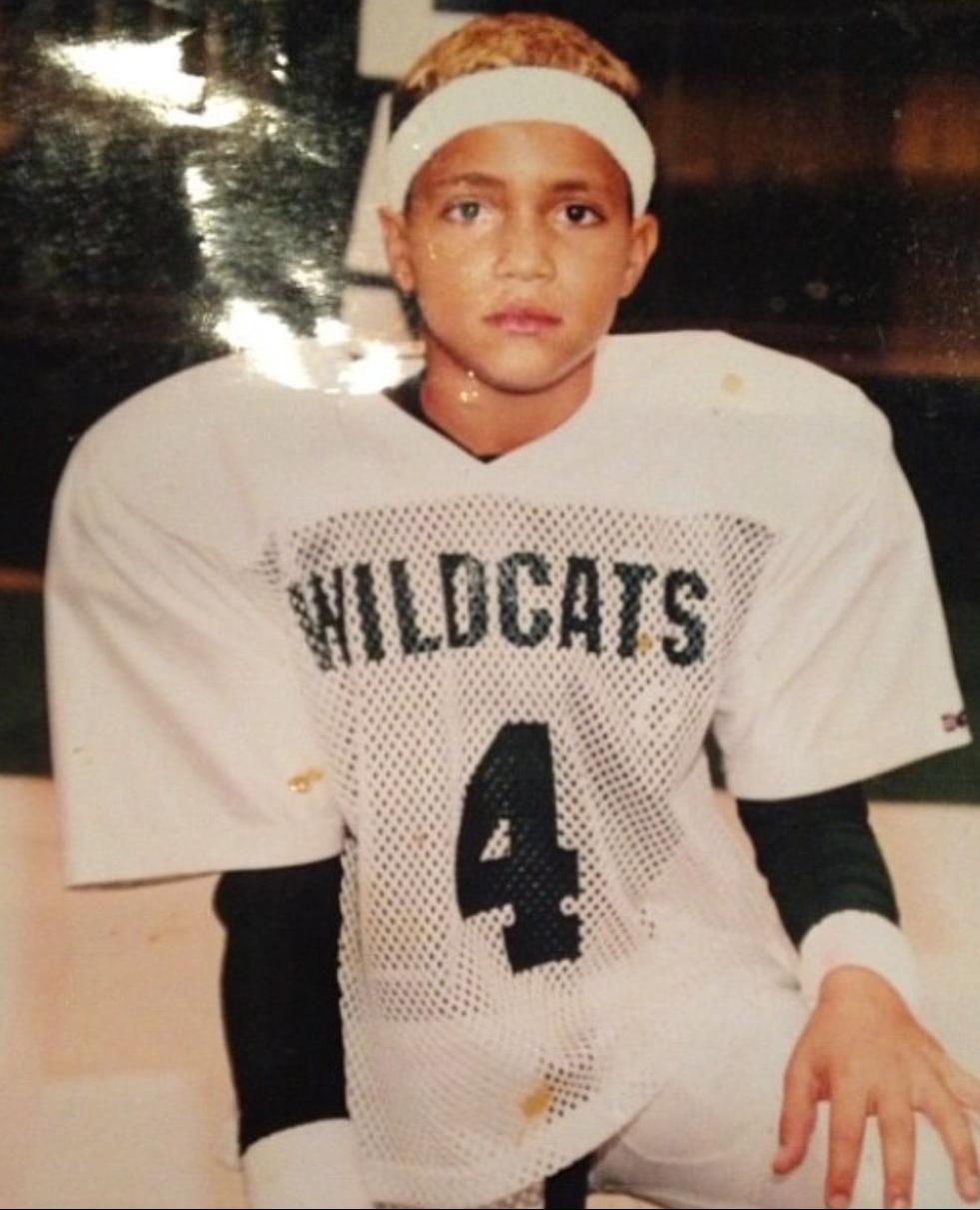 Riley's team, the Wildcats, played for the bantam league championship when Little Duke was 11 or 12. Big Duke showed up on the sideline during the game.
"He said, 'Y'all want to win, then don't give him the ball,' " Hill said Big Duke told him.
It was an orchestrated move. Little Duke was in earshot. Big Duke knows how to push his son's buttons.
"No sooner that he heard him say that, we gave him the ball," Hill said, "and he ran for a 70-yard touchdown."
Many doubted Little Duke would ever start, or play significantly, at LSU. He signed in 2013, a year after the Tigers reeled in a 2012 class that included six linebackers. He played in spots on special teams for three years while sitting well behind Lamin Barrow, third-string to Kwon Alexander and backup last season to Deion Jones.
Now, here he is drawing comparisons to Jones, a second-round pick in the NFL draft this year. They're both fast, instinctive players, teammates said, guys who turned their smaller bodies into wrecking forces. Neither earned a starting role until his final year of college.
Little Duke admitted that the wait was "frustrating," but he never wavered or thought seriously about transferring. This week, he rolled up his sleeve to reveal to a group of reporters an arm tattoo that reads "Bayou Bengals."
"I really bleed purple and gold," he said.
With three regular-season games to go, he is 33 tackles behind Jones' 100-tackle mark of last year. He's well within striking distance of a guy of similar size — 6-foot-2 and 225 pounds — who's now starting for the Atlanta Falcons.
"Before the season, everybody would ask me, 'Do you want to be like Deion Jones? Do you want to be a Deion Jones?' " he said. "Of course I do. Look at the things Deion did when he was here. Look at the things that he's doing now."
He has a ways to go, of course. Little Duke isn't seeing the national love Jones got, but there are three more games and a potential bowl game to go. He made a significant splash last week in the 10-0 loss to the Crimson Tide, finishing with nine tackles, including two for a loss. He stuffed Alabama quarterback Jalen Hurts on fourth-and-goal from the 1-yard line, dropping the freshman for a 5-yard loss.
It was his third straight tackle.
"His dad was a really good football player. He played linebacker, too," Hill said. "I tell him all the time, 'Duke, you were good, but he's way better you ever was.' "
Little Duke credits first-year defensive coordinator Dave Aranda for his improvement.
"He's, like I said before and I'll say it again, the best thing that ever happened to me," he said.
And, to think, Little Duke could be playing at TCU right now.
Late in his senior season, he committed to coach Gary Patterson during a recruiting visit. That forced then-LSU recruiting coordinator Frank Wilson to extend to Little Duke a full ride offer — not the grayshirt he initially dangled.
"(TCU is) where I kind of wanted him to go," Big Duke admitted. "Gary Patterson is the best coach in college football."
There's more to that story, though. It took until late in his senior season for LSU to even offer a grayshirt — when a player uses a redshirt as a freshman and pays his own way during his first semester. Wilson kept promising Big Duke he'd offer his son, but it never happened.
After another unfulfilled promise during an LSU summer camp before Little Duke's senior season, Big Duke sped out of LSU's campus so fast that he ran over several ducks.
"I was pissed," he said. "I said, 'I'm never coming back to LSU.' "
'One of those unusual guys'
Duke Riley began wearing his current hairstyle in high school, and now it has a name.
"They're calling it the Duke Cut," Waukesha Riley said, "and they're doing it on campus, copying off of him."
It's an overgrown Mohawk with a touch of blonde at the very back. On this Wednesday, Waukesha whips her hair in front of her face to show a reporter that, in a way, she's copying too.
"Every year for football season, I do my hair blonde to match his," she said.
Little Duke has always been eccentric when it comes to his hair. Waukesha used to drive him to the beauty shop as a young kid to get the top of his hair dyed blonde.
Big Duke never really understood. When asked about his son's Mohawk, he glared and shook his head.
Big Duke is a grizzled man. He drives a big pickup truck and, on this day, he wore a white T-shirt stained with the dirt and grime of his job.
"My dad, still to this day, he's never told me, like, 'Good job,' " Little Duke said. "Nothing is wrong with that. I don't want that. I don't want him to praise me. That's another problem: A lot of people praise people, and that's when their head gets too big and things like that."
Big Duke points to John Curtis and coach J.T. Curtis for his son's success. He began there as a ball boy in seventh grade. He found the spotlight, even in that role.
"He'd stand next to J.T. just to be on TV," his mother laughed.
Junior high practice at John Curtis often ended well before high school drills were over. Little Duke sometimes joined the older guys to finish drills. A seventh- and eighth-grade Little Duke begged the coaches to give him a taste of the big boy practice.
They did.
"They'd knock the (expletive) out of him," Big Duke said.
"His work ethic and commitment to the task at hand is one that's unparalleled," J.T. Curtis said. "He's one of those unusual guys that sets a goal for himself and works for it diligently."
Little Duke developed from that seventh-grade ball boy to a starting linebacker by his sophomore season. He made 21 tackles in John Curtis' state championship win that season, fulfilling a goal he announced to his father two years before.
Little Duke has a little man now. Elijah is 7 months old.
"Spoiled rotten," Waukesha jested, holding the blue-eyed baby boy.
Elijah is another reason Little Duke hopes his playing career is nowhere near over.
He's still chasing that dream, no matter how small he is or what people think.
"You just visualize stuff happening and tell yourself you're going to do this," he said. "The mind is powerful."