NATCHITOCHES — This is a place of passion for Ed Orgeron.
He played college football here at Northwestern State, in this small city in north Louisiana.
This is where his partying ways grew to "legend" status, as one coach put it. It's where he learned to play a defensive line position so aptly named "Blood end," where he harassed quarterbacks with a motor that coaches said never stopped.
He broke his forearm while playing for this place, and then he coped with the injury that night by slurping his momma's gumbo and downing a half-dozen beers. He developed into a permanent team captain here and rolled up 121 tackles in his final two seasons.
He tore up dorm rooms on this campus and showed up for meetings in dirty, torn T-shirts and no shoes. He coached his very first players here, transitioning from defensive lineman to student assistant, capturing the hearts of his teammates-turned-subordinates — on and off the field. He partied with them after practices.
There is heartache here, too.
He never landed a full-time coaching job at this place, twice denied the opportunity because of his reputation — and arrest — in this town as a street-fighting, bar-brawling keg tapper.
"He had a lot of luggage," said John Thompson, Northwestern State's defensive coordinator during Orgeron's senior year in 1983. "There was a lot of luggage. I say luggage and not baggage, because it was a lot. He was a legend. Some legends have stories that are made up. Some of it had to be made up. All of it couldn't be true."
Ed Orgeron returned here Friday evening. With him, he brought a different reputation.
He's not that quarterback-seeking, barstool wielding, beer-drinking 20-something strutting around with no shoes. He's the head coach at LSU, a well-groomed 55-year-old recruiting guru who has coached from coast to coast, won four national titles and been fired twice.
On this day, he sported a stylish gray suit, purple tie and, of course, shoes — a long way from that boy whom Bobby Hebert convinced to come here in 1980.
"You want to come to Northwestern?" Hebert, then an NSU quarterback, asked Orgeron in a phone call. 
"Hell yeah!" he said before asking Hebert, "Where's Northwestern?"
This place welcomed back one of its most heralded alums Friday. They opened their arms, did Natchitoches and Northwestern State, to the guy most here only call Bébé.
He delivered laughs and even some tears, serving as the keynote speaker for the Northwestern State Legends Gala at the town's events center — so close to his old hangouts and six blocks from his former practice field.
"It all started here in Natchitoches," Orgeron said before Friday's event. "Northwestern State gave me my chance."
LAROSE — The planning for this party began like so much does here in this Cajun-filled swath…
This is just another stop on what's become a Coach O Tour of sorts. He's been on one long, winding, purple-and-gold parade since LSU made him long-term head coach in November. 
Larose in February celebrated its native son with "Coach O Day," and he has crisscrossed Baton Rouge, appearing at everything from law enforcement association events to the governor's prayer breakfast.
He even made a cameo in Philadelphia at the NFL draft last week, and his next four weeks are his busiest, as the Tiger Tour revs up for another year.
On Friday, he was here — this place of heartache and passion — stuck between Alexandria and Shreveport, nestled against Sibley Lake.
You've heard the wild stories of Orgeron's days growing up in the bayou parish of Lafourche. You know about how an arrest stemming from a Baton Rouge bar brawl in the early 1990s forced him from his plush job with the title-winning Miami Hurricanes.
LAROSE — They sewed up Bébé at halftime.
You've read all about that failed three-year run as Ole Miss' head coach, and you're aware of his rejection of the full-time gig at Southern California in 2013.
But do you know about this place?
"I came here Cajun," he said to a crowd of former players, coaches and Demons fans, "and y'all accepted me."
Orgeron's trip here Friday wasn't his first this decade. He's passed through here while recruiting for years, most notably as an assistant at USC from 2010-12. He returned in 2014, his year out of football, to be enshrined into the NSU Hall of Fame.
He leaned on this place when out of a job that year, using the Demons to fuel his desire to coach. He gave the team a pregame speech before a game at Southeastern Louisiana in Hammond. He then spent the game on the sidelines revving up players and such.
"He wasn't against expressing his thoughts to the officials," laughed Doug Ireland, the longtime sports information director at Northwestern State.
As a player, Orgeron wasn't "greatly talented," said Sam Goodwin, the winningest coach in Northwestern State history, whose 17-year stint began with Orgeron's senior season in 1983. "He was just tough. Kept the team together to play hard."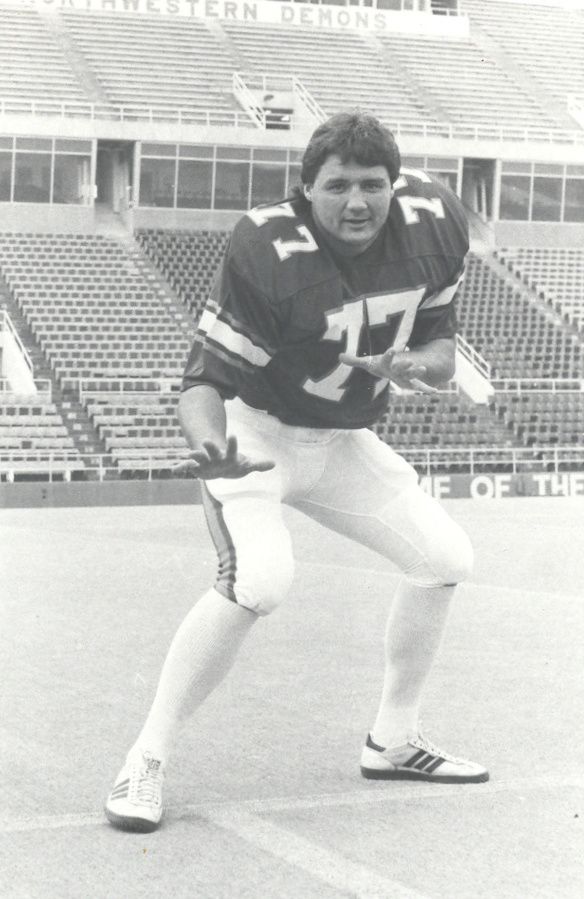 Often, he plugged the line while playing the "blood end" (strongside defensive end) position in Thompson's defense, allowing Gary Reasons to gobble up tackles. Reasons was a 1984 fourth-round draft pick of the New York Giants, a two-time Super Bowl champion and member of the College Football Hall of Fame.
The Demons started 1-7 that season in 1983. They won their final three games, a streak that "got it going," said Steve Roe, the sports information director at the time who's now at Iowa. The next year, NSU won the Gulf Star Conference championship, with Orgeron as a student assistant, coaching under then-NSU defensive line coach Bill Johnson, a former Saints assistant.
Orgeron stayed in the visitor's locker room at the football stadium, sleeping on a cot he had dragged from a dorm room.
"Those were some interesting times," he said.
By his fifth year in Natchitoches, Orgeron had picked up a reputation.
"He was just a wildcat, would go out and you didn't know what was going to happen," Thompson said. "Every now and then somebody might look at him wrong and he'd jerk the chain off his neck."
He wasn't the only one guzzling beer and throwing punches in bars. NSU coaches had to end the tradition of having a 9 p.m. team meeting each Thursday of game week because players — dozens of them — would walk directly out of the meeting and to the bars.
"We were young men and did some things that we were proud of. Did some things we weren't so proud of," Orgeron said Friday. "We did have some fun."
Bébé's nightlife antics were well-known throughout the area — so much that Goodwin couldn't promote him from student assistant to full-time coach in 1985. For one, Orgeron was arrested for simple battery the year before, a charge stemming from a bar fight in Natchitoches. He received a six-month suspended jail sentence and probation.
The stories of "Bébé" are big, like the gravel-voiced Cajun himself.
For a young second-year coach like Goodwin, it was just too much of a "gamble at that time," Thompson said.
Still, Orgeron praises these people here. He sat at a table Friday night with Goodwin. The two shared laughs and hugs.
"I got networked in the college coaching here," Orgeron said. "I got to Arkansas because of coach Goodwin and John Thompson. I got to Miami because of Bill Johnson. And on my career went."
Orgeron found his way back to Natchitoches in 1993. He had lost his job in Miami the previous year because of a '92 arrest in Baton Rouge. He sought alcohol treatment during that offseason and got dry.
Goodwin quietly took back Orgeron as a part-time assistant coach. He spent two weeks of preseason camp with the Demons before the president of the university heard who was back on campus.
"I had to tell him he couldn't stay," Goodwin said.
Goodwin and then-offensive coordinator Donnie Cox fought for Orgeron to remain on staff. They lost.
"Ed didn't do anything wrong," said Cox, now 71 and retired in Natchitoches. "Ed was not even supposed to be around alcohol — not just drinking it but where it was. He was in a place that served alcohol with friends. He wasn't drinking but they were."
Ireland remembers.
"He always drank Diet Coke," he said.
Orgeron has been sober now for 18 years. He lost 20 pounds after giving up chocolate, Diet Coke and energy drinks for Lent. And he is still at least off energy drinks, consuming coffee instead.
Oh yes — he's a much different man than these folks here used to know. One thing, at least, remains the same.
Said Ireland: "He's still a Demon."
"Geaux Tigers!" Orgeron yelled. "Fork 'em Demons!"