Another LSU football game could be affected by weather.
Officials from LSU and the AdvoCare Texas Kickoff are monitoring Hurricane Harvey and remain in contact, but the Tigers' season-opening game next Saturday at NRG Stadium against BYU "remains scheduled."
Harvey, a Category 3 storm packing winds up to 110 mph, was projected to slam into the Texas coast late Friday or early Saturday near Matagorda Bay, about 125 miles southwest of Houston.
LSU administrators will be in "regular contact" with Houston officials regarding the impact of the storm, the school said in a statement. Kickoff officials, contacted Friday by The Advocate, were not ready to reveal potential scenarios if the storm does affect the game.
The teams are scheduled to kick off at 8:30 p.m. Sept. 2 in a game televised by ESPN. LSU had sold 23,000 of its allotment of 25,000 tickets as of earlier this week, and BYU had sold out its allotment of 9,400.
This is no normal hurricane. Despite the storm's landfall a week before the game, Harvey, once ashore, is expected to stall, dumping copious amounts of rain for days in flood-prone Houston and surrounding areas. The storm is projected to weaken, then veer east toward Louisiana as it returns toward the coast, approaching southwestern Louisiana as early as Wednesday morning.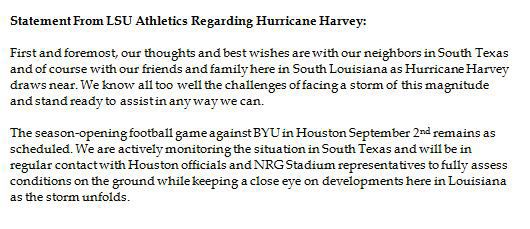 LSU is no stranger to weather affecting a football game.
The threat of Hurricane Matthew last October affected the Tigers' game at Florida, resulting in LSU having just 11 regular-season games for a second consecutive season. Officials, after tense negotiation, agreed to reschedule the game for November and move it to Baton Rouge.
In 2015, LSU's season opener against McNeese State was canceled just minutes into the affair because of lighting. Also in 2015, the game at South Carolina was moved to Baton Rouge because of flooding there.
Can't see video below? Click here.
ESPN should use "reasonable efforts" to reschedule the game if it is canceled due to extreme weather, according to the game contract between LSU and ESPN. LSU is due $4 million from ESPN within 30 days of the game date. The network and school are not liable, for any reason, if the game is canceled because of weather, the contract reads.
BYU kicks off its season this Saturday with a home game against Portland State. The Cougars and Tigers do not have the same open date.
Harvey has the potential to dump up to 3 feet of rain in some areas, dish out 125-mph winds and push 12 feet of storm surge into the coast. It could be the fiercest hurricane to hit the United States in almost a dozen years. Forecasters labeled Harvey a "life-threatening storm" that posed a "grave risk" as millions braced for a prolonged battering that could swamp dozens of counties more than 100 miles inland.
The BYU-LSU matchup isn't the only high-profile nonconference game involving a Southeastern Conference team in Texas next week. Florida and Michigan will play in Arlington on Sept. 2.
Christian LaCouture is hosting a party Saturday afternoon.