Troy Dannen doesn't sleep much these days. He usually wakes up around 2 a.m. to take out his family's dog. Then his mind begins to race. As Tulane's athletic director and a member of three NCAA committees, Dannen thinks about everything affecting the present and future of college sports.
One hour passes. Then another. Next thing he knows, it's 4:15 and he hasn't fallen back asleep.
"It is a very challenging time because you have to rethink everything you thought you knew and reimagine it," Dannen said. "Sometimes that's hard to do."
College athletics, particularly football, went through one of the most transformative offseasons of all time this summer.
Texas and Oklahoma joined the Southeastern Conference, sparking the possibility of another round of realignment. The College Football Playoff might soon expand to 12 teams. And as of last month, players can profit off their name, image and likeness for the first time.
Since the last college football game, a CFP sub-group proposed a 12-team format; the Supreme Court unanimously decided the NCAA violated antitrust laws; multiple states passed NIL legislation; Texas and Oklahoma left the Big 12; and the NCAA scheduled a special constitutional convention in November to evaluate its bylaws.
Most of the seismic changes won't affect the 2021 season. However, new rules allowed players to transfer once without sitting out for a year, and the COVID-19 pandemic continued to affect the sport, shaping protocols and budgets.
As a new season begins amidst so much upheaval, The Advocate | Times-Picayune spoke to three people directly affected by the changes — Dannen, LSU senior defensive end Ali Gaye and Lafayette business owner Ben Berthelot — for their perspectives on the evolving landscape.
Early in the great baseball movie "Eight Men Out," after he has intentionally lost the first game of the 1919 World Series, Chicago White Sox …
The athletic director
"The only thing I would say that's most certain," Dannen said, chuckling about the future of college sports, "is it will not look like it looks today."
Dannen sat in his office earlier this week on the third floor of Tulane's central athletic facility. He has led the department since 2015. He also serves on the recently formed NCAA constitution committee, the NCAA football oversight committee and as the chair of the NCAA football competition committee.
Dannen's involvement gives him more responsibility and a deeper understanding of the transformations in college sports. He estimated his time has shifted from 80% spent on Tulane to 20% on the school, the rest dominated by problems affecting the entire collegiate athletics model. He barely removes his phone from its charger.
"I'm spending less (time) doing the things internally, like going to our practices, that I really enjoy doing," Dannen said. "But it's a time when you want to be at the table."
The constitution committee had its first meeting almost a week earlier. As the only Group of 5 representative, he has met with other G5 leagues to gather their input before the convention and talked to dozens of people within the Power 5 conferences, trying to anticipate what's to come.
Much of Dannen's job requires anticipation. He saw the landscape shifting five years ago when athletes began receiving cost-of-attendance stipends. Now he focuses financial investments on student welfare, believing every decision must benefit the athletes. Tulane recently added three mental health professionals. Three floors below him, staff pressed a "Green Wave" sticker onto a glass wall in a new academic center.
For college sports to adapt as a whole, Dannen believes decisions made now must similarly focus on improving the experience for athletes while creating a sustainable business model for the governing body. He hopes members of the NCAA can reflect enough to make the changes themselves rather than require help from outside forces like Congress.
Part of that, Dannen said, means schools need to stop blocking innovation that may benefit the players because it helps another program more than their own. He used helmet technology as an example. NFL coaches can communicate with their quarterbacks through an audio chip in the helmets. Colleges have considered adopting the measure. Tulane supports the idea. Not everyone does.
In LSU's season finale against Ole Miss last year, Kayshon Boutte caught 14 passes for 308 yards and three touchdowns, including the game-winner on a twisted ankle — as a freshman.
"Find ways to get your concerns out of the way that it's going to create some competitive imbalance," Dannen said. "Stop worrying about competitive imbalance. Worry about making sure the interests of your student-athletes are taken care of."
Dannen feels the pressure of standing in the middle of the most transformative period in college sports history. Athletes, coaches, fans and donors expect the football team to remain competitive after Tulane snapped a lengthy stretch of losing seasons the last three years. The administration wants academic success. The program has to keep up. No one wants to flatline, especially as conferences shift.
"We've been trying to climb the totem pole," Dannen said. "When you're trying to climb and make ground up on people who are the aspirants for you, it's a lot easier to be willing to accept change and to find change."
Dannen defined "climb the totem pole" as putting Tulane in the best opportunity for success, whether that meant remaining in the American Athletic Conference or potentially joining another league. Dannen did not imply Tulane wants to change conferences.
"The opportunity may well be the American Athletic Conference growing and becoming stronger," Dannen said. "The opportunity may be somewhere else somehow. But it's about putting ourselves in the best position."
Conference realignment appeared to begin again this summer when Texas and Oklahoma decided to leave the Big 12 once the league's media rights deal ends in 2025, turning the SEC into the first 16-team superconference.
In response, the Atlantic Coast Conference, Big Ten and Pac-12 announced an alliance earlier this week, though the leagues offered few specifics on what they hope to accomplish together. The Pac-12 then announced it will not pursue expansion.
Dannen said "this seems like a non-factor" for Tulane, which, as part of the AAC, has a media rights deal with ESPN through 2031-32 that pays every school $7 million per year. (By comparison, the SEC distributed an extra $23 million to its members this year after borrowing against a television deal set to begin with ESPN.)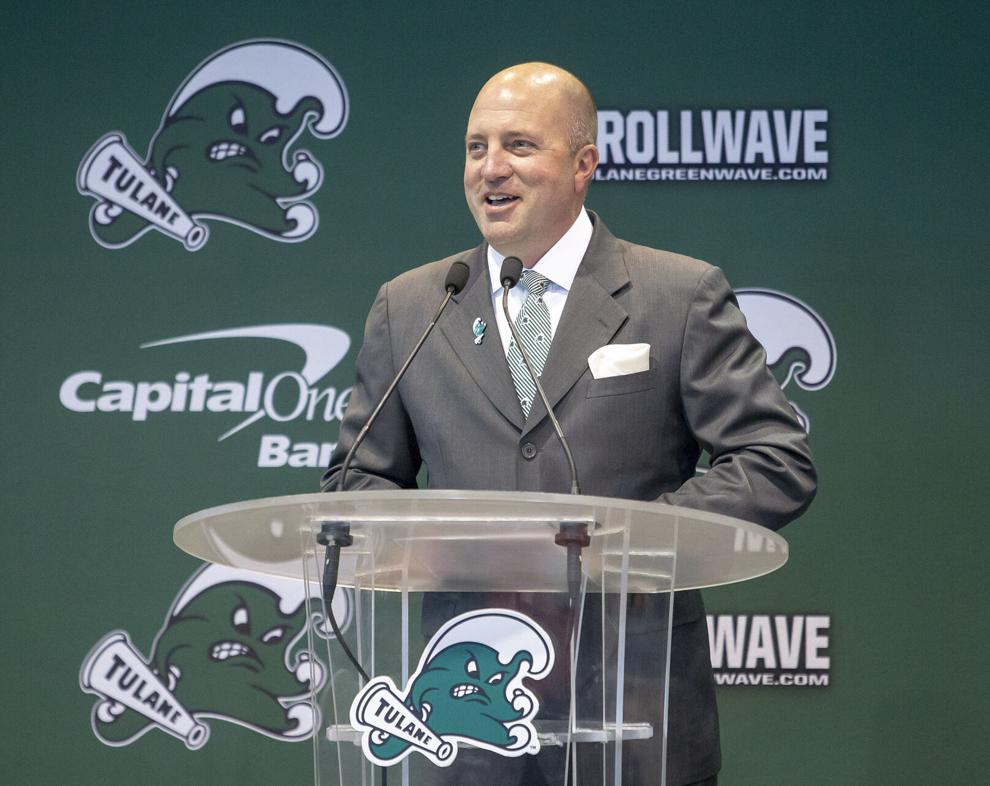 But Dannen still has to pay close attention, especially because his roles on the NCAA committees require him to think about the long-term prosperity of college sports, which he calls "the enterprise."
"Would I have done the same thing?" Dannen said. "I would be hard-pressed to say no. Do I think it's good for the enterprise? No, I don't think it's good for the enterprise."
The enterprise is changing, and Dannen hopes college athletics can restore its credibility by providing more transparency and leadership. He views himself as an outsider in some ways after his career began at a high school association in Iowa. He also officiated football and basketball games until his early 30s, shaping his perspective.
Years later, one game still stands out. As a college student in 1987, Dannen refereed a girls high school basketball game. A player had the chance to break the girls all-time U.S. scoring record. Three thousand people filled the gym. ESPN broadcasted the game. Dannen was in awe.
Sitting in his office hundreds of miles away from that place and decades removed from that time, Dannen smiles. The memories remain fresh. He wants to recapture the feeling now for everyone else.
"Athletics are a pretty cool thing when you let them be," Dannen said. "I think we're trying to find a way to let them be pretty cool again."
Dannen shakes a hand, then sits behind his desk. An hour has passed since he checked his messages. Dannen looks at his phone.
"Let's see what I missed," he says, and he gets back to work.
So much of the ink and screen time devoted to LSU football this season is fixated on whether the Tigers can recapture something of the offensi…
The player
Last week, Ali Gaye sat at the kitchen counter in his apartment hunched over his phone. He scribbled his signature across the screen to advertise one of his NIL deals. Then he stood up and looked into a camera behind him to announce another.
"What's up, guys?" Gaye said. "I just signed my second endorsement deal using signNow. Tune in next week to find out who it's with."
Gaye later revealed the deal with Trazer, a technology company designed to help with athletic recovery. He had already partnered with airSlate, the company that runs signNow, and his latest deal continued a theme for the senior defensive end.
Since July 1, when profiting from name, image and likeness became a possibility for college athletes, Gaye has focused on deals with technology companies. He thinks by learning about the industry through partnerships now, he can help himself and his community later, hoping to bring more technology to his native land, The Gambia.
Gaye has always been interested in technology, but growing up in The Gambia, a small country on the western coast of Africa, "I didn't have any access to technology," aside from occasionally using a computer.
After moving to the greater Seattle area with his family when he was 12 years old, Gaye had more exposure to technology. He used Facebook on his dad's computer to interact with friends back home. Most of all, though, he saw computers and laptops every day at school, transforming what he understood about education.
"That would change many lives, and it would really take education to the next level for kids back home," Gaye said. "I didn't have any access to technology, and I wasn't the best student. So that was even worse. I wasn't the best student, and my parents would always tell me, 'Go to school. Do your work.' There was no way for them to see my progress or what I was doing."
Gaye's fascination with technology continued when he received his first cellphone his sophomore year of high school, introducing him to the possibilities of apps. He called the device "life-changing."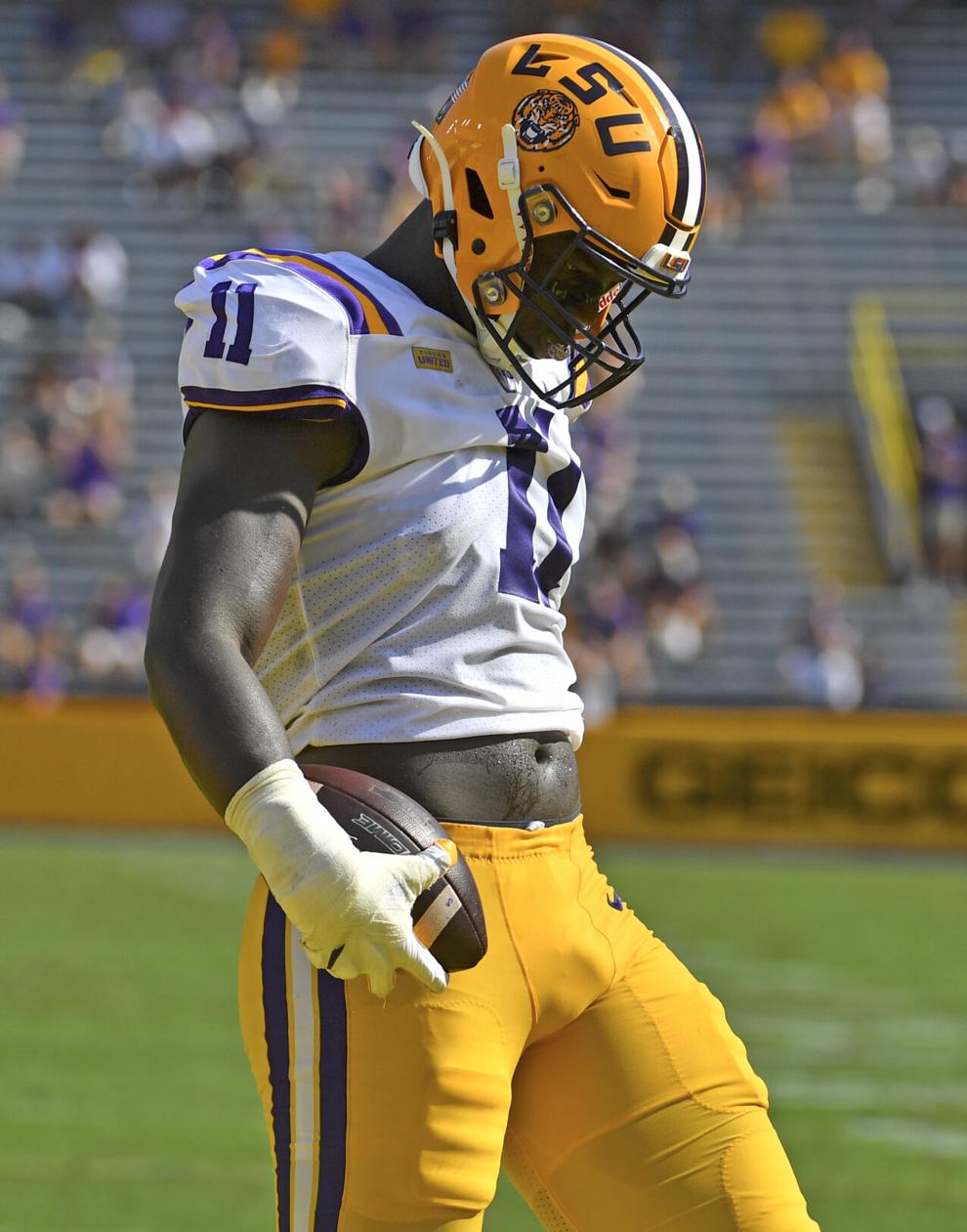 Technology remained in the background of Gaye's life as he pursued a football career, one that took him to two junior colleges before he transferred to LSU last summer. Gaye, who's 6-foot-6 and 250 pounds, emerged as one of LSU's most disruptive pass rushers with 9½ tackles for loss and two sacks.
Gaye returned for his senior season, and once NIL legislation became official, he began to research the possibilities while learning about the rules from LSU's compliance department, such as how compensation can't be provided as a recruiting incentive and players must ask for permission to use school logos.
Change didn't bother Gaye. He had grown accustomed to it through a life filled with moving. Pretty soon, he became a "Barstool Athlete" and put himself on Cameo. Then an aunt who worked at airSlate connected Gaye with the company.
Later, Gaye partnered with Trazer. LSU has used Trazer technology in its training facility for recovery and rehab, and he once met the owner. He planned to do an internship to learn about the company, but NIL provided an opportunity to endorse the brand. (Gaye declined to discuss the terms of his deals.)
"I would have done it even without being paid because they're great people," Gaye said. "I would have learned about it, and when I was experienced, join with the company and work together."
As Gaye enters his final season, he wants to focus on football instead of endorsements. But he has dominated during preseason practice, an indication he may reach his first-round potential. If he does, Gaye could have the chance to sign more deals as his fame and personal brand grow. He feels grateful. One day, he hopes to use the benefits of the opportunities he has now back home.
"Many athletes in the past have fought for this," Gaye said. "We need to make the most of it and not abuse it and do things the right way. Maybe more opportunities will present themselves later on in the future."
In overtime, teams must go for two after scoring a touchdown in the second overtime period. Then, teams must attempt two-point conversions back-and-forth until one team wins. 
The business owner
The night before college athletes could sign deals to profit off their name, image and likeness, Ben Berthelot worked late.
Berthelot, the president and CEO of Lafayette Travel, was trying to finalize an agreement with UL senior quarterback Levi Lewis.
Berthelot had tracked developments on NIL legislation over the previous eight months. He knew star players at Power 5 schools would sign deals as soon as possible. His company is a longtime partner with UL athletics, and he wanted to show current and prospective players there were financial opportunities in Lafayette.
The next morning, Lafayette Travel announced its deal with Lewis, a Scotlandville High grad and a second-team All-Sun Belt selection last season. Lewis became the face of a campaign designed to promote local restaurants. In return, he received $1,500, a similar rate to what Lafayette Travel pays an influencer who promotes the company.
"For us, I knew coming out of the gate there was really no risk because I knew we would get a lot of exposure having been one of the first to sign the NIL (contract)," Berthelot said. "It paid for itself just in the media-earned value that we got announcing the deal."
Later that month, Lewis and Berthelot walked into DeanO's Pizza for one of the quarterback's first promotions. Lewis sat at a table wearing jeans and a polo. He picked up a plate of nachos in one hand and a pizza in the other, dancing in his seat for a video later posted to Instagram.
In all, Lewis visited seven local restaurants the week before preseason practice began. He took pictures and helped film videos for the campaign's accounts at every stop, meeting with the owners along the way to ask about the industry. Berthelot said some of the videos got more than 15,000 views on Instagram.
Though unable to calculate the direct correlation between the campaign's success and the NIL deal, Berthelot said "some views we have gotten on social media on posts with Levi have far exceeded anything we've ever done in the past."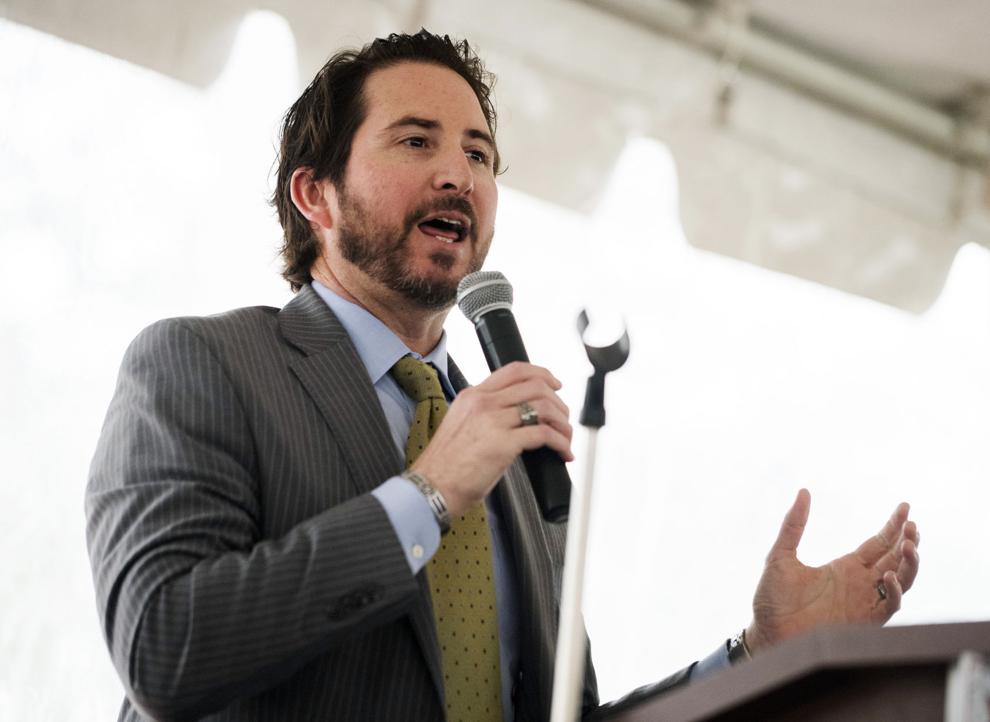 More videos will be posted closer to UL's season opener Sept. 4 at Texas.
As the head of one of the first local businesses to orchestrate an NIL deal, Berthelot has fielded questions from other owners about how NIL works. They ask about the process for contacting players and how much the deal cost, weary of numbers like the $800,000 already given to Alabama quarterback Bryce Young.
"The reality is here in Lafayette and Acadiana, the larger markets are going to be where those huge deals are," Berthelot said. "Ours is a much smaller market, but we still have a great opportunity to impact these young players as they move forward in their careers."
Berthelot thinks partnering with college athletes now will form relationships that connect the players and the city when they move onto professional leagues, benefiting both parties through a shared commitment to Lafayette. He sees an opportunity, so he intends to evaluate deals with players in other sports, such as baseball and softball.
"Look, I don't even know at this point if I'm for or against it, but I just know it's a reality," Berthelot said. "You can't turn your eyes to a reality when it affects the future of our program and our university. We'll wait and see. I hope it ends up being a positive thing. If not, then I guess they'll make changes."