They called it the 50, Billy Cannon says.
It's a defensive formation featuring five defensive linemen. If it sounds old-school, that's because it is.
Imagine today if five defensive players stood, hand on the ground, along the line of scrimmage, mirroring their offensive-line counterparts. A nose tackle in front of the center. Two defensive tackles on the guards. Two defensive ends on the tackles.
It would be like a defense today permanently playing in its goal-line formation — no matter the location on the field or the yardage to gain.
Teams played the 50 (also called the 5-2 or 5-3) back in the day — Cannon's day, when the forward pass was an afterthought, a weapon that remained holstered.
In those days, 15 pass attempts in a game could be a season 
So, back then, the 50 did the trick. The Chinese Bandits, LSU's notorious defense from the 1958 season, proved that. That gang led the Tigers to their first national championship by running a 50 front, said Cannon, a defensive back and running back on that squad.
Nearly 60 years later, the 50 is back at LSU — kind of.
"The 5-2," said Pete Jenkins, a 50-year coaching veteran and defensive guru, "that's the old version of the 3-4."
"The 3-4 is a spin-off of a 5-2," quipped Jackie Sherrill, former head coach at Pittsburgh, Mississippi State and Texas A&M.
New defensive coordinator Dave Aranda has spent the past seven months installing the 3-4 at LSU, moving the Tigers away from the 4-3 base defense the program has used for the past 17 years. He's implementing a system one coach called the "flavor of the month" in college football.
The 3-4, these days, is a football fad. It's the latest cool gizmo released by Apple, the new app you've just got to have. It's the defense's version of the spread offense, a snazzy new system coaches began furiously adopting a decade ago.
Some say it's geared toward slowing the spread. It's also a variation — albeit with a lot of tweaks — of a formation used 58 years ago in Tiger Stadium, one that delivered a national title.
"I think football has come full-circle. Back in the '60s and '70s, everybody was 3-4. They didn't call it 3-4 back then. They called it 5-2. It's the same thing," said Mark Hudspeth, Louisiana-Lafayette's head coach. "Then everybody went to the (4-3) and that was the flavor of the month.
"It's the same with jeans," Hudspeth continued. "Jeans used to have bell bottoms, and then they went to rolling up the bottoms. Now they're tight-legged. They'll come back to the bell bottoms."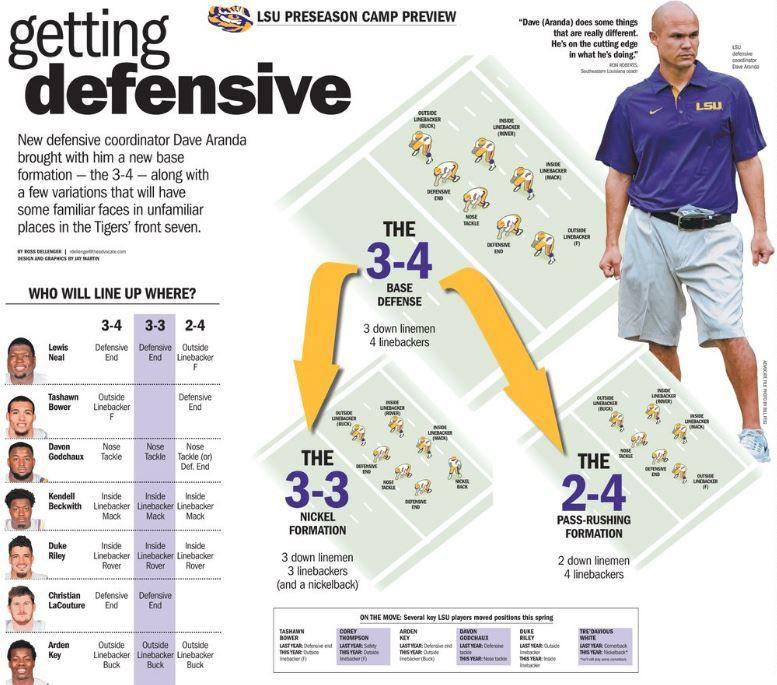 LSU is far from alone in its switch to a 3-4. Many programs are getting rid of the 4-3 and replacing it with a scheme, experts say, that's built to combat the latest evolution of college football offense.
The 3-4 uses three defensive linemen and four linebackers. The 4-3 uses four defensive linemen and three linebackers. The 5-2 uses five defensive linemen and two linebackers.
You can see where college football's defense is going: fewer big linemen and more, athletic linebackers, guys who can stop plays from one side of the field to the other. College football's offense is going in the same direction: more receivers and speedy guys who can make plays all over the field.
"The 3-4 gets more athletes on the field," said Verge Ausberry, LSU's deputy athletic director, who played middle linebacker for the Tigers when they used a 3-4 in the late '80s. "You can cover more field."
"The 5-2 became a 3-4 when people started thinking of the two defensive ends as linebackers instead of linemen," said Jenkins, who spent two stints with LSU in the '80s and again starting in 2000. "People started throwing the football more. Defenses moved to defending the pass. Guys like (LSU sophomore Arden Key) became a guy you rush sometimes and dropped into pass coverage sometimes as an outside (line)backer. In the old 5-2, he would be a defensive end."
At least five Southeastern Conference teams this season will use the 3-4 as the base defense, said Booger McFarland, a former LSU defensive lineman who covers the league for the SEC Network. LSU is set to join Kentucky, Georgia, Vanderbilt and Alabama in employing the 3-4 as its base defense.
Other schools feature a base 4-3, but they'll use 3-4 packages at times, specifically on obvious passing downs. Even the Tigers have done some of that in previous seasons.
During John Chavis' six years as defensive coordinator, LSU ran his well-known "Mustang" package — a 3-2-6 pass-rushing scheme. He used six defensive backs, with two of them lined up near the linebackers at the snap. It resembled a 3-4 in some ways.
This is a countdown to LSU's preseason camp, which begins Aug. 4. We're asking and answering…
Les Miles hasn't run a base 3-4 defense at LSU. Why the switch now? The coach said he has wanted to adopt the scheme since his days as a player at Michigan in the mid-1970s.
"They played the 3-4 defense," he said. "I was just looking for the right guy, the right mix."
This isn't the first time an LSU team will use the 3-4 as a base defense. The program employed it for much of the 1980s, spanning three head coaches: Jerry Stovall, Bill Arnsparger and Mike Archer.
Defensive coordinator Lou Tepper brought the 3-4 defense to Baton Rouge in 1998, the Tigers' second-to-last season under Gerry DiNardo. The 1998 LSU defense is still the only one to allow more than 400 yards per game.
McFarland played on that team. He hasn't forgotten.
"It was awful," he said.
Jenkins remembers, too. He arrived for his second stint as an LSU assistant in 2000, joining Nick Saban's staff as the defensive line coach following DiNardo's ouster.
"They had a guy here, and he was a 3-4 guy," Jenkins said of Tepper. "They had experienced years of lack of success. They hated it — hated the 3-4. Fans hated the 3-4."
Saban switched the defense to a 4-3 and slowly added 3-4 packages as he recruited better linebackers, Jenkins said.
Everyone's 3-4 is different. Each coach has his wrinkles and tweaks.
Aranda's scheme isn't the same as the 3-4 Saban employs in Tuscaloosa. Players and coaches said Aranda's system is bent on deception and movement. One player, for example, isn't limited to one position. Neal is playing three: defensive end in the base 3-4, outside linebacker on passing downs and a defensive tackle role in other formations.
"Dave does some things that are really different," said Ron Roberts, the head coach at Southeastern Louisiana who worked with Aranda at Delta State. "He's on the cutting edge in what he's doing."
This is a countdown to LSU's preseason camp, which begins Aug. 4. We're asking and answering…
Roberts, a defensive-minded coach, said he and Aranda share about 80 percent of the same defense. Roberts began running the 3-4 nearly 20 years ago because of a lack of big defensive linemen while at tiny Tusculum College.
"We could not get the personnel to compete, so we had to play guerrilla warfare," he said. "I couldn't get a dominant (defensive end), couldn't out-recruit people in my conference, so how am I going to beat them?"
His answer was "guerrilla warfare," a term Aranda also uses to describe a defense that's not normal or regular — one that's shifting, a unit with different shapes and sizes.
Is LSU moving to the guerrilla warfare style because it has lost to Alabama the past five times?
"When (LSU) lines up versus Alabama, they don't have better players than (Alabama) has got," Roberts said. "They don't have better players. So now what's going to be your advantage?"
Jenkins is now a consultant. The 75-year-old lives in Baton Rouge but spends March through June traveling the nation, meeting with football staffs and advising them on defense — specifically the 3-4, his baby.
Jenkins has a long history with LSU defensive line coach Ed Orgeron. The two are close. He's also friends with Aranda. He has met with the LSU staff since Aranda's hire in January, providing insight in a consultant role.
"We have a common denominator," Orgeron said in the spring when asked about Aranda. "Both he and I studied under Pete Jenkins. We brought Pete in and married some things we've done before."
Jenkins is thought by some as one of the grandfathers of the 3-4.
"Moby Dick was a minnow when I started using that thing," he laughed. "I grew up on the 3-4."
Jenkins employed the 5-2 defense as a high school defensive coordinator and head coach. By his first major college coaching gig in the mid-1970s, his defense had morphed into the modern-day 3-4.
The scheme, though, has been around much longer.
Cannon, LSU's Heisman Trophy-winning running back, first noticed the 3-4 in the 1960s. Cannon and his then-Oakland Raiders played coach Hank Stram's Kansas City Chiefs each season. The Chiefs employed a funky defense now referred to as the 3-3 stack: three linebackers each stacked behind a defensive lineman. The Chiefs won three AFL titles in 10 years.
Even before that, coach Bud Wilkinson manned a 5-2 defense at Oklahoma in the 1940s and 1950s. It eventually morphed into a 3-4. The Sooners' defensive front was called "Okie," a word Miles has used to describe LSU's new defense.
"It's like wide and narrow ties," Jenkins said. "They cycle in and cycle out. I see (the 3-4) coming back a little bit."
But why? For one, it confuses the blockers, former LSU offensive lineman Kevin Mawae said.
"It becomes a big issue in pass protection," he said. "A defense makes the offense re-evaluate."
The offense breaks the huddle, and the defense responds to the offense's formation. The 3-4, especially one filled with deception like Aranda's scheme, is predicated on forcing the offense to respond to you. Aranda refers to this as "dictating the terms" of the matchup.
"They won't know where we're coming from, and they won't see us when we come," LSU defensive end Lewis Neal said.
Jenkins said deception is the biggest advantage to the 3-4.
"I think the thing that I always liked about the 3-4 was the ability to disguise the fourth rusher. That's one of the really, really big advantages to the 3-4," he said. "You can always identify your four rushers in a 4-3, but it's really difficult to identify the fourth rusher if you lined up in a (three-lineman) concept."
Everyone has his thoughts on what position in the 3-4 is the most important.
Many say it's the nose tackle: For LSU, think Davon Godchaux, Greg Gilmore and signee Edwin Alexander. The nose is usually a bulky player who lines up over the center.
Others claim it's the outside linebackers: Think Key, Tashawn Bower and Isaiah Washington. They're rangy, athletic guys who line up outside the tackles.
McFarland said it's the defensive ends: Think Neal, Christian LaCouture and Frank Herron. Those players are normally bigger than outside linebackers but smaller than nose tackles, and they play between the guard and tackle.
Either way, one thing is clear, Ausberry says: "You better have a hell of some defensive linemen."
Ausberry is referring to the two defensive ends and the nose tackle, three players oh-so-important to the 3-4. Each player, in many 3-4 defenses, is expected to "command" double teams from offensive players, Mawae said. This must be done to keep guards and tackles from blocking outside linebackers on rushing plays.
In many 3-4 schemes, linemen are responsible for two "gaps." For example, the nose tackle takes care of the center-guard gaps on the right of him and on the left of him. The defensive end might be responsible for the tight end-tackle gap and the tackle-guard gap to his side. These are not easy jobs, but they're imperative for linebackers — like Kendell Beckwith, Duke Riley and Devin White — to make plays on ball carriers.
"You have to hold that double team for a split second," Mawae said, "for that linebacker to come over the top and make the play."
Linebackers making tackles — sound familiar? That's the philosophy for many defenses — new, old and in between..
So, is the 3-4 really that different from the 4-3? Is a 5-2 that different from a 3-4?
Jenkins harkens back to a slogan Arnsparger, a defensive whiz, shared with him in the 1980s. They were discussing the 3-4 and the 4-3.
"Well, you know," Arnsparger started, "four and three — that totals seven. Three and four — that totals seven. That's the same."