Derrius Guice has missed a complete game this season.
Yes, he has played in all of LSU's first three games, but the Tigers' standout tailback has missed what amounts to a complete game: four quarters, or 60 minutes.
He has not played in the fourth quarter yet this year, resting during blowouts against BYU and Chattanooga and exiting last week's game at Mississippi State with a "minor injury," as coach Ed Orgeron put it Monday. In all, a combined 58½ game minutes have elapsed without Guice on the field.
He shrugs at a question regarding this topic.
"It's just a thing about them not wanting me to exceed 30 carries a game," Guice said in an interview Monday. "That's why we have five running backs — (you've) got to get them going and get them in the game, get them playing and just kind of limit how many carries I get a game."
Billed as a Heisman Trophy candidate at the start of the year, Guice is off to a peculiar start to his junior — and likely final — season. He has exactly 300 yards rushing on 57 carries without playing in one-third of the season.
He has played what amounts to about eight of 12 quarters, averaging nearly 40 yards per quarter heading into LSU's home game Saturday night against Syracuse. The last time the No. 25 Tigers (2-1) played the Orange (2-1) in 2015, they rushed for 268 yards — 244 of those from running back Leonard Fournette.
Guice, then a freshman, made that trip to the Carrier Dome in New York. He carried four times for 13 yards but spent most of his time doing something else.
"Just watching Leonard go off for 240-something," Guice smiled earlier this week.
Fournette averaged nearly 10 yards per carry in that game, breaking off for runs of 62, 48, 30 and 23 yards. He had an 87-yarder called back because of a holding penalty.
There's another storyline to this affair: Matt Canada vs. Syracuse, Round II. As offensive coordinator at Pitt last season, the Panthers put up 76 points and 644 yards on the Orange.
"Damn!" Guice said. "I didn't know that. Damn, 76?"
This Syracuse team is different from those squads in 2015 and 2016. The Orange, through three games, is allowing just 84 yards rushing and has given up just one score on the ground. Don't expect Guice to repeat Fournette's performance from two years ago — even Guice admits that.
"It's a different offense. I can't say, 'I'll get four 50-yard runs.' It's a whole different offense," he said. "Our offense isn't really built to hit the home run every time. (You've) got to get it going, get the team going, slowly move down the field."
Quarterback Danny Etling and receiver DJ Chark said Monday they didn't agree with the penalt…
LSU's offense this season has produced just two runs of 20-plus yards — both 25-yarders from Guice. That's a low number compared to previous seasons.
"It's tough," left tackle KJ Malone said when asked about the lack of long bursts. "We really take responsibility for that stuff."
Said Guice: "Big runs will come. It will happen. (You've) got to stick with it, get the 4-5 yards. Ain't nothing wrong with getting the dirty, tough yards."
This is also a different offensive line than the 2015 group that blocked for Fournette. That group included current NFL players Jerald Hawkins, Vadal Alexander and Ethan Pocic.
Guice isn't fully healthy, either.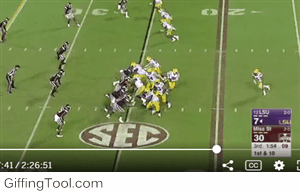 The 5-foot-11, 218-pounder left the game against Mississippi State late in the third quarter after suffering the injury. He appeared to hurt his left knee on a run for no gain in the final two minutes of the third quarter.
He remained on the field for another play, clearly hobbled, before limping to the sideline. He missed Monday's practice in effort at "protecting him," Orgeron said. The coach said his star player will be "fine."
This isn't a first. Guice suffered an undisclosed injury in preseason camp, missing an entire week of practice while recovering. He described last Saturday's injury as getting "a little nicked," without expanding.
The nick might keep him on the sideline for much of the second half again this week. When will he finally get a 60-minute game?
"It will happen," he said. "The time will come. I'll be ready for it."
This is a weekly tradition for Will Clapp and KJ Malone.
---
RESTING UP
Derrius Guice has been on the sideline for much of the second halves of LSU's first three games. He has not played in the fourth quarter this year.
First halves
| | | | | |
| --- | --- | --- | --- | --- |
|  Game |  Carries |  Yards |  Yards per carry |  TDs |
|  BYU |  20 |  85 |  4.3 |  2 |
|  UT-Chattanooga |  9 |  53 |  5.9 |  2 |
|  Mississippi State |  10 |  66 |  6.6 |  0 |
|  Totals |  39 |  204 |  5.2 |  4 |
Second halves
| | | | | |
| --- | --- | --- | --- | --- |
|  Game |  Carries |  Yards |  Yards per carry |  TDs |
|  BYU |  7 |  37 |  5.2 |  0 |
|  UT-Chattanooga |  6 |  49 |  8.1 |  0 |
|  Mississippi State |  5 |  10 |  2.0 |  0 |
|  Totals |  18 |  96 |  5.3 |  0 |
When did he leave?
| | |
| --- | --- |
|  Game |  Final snap in the game came… |
|  BYU |  With 3:45 left in the third quarter |
|  UT-Chattanooga |  With 8:30 left in the third quarter |
|  MississippiState |  With 1:20 left in the third quarter |