Welcome to Film Room, our weekly analysis of LSU's last football game.
Have a seat. No talking. No tweeting. No texting. Pay attention.
How They Happened (big-play analysis)
Chark sweep: On first-and-10, LSU receiver D.J. Chark runs for a 19-yard touchdown on a play the Tigers have run for a couple of years now - the jet sweep.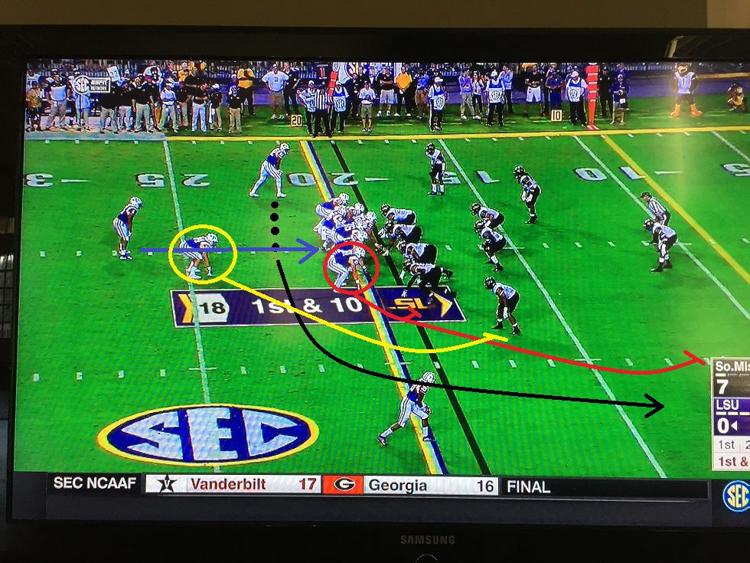 LSU really started running this play late in the 2014 season, with Anthony Jennings as quarterback and Travin Dural as the sweep man. Despite the firing of Les Miles and offensive coordinator Cam Cameron, the Tigers are still running it, with new players, too. The speedy Chark is the sweep man, coming in motion and getting the handoff from a new quarterback, Danny Etling. 
This play works, primarily, because of the blocks from TE Colin Jeter (red circle) and fullback J.D. Moore (yellow circle). It also works because Chark (black line) is really, really fast. Moore takes care of Southern Miss defensive back Picasso Nelson, and Jeter actually removes two players from the play. He clips DE Xavier Thigpen at the snap and then moves down field to take care of another defender. 
Jeter's chip block on Thigpen is huge. It slows the defensive end down just enough so Chark can glide by him later in the play. 
J.D. Moore with the springing block on the edge on Chark's TD. #LSU pic.twitter.com/GU2LRzGyJC

— Ross Dellenger (@RossDellenger) October 16, 2016
Shooting the gap: On third-and-1, running back Derrius Guice hit the left side of LSU's offensive line for a 61-yard touchdown to put LSU up 17-10 in the third quarter.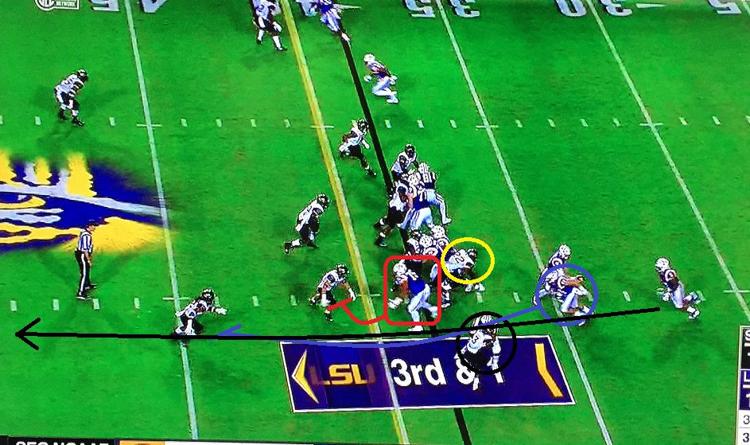 Guice will never get an easier touchdown. He was not touched, and there was not a defender within 5 yards of him after passing the line of scrimmage. A massive hole opened up on the left side, and we'll tell you why. 
The key thing that springs this play is what Southern Miss LB Darian Yancey (yellow circle) does at the snap. Yancey, who lined up as a DE across from LG Maea Teuhema, shoots the gap, as coaches say, between C Andy Dodd and Teuhema, penetrating the backfield immediately. Basically, he removes himself from the play, and Teuhema (red square) moves down the field for another block.
LT K.J. Malone (black circle) takes care of his man on the outside, and FB J.D. Moore (blue circle) blocks out the safety, opening such a wide hole. 
Teuhema helps open the hole for Guice. #LSU pic.twitter.com/JimYKAw2t7

— Ross Dellenger (@RossDellenger) October 16, 2016
No, it's not a run: On first-and-10, Etling finds a wide open Malachi Dupre for a 61-yard touchdown on a play-action pass in the third quarter.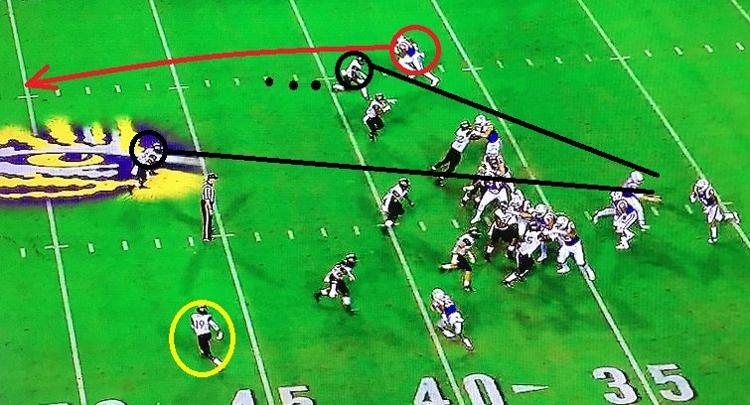 LSU athletic director Joe Alleva was on ESPN 104.5 FM a few weeks ago discussing the firing of Les Miles and offensive coordinator Cam Cameron and how he hoped LSU's new leadership, interim coach Ed Orgeron and interim OC Steve Ensminger, would use more play-action pass on first down. They did.
This play-action to RB Derrius Guice fooled 10 of the 11 Southern Miss defenders. DB Curtis Mikell (yellow circle) is the only one not duped. Can you blame them? The Tigers were in the I-formation with a tight end and just one receiver split wide.
Dupre (red circle) is wide open within his first full stride, as shown in the photo. Southern Miss CB Trae Collins (top black circle) cuts inside immeidately, and USM safety Devonta Foster (left black circle) has all eyes on the backfield handoff that never happened. 
POSITION ANALYSIS (these numbers are through the first three quarters only, before the game became a blowout and reserves were used; also, if a position isn't listed, it's because we don't have anything noteworthy about it)
Big Ugly Blips and Booms (O-line analysis)
LSU's shuffled offensive line had its hiccups early, especially on this first-series sack. The rusher stunts through the gap between LG Maea Teuhema and LT K.J. Malone. We saw Wisconsin do plenty of this in the season opener. It's all about miscommunication here. The line has to recognize the stunt and shift its blocking scheme.
Film Room has started. Some early hiccups in #LSU's reshuffled O-line. Rusher splits Teuhema and Malone. pic.twitter.com/f2vNsWwYnI

— Ross Dellenger (@RossDellenger) October 16, 2016
This was one of just two pass-blocking Blips through the first three quarters. LSU failed to pick up a stunt later in the game, causing QB Danny Etling to flush the pocket. The stunter on that play rushed near Josh Boutte, and RB Derrius Guice didn't pick him up (neither player could be at fault; we're just reporting what we see; we do not know the play call or assignments). 
Let's remind everyone about that shuffled line: Ethan Pocic moved from center to right tackle, Andy Dodd replaced him at center and Teuhema replaced injured Will Clapp at left guard. Teuhema had a roller coaster of a game at his spot at left guard, the position in which he played all of last season. He had five Booms. A Boom is a key block on a successful rushing play. He also had three Blips, a missed block on a negative rushing or passing play. Coaches inserted Garrett Brumfield on a couple of series in the second half, replacing Teuhema.
Let's talk about RG Josh Boutte. Remember, Boutte won the starting job at RG during preseason camp last season, but coaches yanked him in the first half of the season opener at Mississippi State, and he never started again. Why is he holding down the starting gig this year? Because of plays like this (now, can he do it against Alabama and Ole Miss?): 
If you're wondering why Josh Boutte has held down his starting spot this year for #LSU. pic.twitter.com/gNDe5QroBk

— Ross Dellenger (@RossDellenger) October 16, 2016
LSU often pulls its center and guard on rushing plays. Usually those two are Clapp and Pocic. On Saturday, they were Dodd and Teuhema. The two pulled a lot. There were no noticeable, huge gaffes (aside from Teuhema's Blips), but the duo is not Pocic and Clapp, a two-man wrecking crew.
Lastly, we'll hit on LT K.J. Malone. Malone really struggled in the season opener against Wisconsin, and he admits being nervous in that game. He's come a long way, and here's an example:
KJ Malone has come a long way from those season-opening struggles vs Wisconsin. Sure, competition is different but he's settled in. #LSU pic.twitter.com/KlWtqiWtCY

— Ross Dellenger (@RossDellenger) October 16, 2016
Monday Morning Quarterback (QB analysis)
Remember that we only watched the first three quarters so keep that in mind with these numbers. But Etling, through those first three quarters, rarely misfired. In fact, we counted just two in 13 attempts. He missed an intermediate throw high and another low. His first seven completions went to five different players (1 RB, 3 WRs, 1 TE). 
Three of his six incomplete passes in the first three quarters were intended for Travin Dural. For whatever reason, the two couldn't hook up. It reminded us of Brandon Harris and Malachi Dupre's struggles in the first two games of the season. Etling's two misses were targeted for Dural, and a defender made a good play to swat another Dural target away.
Five-yard Out (WR analysis)
I only counted one drop through the first three quarters and that came from a running back, Derrius Guice. 
Remember before the season, when Les Miles and players talked about a receiving group that, statistically, was the tallest in the league? You're starting to see some of that height and size advantage showing up. For example, LSU receivers rolled up 126 YAC (yards after catch) through three quarters, ripping off YAC plays of 29 (DeSean Smith), 21 (Malachi Dupre) and 67 (D.J. Chark). 
We mentioned Travin Dural earlier. He was actually targeted most through the first three quarters, at four times.
On The End (TE analysis)
DeSean Smith might have recorded the best catch of the game for LSU. Against double coverage, Smith adjusted to Etling's pass, snaring it, holding on and bowling forward for more yards.
The adjustment by DeSean Smith for the catch in double coverage. #LSU pic.twitter.com/7k25E8jo5n

— Ross Dellenger (@RossDellenger) October 16, 2016
With Foster Moreau out, freshman Caleb Roddy served as LSU's No. 2 run-blocking tight end behind Colin Jeter. He played a good deal, including on short-yardage situations, like LSU's third-and-1 in the second quarter. Derrius Guice picked up the first down while running behind Roddy and RT Ethan Pocic. A time frame for Moreau's return is uncertain. He's battling some sickness that he fought off during camp and returned two weeks ago during the game against Missouri.
Front Line (D-line)
Let's begin with freshman Rashard Lawrence's playing time. The Monroe native played about 15 defensive snaps (of a possible 59) through the first three quarters. He played in three series, and that's a good chunk of time, compared to previous games. Lawrence didn't just play one position either, because the Tigers didn't just line up in one formation. On back-to-back plays, LSU showed a 3-4 front (a NT) and a 4-3 front (no NT), with Lawrence (red circle) playing a defensive tackle position in the 4-3 and a defensive end spot in the 3-4. 
Good side-by-side look, on back to back plays, of #LSU's change from a 3-4 front to 4-3.

Rashard Lawrence (red) switching from DT to DE. pic.twitter.com/rbnR7hB63t

— Ross Dellenger (@RossDellenger) October 16, 2016
Speaking of nose tackles ... Travonte Valentine did not play. That's quite a surprising turn of events since he played nearly half of the snaps in LSU's season opener against Wisconsin. Interim head coach Ed Orgeron, who recruited Valentine back to LSU, hinted during his post-game news conference at what might be the issue:
"We just had some other guys that didn't practice the way they should. Got to practice hard to play."
Ed Alexander played in place of Valentine, but the freshman didn't play too much. We charted him for about seven snaps in the first three quarters. 
Backer Bites (LB analysis)
Defensively, this game was all about two players: Kendell Beckwith and Jamal Adams. They combined for 26 tackles. Beckwith had 12 tackles by halftime. How is that possible? Shedding blocks. The senior shed eight blocks in the first half. A shed block is when a defender is contacted by a blocker but, within 1 second, frees himself to potentially make the play. The two videos give you a better explanation:
How does one have 15 tackles in a game? Shed blocks. Beckwith had 6 shed blocks in first 17 minutes. #LSU pic.twitter.com/vLJ6CPDmcT

— Ross Dellenger (@RossDellenger) October 16, 2016
More Beckwith. #LSU pic.twitter.com/FISyeXHLmB

— Ross Dellenger (@RossDellenger) October 16, 2016
Devin White saw some of his most playing time this season. He saw nine first-half snaps on defense, all of them coming on one drive, USM's fourth series of the game. He made some plays and made some mistakes: 
Devin White, on his 2nd play in the game. He entered to start #LSU's 4th defensive series. pic.twitter.com/Y45cfiMm9L

— Ross Dellenger (@RossDellenger) October 16, 2016
Two players later, White gets caught in traffic on wheel route duty. #LSU pic.twitter.com/V7O42xXs0h

— Ross Dellenger (@RossDellenger) October 16, 2016
Break It Up (DB analysis)
We don't have much for this section, aside from the fact that Jamal Adams seemed to find the ball and ball-carrier on every play. He swarmed on Saturday.
Here is something worth noting, though. Ed Paris started the game at cornerback for LSU, replacing Kevin Toliver, who was suspended for the first half, Orgeron said. By the fourth series of the game, coaches pulled Paris and inserted Dwayne Thomas at nickel, shifting Tre'Davious White to Paris' wide cornerback spot. There wasn't any noticeable, glaring miscue from Paris, but coaches made the move.
Photos and video courtesy of SEC Network